Product Description
Product Description
Carbon Steel Roller Chain for Machines
Item
Carbon Steel Roller Chain
Model
Series A, Series B, Heavy Duty
Standard
 ISO /DIN /ANSI
Material
Carbon steel 40Mn
Surface Teatment
Self-color/Sand-blasted/Shot-peening
Heat treatment
All parts are quenching and tempering
Certificate of Quality
ISO 9001: 2000, SGS
Brand
OEM
A Series
03C,04C-1,06C-1,085-1,08A-1,10A-1,12A-1,16A-1,20A-1,24A-1,28A-1,32A-1,36A-1,40A-1,48A-1,25-1,35-1,41-1,40-1,50-1,60-1,80-1,100-1,120-1,140-1,160-1,180-1,200-1,240-1.
04C-2,06C-2,085-2,08A-2,10A-2,12A-2,16A-2,20A-2,24A-2,28A-2,32A-2,36A-2,40A-2,48A-2,25-2,35-2,41-2,40-2,50-2,60-2,80-2,100-2,120-2,140-2,160-2,180-2,200-2,240-2.
04C-3,06C-3,085-3,08A-3,10A-3,12A-3,16A-3,20A-3,24A-3,28A-3,32A-3,36A-3,40A-3,48A-3,25-3,35-3,41-3,40-3,50-3,60-3,80-3,100-3,120-3,140-3,160-3,180-3,200-3,240-3.
B Series
05B-1,06B-1,08B-1,10B-1,12B-1,16B-1,20B-1,24B-1,28B-1,32B-1,40B-1,48B-1,56B-1,64B-1,72B-1.
05B-2,06B-2,08B-2,10B-2,12B-2,16B-2,20B-2,24B-2,28B-2,32B-2,40B-2,48B-2,56B-2,64B-2,72B-2.
05B-3,06B-3,08B-3,10B-3,12B-3,16B-3,20B-3,24B-3,28B-3,32B-3,40B-3,48B-3,56B-3,64B-3,72B-3.
Heavy Duty Type
35H-1,40H-1,50H-1,60H-1,80H-1,100H-1,120H-1,140H-1,160H-1,180H-1,200H-1,240H-1.
35H-2,40H-2,50H-2,60H-2,80H-2,100H-2,120H-2,140H-2,160H-2,180H-2,200H-2,240H-2.
35H-3,40H-3,50H-3,60H-3,80H-3,100H-3,120H-3,140H-3,160H-3,180H-3,200H-3,240H-3.
Workshop
Advantages:
1) Mainly products including: Roller chain, Bush chain,  Motorcyle chain, Leaf chain, Hollow pin chain, Welded steel chain,  Block chain, Engineering chain, Agricultural chain.
2) 80% of our products are exported to Europe and USA, serving customers of top players of their industries;  
3) Advanced production equipment, High precision die & mold equipment, and Excellent testing devices. 
Packaging & Shipping
Polybag + Box + Carton box
FAQ
Why choose us
1. We are the manufacture.
2. We have 30 years experience of making chains and chain links.
3. Our design team has extensive experience in the chain design.
4. Best service and prompt delivery.
5. We offer various styles, size and colors to meet your requirement.
 
| | |
| --- | --- |
| Standard or Nonstandard: | Standard |
| Application: | Textile Machinery, Garment Machinery, Conveyer Equipment, Packaging Machinery, Electric Cars, Motorcycle, Food Machinery, Marine, Mining Equipment, Agricultural Machinery |
| Structure: | Roller Chain |
| Material: | Carbon Steel |
| Type: | Short Pitch Chain |
| Certification: | ISO9001:2015, GB/T19001-2016, ISO1400:20 |
Samples:

US$ 1/Foot

1 Foot(Min.Order)

|
Request Sample
Customization:

Available

|

Customized Request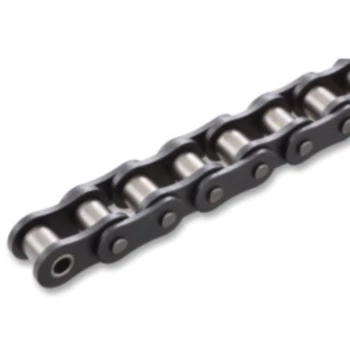 Can a drive chain be used in a conveyor oven or industrial baking application?
Yes, a drive chain can be used in a conveyor oven or industrial baking application where reliable and efficient power transmission is required. Here is a detailed explanation:
In conveyor ovens and industrial baking applications, a conveyor system is used to transport products through the baking or cooking process. Drive chains offer several advantages in these applications:
High Temperature Resistance: Conveyor ovens and industrial baking processes often involve high temperatures. Drive chains can be selected or specially designed with materials that can withstand the elevated temperatures encountered in these applications. Heat-resistant materials, such as stainless steel or special alloys, ensure reliable chain operation and prevent chain failure due to excessive heat.
Smooth and Continuous Operation: Drive chains provide smooth and continuous power transmission in conveyor systems, ensuring consistent movement of products through the baking or cooking process. The interlocking design of the chain and sprockets allows for precise product positioning and control.
Load Capacity: Conveyor ovens and industrial baking applications may involve heavy loads and products with varying weights. Drive chains are designed to handle high load capacities, ensuring reliable power transmission and efficient movement of products along the conveyor system.
Durability and Wear Resistance: Drive chains used in conveyor ovens and industrial baking applications are built to withstand the demanding conditions of continuous operation. They are designed with materials and coatings that provide durability, wear resistance, and protection against corrosion or food contamination.
Easy Maintenance: Conveyor systems require regular maintenance to ensure optimal performance and prevent downtime. Drive chains offer ease of maintenance, with features such as removable links or easy access to chain components for inspection, lubrication, and tension adjustment. This facilitates quick and efficient maintenance routines, minimizing production interruptions.
When selecting a drive chain for a conveyor oven or industrial baking application, factors such as temperature resistance, load capacity, speed requirements, and compatibility with food or baking regulations should be considered.
Regular inspection, lubrication, and tension adjustment are crucial for maintaining the performance and longevity of the drive chain in conveyor oven or industrial baking applications. These maintenance practices help prevent chain elongation, excessive wear, and potential chain failure.
By utilizing drive chains in conveyor ovens and industrial baking applications, operators can benefit from high temperature resistance, smooth operation, high load capacity, durability, and easy maintenance, contributing to efficient and reliable baking processes and product throughput.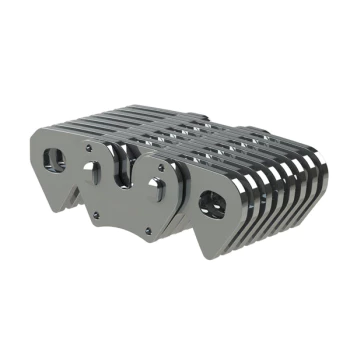 Can a drive chain be used in heavy-duty industrial applications?
Yes, drive chains are commonly used in heavy-duty industrial applications due to their ability to handle high loads, endure harsh environments, and provide reliable power transmission. Here is a detailed explanation:
In heavy-duty industrial applications, where large machinery and equipment are involved, drive chains offer several advantages:
Load Capacity: Drive chains are designed to handle heavy loads, making them suitable for industrial applications that require the transmission of substantial power and torque.
Durability: Drive chains are known for their durability and ability to withstand demanding conditions. They are designed to resist wear, fatigue, and shock loads, providing reliable performance over extended periods.
Harsh Environment Resistance: Industrial environments can expose machinery to extreme temperatures, dust, dirt, moisture, and chemicals. Drive chains are designed to withstand these harsh conditions, ensuring reliable operation and minimizing the risk of failure.
Flexibility and Adaptability: Drive chains offer flexibility in terms of design and customization. They can be adapted to various industrial applications, including conveyors, heavy machinery, material handling systems, and more.
Cost-Effective Solution: Drive chains are generally cost-effective compared to other power transmission systems. They provide reliable performance at a competitive price point, making them a preferred choice for heavy-duty industrial applications.
It is important to select the appropriate drive chain type, size, and material for the specific heavy-duty industrial application. Additionally, proper maintenance, including regular inspection, lubrication, and tension adjustment, is essential to ensure optimal performance and longevity of the drive chain in heavy-duty industrial environments.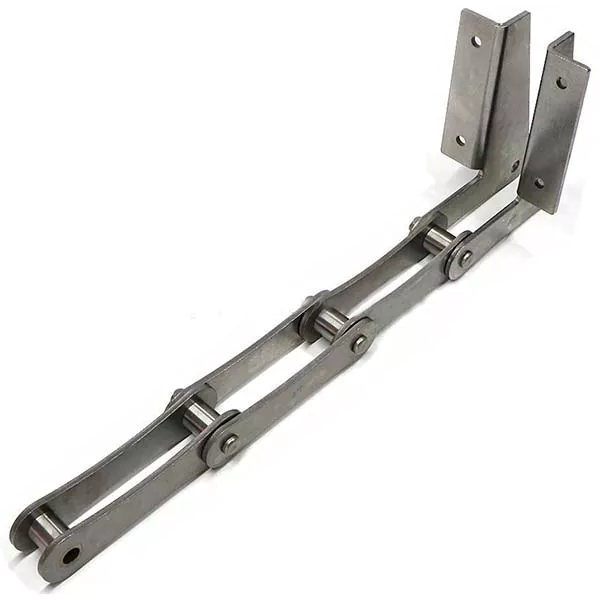 How do you choose the right drive chain for your application?
Choosing the right drive chain for your application requires careful consideration of various factors. Here are some key steps to help you make an informed decision:
Identify the Application Requirements: Determine the specific requirements of your application, including the power transmission needs, operating speed, load capacity, environmental conditions, and any special considerations.
Understand Chain Specifications: Familiarize yourself with the different specifications of drive chains, such as pitch size, roller diameter, plate thickness, and tensile strength. These specifications will directly impact the chain's performance and compatibility with your application.
Consider Chain Type: Evaluate the different types of drive chains available, such as roller chains, double pitch chains, leaf chains, silent chains, and engineered chains. Select the type that best suits your application's requirements, considering factors like load capacity, speed, noise level, and specific industry standards.
Evaluate Environmental Factors: Assess the environmental conditions in which the drive chain will operate. Consider factors like temperature, moisture, dust, chemicals, and potential exposure to corrosive substances. Choose a chain that can withstand these conditions without compromising performance or longevity.
Consult Manufacturer Guidelines: Refer to the manufacturer's guidelines and specifications for each drive chain option you are considering. Manufacturers often provide detailed information regarding performance capabilities, installation requirements, maintenance recommendations, and compatibility with specific applications.
Consider Maintenance Requirements: Evaluate the maintenance needs of the drive chain, such as lubrication requirements, tension adjustment, and periodic inspection. Choose a chain that aligns with your maintenance capabilities and operational preferences.
Seek Expert Advice: If you are unsure about which drive chain to choose, consider consulting with experts or professionals in the field. They can provide valuable insights and recommendations based on their experience and knowledge.
By carefully considering these factors and following a systematic approach, you can select the right drive chain that meets the requirements of your application, ensuring optimal performance, longevity, and reliability.



editor by CX 2023-11-02