Product Description
Products Collection
Product Description
One of the most compelling benefits of our QLP inverted tooth chain is its versatility and incredible durability. Whether you need a light-duty conveying or heavy-duty power transmission chain, the chain can be customised to meet your needs.
The chain is also corrosion-resistant. This means it can be used in harsh environments without worrying about rust or other types of damage. Its unique tooth shape reduces noise and vibration.
When you need a specific design, we can provide customised solutions based on what you need. Whether you require specific features, plans, materials, or specifications, our team can work to ensure you get a chain that fully meets your needs.
Are you looking for other chains? 
Leave your message below, and feel free to contact us!
FAQ
Question 1: Are you a Manufacturer or a Trading Company?
Answer:
We are a 100% chain manufacturer with 23 years of experience
Question 2: What should I provide to get a quotation?
Answer:
1. Type of the chain (with photos if available)
2. Pitch of the chain
3. Width of the chain
4. Length and quantity of the chain
5. Other specific requirements
Question 3:
How long is your manufacturing and delivery time?
Answer: 
Products are usually finished in 2 weeks, depending on the type and quantity. Also, please get in touch with us to check the delivery time to your destination.
Question 4: How long is your guaranteed time?
Answer: 
We offer a three-year guarantee if you purchase chains and matched sprockets together.
If you need chains only, a one-year guarantee can also be confirmed.
Question 5: Trade terms and Payment terms?
Answer:
We accept EXW, FOB, DDU, Door to Door. Payment terms, such as T/T, L/C, and Western Union, are acceptable. We also provide the service of Online Trading in this B2B platform.
Company Profile
Shipping Cost:

Estimated freight per unit.





To be negotiated
| | |
| --- | --- |
| Standard or Nonstandard: | Standard |
| Application: | Textile Machinery, Garment Machinery, Conveyer Equipment, Packaging Machinery, Food Machinery, Marine, Mining Equipment, Agricultural Machinery, Car |
| Structure: | Tooth Chain |
Samples:

US$ 100/Meter

1 Meter(Min.Order)

|

Order Sample
Customization:

Available

|

Customized Request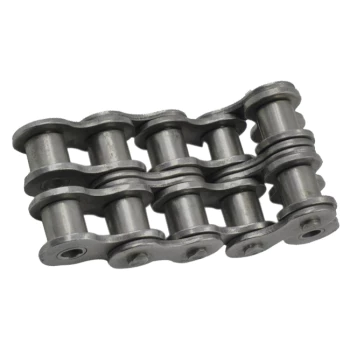 What are the benefits of using a heat-resistant drive chain?
Using a heat-resistant drive chain offers several advantages in applications where high temperatures are present. Here is a detailed explanation:
A heat-resistant drive chain is specifically designed to withstand elevated temperatures without compromising its performance. The benefits of using such a chain include:
Enhanced Temperature Resistance: Heat-resistant drive chains are engineered to withstand high operating temperatures, typically ranging from several hundred degrees Celsius to over a thousand degrees Celsius. They are constructed using materials that can withstand thermal expansion, resist deformation, and maintain their mechanical properties at elevated temperatures.
Reliable Power Transmission: Heat-resistant drive chains provide reliable power transmission even in high-temperature environments. They maintain their integrity, strength, and dimensional stability, ensuring consistent and efficient power transfer from the driver to the driven machinery or equipment.
Reduced Downtime: The ability of a heat-resistant chain to withstand high temperatures reduces the risk of chain failure or premature wear. This results in reduced downtime for maintenance, replacement, and repair, leading to improved productivity and cost savings.
Extended Service Life: Heat-resistant drive chains are designed to have a prolonged service life even in hot and demanding environments. They exhibit excellent wear resistance, minimizing chain elongation and reducing the need for frequent replacements. This extends the chain's lifespan and reduces overall maintenance costs.
Resistance to Corrosion and Oxidation: Heat-resistant chains are often manufactured using materials that exhibit good resistance to corrosion and oxidation at high temperatures. This prevents the formation of rust, scale, or other detrimental surface deposits, ensuring the chain's optimal performance and longevity.
Compatibility with Lubricants: Heat-resistant chains are designed to work effectively with high-temperature lubricants. The materials used in their construction are compatible with these lubricants, allowing for proper lubrication even under extreme heat. This ensures smooth operation, reduces friction, and prevents premature wear and chain failure.
Application Versatility: Heat-resistant drive chains can be used in various industries and applications where high temperatures are present. They find applications in industries such as steel manufacturing, glass production, ceramics processing, foundries, and heat treatment facilities.
When selecting a heat-resistant drive chain, it is important to consider the specific requirements of the application, including temperature range, load capacity, speed, and environmental conditions.
Regular inspection, lubrication, and proper maintenance are essential to ensure the optimal performance and longevity of heat-resistant drive chains in high-temperature environments.
By utilizing heat-resistant drive chains, operators can benefit from reliable power transmission, extended service life, reduced downtime, and enhanced performance in applications where high temperatures are a critical factor.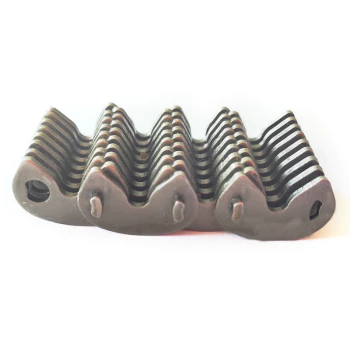 What are the specific guidelines for installing a drive chain?
Proper installation of a drive chain is crucial to ensure its optimal performance and longevity. Here are the specific guidelines for installing a drive chain:
Inspect the new drive chain before installation. Check for any signs of damage or defects. Ensure that the chain meets the specifications and requirements of the application.
Ensure the sprockets are in good condition and properly aligned. Check for worn teeth, damage, or misalignment. Replace or repair any faulty sprockets before installing the new chain.
Clean the sprockets and chain path thoroughly. Remove any dirt, debris, or old lubricant that may affect the performance of the new chain.
Measure and cut the new chain to the appropriate length. Use a chain breaker or a suitable cutting tool to ensure a clean and precise cut.
Install the master link or connecting link according to the manufacturer's instructions. Make sure it is securely fastened and properly seated.
Place the new chain onto the sprockets. Ensure that the chain engages smoothly and evenly on the teeth of the sprockets.
Check the chain tension. Follow the manufacturer's guidelines for the recommended tension. Adjust the tension if necessary by adjusting the position of the rear wheel or using a tensioner mechanism, if available.
Lubricate the chain with a suitable lubricant. Apply the lubricant evenly along the entire length of the chain. Avoid over-lubrication, as it can attract dirt and debris.
Rotate the wheel or crank the engine to ensure that the chain moves smoothly and freely without any binding or excessive noise.
Perform a final inspection to verify that the chain is properly installed, aligned, and tensioned. Check for any abnormal sounds, vibrations, or signs of chain slippage.
Following these specific guidelines for installing a drive chain will help ensure proper functionality, longevity, and optimal performance of the chain in the intended application.



editor by CX 2023-08-03