Product Description
About Factory 
With more than 18 years' histiory, we are a professinal manufacturer for drop forged products such as forged chain (X348 X458 X658 X678 X698 F100 F160), scraper chain (10160, 14218, 14226, 142N), conveyor trolley (X348, X458, X678, XT160), and drive chain (X348, X458, X678), and so forth standard moulds of chain. 
Besides, we can also produce as per your drawing or sample, special link chain, pusher, pin and plate, according to customers' unique requirements.
Product Description
1) Material: Alloy steel, 40Cr, 42CrMo and so on.
2) Types: Standard types, X348 X458 X678, and so on. (Or as per your drawing)
3) Process: Moulding→Forging→Polishing & Blasting→Fine machining→Heat treatment→Blasting→Inspecting & testing→Packing
Product Show
 
Technical Data
 
Model
Dimension
Weight (Kg)
Material
Hardness
Working Load (KN)
Limit Load (KN)
P
T
C
S
F
R
D
10160B
101.6
24
36
13
14
6
14
0.32
20CrMnTi
Surface HRC56-64°    
Depth 0.6-1.2mm
18
100
10160
101.6
30
36
13
14.5
9
14
0.36
20CrMnTi
Surface HRC56-64°     Depth 0.6-1.2mm
21.6
120
14218
142
42
50
19
20.5
11
25
1.15
20CrMnTi
Surface HRC56-64°     Depth 0.6-1.2mm
48.6
270
14226
142
62
50
28
30
15
25
1.75
20CrMnTi
Surface HRC56-64°     Depth 0.6-1.2mm
61.2
340
2571
200
66
60
30
32
18
30
2.8
20CrMnTi
Surface HRC56-64°     Depth 0.6-1.2mm
72
400
26014
260
70
75
31
33
20
34
5.2
20CrMnTi
Surface HRC56-64°     Depth 0.6-1.2mm
135
750
142N
142
43
50
19
22
12.5
25
1.2
40Cr
Quench HRC36-44°
75.6
420
150D
142
42
50
19
20.5
11
25
1.15
40Cr
Quench HRC36-44°
75.6
420
MG20
200
70
50
27
29
17
35
3.78
40Cr
Quench HRC36-44°
144
800
MG20B
200
70
50
27
29
17
30
3.82
40Cr
Quench HRC36-44°
140.4
780
MG20C
200
70
50
27
29
17
28
3.85
40Cr
Quench HRC36-44°
122.4
680
MS32
200
42
50
20
22
12
25
1.4
40Cr
Quench HRC36-44°
75.6
420
MS55
200
80
70
35
38
25
28
4.36
40Cr
Quench HRC36-44°
138.6
770
3006
200
65
70
30
33
24
32
3.6
40Cr
Quench HRC36-44°
160.2
890
MS63
250
70
80
30
33
20
32
4.93
40Cr
Quench HRC36-44°
147.6
820
S16
100
30
27
15
16
8
14
0.3
40Cr
Quench HRC36-44°
16
88
S20
125
34
33
17
18
8
17
0.37
40Cr
Quench HRC36-44°
19.4
108
S25
160
48
39
23
25
13
20
1.28
40Cr
Quench HRC36-44°
55.8
310
S30
142
46
49
22
23.5
14
25
1.3
40Cr
Quench HRC36-44°
91.8
510
Z16
100
40
35
18
20
12
17
0.4
40Cr
Quench HRC36-44°
32.4
180
Z20
125
50
46
24
26
15
20
0.67
40Cr
Quench HRC36-44°
59.4
330
Z20D
125
52
60
24
26
16
26
1.15
40Cr
Quench HRC36-44°
82.8
460
Z25
160
58
55
28
30
18
25
2.25
40Cr
Quench HRC36-44°
82.8
460
Z25D
160
66
64
29
31
22
28
2.6
40Cr
Quench HRC36-44°
120.6
670
Z30
142
64
50
29
30.5
18
25
1.8
40Cr
Quench HRC36-44°
111.6
620
Products & Testing Equipments
 
Products Application

Packing & Delivery
 
Why Choose Us?
1. We are engaged in chain industry over 15 years with rich market experience. We keep improving production techniques. All the products have longer working life and have passed the market test.
2. We can design the correct chains with high quality material, good abrasion resistance, good corrosion, high strengthen and etc as per your request or the chain application.
3. We are the chain manufacturer; you can directly purchase the product from us with low price and high quality.
4. We have a professional team for international trade, they have abundant experiences and are always ready to solve problems for customers. So you have nothing to worry about.
5. We have the long-term cooperative forwarder who can give us the lowest freight. And it can help you to save the freight. What's more, for the FCL, we will design the packages as per the container sizes with the largest capacity to save the shipping cost for both of us.
| | |
| --- | --- |
| Standard or Nonstandard: | Standard |
| Application: | Textile Machinery, Garment Machinery, Conveyer Equipment, Packaging Machinery, Electric Cars, Motorcycle, Food Machinery, Mining Equipment, Agricultural Machinery, Coating, Spraying, Mining, Slaughtering, Assembly |
| Surface Treatment: | Polishing |
| Structure: | Combined Chain |
| Material: | Alloy |
| Type: | Cranked Link Chain |
Samples:

US$ 5/Piece

1 Piece(Min.Order)

|
Request Sample
Customization:

Available

|

Customized Request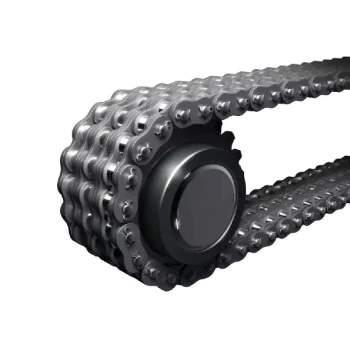 How does the material hardness of a drive chain affect its durability?
The material hardness of a drive chain plays a significant role in determining its durability and resistance to wear. Here is a detailed explanation:
Material hardness refers to the ability of a material to resist indentation, abrasion, and penetration by external forces. In the context of drive chains, the hardness of the chain's components, such as pins, bushings, and rollers, directly affects the chain's durability and lifespan.
When it comes to drive chain durability, the following factors come into play:
Resistance to Wear: A higher material hardness typically results in better resistance to wear. Drive chains with harder materials can withstand the friction and contact forces encountered during operation, minimizing the wear on critical components. This translates to extended chain life and reduced maintenance requirements.
Impact Resistance: The material hardness of a drive chain also affects its ability to resist impact forces. Chains operating in environments with frequent impacts or shock loads, such as in mining or heavy-duty applications, require high hardness materials to withstand the sudden stresses without deformation or failure.
Resistance to Deformation: Harder materials exhibit greater resistance to deformation under load. This is particularly important in drive chains where precise interlocking of chain components is necessary for efficient power transmission. Chains with higher material hardness maintain their shape and dimensional integrity, ensuring consistent performance and minimizing the risk of chain elongation or misalignment.
Corrosion Resistance: While material hardness primarily affects wear resistance, it can indirectly impact the chain's resistance to corrosion. Certain high-hardness materials, such as stainless steel or specific alloys, offer improved corrosion resistance compared to softer materials. This is especially relevant in applications where the chain is exposed to corrosive environments, such as marine or chemical industries.
It is important to note that while higher hardness generally leads to improved durability, excessive hardness can also result in brittleness and reduced impact resistance. Therefore, a balance must be struck between hardness and other mechanical properties to ensure optimal performance and durability of the drive chain.
Manufacturers typically specify the appropriate hardness level for drive chain components based on the specific application requirements. These specifications take into account factors such as load capacity, operating conditions, anticipated wear rates, and desired service life.
Regular maintenance practices, such as proper lubrication, periodic inspection, and tension adjustment, are essential for maximizing the durability and performance of the drive chain, regardless of its material hardness.
By selecting a drive chain with the appropriate material hardness and implementing proper maintenance practices, operators can ensure optimal durability, extended chain life, and reliable power transmission in various industrial applications.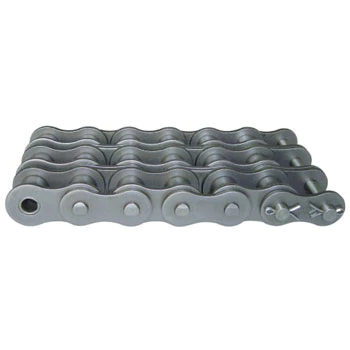 Can a drive chain be used in a robotics or automation application?
Yes, drive chains can be used in robotics or automation applications as a reliable and efficient method of power transmission. Here is a detailed explanation:
In robotics and automation, where precise and controlled movement is essential, drive chains offer several advantages:
Precision and Accuracy: Drive chains can provide accurate and repeatable positioning, making them suitable for applications that require precise movement and control.
High Torque Transfer: Drive chains are capable of handling high torque loads, allowing them to transmit power effectively in robotic and automation systems.
Efficient Power Transmission: Drive chains offer high efficiency in power transmission, minimizing energy loss during transfer and ensuring that the maximum amount of power is delivered to the intended components.
Flexibility and Customization: Drive chains provide flexibility in terms of design and customization. They can be adapted to various robotic and automation applications, accommodating different load requirements, configurations, and space constraints.
Compact Design: Drive chains have a compact design, which is beneficial in applications where space is limited. They can transmit power in tight or confined areas without compromising performance.
Reliability and Durability: Drive chains are known for their durability and ability to withstand demanding operating conditions. They are designed to endure continuous operation, shock loads, and varying environmental factors.
It's important to select the appropriate drive chain type, size, and material for the specific robotics or automation application. Additionally, regular maintenance, including inspection, lubrication, and tension adjustment, is crucial to ensure optimal performance and longevity of the drive chain in these applications.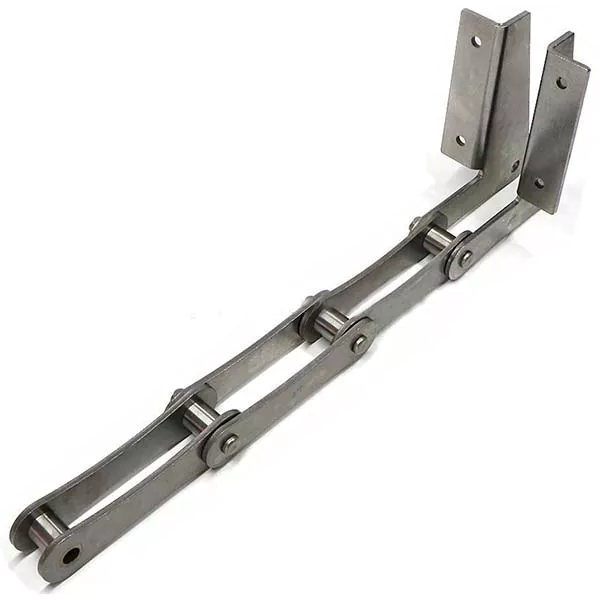 How do you choose the right drive chain for your application?
Choosing the right drive chain for your application requires careful consideration of various factors. Here are some key steps to help you make an informed decision:
Identify the Application Requirements: Determine the specific requirements of your application, including the power transmission needs, operating speed, load capacity, environmental conditions, and any special considerations.
Understand Chain Specifications: Familiarize yourself with the different specifications of drive chains, such as pitch size, roller diameter, plate thickness, and tensile strength. These specifications will directly impact the chain's performance and compatibility with your application.
Consider Chain Type: Evaluate the different types of drive chains available, such as roller chains, double pitch chains, leaf chains, silent chains, and engineered chains. Select the type that best suits your application's requirements, considering factors like load capacity, speed, noise level, and specific industry standards.
Evaluate Environmental Factors: Assess the environmental conditions in which the drive chain will operate. Consider factors like temperature, moisture, dust, chemicals, and potential exposure to corrosive substances. Choose a chain that can withstand these conditions without compromising performance or longevity.
Consult Manufacturer Guidelines: Refer to the manufacturer's guidelines and specifications for each drive chain option you are considering. Manufacturers often provide detailed information regarding performance capabilities, installation requirements, maintenance recommendations, and compatibility with specific applications.
Consider Maintenance Requirements: Evaluate the maintenance needs of the drive chain, such as lubrication requirements, tension adjustment, and periodic inspection. Choose a chain that aligns with your maintenance capabilities and operational preferences.
Seek Expert Advice: If you are unsure about which drive chain to choose, consider consulting with experts or professionals in the field. They can provide valuable insights and recommendations based on their experience and knowledge.
By carefully considering these factors and following a systematic approach, you can select the right drive chain that meets the requirements of your application, ensuring optimal performance, longevity, and reliability.



editor by CX 2023-07-24