Product Description
Duplex Short Pitch Precision Conveyor Roller Chain Transmission Chain (DIN764)
SHORT PITCH PRECISSION ROLLER CHAINS (B SERIES)
Material: Alloy Steel
Surface Treatment: Shot Peening / Blacking / Blueing
Main Application: Idustry machinery
ANSI CHAIN NO.: 05B-2  06B-2  10B-2  12B-2  16B-2  20B-2  24B-2  28B-2  32B-2  40B-2 48B-2  56B-2  72B-2
Pitch:8 9.525 12.7 15.875 19.05 25.4 31.75 38.1 44.45 50.8 63.5 76.2 88.9 101.6 114.3 
Product name 
 Duplex Short Pitch Precision Roller Chain (B series) Chain (DIN764)
Materials Available
1. Stainless Steel: SS201, SS303, SS304, SS316, SS416, SS420
2. Steel:C45(K1045), C46(K1046),C20
3. Brass:C36000 ( C26800), C37700 ( HPb59), C38500( HPb58), C27200(CuZn37), C28000(CuZn40)
4. Bronze: C51000, C52100, C54400, etc
5. Iron: 1213, 12L14,1215
6. Aluminum: Al6061, Al6063
7.OEM according to your request
Surface Treatment
Annealing, natural anodization, heat treatment,  polishing, nickel plating, chrome plating, znic plating,yellow passivation, gold passivation,  satin, Black surface painted etc.
Products Available
sprockt chains, pulley, shafts(axles, spline shafts, dart shafts),gears (pinions, wheels gear rack) bearing, bearing seat,  bushing, coupling, lock assembly etc.
Processing Method
CNC machining, punch,turning, milling, drilling, grinding, broaching, welding and assembly
QC :
Technicians self-check in production,final-check before package by  professional Quality inspector
Size
Drawings
Package
Wooden Case/Container and pallet, or as per customized specifications
Certificate
ISO9001:2008 , ISO14001:2001,ISO/TS 16949:2009
Advantage
Quality first Service superior , Advanced equipment,Experienced workers,Perfect testing equipment
Lead Time
15-25days samples. 30-45days offcial order
1. Are you manufacturer or trade Company?
We are a factory founded in 1991 with trade team for international service.
2. What terms of payment you usually use?
T/T 30% deposit and 70% against document, Western Union, L/C at sight
3. what is your lead time for your goods?
Normally 45 days after confirmed order. 30 days could be available in low season for some items (during May to July), and 65 days during new year and hot season ( Jan to March).
4. Do you attend any Show?
We attend Hannover show in Germany, NMW in Austrilia, Canton fair, PTC, in China and many other special furniture shows.
 
| | |
| --- | --- |
| Usage: | Transmission Chain |
| Material: | Alloy/Carbon Steel |
| Surface Treatment: | Polishing |
| Feature: | Heat Resistant |
| Chain Size: | 1/2"*3/32" |
| Structure: | Roller Chain |
Customization:

Available

|

Customized Request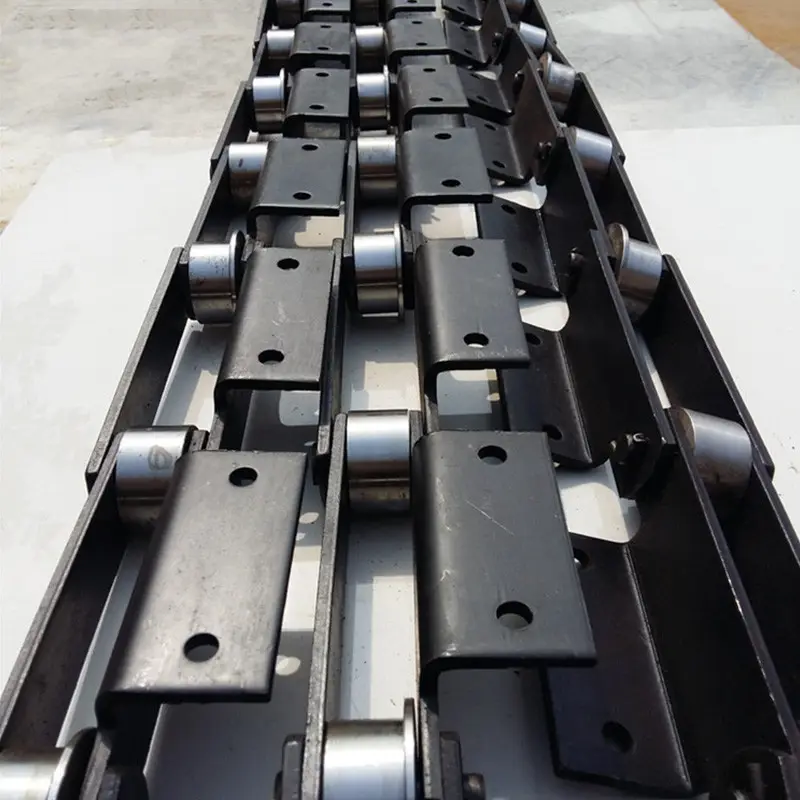 What are the advantages of using a silent transmission chain?
A silent transmission chain, also known as a silent chain or an inverted-tooth chain, offers several advantages in various applications. Here's a detailed explanation:
1. Noise Reduction: One of the primary advantages of a silent transmission chain is its ability to minimize noise during operation. The unique design of the chain features inverted teeth that engage with matching sprockets without making direct contact. This design significantly reduces the noise generated by the chain's movement, resulting in a quieter operation compared to traditional roller chains.
2. Smooth and Vibration-Free Operation: Silent transmission chains provide a smooth and vibration-free power transmission. The absence of metal-to-metal contact between the chain and sprockets reduces friction and vibration, resulting in smoother operation. This characteristic is particularly beneficial in applications where noise and vibrations need to be minimized, such as in precision machinery, office equipment, or medical devices.
3. High Efficiency: Silent transmission chains offer high power transmission efficiency. The precision-engineered tooth profile ensures optimal contact with the sprockets, resulting in efficient energy transfer. The reduced friction and vibration also contribute to improved efficiency by minimizing energy losses during power transmission.
4. Increased Service Life: Silent chains are designed for durability and longevity. The use of high-quality materials, precise manufacturing processes, and robust construction enhance their resistance to wear, elongation, and fatigue. Silent chains can withstand high loads and exhibit excellent resistance to corrosion and lubrication degradation, resulting in extended service life and reduced maintenance requirements.
5. Wide Range of Applications: Silent transmission chains find applications in various industries and systems. They are commonly used in industrial machinery, printing presses, packaging equipment, textile machines, automotive timing systems, and other applications that require low noise, precise power transmission, and long service life.
6. Design Flexibility: Silent chains offer design flexibility due to their ability to operate in a compact space. Their compact design allows for more flexibility in equipment layout and design, making them suitable for applications with space constraints.
7. Reliability and Safety: Silent transmission chains are engineered for reliability and safety. Their robust construction and ability to handle high loads ensure secure power transmission, minimizing the risk of chain failure or system breakdown. Additionally, their low-noise operation and reduced vibration contribute to a safer working environment.
When considering the use of a silent transmission chain, it is important to evaluate the specific requirements of the application, including load capacity, speed, space limitations, and noise considerations. Consulting with chain manufacturers or industry experts can provide valuable insights and assistance in selecting the appropriate silent chain for optimal performance and efficiency.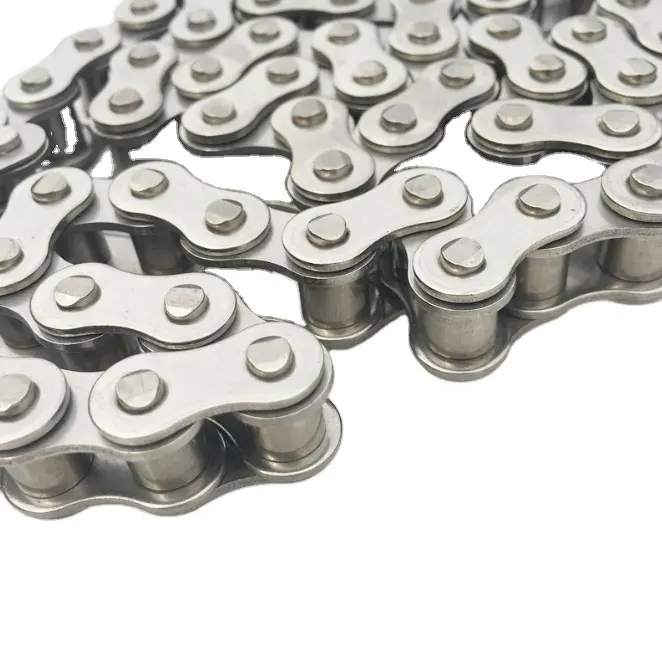 Can transmission chains be used in power transmission systems?
Yes, transmission chains can be used in power transmission systems. Here's a detailed answer to the question:
Transmission chains are commonly employed in various power transmission applications where the transfer of mechanical power is required. These chains are designed to transmit rotational motion and power from one shaft to another.
Transmission chains are used in a wide range of power transmission systems, including:
Industrial Machinery: Transmission chains are used in machinery such as conveyor systems, packaging equipment, printing presses, and machine tools to transfer power and motion between different components.
Agricultural Equipment: Transmission chains are utilized in farm machinery like tractors, combines, and harvesters to transmit power from the engine to various mechanical components for tasks like cutting, threshing, and planting.
Automotive: Transmission chains can be found in certain automotive applications, such as motorcycle drive chains or timing chains that synchronize the rotation of the crankshaft and camshaft in internal combustion engines.
Power Generation: Transmission chains are employed in power generation systems, including wind turbines, hydroelectric turbines, and steam turbines, to transmit rotational motion from the turbine to the generator.
Construction Equipment: Transmission chains are used in construction equipment like excavators, loaders, and bulldozers to transfer power and motion from the engine to the drivetrain and various hydraulic components.
Transmission chains offer several advantages in power transmission systems:
High Efficiency: Transmission chains have minimal power losses, allowing for efficient power transfer.
High Load Capacity: Transmission chains are capable of handling high loads and transmitting substantial amounts of power.
Flexibility: Transmission chains can be easily customized to fit different applications, with various sizes, lengths, and configurations available.
Durability: Transmission chains are designed to withstand heavy-duty applications and offer long service life when properly maintained.
Cost-Effective: Transmission chains are often a cost-effective solution compared to other power transmission options.
It's important to select the appropriate type and size of transmission chain based on the specific requirements of the power transmission system. Regular maintenance and lubrication are also essential to ensure optimal performance and longevity of the transmission chain.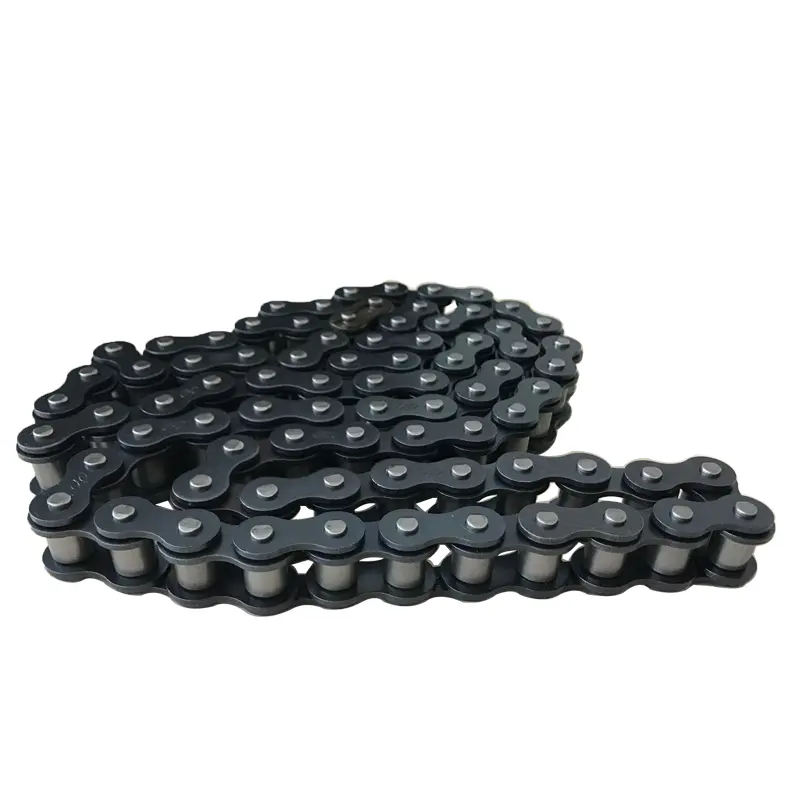 What is a transmission chain and how does it work?
A transmission chain is a type of mechanical chain used to transmit power between two or more rotating shafts. It consists of a series of interconnected links that engage with toothed sprockets to transfer motion and torque.
In a typical transmission chain system, the chain wraps around two or more sprockets, with one sprocket connected to the input shaft and the other(s) connected to the output shaft(s). As the input shaft rotates, the chain moves along the sprockets, causing the output shaft(s) to rotate at the same speed or different speeds depending on the sprocket sizes.
The functioning of a transmission chain relies on the principle of mechanical power transmission through interlocking links and the engagement between the chain and the sprocket teeth. The chain's links are designed to fit precisely with the sprocket teeth, ensuring a positive and reliable transfer of power.
As the chain engages with the sprockets, the teeth on the sprockets push against the chain's rollers or pins, causing the chain to move. This movement transfers rotational motion and torque from the input shaft to the output shaft(s), enabling the transmission of power and facilitating various mechanical operations.
Transmission chains are widely used in various applications such as automotive engines, motorcycles, bicycles, industrial machinery, and power transmission systems. They are valued for their durability, efficiency, and ability to handle high loads and speeds.



editor by CX 2023-08-18