Product Description
Product Description
1, Our Chain types: Agricultural roller chain, hollow pin conveyor chain, sugar industry chain, cane feeder and washing table chain, welded steel chain, bakery industry chain, weld steel drag chains,coil conveyor chain, palm oil chain etc;
2, Main materials: It is 40Mn. 40Cr, 45Mn alloy steel, SUS304, and POM Plastic for plates, 10#, 20#, 20CrMnMo, 30CrMnTi for pins and rollers;
3, Heat treatment: Carburizing, Austemper Stressing, nitro-caburizing harden etc;
4, Surface: Shot peening, black, blue or original;
Detailed Photos
For example of WH78, WH82, WH124, WH111, WH106, WH110, WH132, WH150, WH155
Product Parameters
Packaging & Shipping
plastic bag+carton+ OSB Case
Shipping way: these products will be shipped to your local port by sea, these also could be sent to your specific address by air.
Our Advantages
Our chains could be customized according to your actual order quantity, actual drawing and actual requirement. We have own chain process workshop, heat treatment workshop, process equipments and experienced designers.
(01)Assembled workshop
(02)Punching plate workshop
(03)Plate fabrication workshop
(04)Heat treatment workshop
(05)Shot peening workshop
(06) our warehouse
After Sales Service
Our products can be repaired or replaced the new parts with free cost in six months. 
| | |
| --- | --- |
| Material: | Alloy |
| Structure: | Welded Chain |
| Surface Treatment: | Carburizing and Quenching |
| Chain Size: | 153.67mm |
| Feature: | Heat Resistant |
| Bush Diameter on Inner Link: | 44.50mm |
Customization:

Available

|

Customized Request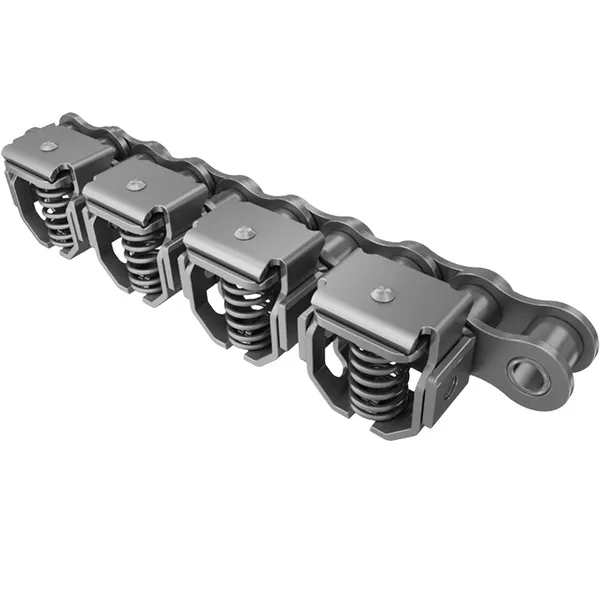 What are the benefits of using a self-lubricating conveyor chain?
Self-lubricating conveyor chains offer several advantages over traditional lubricated chains. Here are some key benefits:
1. Reduced Maintenance: Self-lubricating chains eliminate the need for regular lubrication, reducing the time and effort required for maintenance. This is particularly beneficial in applications where access to the chain is difficult or time-consuming.
2. Cost Savings: By eliminating the need for external lubrication, self-lubricating chains can help reduce lubrication costs over the lifetime of the chain. This includes the cost of lubricants, as well as the labor and equipment required for lubrication maintenance.
3. Clean and Environmentally Friendly: Self-lubricating chains do not require external lubricants, resulting in a cleaner working environment. There is no risk of lubricant spills or contamination of the surrounding area, making them ideal for applications that require strict cleanliness standards, such as food processing or pharmaceutical industries.
4. Extended Chain Life: Self-lubricating chains are designed with built-in lubrication systems that provide a continuous and controlled supply of lubricant to the chain components. This helps reduce friction, wear, and heat generation, resulting in longer chain life and improved performance.
5. Improved Reliability: With consistent and reliable lubrication, self-lubricating chains maintain optimal performance and minimize the risk of chain failure or breakdown. They are less susceptible to premature wear, elongation, and corrosion, ensuring a more reliable and efficient conveyor system.
It's important to note that the specific benefits of self-lubricating chains may vary depending on the manufacturer and the design of the chain. It's recommended to consult with the chain manufacturer or an industry expert to understand the suitability and advantages of self-lubricating chains for a particular application.
How does a conveyor chain contribute to overall production efficiency?
A conveyor chain plays a crucial role in enhancing overall production efficiency in various industries. Here are the ways in which it contributes to efficiency:
1. Continuous Material Flow: A conveyor chain enables continuous and uninterrupted material flow from one point to another. It eliminates the need for manual handling or transportation of goods, reducing downtime and delays in production processes.
2. Increased Throughput: By automating material handling, a conveyor chain enables faster and more efficient movement of goods. It allows for higher throughput and production rates, maximizing the utilization of resources and reducing cycle times.
3. Improved Productivity: With a conveyor chain, employees can focus on value-added tasks rather than manual material handling. This leads to improved productivity as workers can concentrate on more skilled and critical operations.
4. Efficient Resource Allocation: A well-designed conveyor chain system optimizes the utilization of space, allowing for efficient layout and organization of production areas. It helps in streamlining workflow and minimizing wastage of resources such as floor space, manpower, and equipment.
5. Quality Control: Conveyor chains can be integrated with inspection stations or automated processes to ensure quality control at various stages of production. This helps in detecting and rectifying any defects or inconsistencies, reducing the chances of faulty products reaching the market.
6. Reduced Material Handling Costs: By eliminating or minimizing manual material handling, a conveyor chain reduces labor costs associated with transportation, lifting, and carrying of goods. It also minimizes the risk of injuries or accidents related to manual handling.
7. Flexibility and Adaptability: Conveyor chains can be customized to suit specific production requirements. They can be designed to accommodate different types of products, handle various load capacities, and adapt to changes in production demands. This flexibility allows for seamless integration with existing production systems and easy scalability.
8. Safety and Ergonomics: Conveyor chains incorporate safety features such as guards, emergency stop buttons, and interlocks to ensure worker safety. They also promote ergonomic practices by reducing physical strain on workers and minimizing the risk of musculoskeletal injuries.
Overall, a well-designed and properly maintained conveyor chain system enhances production efficiency by optimizing material flow, increasing throughput, improving productivity, reducing costs, ensuring quality control, and prioritizing worker safety.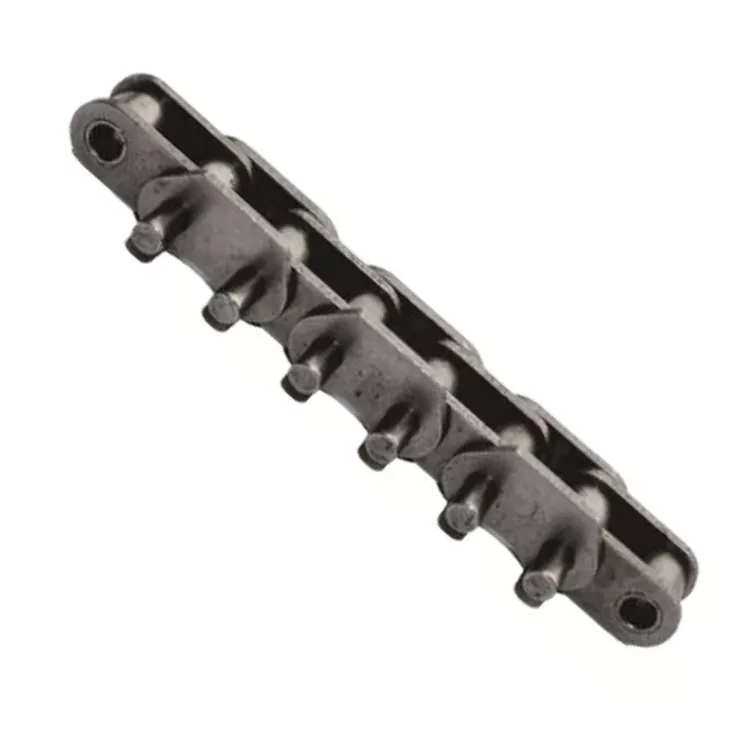 Can a conveyor chain be repaired or does it need to be replaced entirely?
In general, conveyor chains can be repaired in certain cases, but there are instances where replacement is necessary. Here are some considerations:
Minor Damage: If the conveyor chain has minor damage, such as a broken link or a damaged pin, it may be possible to repair it by replacing the damaged components.
Significant Wear: If the chain has significant wear, such as elongation or excessive corrosion, it may be more cost-effective to replace the entire chain rather than attempting repairs.
Critical Components: Some conveyor chains have critical components that cannot be repaired, such as welded attachments or specialized features. In such cases, replacement is usually the only option.
Manufacturer's Recommendations: It's important to consult the manufacturer's recommendations regarding chain repairability. They can provide specific guidelines on when repair is feasible and when replacement is necessary.
Before deciding whether to repair or replace a conveyor chain, it's recommended to assess the extent of damage, consider the overall condition of the chain, and evaluate the cost-effectiveness of each option. It's always advisable to consult with a qualified professional or the chain manufacturer to determine the best course of action.



editor by CX 2023-08-05