Product Description
Practical 630H Motorcycle Transmission Drive Chains For Motorcycle Parts
We also supply motorcycle chain 25, 25H, 06B, 415, 415H, 420, 420H, 428, 428H, 520, 520H, 525, 525H, 530, 530H, 630, O ring and X ring chain and so on, our chains are both excellent in quality and reasonable in price
1.Good quality and reasonable price
2.Has taken measure to better antirust
3.Long-life duration and high strength
4.Pre-stretching and running for each motor chain before delivery
5.Riveting: Two sides riveting or 4 sides riveting
6.All parts are heat treatment (quenching and tempering) and controlled in a reasonable tolerance range
7.We can also produce as your sample or drawing
8.Packing: According to your demand to design
 Specifications are as follows:
Chain No.

Pitch

Roller diameter

Width between inner plates

Pin diameter

Pin length

Inner plate depth

Plate thickness

Ultimate tensile strength

Average tensile strength

Fatigue

p

d1 max

b1 min

Ld2 max

max

Lc max

h2 max

T1

Q min

Q0

amx

mm

mm

mm

mm

mm

mm

mm

mm

kn

kn

kgf

06B

9.525

6.35

5.72

3.28

13.2

14.2

8.2

1.3

9

10

 

415

12.7

7.75

4.88

3.96

12.5

13.9

10.4

1.3

11.6

12.5

380

415H

12.7

7.75

4.88

3.96

13.1

14.5

11.5

1.5

15.6

16.1

380

420

12.7

7.77

6.35

3.96

14.5

16.1

12

1.5

16

16.5

380

420H

12.7

7.77

6.35

3.96

15.7

17.4

12

1.8

17

17.5

380

428

12.7

8.51

7.75

4.45

16.5

18.05

12

1.6

17.8

18.5

380

428H

12.7

8.51

7.75

4.45

18.3

19.08

12

2.03

20.6

21.1

450

428HG

12.7

8.51

7.75

4.51

18.9

20.1

12.3

2

20.6

21.5

450

520

15.875

10.16

6.35

5.08

17.7

19

15

2

26.5

29.5

650

520H

15.875

10.16

6.35

5.24

18.9

20.5

15

2.42

30

31

700

525

15.875

10.16

7.94

5.08

18.8

20.5

15

2.03

26.6

29

650

525H

15.875

10.16

7.74

5.24

20.4

22.2

15

2.42

30

31

700

530

15.875

10.16

9.4

5.08

20.9

22.2

15

2

26.5

29.7

650

530H

15.875

10.16

9.4

5.08

21.9

24.2

15

2.42

30

31.5

700

630

19.05

11.91

9.4

5.94

22.2

24

18

2.4

35

37

800
HangZhou CZPT Industry Co., Ltd. is a specialized supplier of a full range of chains, sprockets, gears, gear racks, v belt pulley, timing pulley, V-belts, couplings, machined parts and so on.
 Due to our CZPT in offering best service to our clients, understanding of your needs and overriding sense of responsibility toward filling ordering requirements, we have obtained the trust of buyers worldwide. Having accumulated precious experience in cooperating with foreign customers, our products are selling well in the American, European, South American and Asian markets.Our products are manufactured by modern computerized machinery and equipment. Meanwhile, our products are manufactured according to high quality standards, and complying with the international advanced standard criteria.
 With many years' experience in this line, we will be trusted by our advantages in competitive price, one-time delivery, prompt response, on-hand engineering support and good after-sales services.
Additionally, all our production procedures are in compliance with ISO9001 standards. We also can design and make non-standard products to meet customers' special requirements. Quality and credit are the bases that make a corporation alive. We will provide best services and high quality products with all sincerity. If you need any information or samples, please contact us and you will have our soon reply.
| | |
| --- | --- |
| Surface: | Golden, Black, Blue, Grey |
| Surface Treatment: | Zinc Plated, Sand Blasting, Dull Polish |
| Process: | Assemble |
| Structure (for Chain): | Motorcycle Chain |
| Certification: | ISO9001:2001 |
| Number of Row: | Single Row |
Customization:

Available

|

Customized Request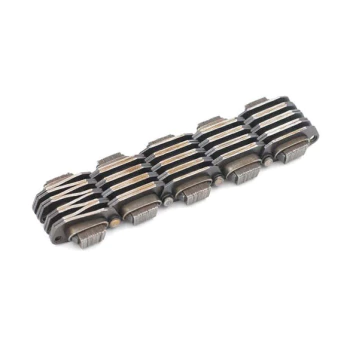 What are the benefits of using a corrosion-resistant coating on a drive chain?
A corrosion-resistant coating provides several benefits when applied to a drive chain. Here is a detailed explanation:
Drive chains used in various applications are often exposed to harsh environments that can lead to corrosion, including moisture, chemicals, contaminants, or high humidity. Applying a corrosion-resistant coating to the chain offers the following advantages:
Protection against Corrosion: The primary benefit of a corrosion-resistant coating is its ability to protect the chain from corrosive elements. The coating acts as a barrier, preventing moisture, chemicals, and other corrosive agents from reaching the chain's surface. This helps to inhibit or slow down the corrosion process, extending the chain's lifespan and reducing the risk of premature failure.
Enhanced Durability: By adding a corrosion-resistant coating, the drive chain's durability is significantly improved. The coating helps to prevent rust, oxidation, and degradation, thereby maintaining the chain's structural integrity and preserving its mechanical properties. This results in a longer service life and reduces the need for frequent chain replacements.
Reduced Maintenance Requirements: A corrosion-resistant coating reduces the maintenance efforts required to keep the chain in optimal condition. Since the coating provides a protective layer, there is less need for frequent lubrication or cleaning to combat corrosion. This leads to reduced maintenance costs and downtime, contributing to improved operational efficiency.
Compatibility with Harsh Environments: In applications where the chain is exposed to aggressive chemicals, high humidity, saltwater, or other corrosive substances, a corrosion-resistant coating is essential. The coating ensures the chain's reliability and performance even in demanding and challenging environments, such as marine, chemical processing, or outdoor applications.
Promotion of Cleanliness and Hygiene: Some corrosion-resistant coatings are designed to be smooth and easy to clean. This promotes cleanliness and hygiene in applications where cleanliness is critical, such as food processing, pharmaceuticals, or cleanroom environments. The coating prevents the accumulation of contaminants, making the chain easier to clean and maintain compliance with industry regulations.
Improved Aesthetics: A corrosion-resistant coating can enhance the visual appeal of the chain. It provides a clean and professional appearance, which is particularly important in applications where the chain is visible, such as in architectural designs or decorative installations.
It is important to note that the selection of a suitable corrosion-resistant coating should consider the specific application requirements, environmental conditions, and the compatibility of the coating with the chain material.
Regular inspection and proper maintenance practices, including periodic cleaning and lubrication, are still recommended to ensure the optimal performance and longevity of the drive chain, even with a corrosion-resistant coating.
By using a corrosion-resistant coating on a drive chain, operators can benefit from corrosion protection, enhanced durability, reduced maintenance requirements, compatibility with harsh environments, cleanliness, improved aesthetics, and ultimately, reliable and long-lasting chain performance.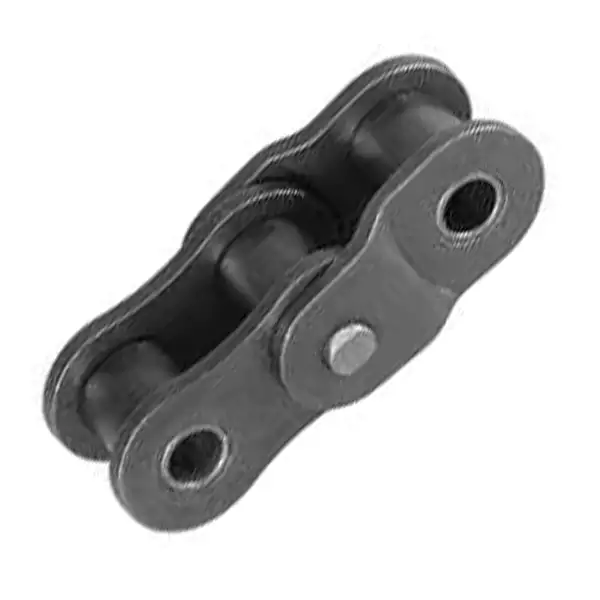 Can a drive chain be used in an escalator or elevator system?
Yes, a drive chain can be used in certain types of escalator or elevator systems as a method of power transmission. Here is a detailed explanation:
In escalator and elevator systems, the purpose of the drive chain is to transmit power from the motor to the moving steps or elevator car. While other power transmission methods, such as belts or gears, are commonly used in modern escalators and elevators, drive chains can still be found in certain applications:
Escalator Systems: In older or traditional escalator systems, drive chains are commonly used to transmit power from the main drive motor to the step chains. The step chains engage with the steps, causing them to move in a continuous loop. The drive chain ensures synchronized movement and reliable power transmission.
Elevator Systems: In some elevator systems, particularly older hydraulic or traction types, drive chains can be used as part of the power transmission mechanism. These chains transmit power from the motor to the elevator car or counterweight, enabling vertical movement.
It is important to note that the design and configuration of escalators and elevators can vary depending on factors such as capacity, speed, height, and building regulations. Modern escalators and elevators often employ more advanced and efficient power transmission methods, such as belts or gears, which offer advantages in terms of noise, efficiency, and maintenance. However, in certain cases, drive chains may still be used, especially in older systems or specific applications.
It is essential to consult with escalator or elevator manufacturers, experts, or maintenance technicians to determine the appropriate power transmission method for a particular escalator or elevator system. They can provide guidance on chain selection, maintenance requirements, and compliance with safety standards to ensure optimal performance and reliability.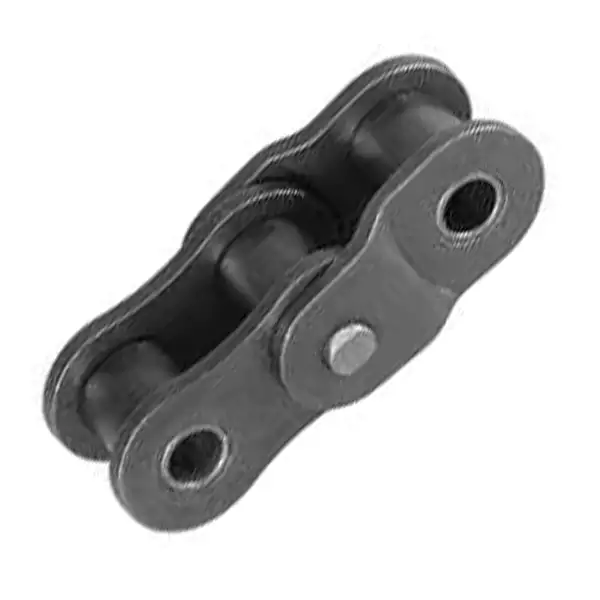 How often should a drive chain be lubricated?
Proper lubrication is essential for maintaining the performance and longevity of a drive chain. However, the frequency of lubrication depends on several factors, such as the application, operating conditions, and the type of lubricant used. Here are some general guidelines:
1. Manufacturer's Recommendations: Always refer to the manufacturer's recommendations and guidelines for the specific drive chain you are using. They may provide specific instructions regarding lubrication frequency and the type of lubricant to use.
2. Operating Conditions: Consider the operating conditions in which the drive chain operates. Factors such as temperature, humidity, dust, and exposure to contaminants can affect the lubrication requirements. In harsh or demanding conditions, more frequent lubrication may be necessary.
3. Usage Intensity: The frequency of lubrication can also depend on the intensity of usage. Chains used in high-speed or heavy-duty applications may require more frequent lubrication to maintain optimal performance.
4. Visual Inspection: Regularly inspect the drive chain for signs of inadequate lubrication, such as dryness, rust, or excessive wear. If you notice any of these signs, it may indicate the need for more frequent lubrication.
5. Lubricant Type: The type of lubricant used can also affect the lubrication frequency. Some lubricants provide longer-lasting protection and require less frequent application, while others may need to be applied more regularly.
In general, it is recommended to lubricate a drive chain at least every few hundred miles or operating hours. However, it is crucial to follow the manufacturer's recommendations and consider the specific operating conditions to determine the appropriate lubrication frequency for your drive chain.



editor by CX 2023-08-22