Product Description
China ISO Standard Excavator Roller Chain Sprocket with Hubs Sprocket Gear
XIHU (WEST LAKE) DIS.HUA Chain Group is the most professional manufacturer of power transmission in China, manufacturing roller chains, industry sprockets, motorcycle sprockets, casting sprockets, different type of couplings, pulleys, taper bushes, locking devices, gears, shafts, CNC precision parts and so on. We have passed ISO9001, ISO14001, TS16949 such quality and enviroment certification.
Product Name: Industry Sprocket
Standard: ANSI, DIN, JIS, KANA
Material: Steel C45
Surface Treatment: Teeth Harden, chemical black finish
Hardness: 40-52 HRC
OEM: Yes
Place of Origin: China
Application:
Industry sprockets can be usedin power driving, conveyor, lifting, mine, agricultural, food industry etc., together with roller chains.
Product name 
ISO Standard srpockets Chainwheels with hubs
Materials Available
1. Stainless Steel: SS201, SS303, SS304, SS316, SS416, SS420
2. Steel:C45(K1045), C46(K1046),C20
3. Brass:C36000 ( C26800), C37700 ( HPb59), C38500( HPb58), C27200(CuZn37), C28000(CuZn40)
4. Bronze: C51000, C52100, C54400, etc
5. Iron: 1213, 12L14,1215
6. Aluminum: Al6061, Al6063
7.OEM according to your request
Surface Treatment
Annealing, natural anodization, heat treatment,  polishing, nickel plating, chrome plating, znic plating,yellow passivation, gold passivation,  satin, Black surface painted etc.
Products Available
sprockt chains, pulley, shafts(axles, spline shafts, dart shafts),gears (pinions, wheels gear rack) bearing, bearing seat,  bushing, coupling, lock assembly etc.
Processing Method
CNC machining, punch,turning, milling, drilling, grinding, broaching, welding and assembly
QC :
Technicians self-check in production,final-check before package by  professional Quality inspector
Size
Drawings
Package
Wooden Case/Container and pallet, or as per customized specifications
Certificate
ISO9001:2008 , ISO14001:2001,ISO/TS 16949:2009
Advantage
Quality first Service superior , Advanced equipment,Experienced workers,Perfect testing equipment
Lead Time
15-25days samples. 30-45days offcial order
FAQ:
1. Are you manufacturer or trade Company?
We are a factory founded in 1991 with trade team for international service.
2. What terms of payment you usually use?
T/T 30% deposit and 70% against document, Western Union, L/C at sight
3. what is your lead time for your goods?
Normally 45 days after confirmed order. 30 days could be available in low season for some items (during May to July), and 65 days during new year and hot season ( Jan to March).
4. Do you attend any Show?
We attend Hannover show in Germany, NMW in Austrilia, Canton fair, PTC, in China and many other special furniture shows.
| | |
| --- | --- |
| Standard Or Nonstandard: | Nonstandard |
| Application: | Motor, Electric Cars, Motorcycle, Machinery, Marine, Toy, Agricultural Machinery |
| Hardness: | Hardened Tooth Surface |
| Manufacturing Method: | Rolling Gear |
| Toothed Portion Shape: | Spur Gear |
| Material: | Carbon Steel |
Customization:

Available

|

Customized Request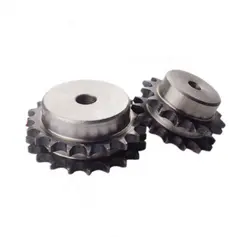 Best Lubrication Practices for wheel sprocket Systems
Proper lubrication is essential for maintaining the efficiency and longevity of wheel sprocket systems. The lubrication practices can vary depending on the specific application and the environment in which the system operates. Here are some best practices for lubricating wheel sprocket systems:
Cleanliness: Before applying any lubricant, ensure that the wheel sprocket surfaces are clean and free from dirt, debris, and old lubricant residue. Cleaning the components helps prevent contaminants from mixing with the lubricant and causing additional wear.
Choose the Right Lubricant: Select a lubricant specifically designed for the wheel sprocket system. Consider factors such as load, speed, temperature, and environmental conditions when choosing the appropriate lubricant. Some systems may require grease, while others may need oil-based lubricants.
Apply Adequate Amount: Apply the lubricant in the right quantity to ensure proper coverage of the contacting surfaces. Too little lubricant may not provide sufficient protection, while too much can lead to excess heat and waste.
Regular Lubrication Schedule: Establish a maintenance schedule for lubrication based on the operating conditions of the system. In high-demand applications, more frequent lubrication may be necessary to prevent premature wear.
Monitor and Reapply: Regularly monitor the condition of the wheel sprocket system and observe any signs of inadequate lubrication, such as increased friction or unusual noise. Reapply lubricant as needed to maintain optimal performance.
Re-lubrication After Cleaning: If the wheel sprocket system is cleaned, ensure that fresh lubricant is applied after cleaning to restore the protective layer.
Consider Lubrication Type: Depending on the application, consider using dry lubricants or solid lubricants for environments where dust and dirt accumulation may be a concern.
It's essential to follow the manufacturer's recommendations and guidelines for lubrication. Additionally, consult with lubrication experts or equipment suppliers for specific recommendations based on your wheel sprocket system's unique requirements.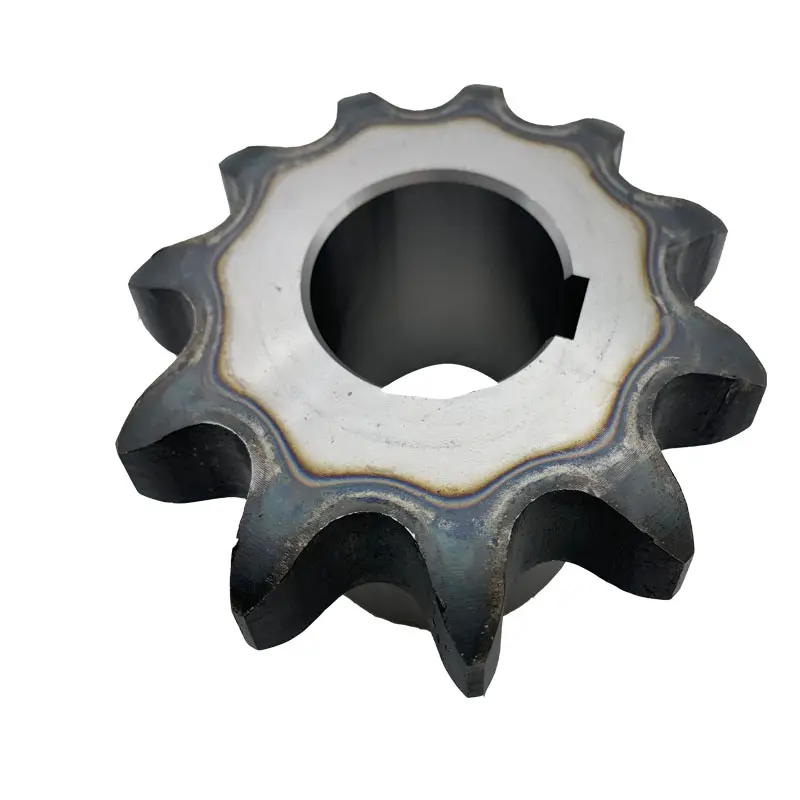 Load-Carrying Capacities of wheel sprocket Combinations
The load-carrying capacity of a wheel sprocket assembly depends on various factors, including the material, size, and design of both the wheel sprocket. Here are some common types of wheel sprocket combinations and their load-carrying capacities:
Steel Wheel with Steel Sprocket: This combination offers high load-carrying capacity and is commonly used in heavy-duty applications. Steel wheels can handle substantial loads, and when paired with steel sprockets, the assembly can withstand even higher forces.
Nylon Wheel with Steel Sprocket: Nylon wheels are known for their lightweight and durable nature. When combined with steel sprockets, they provide a good load-carrying capacity while reducing the overall weight of the assembly.
Polyurethane Wheel with Steel Sprocket: Polyurethane wheels offer excellent wear resistance and are suitable for medium to heavy loads. When paired with steel sprockets, this combination can handle moderate to high load capacities.
Rubber Wheel with Cast Iron Sprocket: Rubber wheels are known for their shock-absorbing properties and are often used in applications requiring vibration dampening. When used with cast iron sprockets, this combination can handle medium loads.
Plastic Wheel with Plastic Sprocket: This combination is suitable for light-duty applications where lower loads are expected. Plastic wheels and sprockets are often used in applications that require low friction and quiet operation.
Custom wheel sprocket Combinations: In some cases, custom wheel sprocket combinations are designed to meet specific load-carrying requirements. These combinations can be tailored to suit the application's unique demands.
It's important to note that load-carrying capacities also depend on other factors, such as the type of bearing used in the wheel, the shaft material, and the overall design of the mechanical system. Engineers should carefully consider the intended application, operating conditions, and safety factors when selecting the appropriate wheel sprocket combination to ensure optimal performance and longevity of the system.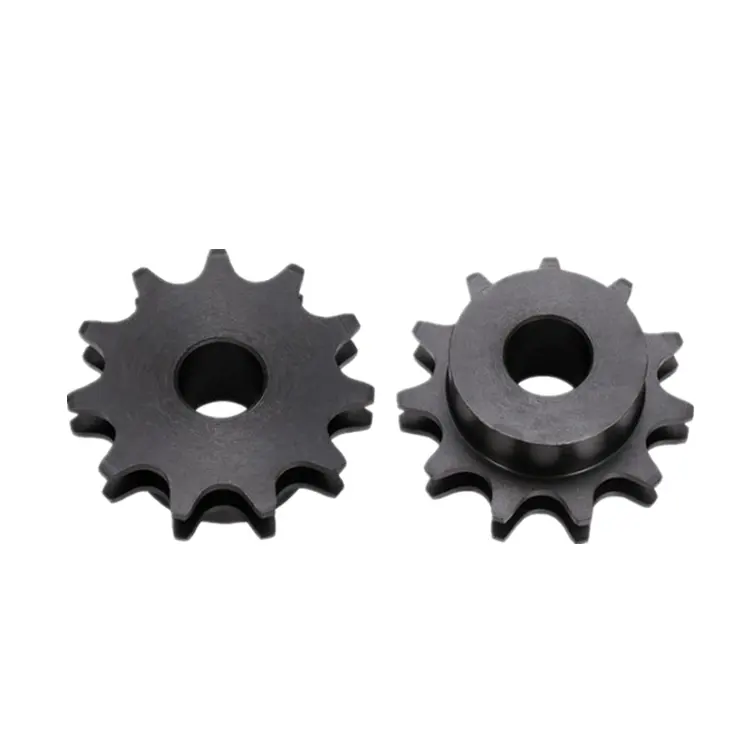 Common Applications of Wheels and Sprockets in Machinery
Wheels and sprockets are crucial components used in various machinery and mechanical systems for power transmission, motion control, and mechanical advantage. Some common applications include:
1. Vehicles:
Wheels and sprockets are extensively used in vehicles, including automobiles, motorcycles, bicycles, and even heavy-duty trucks and construction equipment. Sprockets and chains are commonly found in motorcycles and bicycles for power transmission from the engine or pedals to the wheels.
2. Industrial Machinery:
In industrial settings, wheels and sprockets play a vital role in conveyor systems, where they are used to move materials or products along a production line. Sprockets are also employed in various machinery to transfer rotational motion and power between components.
3. Agricultural Equipment:
Agricultural machinery often relies on wheels and sprockets for functions such as driving tractors, operating harvesting equipment, and propelling irrigation systems.
4. Robotics:
Wheels and sprockets are commonly used in robotic systems to provide mobility and movement capabilities. Sprockets and chains or belts are used in robotic arms and joints to facilitate precise and controlled motion.
5. Material Handling:
Conveyor systems in warehouses and distribution centers utilize wheels and sprockets to move packages, products, and materials efficiently. The sprockets engage with conveyor chains to create a continuous loop for material transport.
6. Mining and Construction:
In heavy industries like mining and construction, large machinery such as excavators, bulldozers, and cranes utilize wheels and sprockets for propulsion and movement. Tracks with sprockets are commonly used in these applications for enhanced traction and stability.
7. Factory Automation:
In automated manufacturing processes, wheels and sprockets are employed in robotic arms and assembly line systems to control movement and manipulate objects with precision.
8. Renewable Energy:
In wind turbines, wheels and sprockets are used to convert the rotational motion of the blades into electrical energy by driving the generator.
These are just a few examples of the diverse applications of wheels and sprockets in machinery and mechanical systems. Their versatility, efficiency, and ability to provide mechanical advantage make them essential components in various industries.



editor by CX 2023-09-01