Product Description
Factory Direct Supply Roller Chain For Conveyor
 
Stainless Steel Roller Chains,Stainless Steel Conveyor chain, Stainless steel chainn for bottle conveyor line which is used on bottle filling conveyor lines, other standard ss chain or special ss chains (SS304 chain, SS316 chains, SS316L chains, SS conveyor chains, SS304 conveyor chain, SS316 conveyor chain) all available
We have many OEM chain factory customer from Europe and our conveyor chains quality is similar to the A quality in the world.
We are professional supplier of chains
1) Chain NO. : 08A to 48A, 04B to 48B
2) Any special requirements about pins, attachments, and plates can be meet.
3) Color available: natural, yellow, blue, and so on
We are the leading top Chinese chain manufacturer, and are specializing in various high quality Agricultural Chain. We comply with
DIN, ANSI, or ISO standard as per customer's request.
We can also supply chain as below:
1. Roller chains with straight side plate (A series) ;08A to 48A
2. Roller chains with straight side plate (B series) :04B to 48B
3. Short pitch conveyor chain with attachments : O8A to 16B with attachment
4. Conveyor chain with special attachments (A series) : C08A-1 to C32A-3
5. Conveyor chain with special attachments (B series) : C08B-1 to C32B-3
6. Conveyor chain with special attachments : A1,K1,WK1,WK2,WA1,WA2
7. Short pitch conveyor chain with extended pins :40HP,50HP,60HP,80HP.
8.Conveyor chain with special extended pins
9.Double pitch conveyor chains
10. Double pitch conveyor chain with attachments
11.Double pitch conveyor chain with special attachments
12.Double pitch conveyor chain with extended pins
13. Double plus chains
14. Lumber conveyor chain & attachments
15. Sharp top chains
16. Roller chain with vulcanised elastomer profiles
17.Roller chain with U type attachments
18.Roller chain with plastic attachments
19. Plastic chains
20. Roller chain with plastic rollers
21.Various conveyor chains
22. Conveyor chains(M series)
23. Conveyor chain with attachments(M series)
24. Conveyor chains(MT series)
25. Hollow pin conveyor chains(MC series)
26. Conveyor chains(FV series)
27. Conveyor chain with attachments(FV series)
28. Conveyor chains(FVT series)
29. Hollow pin conveyor chains(FVC series)
30. Non-standard hollow pin conveyor chains
31. Conveyor chains(Z series)
32. Conveyor chain with attachments(Z series)
33. Conveyor chains(ZE series)
34. Hollow pin conveyor chains(ZC series)
35. Conveyor chains
36. Conveyor chain with attachments
37.Steel chains for sewage disposal
38. Special conveyor chains
39. Universal movement conveyor chains
40.Conveyor chains for hoisting
41.Welded conveyor chains
42. Roller chains for textile machinery
43.Roller chains for folio transport(Gripper)
44. Support chains
45. 78PF1 conveyor chains
46. Conveyor chains for paper mill
47. Conveyor chains for metal decorating system
48.To top chain-curved movement
49.Double flex chains
50. Hollow pin chains
51. Engineering bush chains
52.Engineering bush chain with attachments
53. Escalator step-chains
54. Conveyor chains for steel mill
55. Scraper conveyor chains
56. Welded steel chains
57.Welded steel chain with attachments
58. Steel pintle chain
59. Steel pintle chain with attachments
60. Conveyor chains for fibreboard equipment
61. Conveyor chains for crawler asphalt paver
62. Palm oil chains
63. Sugar chains
64. Flat-top conveyor chains
| | |
| --- | --- |
| Product Name | MW Steel Transmission Industrial Lifting Overhead Conveyor Roller Chain |
| Size | A series |
| Pitch | 4.7625-76.2mm |
| Material | Carbon steel/stainless steel(SS304,SS316) |
| Colour | Nature |
| Standard | ISO DIN GB ANSI |
| Length | Standard length 1.524M/box or 10 feet/box |
HangZhou CZPT Industry Co., Ltd. is a specialized supplier of a full range of chains.
Due to our CZPT in offering best service to our clients, understanding of your needs and overriding sense of responsibility toward filling ordering requirements, we have obtained the trust of buyers worldwide. Having accumulated precious experience in cooperating with foreign customers, our products are selling well in the American, European, South American and Asian markets.Our products are manufactured by modern computerized machinery and equipment. Meanwhile, our products are manufactured according to high quality standards, and complying with the international advanced standard criteria.
With many years' experience in this line, we will be trusted by our advantages in competitive price, one-time delivery, prompt response, on-hand engineering support and good after-sales services.
Additionally, all our production procedures are in compliance with ISO9001 standards. We also can design and make non-standard products to meet customers' special requirements. Quality and credit are the bases that make a corporation alive. We will provide best services and high quality products with all sincerity. If you need any information or samples, please contact us and you will have our soon reply.
FAQ:
Q1: Are you trading company or manufacturer ?
A: We are factory.
Q2: How long is your delivery time and shipment?
1.Sample Lead-times: generally 30 workdays.
2.Production Lead-times: 60 workdays after getting your deposit.
Q3. What is your terms of payment?
A: T/T 30% as deposit, and 70% before delivery.
We'll show you the photos of the products and packages before you pay the balance.
Q4: What is your advantages?
1. Manufacturer,the most competitive price and good quality.
2. Perfect technical engineers give you the best support.
3. OEM is available.
4. Rich stock and quick delivery.
Q5. If you can't find the product on our website,what do you next?
Please send us inquiry with product pictures and drawings by email or other ways and we'll check
| | |
| --- | --- |
| Standard or Nonstandard: | Standard |
| Application: | Textile Machinery, Garment Machinery, Conveyer Equipment, Packaging Machinery, Food Machinery, Marine, Mining Equipment |
| Surface Treatment: | Polishing |
| Material: | Steel |
| Type: | Roller Chain |
| Transport Package: | Standard Sea Worthy Package |
Samples:

US$ 15/Piece

1 Piece(Min.Order)

|
Request Sample
Customization:

Available

|

Customized Request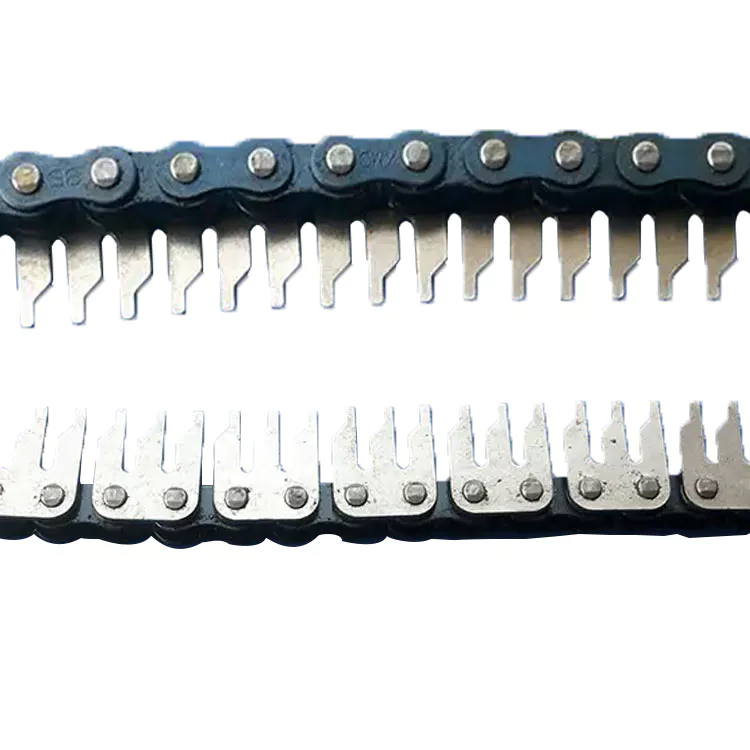 Can a conveyor chain be used in automotive assembly lines?
Yes, a conveyor chain can be effectively used in automotive assembly lines. Here are the reasons why:
1. Efficient Material Handling:
– Conveyor chains provide a reliable and efficient means of transporting automotive components and parts along the assembly line. They can handle heavy loads and withstand the demanding requirements of automotive manufacturing.
2. Versatility:
– Conveyor chains offer versatility in terms of design and configuration. They can be customized to accommodate various assembly processes, such as body welding, painting, assembly, and final inspection.
3. Precise Positioning:
– Conveyor chains allow precise positioning and synchronization of automotive components, ensuring accurate assembly and alignment during the production process. This helps maintain consistent quality and reduces errors.
4. Automation Integration:
– Conveyor chains can be easily integrated with automation systems in automotive assembly lines. They can work in conjunction with robotic arms, vision systems, and other automated equipment to optimize the production process and improve efficiency.
5. Assembly Line Flexibility:
– Conveyor chains provide flexibility in terms of line configuration and layout. They can be designed to accommodate different assembly line layouts, including straight sections, curves, inclines, and declines, to meet the specific requirements of automotive assembly processes.
6. Space Optimization:
– Conveyor chains help optimize space utilization in automotive assembly plants. They can be designed to navigate around existing equipment and infrastructure, making efficient use of available floor space.
7. Safety:
– Conveyor chains are designed with safety features to protect operators and prevent accidents. Emergency stop controls, guarding, and interlocking mechanisms ensure the safe operation of the assembly line.
8. Increased Production Speed:
– By using conveyor chains, automotive assembly lines can achieve higher production speeds, allowing for faster manufacturing cycles and increased output.
Overall, conveyor chains play a crucial role in enhancing the efficiency, productivity, and safety of automotive assembly lines, contributing to the smooth and streamlined production of vehicles.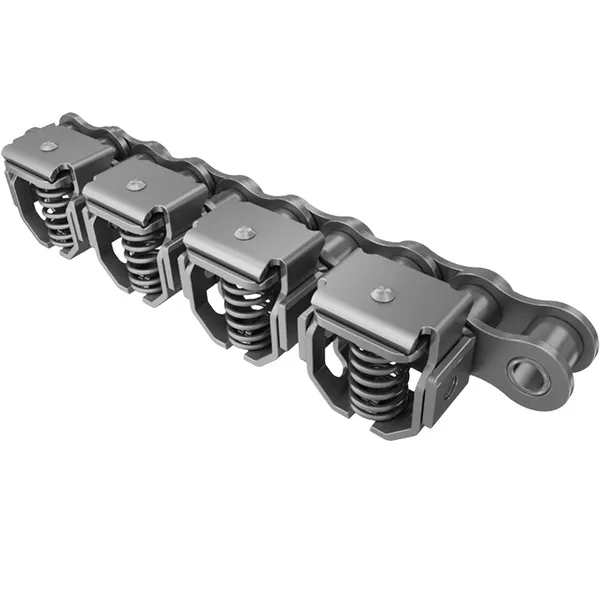 What are the best practices for storing and handling conveyor chains?
Proper storage and handling of conveyor chains are essential to maintain their performance, prevent damage, and prolong their lifespan. Here are some best practices to consider:
1. Clean and dry storage area: Store conveyor chains in a clean and dry environment to prevent the accumulation of dirt, dust, moisture, or contaminants that can affect their performance and cause corrosion.
2. Adequate support: Ensure that the stored conveyor chains are properly supported to prevent excessive bending or deformation. Use pallets, racks, or designated storage containers that can accommodate the weight and length of the chains.
3. Avoid excessive heat or cold: Conveyor chains should be stored in an area with a moderate temperature range to avoid extreme heat or cold that can affect the material properties or lubrication of the chains.
4. Protection against impacts and vibrations: Protect the stored chains from impacts or excessive vibrations that can cause damage or deformation. Use suitable packaging or covers to shield the chains from any potential physical damage.
5. Lubrication: Apply a thin layer of appropriate lubricant to the chains before storage to prevent corrosion and maintain their smooth operation. Follow the manufacturer's recommendations for lubrication type and quantity.
6. Regular inspections: Periodically inspect the stored conveyor chains to ensure there are no signs of damage, corrosion, or deformation. If any issues are identified, take appropriate actions such as cleaning, lubricating, or replacing the chains.
7. Proper handling techniques: When handling conveyor chains, use appropriate lifting equipment or tools to avoid excessive strain or bending. Avoid dragging or dropping the chains, as this can cause damage to the chain links or attachments.
8. Training and awareness: Provide training to personnel involved in handling and storing conveyor chains to ensure they understand the proper procedures and best practices. Promote awareness of the importance of careful handling and storage to prevent accidents and maintain chain integrity.
By following these best practices, you can ensure the longevity and reliable performance of your conveyor chains, reducing the risk of downtime and costly repairs.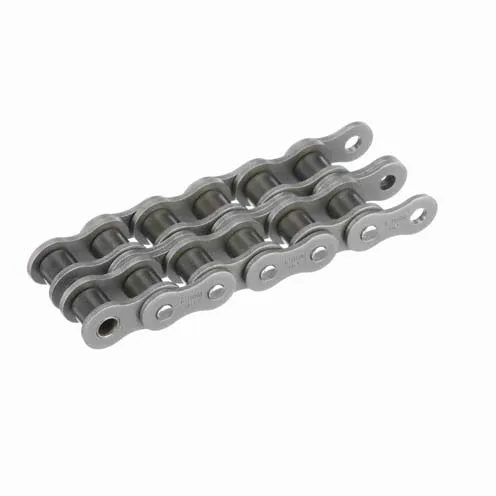 What safety precautions should be followed when working with conveyor chains?
Working with conveyor chains involves potential hazards, and it is essential to follow proper safety precautions to ensure the well-being of workers and prevent accidents. Here are some important safety measures to consider:
Proper Training: Ensure that workers operating or maintaining conveyor chains receive proper training on safe practices, including chain handling, maintenance procedures, and emergency protocols.
Personal Protective Equipment (PPE): Workers should wear appropriate PPE, such as safety glasses, gloves, and steel-toed shoes, to protect themselves from potential hazards, including flying debris, pinch points, or entanglement.
Lockout/Tagout: Before performing any maintenance or repair tasks on conveyor chains, follow lockout/tagout procedures to isolate and de-energize the equipment to prevent accidental startup or release of stored energy.
Guarding: Ensure that conveyor chains are adequately guarded to prevent access to moving parts, such as pinch points and rotating sprockets. Guards should be securely in place and not interfere with the chain's operation.
Housekeeping: Keep the work area clean and free of debris, tools, or other objects that could cause tripping hazards or interfere with the operation of the conveyor chain.
Regular Inspections: Regularly inspect the conveyor chains for any signs of wear, damage, or misalignment. Address any issues promptly to prevent potential safety hazards.
Safe Loading and Unloading: When loading or unloading materials onto the conveyor, follow safe lifting techniques and ensure the load is evenly distributed to prevent overloading or imbalance.
Emergency Stop Devices: Install and clearly mark emergency stop devices along the conveyor system to enable immediate shutdown in case of an emergency or hazardous situation.
Clear Communication: Establish clear communication protocols, including signals or signs, to ensure effective communication between workers operating different sections of the conveyor system.
These safety precautions are general guidelines, and it's important to consult and adhere to specific safety regulations and guidelines provided by the equipment manufacturer and relevant safety authorities. Regular safety training, awareness, and a proactive safety culture are crucial in maintaining a safe working environment when working with conveyor chains.



editor by CX 2023-08-08