Product Description
Product

Standard Double Pitch Roller chain

Material

40Mn steel,304 stainless steel, 316 stainless steel and 201 stainless steel.

Types

Standard chains and special chains, such as A or B series chains, roller chains, driving chains, conveyor chains, hoisting chains, agricultural chains, sprockets, gears, wheels and so on.

Series

 A series(12.7-50.8mm pitches),B series (9.525-50.8mm pitches)and the heavy series.

Short pitch precision roller chain

Simplex Roller Chains&Bushing Chains: 

04C-1,06C-1,085-1,08A-1,10A-1,12A-1,16A-1,20A-1,24A-1,28A-1,32A-1,36A-1,40A-1,48A-1
Duplex Roller Chains&Bushing Chains:

04C-2,06C-2,085-2,08A-2,10A-2,12A-2,16A-2,20A-2,24A-2,28A-2,32A-2,36A-2,40A-2,48A-2
Triplex Roller Chains&Bushing Chains:

04C-3,06C-2,085-3,08A-3,10A-3,12A-3,16A-3,20A-3,24A-3,28A-3,32A-3,36A-3,40A-3,48A-3

Chain link type

Standard links (without attachment) and non-standard links (with attachment).

 

A1: One-side,one hole cranked attachments.
A2: One-side,two holes cranked attachments.
K1: Both-side,one hole cranked attachments.
K2: Both-side,two hole cranked attachments.
D1: One-side,an extended pin on every outer link.
D3: One-side,two extended pin on every outer link.

Our Products Advantage

1. Every step from production order to the packing process has a strict quality inspection.
2. We have standard roller chain with 1.5 CZPT (DIN. ANSI.); Non-standard roller chain (customized acording to customer drawings).
3. Export products with high quality and low price.
4.We have a good service before and after-sale.
1.Fast delivery: Standard products can be delivered in as fast as 20 days
2.Good service: timely reply, prompt quotation, responsible for the product
3.High cost performance: can maintain price stability for a certain period of time, bringing greater profits to customers
4.Good quality: production and testing have corresponding supervision to ensure product quality and get high praise from customers
5.OEM service: products can be customized according to drawings and requirements
We are responsible for the ordered products. We are very confident in the products we produce. Of course, if you have any problems after receiving the goods, you can contact us directly. We will confirm and negotiate in time to solve your difficulties.
Shipping Cost:

Estimated freight per unit.





To be negotiated
| | |
| --- | --- |
| Material: | Alloy |
| Structure: | Roller Chain |
| Surface Treatment: | Polishing |
Samples:

US$ 35/kg

1 kg(Min.Order)

|

Order Sample
Customization:

Available

|

Customized Request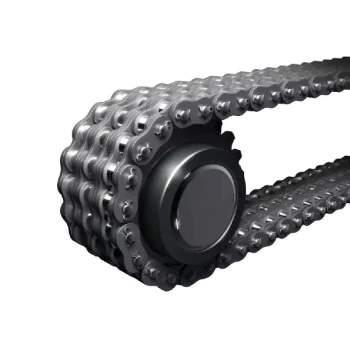 How does the material hardness of a drive chain affect its durability?
The material hardness of a drive chain plays a significant role in determining its durability and resistance to wear. Here is a detailed explanation:
Material hardness refers to the ability of a material to resist indentation, abrasion, and penetration by external forces. In the context of drive chains, the hardness of the chain's components, such as pins, bushings, and rollers, directly affects the chain's durability and lifespan.
When it comes to drive chain durability, the following factors come into play:
Resistance to Wear: A higher material hardness typically results in better resistance to wear. Drive chains with harder materials can withstand the friction and contact forces encountered during operation, minimizing the wear on critical components. This translates to extended chain life and reduced maintenance requirements.
Impact Resistance: The material hardness of a drive chain also affects its ability to resist impact forces. Chains operating in environments with frequent impacts or shock loads, such as in mining or heavy-duty applications, require high hardness materials to withstand the sudden stresses without deformation or failure.
Resistance to Deformation: Harder materials exhibit greater resistance to deformation under load. This is particularly important in drive chains where precise interlocking of chain components is necessary for efficient power transmission. Chains with higher material hardness maintain their shape and dimensional integrity, ensuring consistent performance and minimizing the risk of chain elongation or misalignment.
Corrosion Resistance: While material hardness primarily affects wear resistance, it can indirectly impact the chain's resistance to corrosion. Certain high-hardness materials, such as stainless steel or specific alloys, offer improved corrosion resistance compared to softer materials. This is especially relevant in applications where the chain is exposed to corrosive environments, such as marine or chemical industries.
It is important to note that while higher hardness generally leads to improved durability, excessive hardness can also result in brittleness and reduced impact resistance. Therefore, a balance must be struck between hardness and other mechanical properties to ensure optimal performance and durability of the drive chain.
Manufacturers typically specify the appropriate hardness level for drive chain components based on the specific application requirements. These specifications take into account factors such as load capacity, operating conditions, anticipated wear rates, and desired service life.
Regular maintenance practices, such as proper lubrication, periodic inspection, and tension adjustment, are essential for maximizing the durability and performance of the drive chain, regardless of its material hardness.
By selecting a drive chain with the appropriate material hardness and implementing proper maintenance practices, operators can ensure optimal durability, extended chain life, and reliable power transmission in various industrial applications.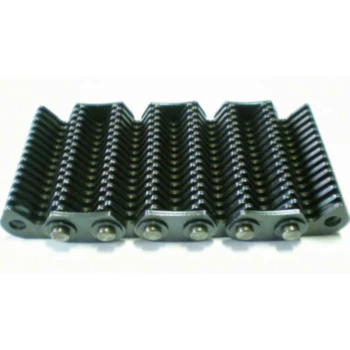 What are the advantages of using a self-lubricating drive chain?
A self-lubricating drive chain, also known as a maintenance-free or lubrication-free chain, offers several advantages compared to traditional chains that require manual lubrication. Here is a detailed explanation of the advantages:
No External Lubrication: The primary advantage of a self-lubricating drive chain is that it eliminates the need for external lubrication. These chains are pre-lubricated during the manufacturing process with a special lubricant that is designed to last throughout the chain's lifespan.
Maintenance-Free Operation: Self-lubricating chains significantly reduce the maintenance requirements. Without the need for regular lubrication, the chains minimize downtime associated with lubrication tasks, such as reapplying grease or oil and cleaning excess lubricant.
Cleaner Operating Environment: Self-lubricating chains help maintain a cleaner operating environment as they don't require additional lubricants that can attract dirt, dust, or other contaminants. This can be beneficial in applications where cleanliness is crucial, such as food processing, pharmaceuticals, or cleanrooms.
Consistent Lubrication: Self-lubricating chains are designed to provide consistent and controlled lubrication throughout their service life. The lubricant is evenly distributed within the chain, ensuring smooth operation, reducing friction, and minimizing wear.
Extended Chain Life: The consistent and proper lubrication provided by self-lubricating chains contributes to extended chain life. By reducing wear, friction, and the accumulation of contaminants, these chains can operate at their optimal performance level for a longer duration.
Reduced Downtime and Costs: Self-lubricating chains help reduce downtime and costs associated with lubrication maintenance. The elimination of manual lubrication tasks allows for more efficient operation and reduces the consumption and expenses associated with lubricants.
Environmental Benefits: Using self-lubricating chains can have environmental benefits. With reduced reliance on external lubricants, there is less waste generation and potential contamination of the surrounding environment.
It is important to note that self-lubricating chains have specific lubrication requirements and operating conditions. It is essential to follow the manufacturer's recommendations regarding chain speed, temperature limits, and environmental factors to ensure optimal performance.
Overall, the advantages of using a self-lubricating drive chain include maintenance-free operation, cleaner environment, extended chain life, reduced downtime and costs, and environmental benefits. These benefits make self-lubricating chains a preferred choice in various applications where reliable and low-maintenance power transmission is required.



editor by CX 2023-08-23