Product Description
DIN 8187 Industry Sprocket Made to Order Stainless Steel Sprocket for Roller Chain & Agriculture Chain & Food Machinery (DIN, ANSI Standard)(06B20T)
 
Product Description

1. Produce strictly in accordance with ANSI or DIN standard dimension
2. Material: C45 steel / Stainless Steel 304 & 316
3. Standard: ANSI, DIN, JINS, ISO, Standard America or customer drawing
4. Pilot bore, finished bore, taper bore and special bore.
5. Bright surface and high precision
6. Advanced heat treatment and surface treatment craft
7. Best quality and competitive price.
8. Welcome OEM / ODM
9. Application: Sprocket is mainly used in agricultural machinery, conveying machinery, mine mining machinery, construction machinery, mechanical transmission equipment of oil and so on.
10. Processing equipment: Hobbing machine, Slotting machine, CNC lathes and other equipment.
11. Sprocket models: Contains special sprocket (custom) according to customer's drawings, standard sprocket (American standard and metric).
Features:Sprocket / Gear / CZPT / Steel CZPT / Lost wax casting and accessories / Investment casting
Materials: Carbon steel, alloy steel, stainless steel, ductile iron, gray iron, high chromium iron
 
Product name 
DIN 8187 Industry Sprocket (06B20T)
Materials Available 
1. Stainless Steel: SS304, SS316, etc
2. Alloy Steel: C45, 45Mn, 42CrMo, 20CrMo, etc
3. OEM according to your request
Surface Treatment
Heat treatment, Quenching treatment, High frequency normalizing treatment, Polishing, Electrophoresis paint processing, Anodic oxidation treatment, etc
Characteristic
Fire resistant, Oil resistant, Heat resistant, CZPT resistance, Oxidative resistance, Corrosion resistance,  etc
Design criterion
ISO DIN ANSI & Customer's Drawing
Size
Customer's Drawing & ISO standard 
Application
Industrial transmission equipment
Package
Wooden Case / Container and pallet, or made-to-order
Certificate
ISO9001: 2008 
Advantage
Quality first, Service first, Competitive price, Fast delivery
Delivery Time
20 days for samples. 45 days for official order.
Detailed Photos
View more products,please click here…
 
Company Profile
| | |
| --- | --- |
| Standard Or Nonstandard: | Standard |
| Application: | Industry |
| Hardness: | Hardened Tooth Surface |
| Material: | Alloy Steel/Stainless Steel |
| Type: | Sprocket |
| Sample: | for Free |
Samples:

US$ 0/Piece

1 Piece(Min.Order)

|
Request Sample
Customization:

Available

|

Customized Request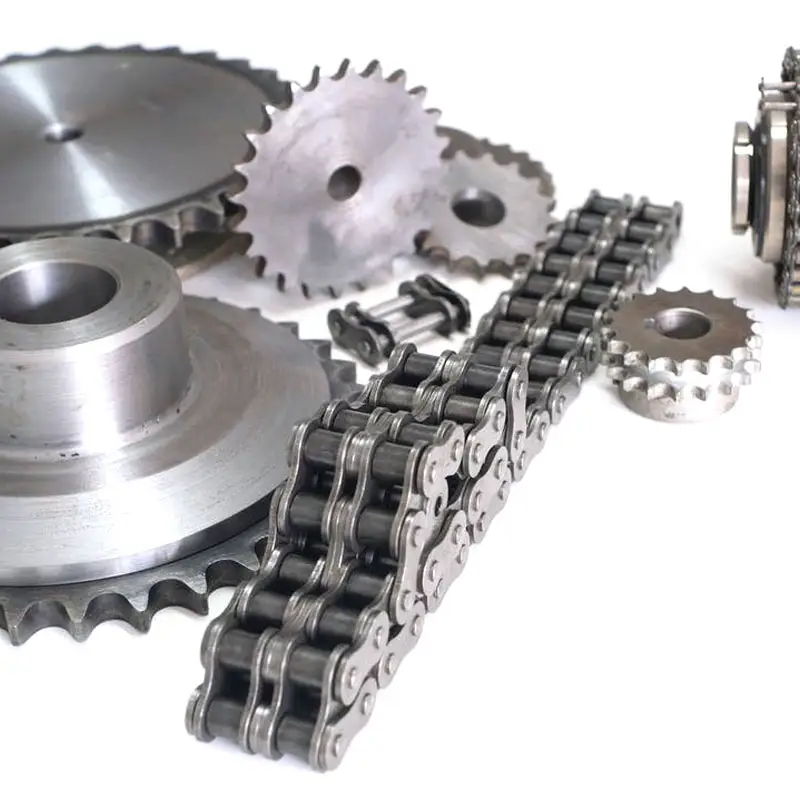 What are the Maintenance Requirements for a wheel sprocket Assembly?
Proper maintenance of the wheel sprocket assembly is essential to ensure its optimal performance and longevity. Here are some maintenance tips:
Regular Cleaning: Keep the wheel sprocket assembly clean from dirt, debris, and grime. Regularly wipe down the sprockets and chain to prevent buildup, which can lead to accelerated wear.
Lubrication: Apply a suitable lubricant to the chain and sprockets to reduce friction and wear. Lubrication also helps in maintaining smooth operation and preventing corrosion. However, avoid over-lubrication, as excessive grease can attract more dirt.
Chain Tension: Check the tension of the chain regularly. A loose chain can result in slippage and damage to the sprockets, while an overly tight chain can increase wear and strain on the components. Adjust the chain tension as per the manufacturer's guidelines.
Inspection: Periodically inspect the sprockets and chain for signs of wear, damage, or elongation. Replace any worn-out or damaged components promptly to avoid further issues.
Alignment: Ensure proper alignment of the sprockets and wheels. Misalignment can lead to uneven wear and reduced efficiency. Adjust the alignment as needed to maintain smooth power transmission.
Replace Worn Parts: Over time, sprockets and chains will wear out due to regular use. Replace worn sprockets or chains with new ones from reputable suppliers to maintain optimal performance.
Environmental Considerations: In certain applications, exposure to harsh environments or extreme temperatures may require more frequent maintenance and inspection.
By following these maintenance practices, you can extend the lifespan of the wheel sprocket assembly and ensure reliable operation in various applications.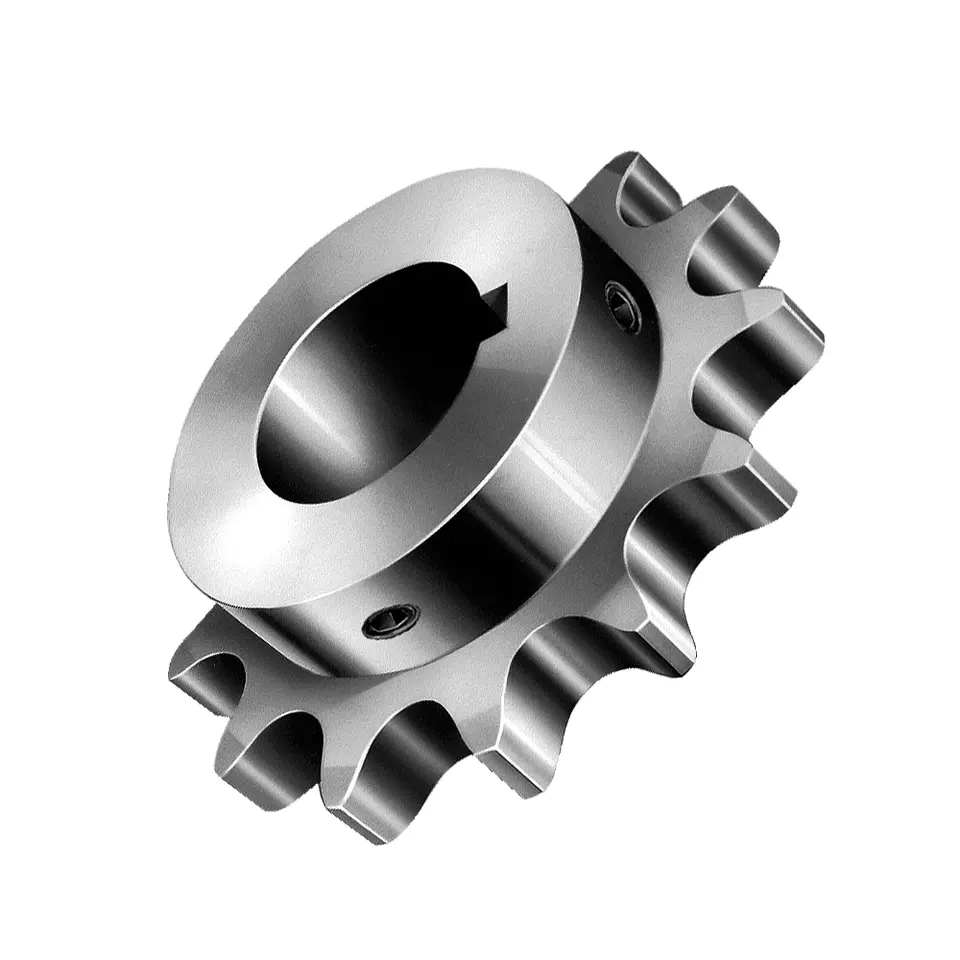 Choosing the Right Material for a Sprocket to Ensure Longevity
Choosing the right material for a sprocket is crucial to ensure its longevity and reliable performance in a given application. The material selection depends on various factors such as load, speed, operating environment, and budget. Here are some common materials used for sprockets and their considerations:
Steel: Steel sprockets are widely used in a wide range of applications due to their excellent strength, durability, and wear resistance. They are suitable for heavy-duty and high-speed operations. Different grades of steel, such as carbon steel or alloy steel, offer varying levels of hardness and strength.
Stainless Steel: Stainless steel sprockets are preferred when corrosion resistance is essential, making them suitable for applications where the sprocket is exposed to moisture, chemicals, or outdoor elements. They are commonly used in food processing, pharmaceutical, and marine industries.
Cast Iron: Cast iron sprockets offer good wear resistance and are often used in low to medium-speed applications. They are cost-effective and provide excellent performance in less demanding conditions.
Plastics: Plastic sprockets are lightweight and corrosion-resistant. They are commonly used in applications where low noise, self-lubrication, and resistance to chemicals or moisture are required. However, they have limited load-carrying capacity and may not be suitable for heavy-duty applications.
Aluminum: Aluminum sprockets are lightweight and commonly used in applications where weight reduction is critical, such as aerospace and certain machinery. However, they are not as durable as steel sprockets and are not suitable for high loads or harsh environments.
When choosing the right material for a sprocket, consider the following:
Load Capacity: Select a material that can handle the expected loads in the application without deforming or wearing excessively.
Speed: Higher speeds may require materials with better heat dissipation and wear resistance.
Environment: Consider factors such as moisture, chemicals, temperature, and outdoor exposure. Choose a material with suitable corrosion resistance and resilience to environmental conditions.
Maintenance: Some materials may require more frequent maintenance or lubrication to ensure longevity.
Cost: Balance the material's performance with the budget constraints of the project.
It's essential to consult with sprocket manufacturers or material experts to determine the most appropriate material for your specific application. They can provide valuable insights and recommendations based on your requirements, helping to ensure the longevity and optimal performance of the sprocket in your machinery or equipment.
Choosing the Right Size of Sprocket to Match a Wheel
Choosing the correct size of sprocket to match a wheel is essential for ensuring efficient power transmission and proper functionality of a mechanical system. Here are the steps to help you choose the right size of sprocket:
1. Determine the Pitch Diameter of the Wheel:
Measure the diameter of the wheel from the center to the point where the teeth of the sprocket will engage with the wheel. This measurement is known as the pitch diameter of the wheel.
2. Identify the Desired Gear Ratio:
Determine the gear ratio you want to achieve for your application. The gear ratio is the ratio of the number of teeth on the sprocket to the number of teeth on the wheel and determines the speed and torque output.
3. Calculate the Number of Teeth on the Sprocket:
Once you have the pitch diameter of the wheel and the desired gear ratio, you can calculate the number of teeth on the sprocket using the formula:
Number of Teeth on Sprocket = (Desired Gear Ratio) * (Number of Teeth on Wheel)
4. Select a Standard Sprocket Size:
Based on the calculated number of teeth on the sprocket, choose a standard sprocket size that comes closest to the calculated value. Sprockets are available in various tooth counts, and you may need to choose the nearest size available.
5. Consider Chain Compatibility:
If you are using a chain drive system, ensure that the selected sprocket is compatible with the chain you plan to use. The chain pitch (distance between the centers of adjacent roller pins) should match the pitch of the sprocket.
6. Verify Center Distance:
Check that the center distance between the wheel and the sprocket is appropriate for your application. The center distance is the distance between the centers of the wheel and the sprocket and should be set to achieve the desired tension and alignment of the chain or belt.
7. Consider the Material and Tooth Profile:
Select a sprocket material suitable for your application, such as steel, stainless steel, or plastic, based on factors like load, environment, and operating conditions. Additionally, consider the tooth profile (standard or custom) to ensure smooth engagement with the chain or belt.
By following these steps and considering the specific requirements of your machinery and mechanical system, you can choose the right size of sprocket to match your wheel and achieve optimal performance and longevity of the system.



editor by CX 2023-09-04