Product Description
Stainless Steel Wire Mesh Belt / Chain Conveyor Belt
Product Description
Product Name
Conveyor Belt 
Structure
 Mesh-Blet
Certifications
 ISO 9001: 2008, GB/T19001-2000IDT, Test Report
Work Temp
 -40Celsius ~ 90Celsius
Material Feature
 Heat Resistant
Material
 Stainless Steel, SS304/SS201/carbon steel
Voltage
 220V 380V
Surface Treatment
 Galvanized, 3% chromium plate, manganese plated
Application
 Frozen Food Machinery, Canned Food Machinery, Seafood Machinery, Powder Metallurgy Machinery
 Heat Treatment Machinery, Glass Machinery, Chemical Machinery, General Conveying Machinery, etc.
Products Details
Chain-Driven Metal Mesh Belts
Chain-driven metal mesh belts should be considered whenever timing, transfer, and/or positive belt drive are important … in cases such as travel-up inclines, under heavy loads, for long distances, through quenching liquids, cooking oils, or other slippery conditions.
Chain-driven belts are also the only belts that are self-supporting. They can provide efficient operation in applications where friction-driven belts would not be desirable. Any mesh can be used in a chain-driven construction, but the selection is made on the basis of what is needed to support the product.
Balanced weave should be given first consideration, as it is economical and appropriate for most conditions. Gratex weave provides a closer mesh, while a Duplex weave is a close mesh that also provides strength and a straight-through opening. A conventional weave provides unobstructed openings.
Typical Applications
In food processing, chain-driven belts are used in washing, drying, cooking, freezing, dewatering, and blanching operations. In other applications, metals, electronic parts, chemicals, ceramics, leather, lumber, textiles, rubber, and many other products are moved through a host of processes where the positive drive is needed.
Chain Selection
Chains are normally selected according to the strength and speed required. The most frequently used types of chain for metal mesh conveyors are roller chain, employed for most room-to-medium temperature applications, and pintle chain which is recommended for heavier loads and higher temperatures.
Due to the important and specialized nature of the applications requiring these products, each inquiry is reviewed thoroughly. Our goal is to supply the most suitable belt for your specific application. We strive to provide solutions for each situation, assuring value for our customers. Our engineers and technical support group are involved in every specialty belt inquiry and order.
Product Show

Advantage
More Products

DETAILS ABOUT CZPT CHAIN 
Certifications
Exhibition
Workshop
Application
Packaging Details & Shipping
FAQ
      
1. Are you a manufacturer or trade Company?
We are a factory founded in 1997 with a trade team for international service.
2. What terms of payment do you usually use?
T/T 30% deposit and 70% against document, Western Union, L/C at sight
3. What is your lead time for your goods?
Normally 35 days after confirmed order. 30 days could be available in the low season for some items (during May to July), and 45 days during the new year and hot season ( Jan to March).
4. Samples
For customers who need sample confirmation before ordering, please bear in mind that the following policy will be adopted:
1) All samples are free of charge with a maximum value not exceeding USD 100.
2) The courier cost for the first-time sample sending will be charged by the consignee. We will send the samples with freight to be collected. So please inform your account with FedEx, UPS, DHL, or TNT so that we can proceed promptly.
3) The first-time courier cost will be totally deducted from the contract value of the trial cooperation.
| | |
| --- | --- |
| Type: | All Sizes |
| Material: | Steel |
| Inside Material: | Polyester |
| Feature: | Oil-Resistant, Acid And Alkali Resistant, Tear-Resistant, Heat-Resistant, Cold-Resistant, Wear-Resistant |
| Tensile Strength: | Common |
| Wire Diameter: | 0.8-3mm |
Customization:

Available

|

Customized Request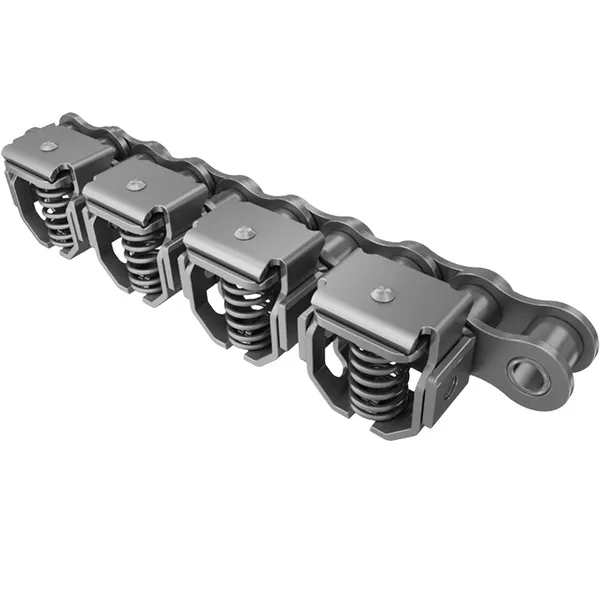 What are the benefits of using a self-lubricating conveyor chain?
Self-lubricating conveyor chains offer several advantages over traditional lubricated chains. Here are some key benefits:
1. Reduced Maintenance: Self-lubricating chains eliminate the need for regular lubrication, reducing the time and effort required for maintenance. This is particularly beneficial in applications where access to the chain is difficult or time-consuming.
2. Cost Savings: By eliminating the need for external lubrication, self-lubricating chains can help reduce lubrication costs over the lifetime of the chain. This includes the cost of lubricants, as well as the labor and equipment required for lubrication maintenance.
3. Clean and Environmentally Friendly: Self-lubricating chains do not require external lubricants, resulting in a cleaner working environment. There is no risk of lubricant spills or contamination of the surrounding area, making them ideal for applications that require strict cleanliness standards, such as food processing or pharmaceutical industries.
4. Extended Chain Life: Self-lubricating chains are designed with built-in lubrication systems that provide a continuous and controlled supply of lubricant to the chain components. This helps reduce friction, wear, and heat generation, resulting in longer chain life and improved performance.
5. Improved Reliability: With consistent and reliable lubrication, self-lubricating chains maintain optimal performance and minimize the risk of chain failure or breakdown. They are less susceptible to premature wear, elongation, and corrosion, ensuring a more reliable and efficient conveyor system.
It's important to note that the specific benefits of self-lubricating chains may vary depending on the manufacturer and the design of the chain. It's recommended to consult with the chain manufacturer or an industry expert to understand the suitability and advantages of self-lubricating chains for a particular application.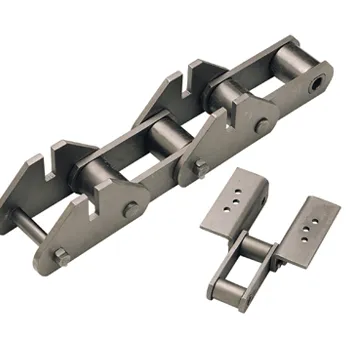 How does a conveyor chain impact material flow in a production line?
A conveyor chain plays a crucial role in facilitating the smooth and efficient flow of materials in a production line. Here are the key ways in which a conveyor chain impacts material flow:
1. Continuous Movement: A conveyor chain enables continuous movement of materials along the production line. By securely holding and transporting the materials, the chain ensures a consistent flow without interruptions or delays.
2. Speed Control: The speed at which the conveyor chain moves can be adjusted to match the desired production rate. This allows for precise control over the material flow, ensuring that it aligns with the downstream processes and avoids bottlenecks or overloading.
3. Orientation and Positioning: Conveyor chains can be designed with specific attachments or fixtures to orient and position materials in a desired manner. This ensures that the materials are presented correctly for processing, assembly, or packaging, optimizing the overall production flow.
4. Sorting and Diverging: In certain applications, conveyor chains can be equipped with mechanisms for sorting or diverging materials based on predetermined criteria. This allows for efficient routing of different products or components to their respective destinations, streamlining the material flow.
5. Accumulation and Buffering: Conveyor chains can incorporate accumulation zones or buffering areas where materials can temporarily pause or accumulate. This feature is useful when downstream processes experience temporary disruptions or when there is a need to balance the flow between different production stages.
6. Integration with Equipment: Conveyor chains can be integrated with other equipment or machines in the production line, such as robotic arms, automated packaging systems, or inspection stations. This seamless integration enables synchronized material handling, optimizing the flow and efficiency of the entire production process.
7. Customization for Specific Needs: Conveyor chains can be customized to meet specific material handling requirements. This includes considerations such as chain width, length, height adjustments, inclines or declines, and specialized attachments or guides. Such customization ensures that the material flow is tailored to the unique needs of the production line.
By providing a reliable and controlled method of transporting materials, a conveyor chain significantly influences the material flow in a production line. It enhances productivity, reduces manual handling, minimizes the risk of errors or damage, and ultimately contributes to the overall efficiency and success of the manufacturing process.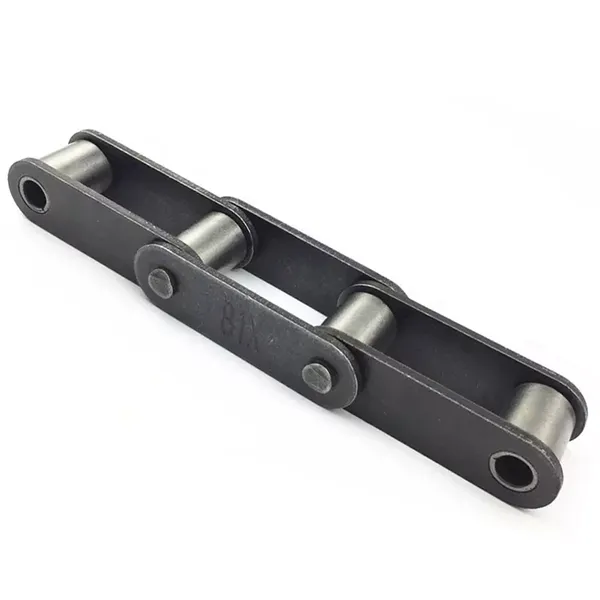 What are the common causes of conveyor chain failures?
Conveyor chain failures can occur due to various reasons, and identifying the root cause is crucial for preventing future issues. Here are some common causes of conveyor chain failures:
Lack of Lubrication: Insufficient or improper lubrication can lead to increased friction and wear on the chain components, resulting in premature failure.
Excessive Load: Overloading the conveyor chain beyond its rated capacity can cause excessive stress and strain, leading to chain elongation, deformation, or link breakage.
Misalignment: Improper alignment of the conveyor chain can cause uneven loading and excessive wear on specific areas, leading to chain failure.
Environmental Factors: Harsh operating environments, such as high temperatures, corrosive substances, or abrasive materials, can accelerate chain wear and corrosion, leading to failure.
Foreign Objects: The presence of foreign objects or debris on the conveyor system can interfere with the movement of the chain, causing jamming, binding, or chain damage.
Poor Maintenance: Inadequate maintenance practices, such as irregular inspections, failure to address minor issues promptly, or neglecting to replace worn components, can contribute to chain failures.
Incorrect Installation: Improper installation, including incorrect tensioning, misalignment, or using incompatible components, can result in premature chain failure.
Fatigue and Wear: Continuous operation over time can lead to fatigue and wear in the chain, especially in high-speed or heavy-duty applications, resulting in eventual failure.
Regular maintenance, proper lubrication, adequate training for operators, and adherence to manufacturer guidelines can help mitigate these common causes of conveyor chain failures. Conducting routine inspections, promptly addressing issues, and replacing worn components can also significantly extend the life of the conveyor chain.



editor by CX 2023-08-11