Product Description
Product Description
DIN Standard Industrial Sprocket

Bore

Finished bore, Precossing bore, Taper bore 

Color

Nature steel or black

Standard

ANSI, DIN, ISO

Type

Simplex, Duplex, Triplex

Surface treatment

Black oxide, Zinc plated

Heat treatment

High Frenquency Quenching
Detailed Photos
1.Chain used
HRSY sprocketes are manufactured with a tooth profile and dimensional precision to bring out the maximum performance of the chain you will use.
2. Number of teeth
HRSY sprockets are available with small and large numbers of teeth to match your usage conditions.
Single pitch sprocket

Double pitch sprocket

*Chain matched:35(06C) /06BTeeth:from 9-120

*Chain matched:40(08A) /08BTeeth:from 9-120

*Chain matched:50(10A) /10BTeeth:from 9-120

*Chain matched:60(12A) /12BTeeth:from 9-120

*Chain matched:80(16A) /16B Teeth:from 9-120

*Chain matched:100(20A)/20B Teeth:from 9-120

*Chain matched:120(24A) /24B Teeth:from 9-120

*Chain matched:140(28A) /28B Teeth:from 9-120

*Chain matched:160(32A) /32B Teeth:from 9-120

*Chain matched:200(40A) /40B Teeth:from 9-120

*P=25.4mm Teeth:from 7-100

 

*P=31.8mm Teeth:from 7-100

 

*P=38.1mm Teeth:from 7-100

 

*P=50.8mm Teeth:from 7-100

 

*P=63.5mm Teeth:from 7-100
3. Consturction
A type        B type      C type    SD type
4. Material
Carbon Steel, Stainless Steel,Aluminum, Nylon, POM, Copper, Brass,42CrMo,40Cr,A3 and so on.
5. Bore
Pilot bore, finished bore, taper bore, bearing hole and special bore
6. Treatment
Heat Treatment: Hardening and Tempering, High Frequency Quenching, Carburizing Quenching and so on.
Surface Treatment: Zinc Plating, Chrome plated, Black oxide Treatment, Spray Paint, Mirror Finish, Sand-blasting and so on.
Packaging & Shipping
Company Profile
ZheJiang Haorongshengye Electrical Equipment Co., Ltd.
1. Was founded in 2008
2. Our Principle:
"Credibility Supremacy, and Customer First"
3. Our Promise:
"High quality products, and Excellent Service"
4. Our Value:
"Being Honesty, Doing the Best, and Long-lasting Development"
5. Our Aim:
"Develop to be a leader in the power transmission parts industry in the world"
 
6.Our services:

1).Competitive price

2).High quality products

3).OEM service or can customized according to your drawings

4).Reply your inquiry in 24 hours

5).Professional technical team 24 hours online service

6).Provide sample service
Main products
Machines
Exbihition
| | |
| --- | --- |
| Standard Or Nonstandard: | Nonstandard |
| Application: | Machinery, Agricultural Machinery |
| Hardness: | Hardened Tooth Surface |
| Material: | Stainless Steel |
| Hub: | with/Without |
| Set Screw: | with/Without |
Samples:

US$ 100/Piece

1 Piece(Min.Order)

|
Request Sample
Customization:

Available

|

Customized Request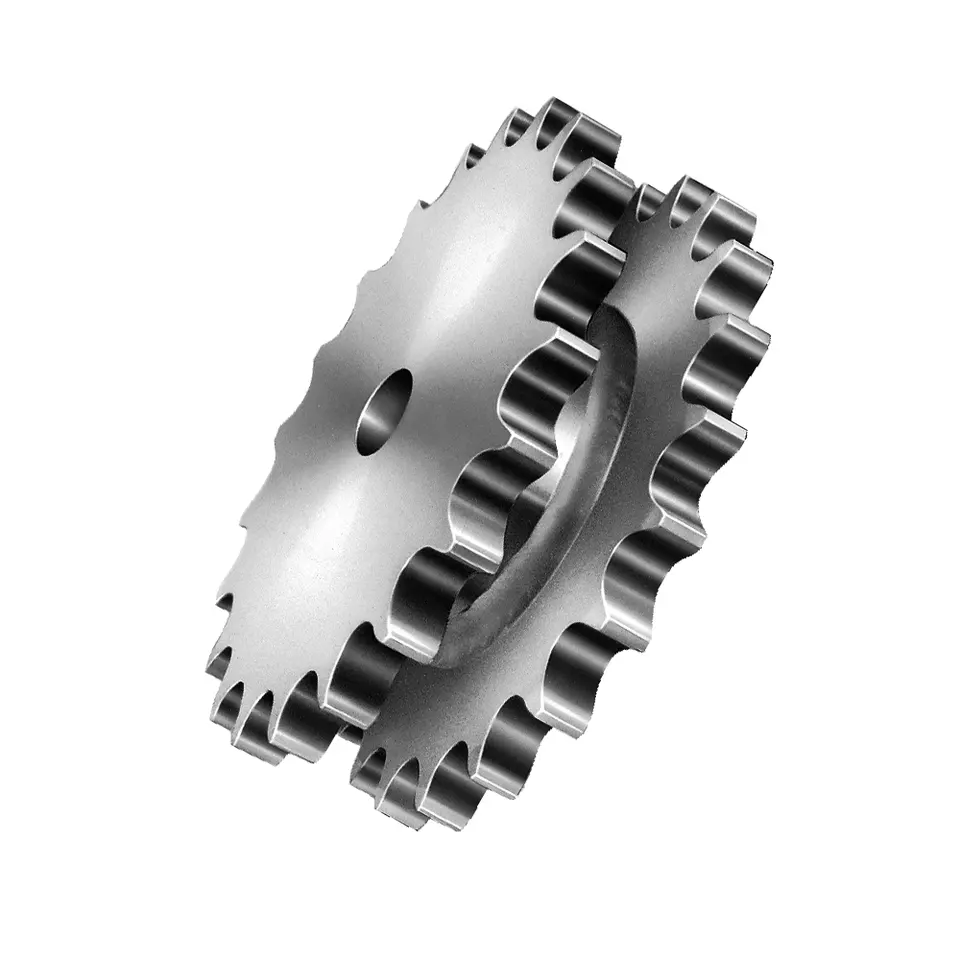 How to Identify and Troubleshoot Common Issues with Wheels and Sprockets
Identifying and troubleshooting common issues with wheels and sprockets can help you maintain their proper functioning and prevent potential problems. Here are some steps to follow:
Abnormal Noise: If you notice unusual noise during operation, it could indicate misalignment, worn sprockets, or a loose chain. Check for any loose bolts or fasteners and ensure proper alignment of the sprockets.
Chain Slippage: Chain slippage can occur due to insufficient tension or worn-out sprocket teeth. Check the chain tension and adjust it to the recommended level. Inspect the sprocket teeth for signs of wear and replace them if necessary.
Uneven Wear: Uneven wear on the sprocket teeth can be a result of misalignment or a worn-out chain. Check the alignment of the sprockets and adjust as needed. If the chain is stretched or has damaged links, replace it with a new one.
Excessive Vibration: Excessive vibration may be caused by imbalanced wheels or misaligned sprockets. Check for any bent or damaged wheels and ensure proper alignment of the sprockets.
Chain Skipping: If the chain skips over the sprocket teeth during operation, it could be due to worn sprocket teeth or a loose chain. Inspect the sprocket teeth for signs of wear and replace them if necessary. Adjust the chain tension to the proper level.
Chain Jamming: Chain jamming can occur if there is debris or dirt between the chain and sprockets. Clean the chain and sprockets thoroughly to remove any obstructions.
Excessive Chain Wear: Regularly inspect the chain for signs of wear, such as elongation, damaged links, or rust. Replace the chain if it is significantly worn to avoid damage to the sprockets.
Overheating: Overheating can be caused by high friction between the chain and sprockets or improper lubrication. Ensure proper lubrication and check for any misalignment or tight spots in the system.
By identifying these common issues and performing regular inspections, you can troubleshoot problems early on and take appropriate corrective measures, ensuring the smooth operation and longevity of the wheel sprocket assembly.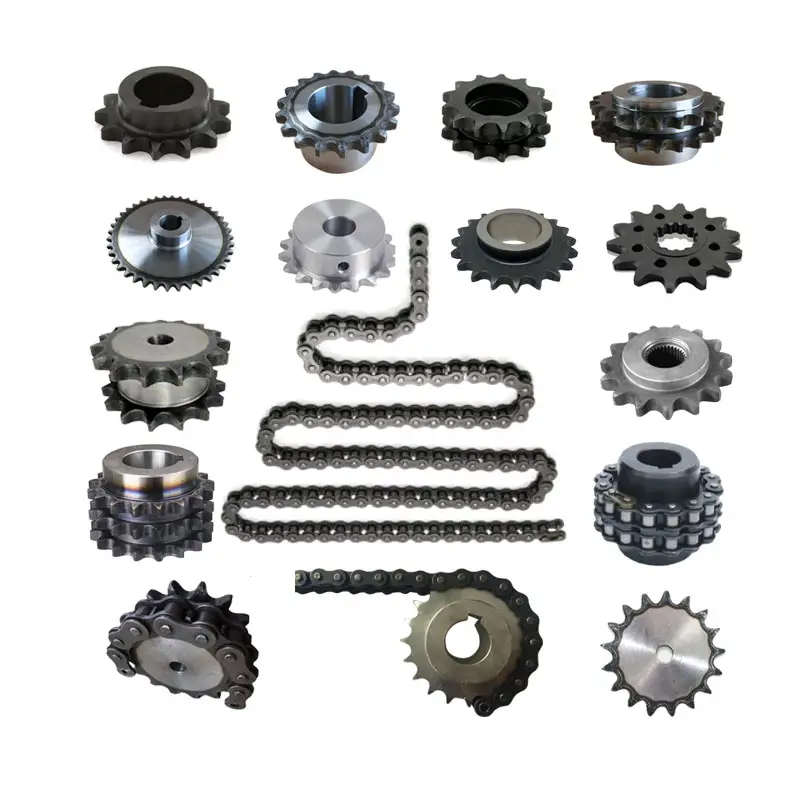 Noise and Vibration in wheel sprocket Configurations
In a wheel sprocket configuration, noise and vibration levels can vary depending on several factors:
Quality of Components: The quality of the wheel sprocket components can significantly impact noise and vibration. Well-manufactured and precisely engineered components tend to produce less noise and vibration.
Lubrication: Proper lubrication of the sprocket teeth and chain or belt can reduce friction, which in turn helps minimize noise and vibration.
Alignment: Correct alignment between the wheel sprocket is crucial. Misalignment can lead to increased noise and vibration as the components may not mesh smoothly.
Tension: Maintaining the appropriate tension in the chain or belt is essential. Insufficient tension can cause the chain to slap against the sprocket teeth, resulting in noise and vibration.
Speed and Load: Higher speeds and heavier loads can lead to increased noise and vibration levels in the system.
Wear and Damage: Worn-out or damaged components can create irregularities in motion, leading to increased noise and vibration.
To reduce noise and vibration in a wheel sprocket setup:
Use high-quality components from reputable suppliers.
Ensure proper lubrication with appropriate lubricants.
Regularly inspect and maintain the system to detect any misalignment, wear, or damage.
Follow manufacturer guidelines for chain or belt tensioning.
Consider using vibration-damping materials or mounting methods if necessary.
Minimizing noise and vibration not only improves the comfort and safety of the machinery but also extends the life of the components by reducing wear and fatigue.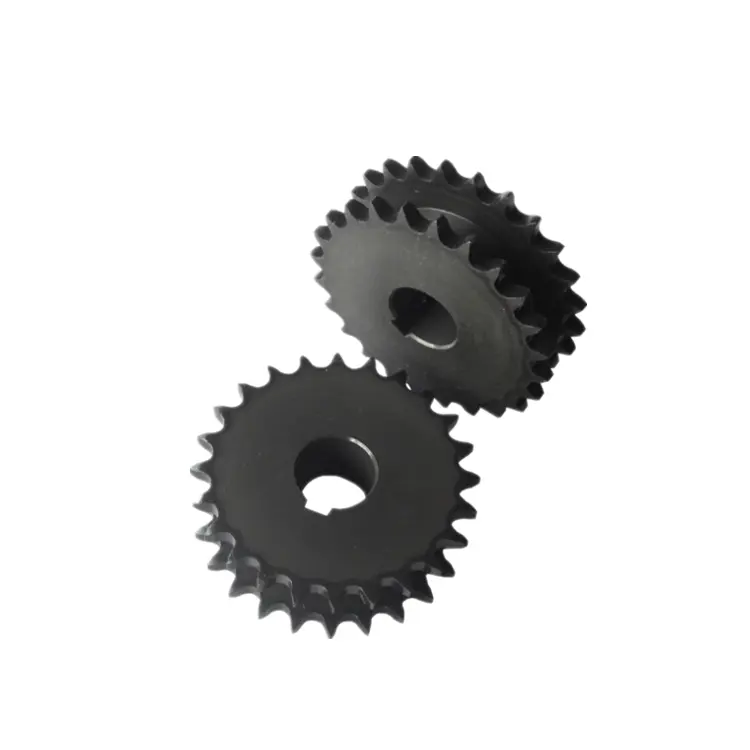 Eco-Friendly Materials for Manufacturing Wheels and Sprockets
Yes, there are eco-friendly materials used for manufacturing wheels and sprockets. As industries strive to reduce their environmental impact and promote sustainability, manufacturers are exploring alternative materials that are more environmentally friendly. Some of the eco-friendly materials used for manufacturing wheels and sprockets include:
1. Recycled Materials:
Using recycled materials, such as recycled plastic or metal, can significantly reduce the demand for virgin raw materials and lower the overall carbon footprint. These materials are obtained from post-consumer or post-industrial waste and processed to create new products, reducing the need for new resource extraction.
2. Biodegradable Materials:
Biodegradable plastics, such as PLA (polylactic acid) and PHA (polyhydroxyalkanoates), are derived from renewable plant sources and can break down naturally in the environment. These materials are gaining popularity for applications where disposal or end-of-life considerations are critical.
3. Sustainable Composites:
Manufacturers are developing sustainable composite materials that combine renewable fibers, such as bamboo, hemp, or flax, with biodegradable resins. These composites offer good strength and rigidity while being more environmentally friendly compared to traditional fiber-reinforced plastics.
4. Natural Materials:
In some cases, natural materials like wood or bamboo are used to create sprockets and wheels for specific applications. These materials are renewable and biodegradable, making them a more sustainable choice.
5. Low-Toxicity Materials:
Some eco-friendly materials focus on reducing the use of harmful chemicals during manufacturing. Low-toxicity materials are not only better for the environment but also for the health and safety of workers involved in the production process.
When selecting eco-friendly materials for wheels and sprockets, it's essential to consider factors such as the specific application, load-bearing requirements, and the material's end-of-life characteristics. Manufacturers and users can contribute to environmental sustainability by opting for these eco-friendly alternatives in their machinery and equipment.



editor by CX 2023-08-21