Product Description
Item
Standard Transmission Roller Chains
Model
Series A, Series B, Heavy Duty
Row
Simplex/Duplex/Triplex
Application
Machinery Parts
Surface Teatment
Self-color/Sand-blasted/Shot-peening
Brand
OEM
Package
Poly bag, then box, finally poly-wooden case
Port
Any sea port or airport in China
A Series
03C,04C-1,06C-1,085-1,08A-1,10A-1,12A-1,16A-1,20A-1,24A-1,28A-1,32A-1,36A-1,40A-1,48A-1. 15,25-1,35-1,41-1,40-1,50-1,60-1,80-1,100-1,120-1,140-1,160-1,180-1,200-1,240-1.
04C-2,06C-2,085-2,08A-2,10A-2,12A-2,16A-2,20A-2,24A-2,28A-2,32A-2,36A-2,40A-2,48A-2. 15,25-2,35-2,41-2,40-2,50-2,60-2,80-2,100-2,120-2,140-2,160-2,180-2,200-2,240-2.
04C-3,06C-3,085-3,08A-3,10A-3,12A-3,16A-3,20A-3,24A-3,28A-3,32A-3,36A-3,40A-3,48A-3. 15,25-3,35-3,41-3,40-3,50-3,60-3,80-3,100-3,120-3,140-3,160-3,180-3,200-3,240-3.
B Series
05B-1,06B-1,08B-1,10B-1,12B-1,16B-1,20B-1,24B-1,28B-1,32B-1,40B-1,48B-1,56B-1,64B-1,72B-1.
05B-2,06B-2,08B-2,10B-2,12B-2,16B-2,20B-2,24B-2,28B-2,32B-2,40B-2,48B-2,56B-2,64B-2,72B-2.
05B-3,06B-3,08B-3,10B-3,12B-3,16B-3,20B-3,24B-3,28B-3,32B-3,40B-3,48B-3,56B-3,64B-3,72B-3.
Heavy Duty Type
35H-1,40H-1,50H-1,60H-1,80H-1,100H-1,120H-1,140H-1,160H-1,180H-1,200H-1,240H-1.
35H-2,40H-2,50H-2,60H-2,80H-2,100H-2,120H-2,140H-2,160H-2,180H-2,200H-2,240H-2.
35H-3,40H-3,50H-3,60H-3,80H-3,100H-3,120H-3,140H-3,160H-3,180H-3,200H-3,240H-3.
| | |
| --- | --- |
| Standard or Nonstandard: | Standard |
| Application: | Textile Machinery, Garment Machinery, Conveyer Equipment, Packaging Machinery, Motorcycle, Food Machinery, Marine, Mining Equipment, Agricultural Machinery, Car |
| Surface Treatment: | Polishing |
| Structure: | Roller Chain |
| Material: | Carbon Steel/Stainless Steel |
| Type: | Short Pitch Chain |
Samples:

US$ 5/Several Links

1 Several Links(Min.Order)

|
Request Sample
Customization:

Available

|

Customized Request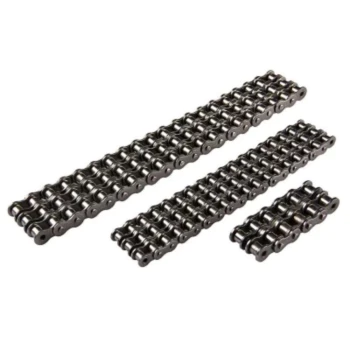 Can a drive chain be used in a printing press or bindery application?
Yes, a drive chain can be used in a printing press or bindery application where precise and reliable power transmission is required. Here is a detailed explanation:
Printing presses and bindery equipment involve complex machinery that requires the efficient transfer of power to perform various functions such as paper feeding, cutting, folding, and binding. Drive chains offer several advantages in these applications:
Precision and Synchronization: Drive chains provide accurate and synchronized power transmission, allowing precise control over the movement of the printing press or bindery equipment. The interlocking design of the chain and sprockets ensures consistent and reliable performance, enabling precise registration of paper and precise execution of operations.
High Load Capacity: Printing presses and bindery equipment often handle large volumes of paper or materials, requiring a drive system capable of handling high loads. Drive chains are designed to withstand high load capacities, ensuring reliable power transmission and the ability to handle the demanding requirements of these applications.
Smooth and Quiet Operation: Drive chains, when properly lubricated and maintained, provide smooth and quiet operation. This is crucial in printing and bindery applications where noise reduction is desired to create a comfortable working environment and minimize disturbances during operation.
Reliability and Durability: Drive chains are known for their durability and reliability. They are designed to withstand continuous operation and the demands of high-speed printing and bindery processes. With proper maintenance, including lubrication and periodic inspection, drive chains can provide long service life, reducing downtime and maintenance costs.
Compatibility with Variable Speeds: Printing presses and bindery equipment often require variable speeds to accommodate different printing or bindery processes. Drive chains can be easily integrated with variable speed drives, allowing precise control over the equipment's speed and accommodating the specific requirements of each printing or bindery task.
Compact Design: Drive chains offer a compact and space-efficient solution for power transmission in printing presses and bindery equipment. The chain's flexible design allows it to navigate around tight spaces and complex machine layouts, enabling efficient utilization of available space.
Customizability: Drive chains can be customized to meet the specific requirements of printing press and bindery applications. They can be designed with different pitches, widths, and attachments to suit the unique needs of each machine and its respective processes.
When selecting a drive chain for a printing press or bindery application, factors such as speed, load capacity, space limitations, and compatibility with the printing or bindery processes should be considered. It is essential to follow the manufacturer's recommendations regarding installation, lubrication, and maintenance to ensure optimal performance and longevity of the drive chain.
By utilizing drive chains in printing presses and bindery equipment, operators can benefit from precise power transmission, high load capacity, smooth operation, reliability, durability, compatibility with variable speeds, compact design, and customization options, contributing to efficient and high-quality printing and bindery processes.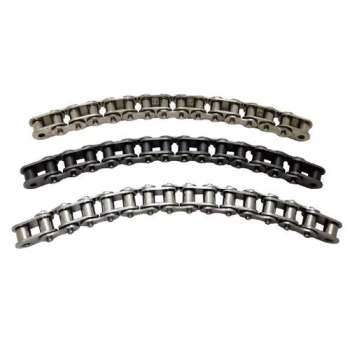 What are the benefits of using a sealed drive chain?
A sealed drive chain, also known as an enclosed or sealed-for-life chain, offers several benefits compared to traditional open chains. Here is a detailed explanation of the benefits of using a sealed drive chain:
Improved Lubrication Retention: Sealed drive chains are designed with special seals or O-rings that retain lubrication inside the chain joints. This ensures consistent lubrication throughout the chain's lifespan, reducing friction, wear, and the need for frequent relubrication.
Enhanced Contamination Protection: The seals or O-rings in a sealed drive chain act as barriers against contaminants such as dirt, dust, water, and other debris. This protection prevents these particles from entering the chain joints and causing accelerated wear or corrosion, increasing the chain's longevity.
Reduced Maintenance Requirements: Sealed drive chains require less maintenance compared to open chains. The sealed design eliminates the need for regular manual lubrication, resulting in reduced downtime and labor costs associated with lubrication tasks.
Extended Service Life: Due to improved lubrication retention and contamination protection, sealed drive chains often have a longer service life compared to open chains. They are less susceptible to wear, elongation, and corrosion, providing reliable performance over an extended period.
Cleaner Operating Environment: Sealed drive chains help maintain a cleaner operating environment by minimizing the release of lubricants and reducing the accumulation of dirt and debris. This can be beneficial in applications where cleanliness is critical, such as food processing, pharmaceuticals, or cleanrooms.
Lower Total Cost of Ownership: While sealed drive chains may have a slightly higher initial cost compared to open chains, their reduced maintenance requirements, extended service life, and improved performance can result in lower overall costs over the chain's lifespan.
Overall, using a sealed drive chain offers advantages in terms of improved lubrication retention, contamination protection, reduced maintenance, extended service life, cleanliness, and total cost of ownership. These benefits make sealed drive chains a preferred choice in various applications where reliable and low-maintenance power transmission is required.



editor by CX 2023-08-31