Product Description
Product Description
    Motorcycle chain is made of excellent steel such as 40Mn, 30CrMnTi and 20Mn. After stamping, cutting, rolling, cold heading and other processes with high precision machinery and equipment, the parts are processed and strengthened by isothermal carbonitriding heat treatment and then treated with rust prevention. Finally, the chain is assembled, riveted, pre-drawn and inspected by the automatic assembly and inspection line imported from ZheJiang to ensure the qualified performance of each chain.
    Motorcycle sprocket is made of 20CrMnTi, 1045 and other high quality steel. After high precision stamping, leveling, turning, milling and other processes, sprocket are strengthened by high temperature quenching process, and then electroplating, spraying and other surface treatment after shot blasting.
Detailed Photos
BRAZIL
AX100, BIZ125, BIZ98/00, C70, C90, C100, CB250, CB400, CBR450, CBX150, CBX200, CBX250, CD100, CG125, CG150, CRYPTON, DREAM, DS80, DT100, DT125, DT200, FAN125, FD115, FR80, FS80, G7S/KW100, HUNTER125, JOG CY50, KMX125/KTZ, LB80, MAX125, MB100, NX150, NXR150, POP100, RD125, RD135, RDZ125, RDZ135, RX100, RX100/125, RX115/135, TITAN150, TITAN2000, TS100ER, TSZCN125, V80, WEB NEW, XL125, XL185, XLR125, XR200, XR200R, XR250, XRE300, XTZ125 06/07, YER115, YER125, YES125
ARGENTINA
AX100, AXIS90, C70, C90, C100, C110, CB250, CBX150, CBX200, CD110, CG125 TODAY, CRYPTON, DAELTM, DAX70,  DT125, ECONO C90 LUXE, ELITE50, GY6-50, GY6-60, GY6-80, GY6-100, GY6-125, GY6-150, MAX100, NXR125, NX150, RX100, SMASH, STROM125, TITAN150, TITAN99, TITAN2000, YBR125, V80, WAVE110, XLR125, XR200R, XR250, ZANELLA200
COLUMBIA
ACTIVE110, AKT110, AK125, AKT125, AX100, AX125, AXIS90, BIZ, BOXER CT100, BWS125, C50, C70/CD70/JH70, C90/CD90/JH90, C100, C110, CB150, CBF150, CD100, CG125, CG150, CG200, CICLON125, CRYPTON, CT100, CRUX, DISCOVER100, DISCOVER135, DT125, DT125K, ECO, EM125, EN125, FD115, FR50, FR80, FXD125, GN125, GN125H, GRAND, GS125, GSD-16LIBERO, GSX, GY6-150, GY6-200, HERO, JD100, JL110MIX, KW100, LB80, MT90/V50, PULSAR, RX100,RX115, RX125, RX135, SMASH110, SRZ150,  TIGER, TITAN99, TITAN150, TR125, TS/CN125, TS/CR125, V50, V80, WY147, XF90, XF125, XL125, XL185, XR200, YBR125
AFRICA
AG100, AP125-9G, AP150, A100, AX100, BAJ100, BAJ205, BAJ3W, BS125, C50, C75, CB110, CB125, CB150,
CD100, CD110, CG125, CG150, CG200, CT100, DT125, FR80, GK125, JH70, K90, KYMCO, MB100, QLINK,
RC100, RE205, RX115, RX125, RX135, RZ100, V50, V80, SY125, TVS125, TVS160, YB100
INDIA
ACTIVA, APACHE, BAJAJ CT100DLX, BAJAJ DISCOVER, BAJAJ PULSAR, CBZ STAR, CD100, CD-CLEL AX,
CRUX, CT100, DASHAION NEW MODEL, DISCOVER135, ENT, EWIRE, FIERO F2, KB-4S, KRZIMA-R,
LIBG-5, NXV, PASHAION, PLATINA100, PLATINA150, PULSAR, R15, SCOOTY PEP, SPLANDER, STAR,
SYARCTS, SUPEX SPLINDG, TVS GLX, TVS VICTOR, VICTOR, VLAMEAR, XCD125, XLS
PHILIPPINES
AURA110, B120, BARAKO, C100, C70DD, CG125, CRYPTON, CRYPTON-Z/X1, DT125, G7S, HAWK1 50-2,
HD3, MIO, MSX125S/ZESTX110-1, RAIDER150, RS100, SAP110/MSX125-1, SHOGUN PRO,
SHOGUN/SHOGUN125, SMASH, STAR-X 125, STAR-X 150/155(ZS), STAR-X 155(JL), STX125, TM110S,
WAVE 100R, WAVE110, WAVE125, WELL 125R, WIND125, X-120, X4/GP125, X-PLORER-Z 200 NEW,
XRM, YL2 DX, YL2GF, ZEST X110-2/WELL 125S
INDONESIA
ABSOLUTE REVO, ALFA/FORCE-1, ASTREA/CBDDA, BEAT, BLADE, C7000, C7OMK 7 LINES, CB100,
CG125, FR80, GL100, GLK, GLPRO, GL PRO CDI, GLPRO NEOTECH, GRAND, JUPITER-Z, KARISMA,
KAZE, L2SN, MEGA PRO NEW 2007, MIO SOUL, MIO/JUPITER MX, NINJA, PRIMA, PX150, RC110, RC80,
REVO, RG110, RX100, RXK NEW 2003, RXK/RXK NEW, RXS/RXKING
MIDDLE EAST
AN125, AN150, BAJAJ150, BWS50, BWS100, CG250, CB250, CB150, DIO50 ZX, DT125, GS50,GY6, JH70,
JOG50, JOG70, KAB, KS4, KVB110,L110 A, MIO125, MIO150 2V, MIO150 4V, RE205, RX135, SYM125,
SYM150, UZ125, UZ/V125, VINO 50,WH100, WH125, YP250, ZY100, ZY125
TURKEY
ACTIVA, AN125, C110, CD70, CD100, CD110, CM125, CUB, CUB LIF3VALF, CUB110, CG125, CG150, CG200, CG250, SCT125, SCT150, CBF125, CBF150, GY6, FIZY, SPACY, WH100, WH125, WAVE110, YBR125
MALAYSIA
C70, C70Z, EG110, EX5, EX5 CLASS, FR80, GBO, GBO-J, KISS II, KR150, KRISS, LC35, MZ125,
RC110/RG110, RC80, RXS, RXZ, SRL110, TZM150, WAVE 100, WAVE 125, Y 100/Y110, Y 125Z, Y80
THAILAND
A100SR, AX100, BEAT, BEST, C50K2, C70, DASH, DREAM, DT125, FR8ON, JR120, JUXEDO, KAZE, KR150-6, KS150-4/SERPICO, LS125, MIO, NOVAS, RC100/RC80, RXS, SMASH, SONIC, TENA, VR150, WAVE110, WAVE125, Y100, Y80M
Company Profile
    Team-Go I&E Co., Ltd.(HangZhou) is a professional company which integrates manufacturing, trading and supplying in a line. Team-Go is formerly knows as LZNF which is established in 1996, the main business is export, import and domestic trade of auto accessories part, food production and related services. It was also certified by ISO9001:2000 Quality Management System.
    Team-Go is an outstanding manufacturer and exporter with a long historical standing, high specialized and strong technical force. We also have strong ability to develop new products according to customer's sample or drawing. Now our products enjoy good popularity in many markets, such as South America, Asian African and so on.
    Our company adherence to the principle "People oriented, Customers-centered, Intergrity insisted, Performance regarded". To achieve the goal of win-win, we will do our best to save time, reduce space and win market for our clients. We expect that our rich resources and excellent services will meet your high requirements.
    Trusting us and choosing us will be your most correct choice you have ever made!
Packaging & Shipping
Shipping Cost:

Estimated freight per unit.





To be negotiated
| | |
| --- | --- |
| Type: | Motorcycle Transmissions |
| Certification: | ISO9001: 2000 |
| Material: | Steel |
Samples:

US$ 0.5/Piece

1 Piece(Min.Order)

|

Order Sample
Customization:

Available

|

Customized Request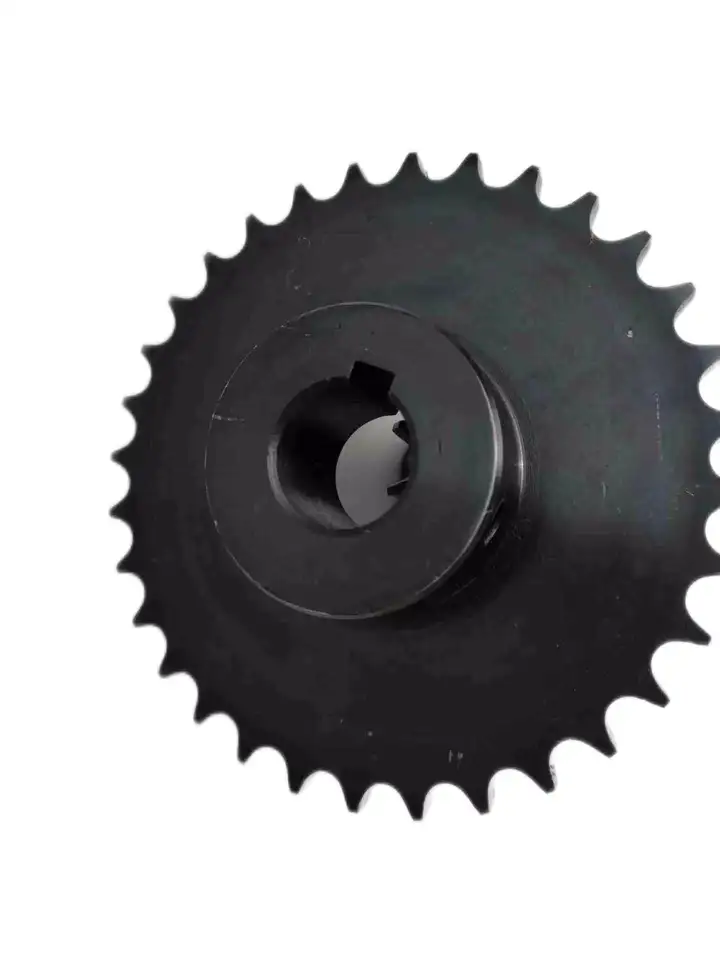 Calculating Torque Requirements for a wheel sprocket Assembly
Calculating the torque requirements for a wheel sprocket assembly involves considering various factors that contribute to the torque load. The torque requirement is crucial for selecting the appropriate motor or power source to drive the system effectively. Here's a step-by-step guide:
1. Determine the Load Torque: Identify the torque required to overcome the resistance or load in the system. This includes the torque needed to move the load, overcome friction, and accelerate the load if applicable.
2. Identify the Sprocket Radius: Measure the radius of the sprocket (distance from the center of the sprocket to the point of contact with the chain or belt).
3. Calculate the Tension in the Chain or Belt: If using a chain or belt drive, calculate the tension in the chain or belt. Tension affects the torque required for power transmission.
4. Account for Efficiency Losses: Consider the efficiency of the system. Not all the input power will be converted into output power due to friction and other losses. Account for this efficiency in your calculations.
5. Use the Torque Equation: The torque (T) can be calculated using the following equation:
T = (Load Torque × Sprocket Radius) ÷ (Efficiency × Tension)
It's essential to use consistent units of measurement (e.g., Newton meters or foot-pounds) for all values in the equation.
Remember that real-world conditions may vary, and it's advisable to add a safety factor to your calculated torque requirements to ensure the system can handle unexpected peak loads or variations in operating conditions.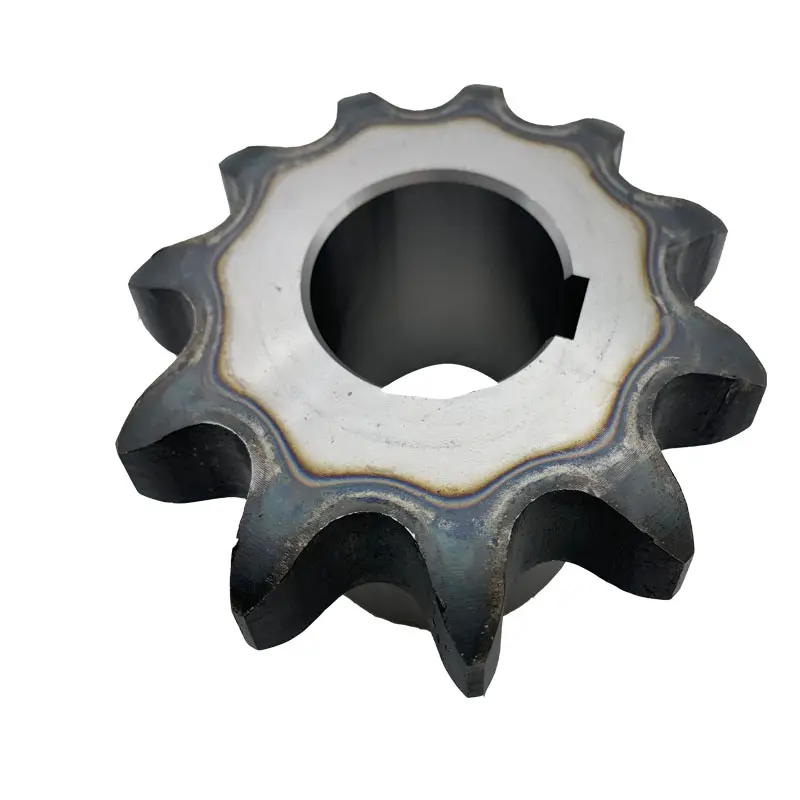 Load-Carrying Capacities of wheel sprocket Combinations
The load-carrying capacity of a wheel sprocket assembly depends on various factors, including the material, size, and design of both the wheel sprocket. Here are some common types of wheel sprocket combinations and their load-carrying capacities:
Steel Wheel with Steel Sprocket: This combination offers high load-carrying capacity and is commonly used in heavy-duty applications. Steel wheels can handle substantial loads, and when paired with steel sprockets, the assembly can withstand even higher forces.
Nylon Wheel with Steel Sprocket: Nylon wheels are known for their lightweight and durable nature. When combined with steel sprockets, they provide a good load-carrying capacity while reducing the overall weight of the assembly.
Polyurethane Wheel with Steel Sprocket: Polyurethane wheels offer excellent wear resistance and are suitable for medium to heavy loads. When paired with steel sprockets, this combination can handle moderate to high load capacities.
Rubber Wheel with Cast Iron Sprocket: Rubber wheels are known for their shock-absorbing properties and are often used in applications requiring vibration dampening. When used with cast iron sprockets, this combination can handle medium loads.
Plastic Wheel with Plastic Sprocket: This combination is suitable for light-duty applications where lower loads are expected. Plastic wheels and sprockets are often used in applications that require low friction and quiet operation.
Custom wheel sprocket Combinations: In some cases, custom wheel sprocket combinations are designed to meet specific load-carrying requirements. These combinations can be tailored to suit the application's unique demands.
It's important to note that load-carrying capacities also depend on other factors, such as the type of bearing used in the wheel, the shaft material, and the overall design of the mechanical system. Engineers should carefully consider the intended application, operating conditions, and safety factors when selecting the appropriate wheel sprocket combination to ensure optimal performance and longevity of the system.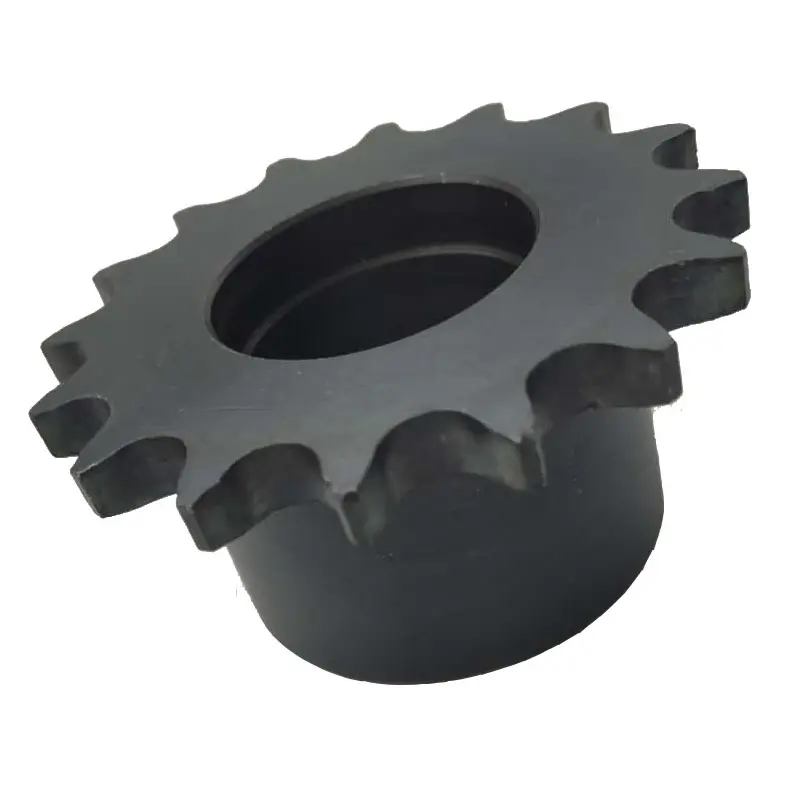 Role of a wheel sprocket in a Mechanical System
In a mechanical system, a wheel sprocket play a crucial role in transferring motion and power from one component to another. They are essential elements of various machines and mechanisms, such as bicycles, conveyor systems, automobiles, and industrial machinery. Let's explore their functions in more detail:
1. Wheel:
The wheel is a circular component with a central shaft (axle) that allows it to rotate freely around the axle's axis. Its primary functions include:
Motion Transmission: When a force is applied to the wheel's outer edge, it rotates around the axle, enabling the transfer of linear motion into rotational motion.
Load Bearing: The wheel's structure and material are designed to support and distribute the load placed on it, allowing smooth movement over various surfaces.
Reduction of Friction: By using wheels, the friction between the moving object and the ground is significantly reduced, making it easier to move heavy loads with less effort.
Directional Control: Wheels can be attached to steering mechanisms to control the direction of movement in vehicles and other equipment.
2. Sprocket:
A sprocket is a toothed wheel designed to mesh with a chain or a belt, facilitating motion transfer between the sprocket and the chain/belt. Its key functions include:
Power Transmission: When rotational force (torque) is applied to the sprocket, the teeth engage with the links of the chain or belt, transferring motion and power from one sprocket to another.
Speed and Torque Conversion: Different-sized sprockets can be used to adjust the speed and torque of the driven component in a mechanical system.
Positive Drive: The teeth on the sprocket and the links on the chain/belt create a positive drive system, reducing the likelihood of slippage or loss of power during operation.
Chain/Belt Tensioning: Sprockets help maintain proper tension in the chain or belt, ensuring optimal performance and longevity of the power transmission system.
Together, wheels and sprockets form a vital part of mechanical systems, enabling efficient motion transmission, power transfer, and control in a wide range of applications across various industries.



editor by CX 2023-08-07