Product Description
Alloy Steel Medium Link Iron Conveyor Link Chain for Transmission
Stainless steel 304/316 material link chain. DIN763, DIN766, Norwegian standard link
chain,Korean standard link chain, us type standard double loop chain, DIN5686 knotted
chain,Japanese standard, Korean standard link chain, ASTM80 standard link chain, and so
on.
We have in this line for many years. We sincerely hope to establish long and stable
business cooperations with your company.We confirm you good quality, best price, best
service and punctual delivery time.
If you have any inquirys in our line, please feel free to contact us.We will try all our best to
support you.
About us
Haito stainless Co., Ltd. was founded in 1998.Specializing in the production of stainless
shackle,turnbuckle,terminal,screw and other metal products.Products of high quality,
fashionable, windely used in a variety of architecture, not only has the broad masses of the
domestic sales market,but also exported to Europe and the United States. Over the past few
years of production and management and exploration,Founder set up its own quality
management system. Passed the ISO9001:2008 quality system certification Founder always
implement the concept of customer value creation for customers tailored products to meet
the needs  of different customers, and continuously provide customers with solutions
and technical problems. Further exploration and innovation, and excellence. Warmly
welcome you and opening up the boundaries of communication. We synchronize with your
ideal partner! we can produce many kinds of body for  shackles,  we export shackles to
all over the world. we can produce all sizes of shackles and can produce special shackles in
accordance with the customers' requirements.
We haito Stainless specializes in ss304 and ss316(L) Rigging, Pipe Fitting.
Contact me for futher detailed including the price. Waiting for your reply
The below is our more information:
*Experience: We are factory with 18 years export experience
*Process: Investment (Lost Wax) Casting & Forging, Machining, Mold Design
*Finishing: Mirror Polish
*Quality Control: Spectrometer Analysis & Load Testing Machines
*Management: ERP System
*Certificate: ISO 9001:2008
*Service: Good after-sale team
| | |
| --- | --- |
| Usage: | Transmission Chain |
| Material: | Stainless steel |
| Surface Treatment: | Polishing |
| Feature: | Heat Resistant |
| Structure: | Welded Chain |
| Color: | Silver |
Samples:

US$ 1.2/Meter

1 Meter(Min.Order)

|
Request Sample
Customization:

Available

|

Customized Request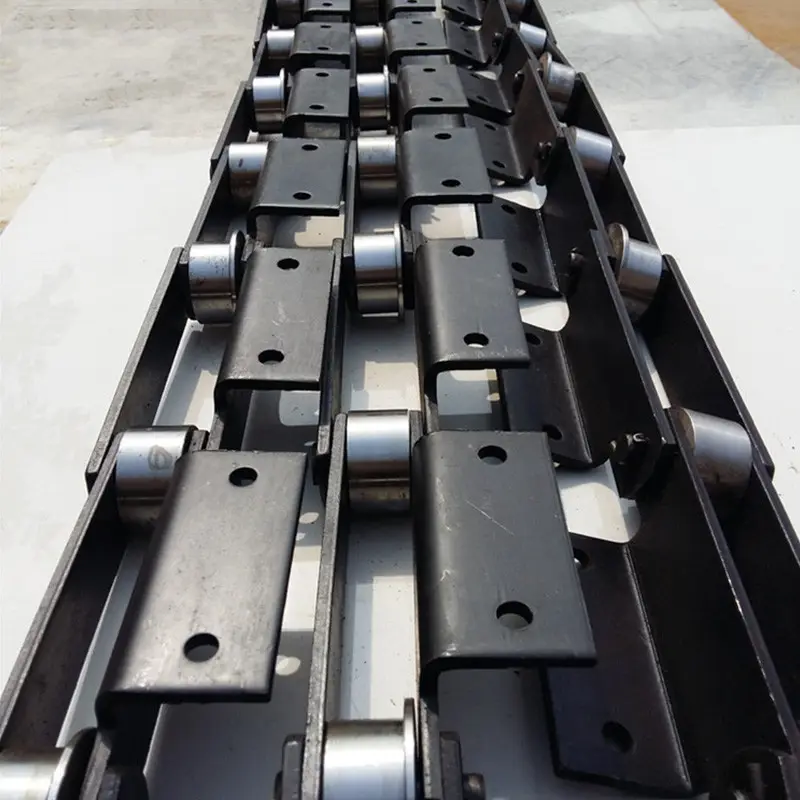 What are the advantages of using a silent transmission chain?
A silent transmission chain, also known as a silent chain or an inverted-tooth chain, offers several advantages in various applications. Here's a detailed explanation:
1. Noise Reduction: One of the primary advantages of a silent transmission chain is its ability to minimize noise during operation. The unique design of the chain features inverted teeth that engage with matching sprockets without making direct contact. This design significantly reduces the noise generated by the chain's movement, resulting in a quieter operation compared to traditional roller chains.
2. Smooth and Vibration-Free Operation: Silent transmission chains provide a smooth and vibration-free power transmission. The absence of metal-to-metal contact between the chain and sprockets reduces friction and vibration, resulting in smoother operation. This characteristic is particularly beneficial in applications where noise and vibrations need to be minimized, such as in precision machinery, office equipment, or medical devices.
3. High Efficiency: Silent transmission chains offer high power transmission efficiency. The precision-engineered tooth profile ensures optimal contact with the sprockets, resulting in efficient energy transfer. The reduced friction and vibration also contribute to improved efficiency by minimizing energy losses during power transmission.
4. Increased Service Life: Silent chains are designed for durability and longevity. The use of high-quality materials, precise manufacturing processes, and robust construction enhance their resistance to wear, elongation, and fatigue. Silent chains can withstand high loads and exhibit excellent resistance to corrosion and lubrication degradation, resulting in extended service life and reduced maintenance requirements.
5. Wide Range of Applications: Silent transmission chains find applications in various industries and systems. They are commonly used in industrial machinery, printing presses, packaging equipment, textile machines, automotive timing systems, and other applications that require low noise, precise power transmission, and long service life.
6. Design Flexibility: Silent chains offer design flexibility due to their ability to operate in a compact space. Their compact design allows for more flexibility in equipment layout and design, making them suitable for applications with space constraints.
7. Reliability and Safety: Silent transmission chains are engineered for reliability and safety. Their robust construction and ability to handle high loads ensure secure power transmission, minimizing the risk of chain failure or system breakdown. Additionally, their low-noise operation and reduced vibration contribute to a safer working environment.
When considering the use of a silent transmission chain, it is important to evaluate the specific requirements of the application, including load capacity, speed, space limitations, and noise considerations. Consulting with chain manufacturers or industry experts can provide valuable insights and assistance in selecting the appropriate silent chain for optimal performance and efficiency.
How does the choice of lubrication method impact the performance of a transmission chain?
The choice of lubrication method plays a crucial role in the performance and longevity of a transmission chain. Here's a detailed answer to the question:
1. Reduced Friction and Wear: Proper lubrication ensures a thin film of lubricant between the moving parts of the transmission chain, reducing friction and minimizing wear. This helps to maintain the integrity of the chain's components, such as pins, rollers, and bushings, by preventing metal-to-metal contact and reducing surface damage.
2. Heat Dissipation: Lubrication helps in dissipating heat generated during the operation of the transmission chain. By reducing friction and providing a cooling effect, the lubricant helps to prevent overheating, which can lead to premature wear, deformation, or failure of the chain.
3. Corrosion Protection: Lubricants often contain additives that offer corrosion protection to the transmission chain. These additives create a protective barrier against moisture, chemicals, and other corrosive elements, preventing rust formation and maintaining the chain's performance in corrosive environments.
4. Noise Reduction: Adequate lubrication reduces the noise generated by the movement of the transmission chain. The lubricant acts as a cushion between the contacting surfaces, dampening vibrations and minimizing the noise levels produced during operation. This contributes to a quieter and smoother chain operation.
5. Extended Lifespan: Proper lubrication helps to extend the lifespan of the transmission chain. By reducing friction, wear, and the accumulation of debris, lubrication minimizes the stress on the chain's components, resulting in improved durability and reduced likelihood of premature failure.
6. Operational Efficiency: A well-lubricated transmission chain operates with higher efficiency. With reduced friction, the chain experiences less power loss, enabling more effective power transmission. This leads to improved overall system efficiency, reduced energy consumption, and lower operating costs.
7. Contamination Prevention: Lubrication acts as a barrier, preventing contaminants, such as dust, dirt, and debris, from entering the chain's components. This helps to maintain the cleanliness of the chain, reducing the risk of abrasive wear and preserving the integrity of its parts.
It's important to consider the specific operating conditions, such as temperature, speed, load, and environment, when selecting the lubrication method for a transmission chain. Factors such as the viscosity, temperature range, and compatibility of the lubricant with the chain material should be taken into account to ensure optimal lubrication performance.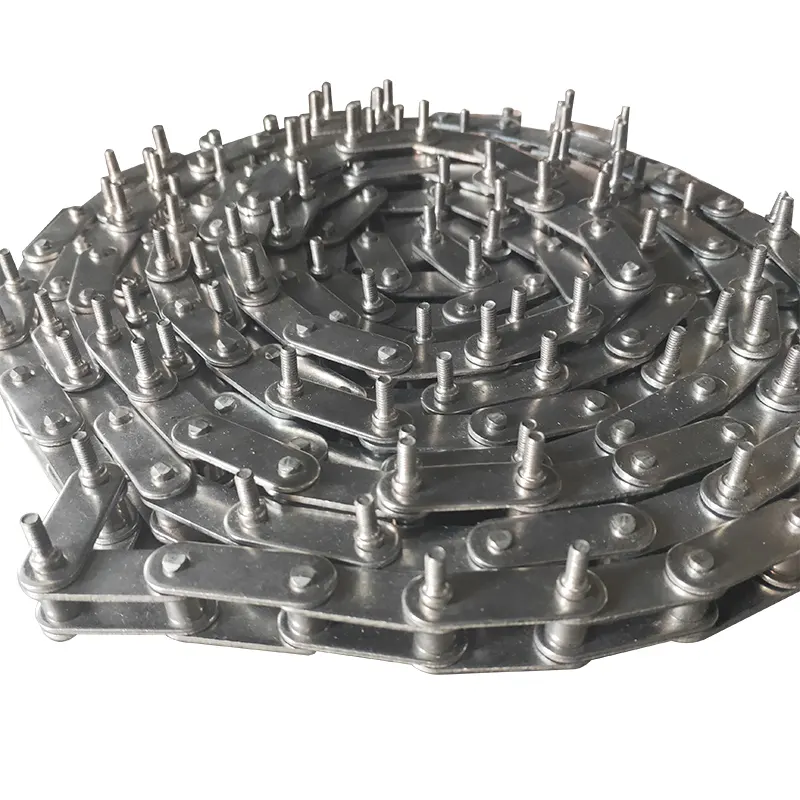 What are the advantages of using stainless steel transmission chains?
Stainless steel transmission chains offer several advantages over chains made from other materials. Here are some key benefits of using stainless steel transmission chains:
Corrosion Resistance: Stainless steel chains are highly resistant to corrosion and rust, making them ideal for applications in harsh or corrosive environments. They can withstand exposure to moisture, chemicals, and temperature variations without compromising their performance.
Durability and Longevity: Stainless steel chains have excellent durability and a long service life. They are less susceptible to wear and fatigue, ensuring reliable operation even under heavy loads and demanding conditions. This reduces the need for frequent replacements and maintenance, resulting in cost savings over time.
Hygiene and Cleanliness: Stainless steel chains are commonly used in industries with strict hygiene requirements, such as food processing, pharmaceuticals, and medical equipment. They are easy to clean and sanitize, resistant to contamination, and can withstand high-temperature washdowns without degradation.
High Strength: Stainless steel chains have high tensile strength, allowing them to handle heavy loads and transmit power effectively. This makes them suitable for applications requiring robust and reliable power transmission.
Temperature Resistance: Stainless steel chains exhibit good resistance to high and low temperatures. They can maintain their mechanical properties and performance even in extreme temperature environments, making them suitable for applications with temperature variations.
Low Maintenance: Due to their excellent corrosion resistance and durability, stainless steel chains require minimal maintenance. They operate reliably with minimal lubrication, reducing the need for frequent inspections and lubrication intervals.
Overall, stainless steel transmission chains provide a reliable and long-lasting solution for applications where corrosion resistance, durability, hygiene, and strength are essential.



editor by CX 2023-11-08