Product Description
Product Description
The chain of agricultural machinery industry is applied to rice, wheat, corn, cotton and other agricultural machinery, providing driving and conveying functions, and realizing mechanized flower operation in the whole process of agricultural production from arable land to harvest. It is mainly applied to rice machinery, corn machinery, cotton machinery, etc
Product Attribute
Usage

Agricultural roller chain

Material

 chain plate: 45Mn,bush: Q195, roller: 10#,pin: 40Cr

Surface Treatment

netural/sand-blasted/shot-peening
application area
Rice machinery, harvester and other agricultural machinery
product type
S Type Steel Agricultural Chain with Attachments
C Type Steel Agricultural Chain with Attachments
A Type Steel Agricultural Chain with Attachments
CA Type Steel Agricultural Chain with Attachments
 
certificate
ISO,SGS,ANSI,DIN
Port

Any sea port or airport in china

Payment

L/C, T/T, D/P, Western Union

Package

Chain, Plastic Bag, Color Box, Wooden Case. or OEM

S Type
S32,S32V,S42,S45,S51,S52,

55V,55VF1,S55,S55R,S55RH,S62,S77,S88
 

C Type
CA550,CA550V,CA555,CA557,CA620,CA2060H,CA2063H,CA550F4,CA550F5

38.4R,38.4V,55VD,S62F3,CA960
 

A Type
A550,A555,A557,A620
 
CA Type
CA627,CA550D,CA557D,CA620D
 
We also carry out OEM according to your requirements
 
Detailed Photos
Product Parameters
Our Advantages
Company Advantages:
Own Import & Export License, The TV trade mark registered successfully in many countries, Sales network spread all over China, Products export to 65 countries in 5 continents.
Membership:
1. The member of China General Machine Components Industry Association.
2. The member of China Chain Transmission Association.
3. The member of China Chain Standardization Association.
4. The member of China Agricultural Association Machinery Manufacturers.
With our excellent trained staffs and workers, advanced and efficient equipments, completely sales network, strict QA systems. You are confidence that our premium qualified chain can meet all customers' specification and strictest quality standards.
Please do not hesitate to contact us for more information on how TransVision products can meet your industries demands at highly competitive pricing.
Quality First, Clients Uppermost.
Product Categories
Comprehensive Product Portfolio We produce and supply a wide range of power transmission
products including drive chains, leaf chains, conveyor chains, agricultural chains, sprockets, and
couplings. This one-store-for-all shopping experience will significantly reduce your searching costs while
guarantee youfind what you want at 1 click.
Value Choice Products Our products are the best combination of quality and price, and you get what
you want within your budgets
Seasoned Sales Associates and Engineers We have 15 seasoned sales associates and 5 engineers;
on our team at your disposal any time when you need a helping hand. They are well trained with industry
know-now and will always respond to your requests within 24 hours.
100% Customer Retention Rate Our regular customers from overseas come back not just for our
premium quality products, but for the superior services that we've provided over the years.
FAQ 
Q1: What's your average lead time?
A: It varies. Our regular end-to-end lead time is 1-2 months.. We also provide express shipments for rush orders. For details,please consult our sales associate.

Q2: Is your price better than your competitors given the same quality?
A: Definitely YES. We provide the most competitive price in the power transmission industry. If price disparity exists, we'll be more than happy to do a price match.
Q3: Can you make chains according to my CAD drawings?
A: Yes. Besides the regular standard chains, we produce non-standard and custom-design products to meet the specific technical requirements. In reality, a sizable portion of our production capacity is assigned to make non-standard products.

Q4: Can we inspect the goods before shipment?
A: Yes. You or your representative or any third-party inspection party assigned is allowed access to our facility and do the inspection.

Q5: What kind of payment method is acceptable for your mill?
A: We're flexible. We take T/T, L/C, or any other online payment methods so long as it's applicable for you.

Q6: What if I have any other questions?
A: Whenever in doubt, you're always encouraged to consult our sales associate any time – They will help you to your satisfaction.
 
Shipping Cost:

Estimated freight per unit.





To be negotiated
| | |
| --- | --- |
| Material: | Alloy/Carbon Steel |
| Structure: | Roller Chain |
| Surface Treatment: | Oxygenation |
Customization:

Available

|

Customized Request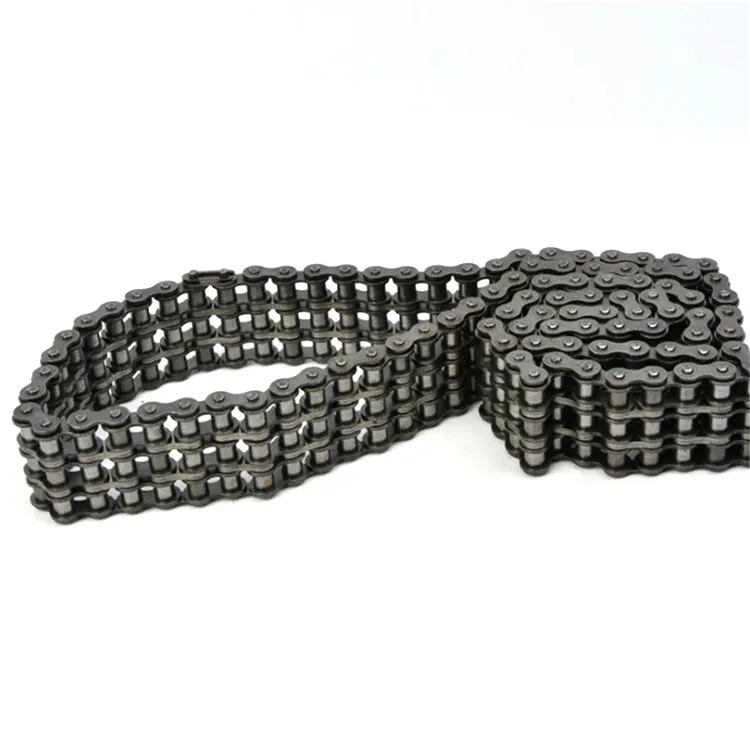 Can transmission chains be used in textile or weaving equipment?
Yes, transmission chains can be used in textile or weaving equipment. Here's a detailed answer to the question:
Textile and weaving equipment often require reliable and efficient power transmission systems to drive various components and mechanisms. Transmission chains are well-suited for these applications due to their durability, strength, and versatility.
Transmission chains are commonly used in textile and weaving equipment for the following purposes:
1. Power Transmission: Transmission chains transfer rotational power from the motor to different components in the textile or weaving machine. They are used to drive the main shaft, loom mechanisms, take-up reels, warp beams, and other moving parts.
2. Tensioning and Positioning: In weaving machines, transmission chains are employed to maintain proper tension in the warp threads. They help in accurately positioning the warp beam and maintaining a consistent tension throughout the weaving process.
3. Shedding Mechanisms: In jacquard looms and other advanced weaving machines, transmission chains play a vital role in operating the shedding mechanisms. These mechanisms control the raising and lowering of warp threads to create patterns and designs in the fabric.
4. Yarn Feeding: Transmission chains are used to drive yarn feeding mechanisms, such as yarn carriers or yarn guides, ensuring a steady and controlled feed of yarn during the weaving process.
5. Synchronization: In complex textile machines, transmission chains are used to synchronize the movement of different machine components. This helps in achieving precise coordination between the loom mechanisms, beating-up action, weft insertion, and other critical operations.
The advantages of using transmission chains in textile or weaving equipment include:
– High durability and resistance to wear, allowing for extended service life even in demanding textile manufacturing environments.
– Ability to handle high loads and transmit power efficiently, enabling the smooth operation of various machine components.
– Versatility to accommodate different weaving techniques, loom sizes, and machine configurations.
– Availability of a wide range of chain types, sizes, and materials to suit specific application requirements.
– Easy maintenance and replacement, ensuring minimal downtime and efficient production.
Overall, transmission chains are an essential component in textile and weaving equipment, providing reliable power transmission, precise synchronization, and efficient operation. Manufacturers and designers of textile machinery often integrate transmission chains into their equipment to ensure consistent and high-quality fabric production.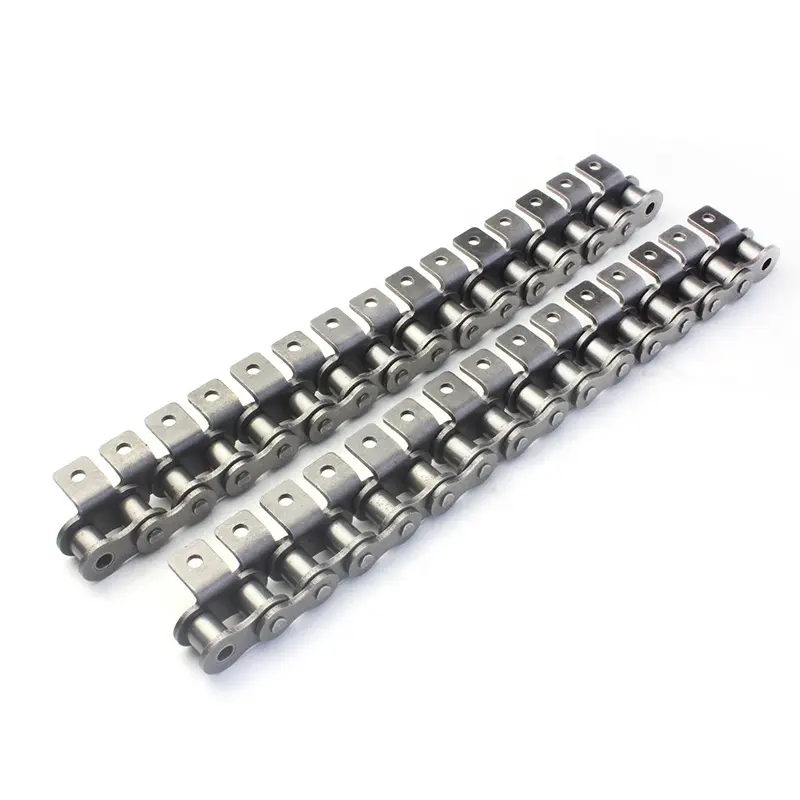 What are the benefits of using a corrosion-resistant coating on a transmission chain?
A corrosion-resistant coating offers several advantages when applied to a transmission chain. Here's a detailed answer to the question:
1. Enhanced Durability: Corrosion can significantly impact the lifespan and performance of a transmission chain. By applying a corrosion-resistant coating, the chain is protected from the damaging effects of moisture, chemicals, and environmental factors, increasing its durability and longevity.
2. Rust Prevention: Rust formation on a transmission chain can lead to friction, wear, and reduced functionality. A corrosion-resistant coating acts as a barrier, preventing the chain from coming into direct contact with moisture or corrosive substances, thereby inhibiting rust formation and maintaining the chain's smooth operation.
3. Improved Performance: Corrosion can affect the smooth movement of the chain, causing stiffness, binding, or seizing. With a corrosion-resistant coating, the chain experiences reduced friction and resistance, leading to improved performance, efficient power transmission, and reduced energy consumption.
4. Reduced Maintenance: A transmission chain with a corrosion-resistant coating requires less frequent maintenance and cleaning compared to an uncoated chain. The coating acts as a protective layer, minimizing the accumulation of dirt, debris, and contaminants, thereby reducing the need for frequent cleaning and maintenance.
5. Cost Savings: The use of a corrosion-resistant coating on a transmission chain can result in long-term cost savings. By extending the lifespan of the chain and reducing maintenance requirements, the need for chain replacements and associated downtime and expenses are minimized.
6. Versatility: Corrosion-resistant coatings are available in various formulations suitable for different environments and applications. Whether the transmission chain operates in outdoor conditions, high humidity, chemical exposure, or other corrosive environments, there are coatings specifically designed to provide optimal protection.
7. Environmental Considerations: Using a corrosion-resistant coating on a transmission chain contributes to environmental sustainability. By extending the life of the chain, fewer resources are consumed in manufacturing replacements, reducing waste generation and promoting a more eco-friendly approach.
It's important to note that the selection of the appropriate corrosion-resistant coating depends on the specific operating conditions, such as temperature, chemical exposure, and the type of corrosive agents encountered. Consulting with coating manufacturers or experts can help determine the most suitable coating solution for a transmission chain based on the application requirements.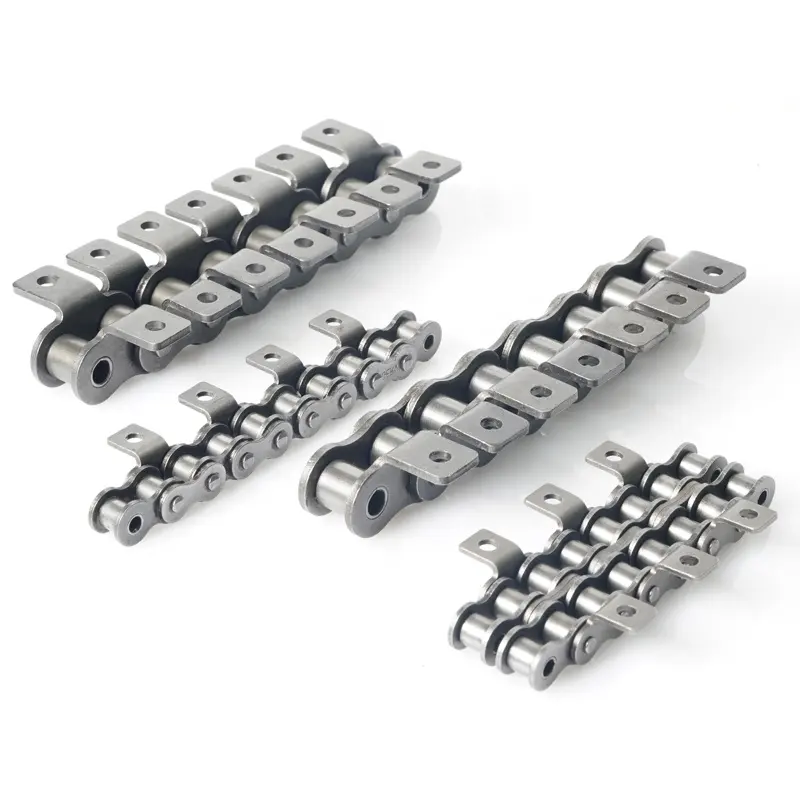 What are the main differences between standard and heavy-duty transmission chains?
Standard and heavy-duty transmission chains are designed to meet different load and performance requirements. Here are the main differences between these two types:
Load Capacity: Heavy-duty transmission chains are built to handle higher loads and provide greater strength compared to standard chains. They are designed to withstand heavier and more demanding applications.
Construction: Heavy-duty transmission chains are typically constructed with thicker plates, larger pins, and stronger components to enhance their durability and load-carrying capacity.
Size: Heavy-duty transmission chains are often larger in size compared to standard chains to accommodate the increased load requirements.
Weight: Due to their robust construction, heavy-duty transmission chains tend to be heavier than standard chains.
Durability: Heavy-duty chains are engineered to have greater wear resistance, fatigue resistance, and overall durability to withstand harsh operating conditions and prolonged usage.
Applications: Standard transmission chains are suitable for lighter-duty applications where moderate loads are involved, such as light machinery, conveyors, and small equipment. Heavy-duty transmission chains, on the other hand, are designed for heavy machinery, industrial equipment, mining applications, and other demanding environments.
It's important to consider the specific requirements of your application, including load capacity, operating conditions, and expected lifespan, to determine whether a standard or heavy-duty transmission chain is the right choice.



editor by CX 2023-08-17