Product Description
1. Description:
| | |
| --- | --- |
| Part No.: | 8E9805 |
| Machine No.: | 320 |
| Description: |  Sprocket |
| Logo: |  Beneparts |
| Surface Hardness |  52 ~ 58 |
| Color: |   Yellow or others |
| Production Method: |  Casting / Forging |
| Material: |  40Mn |
More products:
Bucket tooth:  product/jJArxYWdhhks/China-Spare-Parts-Track-Bushing-Excavator-Pin-40cr-42CrMo-Bucket-Link-Pin-Link-Pin-Replacement-Bucket-Tooth-Locking-Pins-Forged-Bucket-Tooth-Pin-K170-Pin-2320170.html
Rubber track: product/yQLRiCgPvAVJ/China-Mini-Excavator-Rubber-Track-Undercarriage-Dx340LC-Machinery-Lubricated-Dry-Track-Link-Shoe-Assy-Track-Chain.html
Track roller: product/jmWpigyGJLcA/China-246-571-Roller-Gp-Track-Single-Flange-Excavator-Undercarriage-Parts-Down-Upper-Lower-Roller-Idler-Sprocket-Track-Roller.html
Grader blade:  product/XZlfQcLdlFhi/China-Construction-Machinery-Parts-Grader-Blade-Motor-Grader-Carbon-Steel-Boron-Steel-Dbf-Cutting-Edge-Bulldozer-4t6694.html
Track link chain:  product/yQLRiCgPvAVJ/China-Mini-Excavator-Rubber-Track-Undercarriage-Dx340LC-Machinery-Lubricated-Dry-Track-Link-Shoe-Assy-Track-Chain.html
Bucket:  product/UdMAiYuwXGhW/China-China-Heavy-Equipment-Buckets-Wh60c-Q345b-3-4cx-12-Bucket.html
Chocky bar:  product/kyPmTlxusBhU/China-Excavator-Bucket-Protection-Spare-Parts-CB1-Teeth-Pins-Retainer-Bushing-Locker-80-125r.html
2. Our products range
  
3. Our production line:
4.Popular items blow for reference:
Brand
Model
Track Roller,                                                            Top Roller,                                                      Sprocket,                                                          Idler,                                                            Track Link,                                                         Track Shoes
   
PC18-2
PC20-5/7
PC30-5/6/7/8
PC40-5/6/7
PC50/PC55
PC60-5/6/7
PC100-5/6/7
PC120-5-6-7
PC200-3/5/6/7/8
PC220-3/5/6/7/8
PC200LC-3/5/6/7/8
PC220-3/5/6/7/8
PC300-5-6-7
PC300LC-/5-6-7
PC350-5/6/7
PC350LC-5/6/7
PC360-5/6/7
PC360LC-5/6/7
PC400-1/3/5/6/7
PC400LC-1/3/5/6/7
PC450-5/6/7
PC450LC-5/6/7
PC600
PC800
 
 
   
EX30
EX40
EX55
EX60-2/3/5
EX70
EX100-1/3/5/
EX120-1/3/5
EX150
EX200-1/2/3/5
EX200LC-1/2/3/5
EX220-1/2/3/5
EX220LC-1/2/3/5
EX270-1/2/5
EX270LC-1/2/5
EX300-1/2/3/5
EX300LC-1/2/3/5
EX330
EX330LC
EX400-1/2/3/5
EX400LC-1/2/3/5
EX450-1/2/3/5
EX450LC-1/2/3/5
UH07-7
UH081
UH083
UH045
UH571
 
 
 
   
ZAX55
ZAX70
ZAX120
ZAX200
ZAX210
ZAX230
ZAX240
ZAX330
ZAX450
 
 
 
 
 
 
 
   
DH55
DH80
DH130
DH150
DH220
DH258
DH280
DH300
DH320
DH360
DH370
DH400
DH420
DH500
 
 
DX300
DX370
DX380
 
 
 
  
SK035
SK035SR
SK30
SK35
SK45
SK50-1
SK50-6
SK55
SK60-3
SK60-1/2/5
SK60-8
SK100
SK120
SK130-8
SK200-3/5/8
SK210
SK230
SK250
SK300
SK320
SK330
SK350
SK07N2
 
 
 
 
SH35
SH55
SH60
SH65
SH75
SH100
SH120
SH120A3
SH200
SH220
SH265
SH280
SH300
SH320
SH340
SH350
SH430
LS2800
 
 
 
 
       
HD250
HD400
HD450
HD700
HD770
HD820
HD1571
HD1250
HD1430
 
 
 
 
 
     
R55
R60-5/7/8
R80
R130
R150LC-7
R200
R210-3
R220-5
R225-7
R275
R290
R300
R320
R305
R360
R450
 
 
 
R914
R924
R934C
R944C
 
 
 
CX35
CX45
CX55
CX240
 
 
   
KX35
KX50
KX55
KX80
KX185
 
 
 
 
 
   
SWE35
SWE40
SWE50
SWE55
SWE60
SWE70
SWE85
SWE330
 
 
 
IHI30
IHI35
IHI80
IHI85
 
 
 
TB150
TB175
 
 
 
 
 
FR65
FR85
 
 
 
 
 
 
      
SY65
SY200
SY215
SY330
 
 
   
YC13
YC35
YC45
YC60
YC85
YC135
 
 
 
 
 
 
  
VIO30 YM30
VIO35 YM35
VIO40 YM40
VIO55 YM55
VIO75 YM75
 
 
 
 
 
   
D3B D3C
D4
D4D
D4E
D4H
D5
D5B
D5C
D5H
D5M
D5N
D6
D6C
D6D
D6R
D6H
D6T
D7G
D7R
D7H
D8N
D8L
D8T
D8R
D8H
D8K
D9L
D9N
D9R
D9T
D10N
D10R
D10T
D11N
D11R
 
 
 
  
D20
D31
D37EX-21
D40
D41P-6
D41E-6
D50
D53
D51EX-22
D60
D65
D65-12
D61EX-12
D65EX-12
D65PX-12
D80
D85
D85EX-15
D85-21
D155
D155A-1
D155A-2
D155A-3
D155A-5
D155-6
D275
D355A-3
D375-5
BD2G
 
 
 
5. Our warehouse:

6.Company information
HangZhou CZPT Machinery co., Ltd as your reliable Undercarriage parts supplier, offering full range of replacement parts suitable for all kinds of earthmoving machines which apply to mining, construction, agriculture etc. Like Excavator, Bulldozer, Loader, Backhoe, Scraper, Crusher and so on. The replacement parts that we supply including casting parts like idler, sprocket, top roller, track link, track roller, track shoes…, etc. and forged parts like forged idler, sprocket, top roller, track link, track roller, track shoes…, etc. 
 
Beneparts has a very strong sales team and firmly cooperated manufacturer with high-tech and focus on quality with more than 28 years experience.
 
Our advantages are 4 fold, our:
1.strong technical team, and we have the ability to formulate materials to meetthe specific needs of our customer's projects.
2.Perfect quality monitoring system, and full range of advanced facilities, like Component analysis machine, Impact Machine, Tensile Strength machine etc.
3. Rich experience to do OEM/ODM business, we can develop items as per drawings and samples if you have specific requirement.
4. Efficient management, we can short delivery time and we have good after sale service which keep long term business cooperation with our customers.
 
Our commitment to you is always providing quick, convenient, effective customer service.
Look CZPT to meeting you!
 
Shipping Cost:

Estimated freight per unit.





To be negotiated
| | |
| --- | --- |
| Type: | Sprocket |
| Application: | Excavator |
| Certification: | CE |
Customization:

Available

|

Customized Request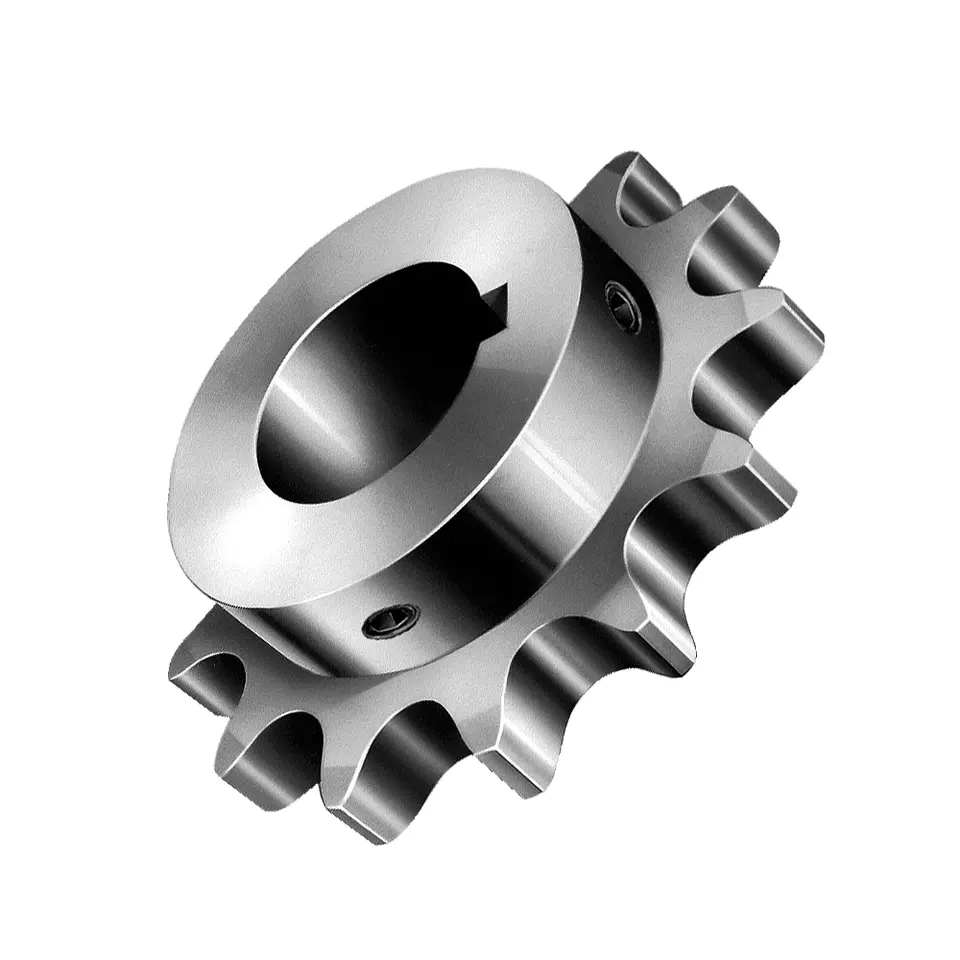 Safety Precautions for Working with wheel sprocket Systems
Working with wheel sprocket systems involves potential hazards, and it's essential to follow safety precautions to prevent accidents and injuries. Here are some safety measures to consider:
Proper Training: Ensure that anyone working with the wheel sprocket systems is adequately trained in their operation, maintenance, and safety procedures.
Use Personal Protective Equipment (PPE): Always wear appropriate PPE, such as safety glasses, gloves, and protective clothing, to protect against potential hazards.
Lockout/Tagout: Before performing any maintenance or repair work on the system, follow lockout/tagout procedures to prevent accidental startup or energization.
Keep Work Area Clean: Maintain a clean work area and remove any debris or obstacles that could interfere with the operation of the system.
Inspect Regularly: Regularly inspect the wheels, sprockets, and chains for signs of wear, damage, or misalignment. Address any issues promptly.
Ensure Proper Lubrication: Adequate lubrication of the sprockets and chains is crucial for smooth operation and to reduce friction and wear.
Check Tension: Verify that the chain tension is within the recommended range. Too loose or too tight tension can lead to operational problems.
Avoid Loose Clothing: Keep long hair, loose clothing, and jewelry away from moving parts to avoid entanglement.
Follow Manufacturer's Guidelines: Adhere to the manufacturer's guidelines and recommendations for installation, operation, and maintenance of the wheel sprocket system.
Use Guards and Enclosures: Install appropriate guards and enclosures to protect against contact with moving parts.
Safe Handling: When transporting or handling heavy wheels or sprockets, use proper lifting techniques and equipment.
Prioritizing safety when working with wheel sprocket systems is essential to prevent accidents and maintain a safe working environment. Always be vigilant, follow safety protocols, and address any concerns promptly to ensure the well-being of everyone involved.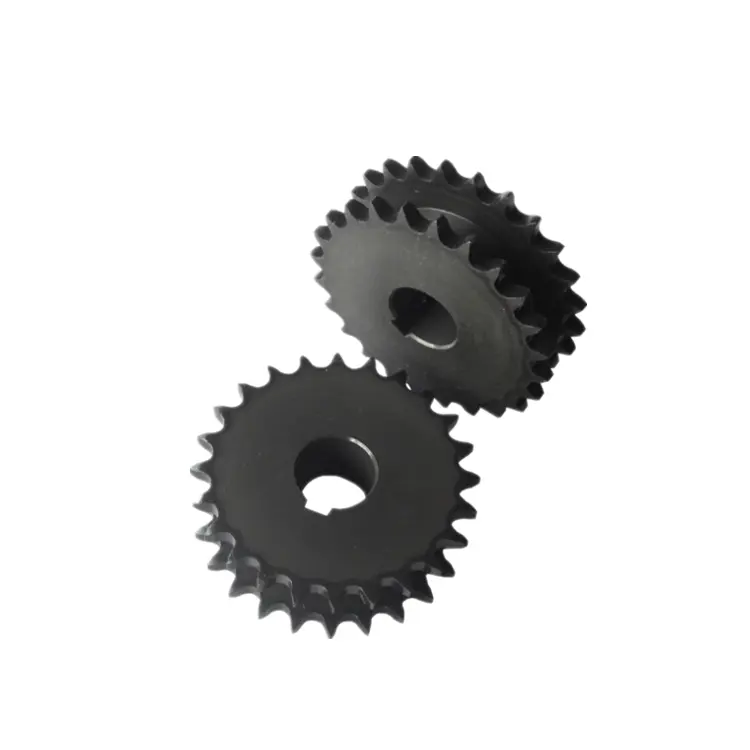 Vertical Power Transmission with wheel sprocket System
Yes, a wheel sprocket system can be used for vertical power transmission. In such cases, the system is designed to transmit power and motion between vertically aligned shafts. Vertical power transmission using a wheel sprocket assembly follows similar principles to horizontal transmission, but there are some factors to consider:
Load and Torque: When transmitting power vertically, the weight of the load can significantly impact the torque requirements. The torque must be sufficient to lift the load against gravity while accounting for friction and other resistive forces.
Sprocket Selection: Choosing the right sprocket is critical for vertical transmission. The sprocket teeth must be designed to engage the chain or belt effectively and prevent slipping, especially when lifting heavy loads.
Lubrication: Proper lubrication is essential to reduce friction and wear in the system. Vertical applications may require specific lubricants to ensure smooth operation and prevent premature failure.
Tensioning: Maintaining the correct tension in the chain or belt is crucial for vertical power transmission. Proper tension helps prevent sagging and ensures proper engagement between the wheel sprocket.
Overhung Load: In vertical setups, the weight of the sprocket and shaft assembly can impose an overhung load on the bearings. Adequate support and bearing selection are necessary to handle this load.
Vertical power transmission with a wheel sprocket system is commonly used in various applications, including conveyor systems, elevators, and some industrial machinery. Proper design, installation, and maintenance are essential to ensure safe and efficient operation in vertical configurations.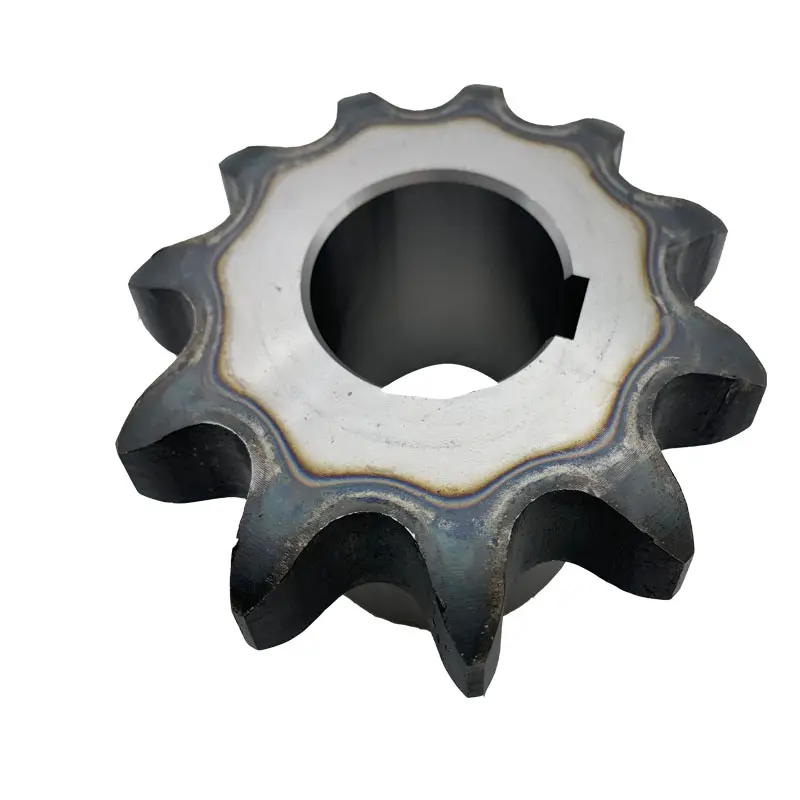 How Does a wheel sprocket Assembly Transmit Power?
In a mechanical system, a wheel sprocket assembly is a common method of power transmission, especially when dealing with rotary motion. The process of power transmission through a wheel sprocket assembly involves the following steps:
1. Input Source:
The power transmission process begins with an input source, such as an electric motor, engine, or human effort. This input source provides the necessary rotational force (torque) to drive the system.
2. Wheel Rotation:
When the input source applies rotational force to the wheel, it starts to rotate around its central axis (axle). The wheel's design and material properties are essential to withstand the applied load and facilitate smooth rotation.
3. Sprocket Engagement:
Connected to the wheel is a sprocket, which is a toothed wheel designed to mesh with a chain. When the wheel rotates, the sprocket's teeth engage with the links of the chain, creating a positive drive system.
4. Chain Rotation:
As the sprocket engages with the chain, the rotational force is transferred to the chain. The chain's links transmit this rotational motion along its length.
5. Driven Component:
The other end of the chain is connected to a driven sprocket, which is attached to the component that needs to be powered or driven. This driven component could be another wheel, a conveyor belt, or any other machine part requiring motion.
6. Power Transmission:
As the chain rotates due to the engagement with the sprocket, the driven sprocket also starts to rotate, transferring the rotational force to the driven component. The driven component now receives the power and motion from the input source via the wheel, sprocket, and chain assembly.
7. Output and Operation:
The driven component performs its intended function based on the received power and motion. For example, in a bicycle, the chain and sprocket assembly transmit power from the rider's pedaling to the rear wheel, propelling the bicycle forward.
Overall, a wheel sprocket assembly is an efficient and reliable method of power transmission, commonly used in various applications, including bicycles, motorcycles, industrial machinery, and conveyor systems.



editor by CX 2023-07-27