Product Description
Chian  Agricultural Chains Roller Transmission  Chains and Sprockets
Agricultural Chains includs following chain:
S type Steel Agricultural Chains:
S32  S32  S42  S45  S51  S52L  S52LV  S52  55V  55VF1  S55  S55R 5SSRH  S55RHF1  S62  S62F5  S77  S88  CA642  CA650  CA650F2  S42F2  S52F10  S62F10  S62F8  CA650F4  CA620F4  55VF1H2  CA650F1
S type Steel Agricultural Chains with Attachments:
S32SK1  S42SK1  S45SK1 S52SK1  S55SK1  S77SK1  S88SK1  S32SK1F1  S55RHSK1  S52LK1  55VK1  S42F2K1F1  S52LF1K1  S32K1  S32K1F1  S42K1  S45K1  S51K1  S52K1F1  S55K1  S55K1F1  S55K1  S55K1F1  S55HK1  S62K1  S62A2K1  S62F2K1  S77K1  S88K1  S51HF1K1  S88F2K1  S42A1F2  S42F2A1  S88F3K1  S62F12K1  S62SD  S51SDF1  S52SDF1  S52SDF2  S52SD  S52F4   S52F9  S52LSD  S52LF1SD  S52LF2SD  S52F12SD  S52LVSD  S45F1  S45SDF2  S45W-F1  S45W-F4  S45SD  S55F2  S55F3  S55F4  S55F6  S55F7  S55RSDF1  55VSDF1  55VSDF2  55VSDF4  S55DF2  S5
5SDF4  S62SD  S45V  S45SDF1  S55V  S55SDF1  S45SDF3  S55HSDF3  S55F12SD  S52F11SD  S52F3  C45F1SD  etc.
A Type Steel Agricultural Cahins:
A550  A555  A557  A620
CA Type Steel Agricultural Chains
CA627  CA550D  CA555D  CA557D  CA620D  CA2062H  CA550 CA550V  CA555 CA557  CA620  CA2060H  CA550F4  CA550F5  CAE44151  38.4R  38.4V  38.4VB  55VD  S62F3  CA960  CA550VF2  CA550H
C Type Steel Agricultural Chain attachments
38.4VK1  38.4RK1F1  38.4VF3K1  38.4RK1F2  CA550F2  CA550K1F1  CA550VK1F  CA550VK1F1  CA550F4K19  CA550AK29M  CA550K1F7  CA550A29  CA550VF2K1  CA550F5AK29M  CA550F5K29F1  CA550F5K1  CA557K1F2  38.4RK1F3  38.4RK1F3  38.4RK1F7  38.4VK1F9  38.4VK1F6  38.4VK1F7  38.4RK1F8  38.4RK1F8  38.4RK1F9  38.4RK1F10  38.4VF3K1F2  CA550K1F15  etc.
Product name 
Chain(DIN766) Agricultural Chains
Materials Available
1. Stainless Steel: SS201, SS303, SS304, SS316, SS416, SS420
2. Steel:C45(K1045), C46(K1046),C20
3. Brass:C36000 ( C26800), C37700 ( HPb59), C38500( HPb58), C27200(CuZn37), C28000(CuZn40)
4. Bronze: C51000, C52100, C54400, etc
5. Iron: 1213, 12L14,1215
6. Aluminum: Al6061, Al6063
7.OEM according to your request
Surface Treatment
Annealing, natural anodization, heat treatment,  polishing, nickel plating, chrome plating, znic plating,yellow passivation, gold passivation,  satin, Black surface painted etc.
Products Available
sprockt chains, pulley, shafts(axles, spline shafts, dart shafts),gears (pinions, wheels gear rack) bearing, bearing seat,  bushing, coupling, lock assembly etc.
Processing Method
CNC machining, punch,turning, milling, drilling, grinding, broaching, welding and assembly
QC :
Technicians self-check in production,final-check before package by  professional Quality inspector
Size
Drawings
Package
Wooden Case/Container and pallet, or as per customized specifications
Certificate
ISO9001:2008 , ISO14001:2001,ISO/TS 16949:2009
Advantage
Quality first Service superior , Advanced equipment,Experienced workers,Perfect testing equipment
Lead Time
15-25days samples. 30-45days offcial order
1.What terms of payment you usually use?
T/T 30% deposit and 70% against document, Western Union, L/C at sight
 
2. what is your lead time for your goods?
Normally 45 days after confirmed order. 30 days could be available in low season for some items (during May to July), and 65 days during new year and hot season ( Jan to March).
 3. Do you attend any Show?
We attend Hannover show in Germany, NMW in Austrilia, Canton fair, PTC, in China and many other special furniture shows.
| | |
| --- | --- |
| Usage: | Transmission Chain |
| Material: | Alloy/Carbon Steel |
| Surface Treatment: | Custom Made |
| Feature: | Heat Resistant |
| Chain Size: | Custom Made |
| Structure: | Custom Made |
Customization:

Available

|

Customized Request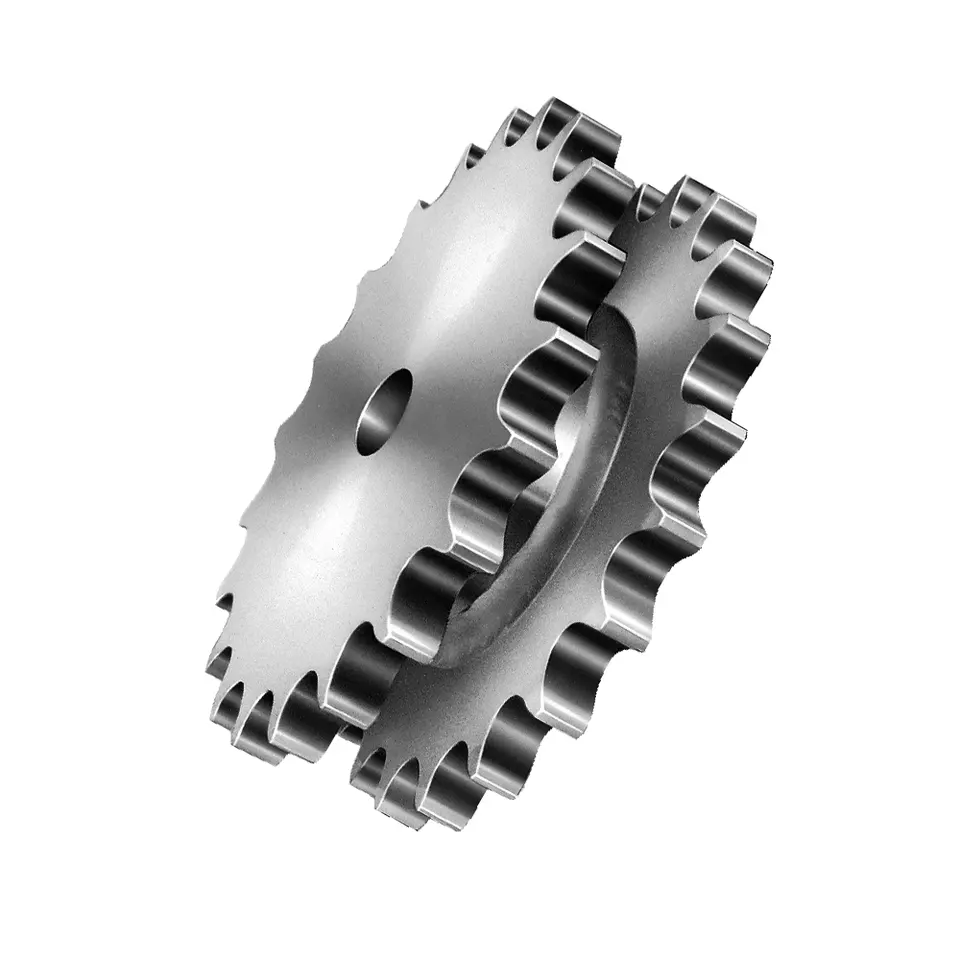 How to Identify and Troubleshoot Common Issues with Wheels and Sprockets
Identifying and troubleshooting common issues with wheels and sprockets can help you maintain their proper functioning and prevent potential problems. Here are some steps to follow:
Abnormal Noise: If you notice unusual noise during operation, it could indicate misalignment, worn sprockets, or a loose chain. Check for any loose bolts or fasteners and ensure proper alignment of the sprockets.
Chain Slippage: Chain slippage can occur due to insufficient tension or worn-out sprocket teeth. Check the chain tension and adjust it to the recommended level. Inspect the sprocket teeth for signs of wear and replace them if necessary.
Uneven Wear: Uneven wear on the sprocket teeth can be a result of misalignment or a worn-out chain. Check the alignment of the sprockets and adjust as needed. If the chain is stretched or has damaged links, replace it with a new one.
Excessive Vibration: Excessive vibration may be caused by imbalanced wheels or misaligned sprockets. Check for any bent or damaged wheels and ensure proper alignment of the sprockets.
Chain Skipping: If the chain skips over the sprocket teeth during operation, it could be due to worn sprocket teeth or a loose chain. Inspect the sprocket teeth for signs of wear and replace them if necessary. Adjust the chain tension to the proper level.
Chain Jamming: Chain jamming can occur if there is debris or dirt between the chain and sprockets. Clean the chain and sprockets thoroughly to remove any obstructions.
Excessive Chain Wear: Regularly inspect the chain for signs of wear, such as elongation, damaged links, or rust. Replace the chain if it is significantly worn to avoid damage to the sprockets.
Overheating: Overheating can be caused by high friction between the chain and sprockets or improper lubrication. Ensure proper lubrication and check for any misalignment or tight spots in the system.
By identifying these common issues and performing regular inspections, you can troubleshoot problems early on and take appropriate corrective measures, ensuring the smooth operation and longevity of the wheel sprocket assembly.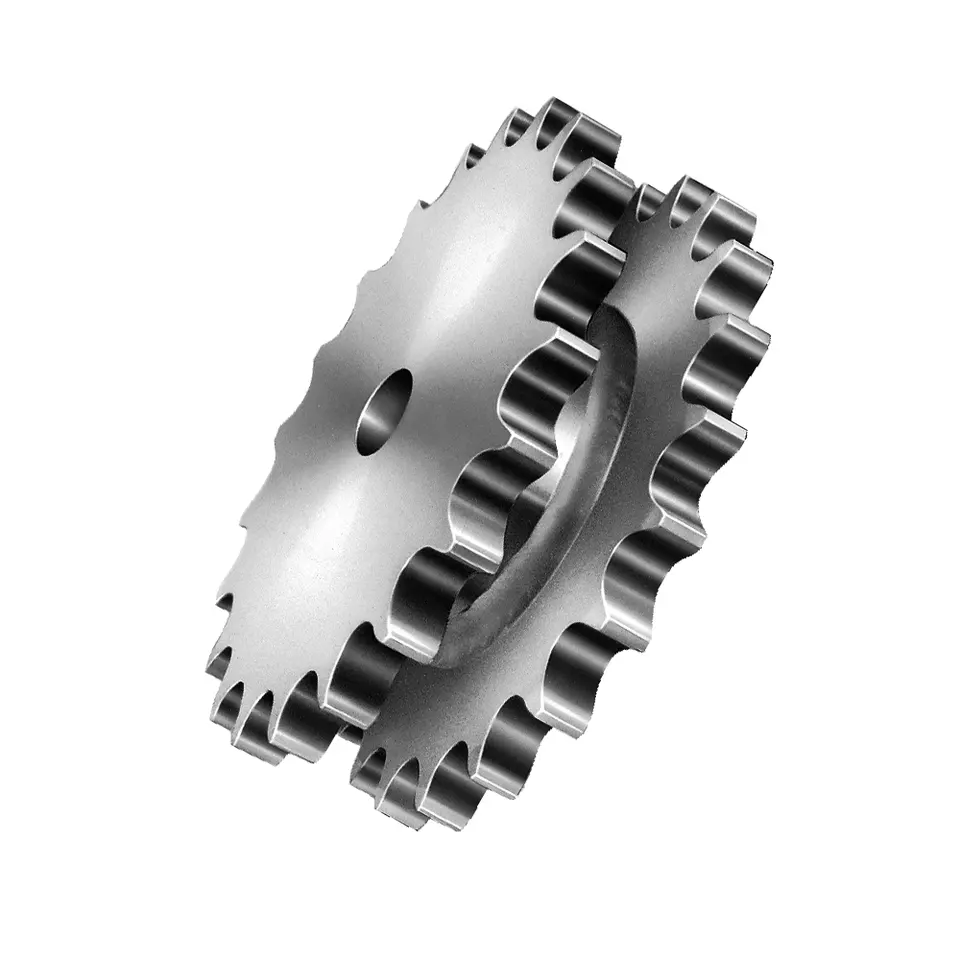 Temperature Limits for wheel sprocket System's Operation
The temperature limits for a wheel sprocket system's operation depend on the materials used in the construction of the components. Different materials have varying temperature tolerances, and exceeding these limits can lead to reduced performance, premature wear, and even system failure.
Here are some common materials used in wheel sprocket systems and their general temperature limits:
Steel: Steel sprockets and wheels, which are widely used in many applications, typically have a temperature limit ranging from -40°C to 500°C (-40°F to 932°F). However, the specific temperature range may vary based on the grade of steel and any coatings or treatments applied.
Stainless Steel: Stainless steel sprockets and wheels offer improved corrosion resistance and can withstand higher temperatures than regular steel. Their temperature limit is typically between -100°C to 600°C (-148°F to 1112°F).
Plastics: Plastic sprockets and wheels are commonly used in low-load and low-speed applications. The temperature limit for plastic components varies widely depending on the type of plastic used. In general, it can range from -40°C to 150°C (-40°F to 302°F).
Aluminum: Aluminum sprockets and wheels have a temperature limit of approximately -40°C to 250°C (-40°F to 482°F). They are often used in applications where weight reduction is critical.
It's essential to consult the manufacturer's specifications and material data sheets for the specific components used in the wheel sprocket system to determine their temperature limits accurately. Factors such as load, speed, and environmental conditions can also influence the actual temperature tolerance of the system.
When operating a wheel sprocket system near its temperature limits, regular monitoring and maintenance are necessary to ensure the components' integrity and overall system performance. If the application involves extreme temperatures beyond the typical limits of the materials, specialized high-temperature materials or cooling measures may be required to maintain reliable operation.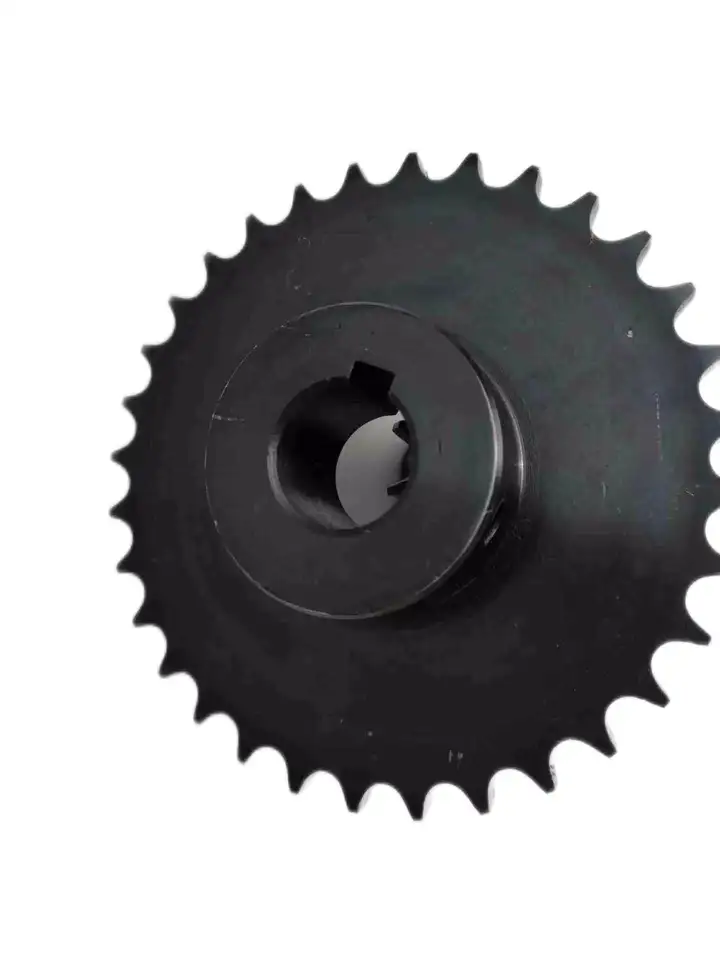 Advantages of Using a wheel sprocket Configuration
Using a wheel sprocket configuration for power transmission offers several advantages over other methods. Here are some key benefits:
1. Efficient Power Transmission:
The wheel sprocket assembly provide a highly efficient method of transmitting power between shafts with minimal energy loss. The teeth of the sprocket mesh with the links of the chain or the teeth of another sprocket, ensuring a positive engagement that reduces slippage and maximizes power transfer.
2. Versatility:
Wheels and sprockets are available in various sizes, configurations, and materials, making them highly versatile components for different applications. They can accommodate a wide range of speed and torque requirements, making them suitable for various mechanical systems.
3. Compact Design:
The compact design of wheel sprocket assemblies allows for space-saving installations in machinery. The concentric arrangement of the components minimizes the overall footprint, making it ideal for applications with limited space.
4. Precise Speed Control:
By selecting sprockets with different numbers of teeth, the gear ratio can be easily adjusted to achieve precise speed control in the driven shaft. This level of control is essential for many applications, such as conveyor systems, where different speeds are required for different processes.
5. High Torque Capacity:
wheel sprocket systems can handle high torque loads, making them suitable for heavy-duty applications. This high torque capacity is especially beneficial in industrial settings where large loads need to be moved or lifted.
6. Smooth and Quiet Operation:
When properly lubricated and maintained, the interaction between the sprocket and the chain or other sprockets results in smooth and quiet operation. This makes wheel sprocket systems preferable in applications where noise reduction is important.
7. Easy Installation and Maintenance:
Installing a wheel sprocket assembly is relatively straightforward, and they require minimal maintenance when used correctly. Periodic lubrication and tension adjustments are typically all that is needed to keep the system running smoothly.
8. Suitable for High-Speed Applications:
wheel sprocket configurations are well-suited for high-speed applications where belts or gears may not be as practical due to limitations in speed capabilities.
In summary, the wheel sprocket configuration offers efficient power transmission, versatility, compactness, precise speed control, high torque capacity, smooth operation, and ease of installation and maintenance. These advantages make it a popular choice in a wide range of mechanical systems and industrial applications.



editor by CX 2023-08-09