Product Description
Harvester Chains of Carton Steel (415S)
PRODUCT SHOW

PRODUCT DETAILS
Product Parameters
Standard
GB, ISO, ANSI, DIN
Type
Standard A and standard B precision roller chain, conveyor chain;
special chain with accessories, welding chain, leaf chain and sprocket
ANSI chain No.
40,50,60,80,100,120,140,160,180,200,240;
C40,C50,C60,C80,C100,C120,C140,C160;
DIN/ISO chain No.
08A,10A,12A,16A,20A,24A,28A,32A,36A,40A,48A;
C08A,C10A,C12A,C16A,C20A,C24A,C28A,C32A;
Application
Food processing, pharmaceutical and chemical industries, electronics, machinery;
household appliances, automotive manufacturing, metallurgy, sewage treatment
Series
A series, B series
More Products

Advantage
Certifications
DETAILS ABOUT CZPT CHAIN 
Exhibition
Workshop
Application

Packaging Details
Shipping
FAQ      
1. Are you a manufacturer or trade Company?
We are a factory founded in 1997 with a trade team for international service.
2. What terms of payment do you usually use?
T/T 30% deposit and 70% against document, Western Union, L/C at sight
3. What is your lead time for your goods?
Normally 35 days after confirmed order. 30 days could be available in the low season for some items (during May to July), and 45 days during the new year and hot season ( Jan to March).
4. Samples
For customers who need sample confirmation before ordering, please bear in mind that the following policy will be adopted:
1) All samples are free of charge with a maximum value not exceeding USD 100.
2) The courier cost for the first-time sample sending will be charged by the consignee. We will send the samples with freight to be collected. So please inform your account with FedEx, UPS, DHL, or TNT so that we can proceed promptly.
3) The first-time courier cost will be totally deducted from the contract value of the trial cooperation.
| | |
| --- | --- |
| Usage: | Transmission Chain, Conveyor Chain, Agricultural Machine |
| Material: | Alloy/Carbon Steel |
| Surface Treatment: | Polishing |
| Feature: | Heat Resistant |
| Chain Size: | All Sizes |
| Structure: | Agricultural Machine |
Customization:

Available

|

Customized Request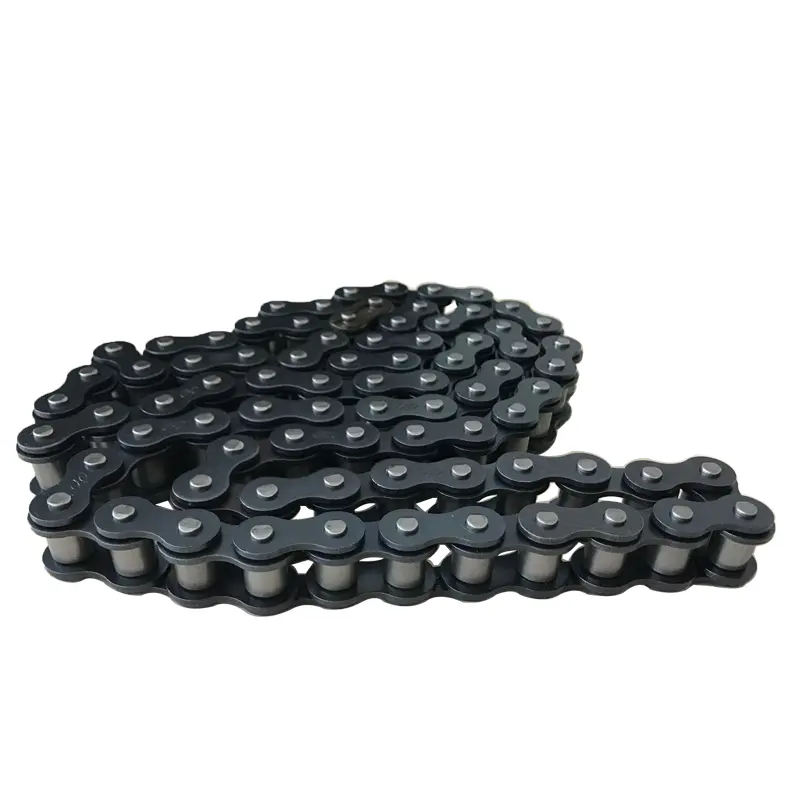 What are the benefits of using a low-noise transmission chain?
Using a low-noise transmission chain in industrial applications offers several advantages. Here's a detailed answer to the question:
1. Noise Reduction: One of the primary benefits of using a low-noise transmission chain is the reduction in noise levels. These chains are designed with special features and materials to minimize vibrations, impact, and friction-induced noise during operation. This is particularly important in environments where noise reduction is critical, such as in residential areas, offices, or noise-sensitive industries.
2. Improved Workplace Environment: By reducing noise levels, low-noise transmission chains contribute to a more comfortable and productive workplace environment. Excessive noise can lead to employee fatigue, decreased concentration, and increased stress levels. Using low-noise chains helps create a quieter workspace, promoting better working conditions and overall well-being.
3. Compliance with Noise Regulations: In certain industries or regions, there are specific regulations or guidelines regarding acceptable noise levels. Using low-noise transmission chains can help ensure compliance with these regulations, avoiding potential fines or legal issues related to excessive noise emissions.
4. Enhanced Equipment Performance: Low-noise transmission chains are designed to provide smooth and efficient power transmission while minimizing noise generation. The reduction in vibration and impact noise not only improves the comfort of the workplace but also enhances the overall performance of the equipment. It can contribute to better precision, accuracy, and reliability of the machinery, leading to improved product quality and operational efficiency.
5. Extended Equipment Lifespan: Excessive noise and vibration can accelerate wear and tear on machinery components, leading to increased maintenance and premature failure. By using a low-noise transmission chain, the impact on the equipment's mechanical parts is reduced, resulting in less wear, lower maintenance costs, and extended equipment lifespan.
6. Customer Satisfaction: In industries where noise can affect the end-user experience, such as automotive, consumer electronics, or precision engineering, using low-noise transmission chains can contribute to higher customer satisfaction. Products that operate quietly are often perceived as higher quality and can lead to a positive brand image and customer loy alty.
It's important to note that the benefits of low-noise transmission chains may vary depending on the specific application and operating conditions. Manufacturers and equipment designers should consider factors such as load capacity, speed, lubrication, and environmental requirements when selecting and implementing low-noise transmission chains.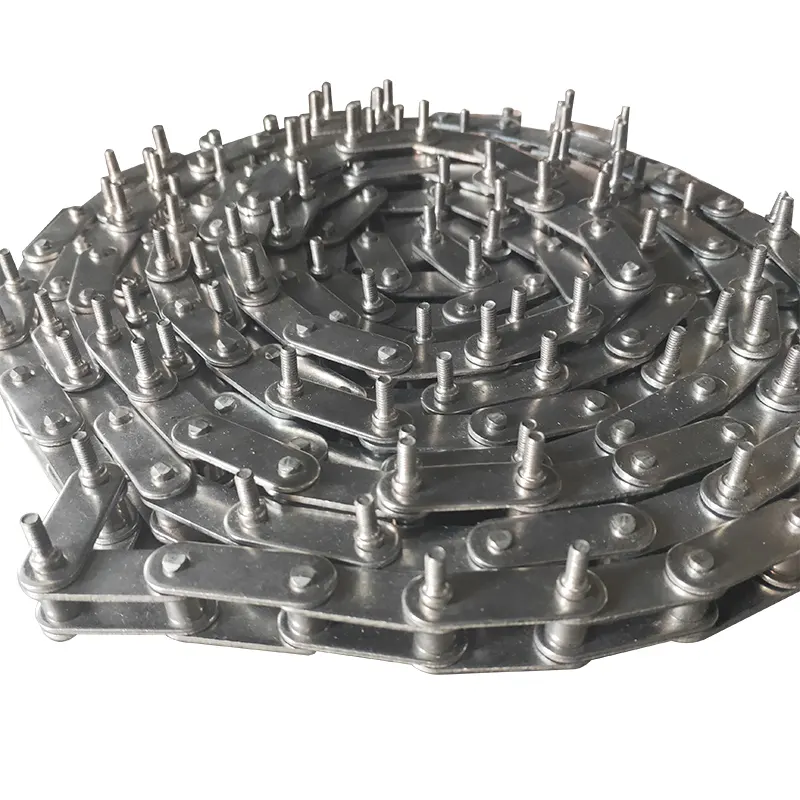 How does the choice of material impact the performance of a transmission chain?
The choice of material for a transmission chain plays a crucial role in its overall performance and durability. Here's a detailed answer to the question:
1. Strength and Load Capacity: Different materials have varying levels of strength and load-carrying capacities. High-strength materials like alloy steel or stainless steel offer superior strength and can withstand heavy loads. The choice of a material with adequate strength ensures that the transmission chain can handle the required load without premature wear or failure.
2. Wear Resistance: The material used in the construction of a transmission chain affects its wear resistance. Some materials, such as hardened steel or certain alloys, have excellent wear resistance properties, allowing the chain to withstand abrasive conditions and prolong its lifespan. Choosing a material with good wear resistance reduces the need for frequent chain replacements and maintenance.
3. Corrosion Resistance: In environments where corrosion is a concern, such as outdoor or corrosive industrial settings, selecting a material with high corrosion resistance is essential. Stainless steel or specially coated chains offer excellent resistance to rust and corrosion, ensuring reliable performance and longevity even in harsh conditions.
4. Fatigue Strength: The material's fatigue strength is crucial in applications where the transmission chain undergoes repeated cyclic loading. Fatigue failure can occur when a chain is subjected to continuous stress cycles, leading to cracks and eventual failure. Materials with high fatigue strength, such as specific alloys or heat-treated steels, are ideal for applications that require excellent fatigue resistance.
5. Temperature Resistance: The operating temperature of an application can impact the choice of material for a transmission chain. Some materials, such as heat-treated steels or specialized alloys, can withstand high-temperature environments without losing their mechanical properties. In contrast, certain plastics or polymers may be suitable for low-temperature applications. Choosing a material that can withstand the expected temperature range ensures optimal performance and prevents premature chain failure.
6. Cost Considerations: The choice of material also involves cost considerations. Some high-performance materials, such as stainless steel or specialized alloys, may have a higher initial cost compared to standard carbon steel chains. However, the increased performance, longevity, and reduced maintenance requirements provided by these materials may result in long-term cost savings.
It's important to carefully assess the specific requirements of the application, including load capacity, environmental conditions, and operating parameters, when choosing the material for a transmission chain. Consulting with industry experts or manufacturers can help determine the most suitable material for optimal chain performance and longevity.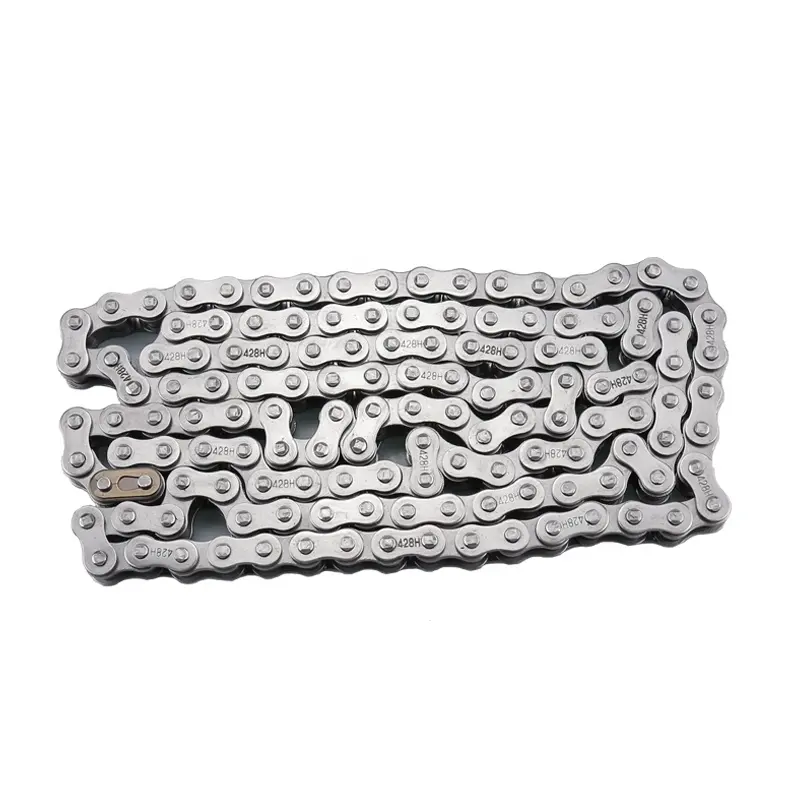 What are the common causes of failure in transmission chains?
Transmission chains are subject to various factors that can contribute to their failure over time. Here's a detailed explanation:
1. Insufficient Lubrication: Inadequate or improper lubrication is one of the leading causes of chain failure. Insufficient lubrication can lead to increased friction, heat generation, and accelerated wear between the chain's components, such as pins, bushings, and rollers.
2. Contamination: Contaminants like dirt, dust, debris, and moisture can enter the chain system, affecting its performance and causing accelerated wear. Contamination can hinder proper lubrication, increase friction, and cause corrosion, leading to chain failure.
3. Overloading: Applying excessive loads beyond the chain's rated capacity can lead to overloading, which causes stress and deformation of the chain's components. Overloading can result in chain elongation, accelerated wear, and ultimately, chain failure.
4. Misalignment: Improper alignment of the chain and sprockets can cause uneven distribution of forces, leading to localized wear and increased stress on certain areas of the chain. Misalignment can result from incorrect installation or wear and tear of sprockets, leading to premature chain failure.
5. Fatigue: Repeated cyclic loading and stress can cause fatigue in the chain, leading to cracks, fractures, and ultimately, chain failure. Fatigue failure is more likely to occur when the chain is subjected to high-speed or high-frequency applications.
6. Corrosion: Exposure to corrosive environments, such as high humidity, chemicals, or extreme temperatures, can cause corrosion on the chain's components. Corrosion weakens the chain's structural integrity, leading to premature failure.
7. Poor Maintenance: Inadequate maintenance practices, such as infrequent inspections, lack of lubrication, and neglecting to address potential issues, can contribute to chain failure. Regular maintenance, including lubrication, cleaning, and proper tensioning, is essential for the longevity and reliable performance of transmission chains.
It is important to address these factors to prevent chain failure. Proper lubrication, regular inspections, cleaning, and alignment checks are essential maintenance practices. Selecting the right chain for the application, following manufacturer guidelines, and adhering to industry standards can also help mitigate the risk of failure and ensure the optimal performance and longevity of transmission chains.



editor by CX 2023-09-05