Product Description
Industrial stainless steel drive motorcycle conveyor chain outer curved plate chain (P100)
Product introduction
Material
Stainless steel
Surface Treatment
Polishing,Original Colour,Polishing
Applicable Industries
Building Material Shops, Manufacturing Plant, Machinery ………
Standard or Nonstandard
Standard
Heat Treatment:
High Temperature Hardening
Color
Elf,dark yellow,dark blue,black
Features

•Large reduction ratio (usually up to 1:7)
•Chains can be used with long shaft center distances (normally up to 4m). By changing the number of links it is possible to freely adjust the shaft center distance.
•The chain can be used on both sides and drive multiple shafts at the same time.
•Easy installation and replacement (easy to cut and connect chains).
•If the distance between shafts is short, it can be used vertically.
•The sprocket diameter of a chain drive could be smaller than a belt pulley while transmitting the same torque.
•Transmitting power by meshing many teeth results in less wear of sprocket teeth than gears.
•Chain drives have greater shock absorption than gear drives.
Chain Plate
Heat treated carbon/alloy steels are used for high tensile strength.Shot peening process to improve fatigue resistance.
Roller
Hardened carbon/alloy steels are used for excellent wear resistance and rigidity.Shot peening process to improve fatigue resistance.
Bush
Case hardened alloy steels with external and internal hardened surfaces are used for high wear resistance and are accurately set into link plates.
Pin
Alloy steels are used for high wear resistance and toughness.Surface hardening is applicable request.
Green Power Industry Co Llimited is an international export enterprise combined with factory specializing in the manufacturing of brake system , clutch system,spark plug and chain . Our company is a professional manufacturer and supplier of brake,chain and clutch in China. We both have our own brake CZPT factory, brake pad factory, brake shoe factory ,clutch disc factory,chain factory, spark plug factory .We focus on developing high-quality products for OEM market ,Our company have developed and produced high quality brake in formula non -metallic and asbestos free for automobile and brake shoe assembly for heavy duty truck . The production are noted good characteristics such as high strength , high heat-resisting , wear-resisting.low dust virtue ,no noise and better stability . The series products had been exporting to North -America ,Europe ,Middle -East ,Australia and etc, widely sale to domestic OEM factories and aftermarket.
Our company is composed of professional team , process advanced production inspection and testing equipment Each product have passed the first inspection, process inspection, error prevention, and laboratory tests to ensure that each piece of qualified products sent to customers
We are determined to set up the aim of "excellent quality and satisfying service·, with·the first class quality , reasonable price and perfect service . we set strick demand and operate conforming to the standard to guarantee all the products can be meet our customer's needs
1.Q: What is the certificate of your factory?
   A: We have passed IAF ISO and TS16949  certification.
2.Q: Can it be produced according to the sample?
   A: Yes, we can produce through your samples or technical drawings. We can build molds and fixtures.
3.Q: Do you test all products before shipping?
   A: Yes, we conduct 100% quality testing before delivery, and we are 100% responsible for product quality.
4.Q: What is your delivery time?
   A:If we have stock, we can send it immediately within a week. If not, it usually ranges from 7 days to 35 days, depending on the quantity.
5.Q: What is your sample policy?
   A: We want to provide you with samples for approval. There will be no charge for 1 or 2 samples, but the customer needs to bear the courier fee first. 
It will be drawback to customer when order placed
6.Q: How do you make our business establish a long-term good cooperative relationship?
   A:1. We maintain excellent quality and competitive prices to ensure that our customers benefit;
      2. We respect every customer as our friend, we do business sincerely and make friends widely,No matter where they come from. 
 
| | |
| --- | --- |
| Usage: | Transmission Chain, Conveyor Chain |
| Material: | Stainless steel |
| Surface Treatment: | Polishing |
| Feature: | Heat Resistant |
| Chain Size: | 1/2"*3/32" |
| Structure: | Roller Chain |
Samples:

US$ 0/Piece

1 Piece(Min.Order)

|
Request Sample
Customization:

Available

|

Customized Request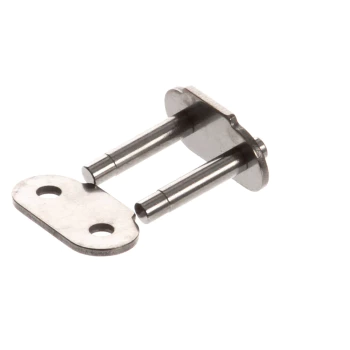 How does the lubrication method affect the performance of a drive chain?
The lubrication method used for a drive chain has a significant impact on its performance and longevity. Here is a detailed explanation:
Proper lubrication is essential for ensuring the smooth and efficient operation of a drive chain. It reduces friction, minimizes wear, and prevents corrosion between the chain's moving parts. The lubrication method chosen can affect the performance of the drive chain in the following ways:
Reduced Friction and Wear: Adequate lubrication forms a protective layer between the chain's moving parts, reducing metal-to-metal contact and minimizing friction. This helps to prevent excessive wear, elongation, and premature failure of the chain. The lubricant acts as a barrier, allowing the chain to operate with reduced resistance and improved efficiency.
Heat Dissipation: Proper lubrication helps dissipate heat generated by the friction between the chain's components during operation. This prevents overheating and the potential degradation of the lubricant, ensuring the chain can operate within its designed temperature range. Effective heat dissipation contributes to the longevity and optimal performance of the drive chain.
Protection against Corrosion: Lubrication provides a protective coating on the chain, safeguarding it against moisture, contaminants, and corrosive substances. This is particularly important in environments where the chain is exposed to water, chemicals, or harsh operating conditions. The lubricant prevents rust and corrosion, preserving the integrity of the chain and extending its service life.
Reduction of Noise and Vibration: Proper lubrication helps to reduce noise and vibration generated by the drive chain during operation. It acts as a damping agent, absorbing and minimizing the transmission of vibrations, resulting in smoother and quieter chain operation. This contributes to a more comfortable and productive working environment.
Selection of Lubricant: The choice of lubricant depends on various factors, including the application, operating conditions, temperature, speed, and load requirements. Different lubricants, such as oils, greases, or solid lubricants, may be suitable for different applications. The lubricant must be compatible with the chain material and should possess the necessary viscosity, temperature resistance, and lubricating properties to meet the specific demands of the drive chain.
Appropriate Lubrication Frequency: The lubrication method also includes determining the appropriate frequency for lubrication. Regular lubrication intervals must be established based on the chain's operating conditions and the manufacturer's recommendations. Insufficient lubrication or over-lubrication can both lead to performance issues, such as increased friction, poor lubricant distribution, or accelerated contamination buildup.
It is crucial to follow the manufacturer's guidelines and recommendations regarding lubrication methods, lubricant types, and lubrication intervals for the specific drive chain. Regular inspection and maintenance should be conducted to monitor the lubrication effectiveness and ensure proper lubricant replenishment.
By selecting the appropriate lubrication method and maintaining proper lubrication, operators can optimize the performance, reliability, and lifespan of the drive chain, contributing to smoother operation, reduced wear, and improved overall efficiency.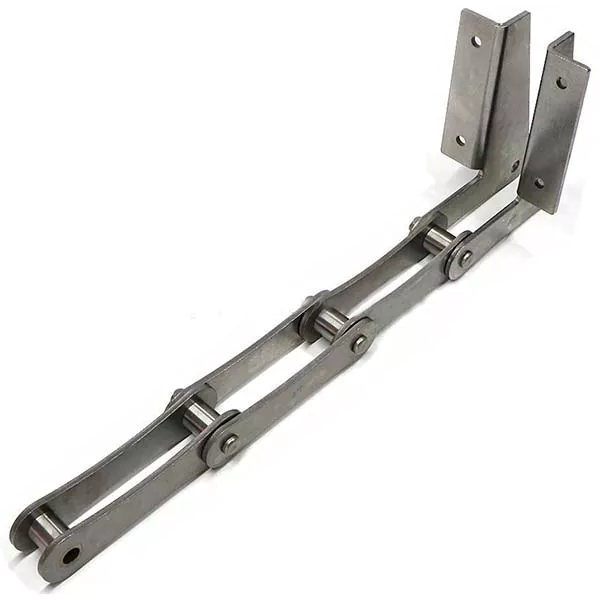 Can a drive chain be used in a food processing or packaging application?
Yes, a drive chain can be used in food processing and packaging applications, provided that certain considerations are taken into account. Here is a detailed explanation:
In food processing and packaging applications, where hygiene, cleanliness, and compliance with food safety regulations are crucial, drive chains offer several benefits:
Reliable Power Transmission: Drive chains provide efficient and reliable power transmission, making them suitable for various applications in food processing and packaging machinery, such as conveyors, mixers, filling machines, and labeling equipment.
Corrosion Resistance: To ensure compliance with hygiene standards, it is essential to select drive chains made from materials that are resistant to corrosion, such as stainless steel or food-grade plastic. These materials can withstand frequent cleaning, exposure to water, and the corrosive effects of certain food products or cleaning agents.
Easy Cleaning and Maintenance: Drive chains designed for food applications often feature smooth surfaces and easy-to-clean designs, minimizing the risk of food buildup or contamination. They can be cleaned using standard cleaning methods and equipment, allowing for efficient sanitation and reducing the chances of foodborne contamination.
Compliance with Food Safety Regulations: When using drive chains in food processing or packaging applications, it is essential to ensure compliance with food safety regulations, such as FDA (Food and Drug Administration) guidelines or other relevant standards specific to the industry or region. This includes selecting materials that are approved for food contact and implementing proper cleaning and maintenance procedures.
Product Handling: Drive chains can handle various types of food products, including dry goods, packaged items, or even delicate food items, depending on the specific chain design and application requirements. Specialized chains with attachments or gripper systems can be used to securely transport and manipulate food products during processing or packaging.
It is important to work with reputable chain manufacturers or suppliers who offer drive chains specifically designed for food processing and packaging applications. They can provide guidance on chain selection, material compatibility, compliance with food safety regulations, and maintenance practices.
By considering these factors and implementing proper chain selection, installation, cleaning, and maintenance procedures, drive chains can be safely and effectively utilized in food processing and packaging applications while ensuring product quality, hygiene, and compliance with food safety standards.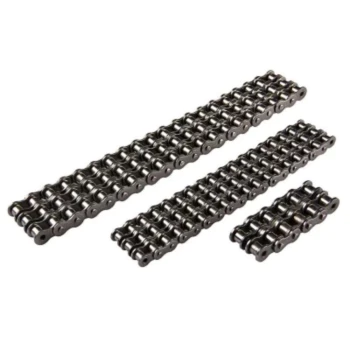 What are the noise and vibration levels associated with a drive chain?
The noise and vibration levels associated with a drive chain can vary depending on several factors, including the type of chain, operating conditions, and maintenance practices. Here's an explanation:
Noise Levels:
Drive chains, especially roller chains, can generate noise during operation. The noise level depends on various factors, such as the chain's design, speed, tension, lubrication, and the condition of the sprockets.
Proper lubrication helps reduce friction and noise generation, while inadequate or dry lubrication can increase noise levels.
Other factors, such as misalignment, worn-out components, or loose fittings, can contribute to increased noise levels. Regular inspections and maintenance help identify and address sources of excessive noise.
Vibration Levels:
Drive chains can produce vibrations during operation, especially if there are issues such as misalignment, improper tension, or worn-out components.
Proper tensioning, alignment, and maintenance practices help minimize vibrations and ensure smooth operation.
Excessive vibrations can lead to accelerated wear, reduced chain life, and potential damage to other components.
It's worth noting that advancements in chain design and manufacturing techniques have resulted in quieter and smoother-running chains. Manufacturers may also offer specialized low-noise or low-vibration chains for applications where noise or vibration reduction is a priority.
To maintain acceptable noise and vibration levels associated with a drive chain, it is important to follow proper maintenance practices, including regular lubrication, tension adjustment, and alignment checks. Additionally, addressing any sources of excessive noise or vibration promptly can help ensure the smooth and efficient operation of the drive chain.



editor by CX 2023-08-18