Product Description
Product

Standard Double Pitch Roller chain

Material

40Mn steel,304 stainless steel, 316 stainless steel and 201 stainless steel.

Types

Standard chains and special chains, such as A or B series chains, roller chains, driving chains, conveyor chains, hoisting chains, agricultural chains, sprockets, gears, wheels and so on.

Series

 A series(12.7-50.8mm pitches),B series (9.525-50.8mm pitches)and the heavy series.

Short pitch precision roller chain

Simplex Roller Chains&Bushing Chains: 

04C-1,06C-1,085-1,08A-1,10A-1,12A-1,16A-1,20A-1,24A-1,28A-1,32A-1,36A-1,40A-1,48A-1
Duplex Roller Chains&Bushing Chains:

04C-2,06C-2,085-2,08A-2,10A-2,12A-2,16A-2,20A-2,24A-2,28A-2,32A-2,36A-2,40A-2,48A-2
Triplex Roller Chains&Bushing Chains:

04C-3,06C-2,085-3,08A-3,10A-3,12A-3,16A-3,20A-3,24A-3,28A-3,32A-3,36A-3,40A-3,48A-3

Chain link type

Standard links (without attachment) and non-standard links (with attachment).

 

A1: One-side,one hole cranked attachments.
A2: One-side,two holes cranked attachments.
K1: Both-side,one hole cranked attachments.
K2: Both-side,two hole cranked attachments.
D1: One-side,an extended pin on every outer link.
D3: One-side,two extended pin on every outer link.

Our Products Advantage

1. Every step from production order to the packing process has a strict quality inspection.
2. We have standard roller chain with 1.5 CZPT (DIN. ANSI.); Non-standard roller chain (customized acording to customer drawings).
3. Export products with high quality and low price.
4.We have a good service before and after-sale.
1.Fast delivery: Standard products can be delivered in as fast as 20 days
2.Good service: timely reply, prompt quotation, responsible for the product
3.High cost performance: can maintain price stability for a certain period of time, bringing greater profits to customers
4.Good quality: production and testing have corresponding supervision to ensure product quality and get high praise from customers
5.OEM service: products can be customized according to drawings and requirements
We are responsible for the ordered products. We are very confident in the products we produce. Of course, if you have any problems after receiving the goods, you can contact us directly. We will confirm and negotiate in time to solve your difficulties.
| | |
| --- | --- |
| Standard or Nonstandard: | Standard |
| Application: | Textile Machinery, Garment Machinery, Conveyer Equipment, Packaging Machinery, Food Machinery, Mining Equipment, Agricultural Machinery |
| Surface Treatment: | Oil Blooming |
| Structure: | Roller Chain |
| Material: | Alloy |
| Type: | Double Pitch Chain |
Samples:

US$ 35/kg

1 kg(Min.Order)

|
Request Sample
Customization:

Available

|

Customized Request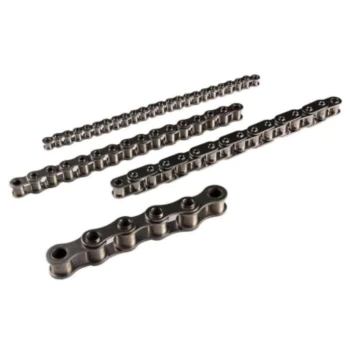 Can a drive chain be used in a renewable energy or solar power application?
Yes, a drive chain can be used in certain renewable energy or solar power applications where reliable and efficient power transmission is required. Here is a detailed explanation:
In renewable energy and solar power systems, various components need to be precisely controlled and aligned to harness and transmit energy efficiently. Drive chains offer several advantages in these applications:
Precision Power Transmission: Drive chains provide accurate and reliable power transmission, ensuring the precise movement and synchronization of components in renewable energy systems. They can be used to transmit power from the source, such as solar panels or wind turbines, to generators, converters, or other equipment involved in energy conversion and distribution.
Adaptability to Variable Loads: Renewable energy systems often experience variable loads and conditions. Drive chains can accommodate these changes and adjust to the varying power requirements, allowing for efficient power transmission and distribution. They offer flexibility in handling different load profiles and variations, ensuring optimal performance and energy conversion.
Robustness and Durability: Drive chains are known for their robustness and durability, making them suitable for renewable energy applications that may involve challenging operating conditions, such as outdoor environments or remote locations. They can withstand environmental factors, temperature variations, and exposure to dust, moisture, or corrosive elements, ensuring reliable operation and long service life.
Efficient Power Conversion: Drive chains contribute to efficient power conversion and transmission in renewable energy systems. They minimize energy losses through their high power transmission efficiency, enabling maximum utilization of the generated energy. This results in optimized energy conversion and enhanced overall system efficiency.
Versatility in System Design: Drive chains offer flexibility in system design and configuration, allowing for the precise alignment and interconnection of components in renewable energy systems. They can be integrated into various types of machinery and equipment, such as solar tracking systems, wind turbines, or hydroelectric generators, enabling customized solutions for different renewable energy applications.
Maintenance and Serviceability: Drive chains are relatively easy to maintain and service compared to some alternative power transmission systems. Regular inspection, lubrication, and tension adjustment can ensure optimal performance and extend the service life of the chain in renewable energy applications. This contributes to reduced downtime and enhanced system availability.
It is important to consider the specific requirements and constraints of the renewable energy or solar power application when selecting a drive chain. Factors such as load capacity, speed capabilities, environmental conditions, and maintenance considerations should be taken into account.
By utilizing drive chains in renewable energy and solar power applications, operators can benefit from precise power transmission, adaptability to variable loads, robustness, efficient power conversion, versatile system design, and ease of maintenance, contributing to reliable and efficient utilization of renewable energy sources.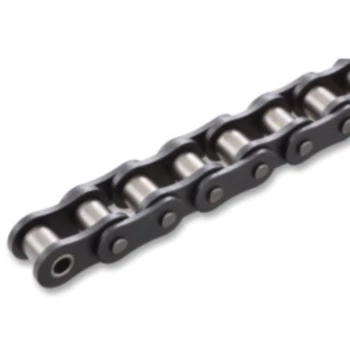 How does the backlash or play in a drive chain affect its performance?
The presence of backlash or play in a drive chain can have a significant impact on its performance and overall operation. Here is a detailed explanation:
Backlash or play refers to the small amount of free movement or clearance between the engaged components of a drive chain, typically between the chain and the sprockets. This clearance can lead to several performance-related issues:
Reduced Accuracy: Backlash can cause a loss of accuracy and precision in the positioning and movement of the driven components. The presence of free play can result in inconsistent positioning, leading to inaccuracies in machine operations or product quality.
Loss of Power and Efficiency: Backlash causes a loss of power transmission efficiency. As the chain engages with the sprockets, any free movement or clearance reduces the effective transfer of power, resulting in decreased efficiency and potential energy loss.
Vibration and Noise: Backlash can lead to vibration and noise during operation. The free movement of the chain can cause rattling, knocking, or banging sounds, as well as vibration, which can affect the overall system performance and operator comfort.
Potential for Chain Skipping or Jumping: Excessive backlash can cause the chain to skip or jump on the sprockets, leading to interrupted or irregular power transmission. This can result in sudden jerks, misalignment, or even chain derailment, affecting the overall system performance and potentially causing damage to the chain or other components.
Decreased System Response: Backlash affects the responsiveness of the system. When there is excessive play, the system may not respond quickly or accurately to changes in input or commands. This can be problematic in applications requiring precise and immediate movement or control.
To mitigate the negative effects of backlash, it is important to minimize or control the clearance within the drive chain system. This can be achieved through proper chain tensioning, sprocket alignment, and the use of anti-backlash devices or mechanisms.
Regular inspection and maintenance are crucial to identify and address any excessive backlash in the drive chain. Maintaining proper tension, lubrication, and periodically checking and adjusting the sprocket alignment can help minimize the backlash and ensure optimal chain performance.
It is essential to consult with the manufacturer's guidelines and recommendations for the specific drive chain system to determine the acceptable levels of backlash and the appropriate measures to reduce its impact on performance.
By minimizing backlash or play in a drive chain, operators can ensure accurate power transmission, improved efficiency, reduced noise, and vibration, ultimately leading to better overall system performance and productivity.



editor by CX 2023-07-31