Product Description
| | | | | | | | |
| --- | --- | --- | --- | --- | --- | --- | --- |
| MODEL | P | T | t | h | H | b | d |
| S16 | 100 | 30 | 15 | 27 | 8 | 16 | 14 |
| P102-W385 | 102 | 30 | 13 | 27 | 9 | 14 | 14 |
| RUS270 | 123 | 50 | 24 | 46 | 16 | 25 | 20  20.5 |
| Z20 | 125 | 50 | 24 | 48 | 15 | 26 | 20 |
| P140 | 140 | 78 | 31 | 50 | 19 | 32 | 25 |
| Z30 | 142 | 64 | 28.5 | 50 | 18 | 30.5 | 25 |
| 150 | 150 | 38 | 18 | 40 | 10 | 20 | 18 |
| P155 | 155 | 79 | 39.5 | 63.5 | 36 | 40.5 | 30 |
| Z25 | 160 | 58 | 28 | 55 | 18 | 30 | 25 |
| YD310 | 200 | 43 | 20 | 47 | 12 | 22 | 20 |
| A-3634 | 216 | 64 | 26 | 72 | 20 | 28.5 | 35 |
| X63 | 250 | 60 | 28 | 70 | 20 | 30 | 25 |
| P260 | 260 | 72 | 32 | 75 | 20 | 34 | 32 |
         ZheJiang CZPT Precision Casting and Forging Inc. was established in 2003, covering an area of 40,000 square meter with 300 employees. In 2571, the company passed the quality management system certification of GB/T 19001-2016 and ISO 9001:2015, and has a number of invention patents.It is a national high-tech enterprise.
        Our main products are bucket teeth,side teeth,bucket adapter for excavator and loader; Forged pipe coupling for concrete pump ; Drop forged chain for scraper conveyor, etc. Other casting and forging parts canalsobecustomized accordingto customer drawings. The main materials are alloy steel, high manganese steel, gray iron, ductile iron, etc.
       Our company can produce casting range in 0.1kg-2tons, forging range in 0.1kg-100kgs, casting and forging annual capacity of 10,000tons.From productdesign, mold development to heattreatment, machining and spraying, we provide the whole processof internal manufacturing to better control the cost and quality.
       ZheJiang Plus Import and Export Trading Co., Ltd. was established in 2571, is Wanxin's subsidiary, mainly responsible for marketing and export.
FAQ
Q1.Are you a manufacturer or a trading company?
we are totally manufacturer of machinery parts.
Q2.Can i get samples for checking the quality?
we can provide free samples,but you need to pay the freight.
Q3.What's your MOQ?
For normal prodcuts,we don't have MOQ.
For customerized products,we will tell you MOQ based on your drawing.
Q4.What's your delivery time?
it's about 7-45 days based on your quantity.
| | |
| --- | --- |
| Material: | Alloy |
| Structure: | Roller Chain |
| Surface Treatment: | Electroplating |
| Chain Size: | 1/2"*11/128" |
| Feature: | Fire Resistant, Oil Resistant, Heat Resistant |
| Warranty: | 12 Months Warranty |
Samples:

US$ 100/Piece

1 Piece(Min.Order)

|
Request Sample
Customization:

Available

|

Customized Request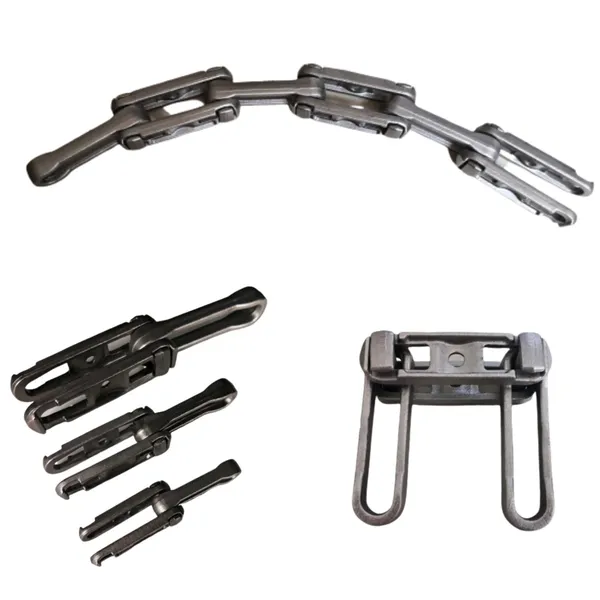 Can a conveyor chain be used in cleanroom environments?
Yes, conveyor chains can be used in cleanroom environments with proper selection and design considerations. Cleanroom environments require stringent control of airborne particles, such as dust, microbes, and contaminants, to maintain high levels of cleanliness. Here are some factors to consider when using a conveyor chain in a cleanroom:
1. Material Selection:
– Choose a conveyor chain made from materials that are compatible with cleanroom requirements. Stainless steel, plastic, or special coatings are commonly used for their clean and non-contaminating properties.
– Avoid materials that generate excessive particles or contaminants, such as certain types of lubricants or chain coatings.
2. Design Considerations:
– Design the conveyor chain system to minimize particle generation. This includes smooth surfaces, rounded edges, and avoiding areas that can trap or accumulate particles.
– Use sealed or enclosed chain designs to prevent the release of lubricants or contaminants.
– Consider the integration of additional features, such as covers or guards, to further protect the chain and prevent particle ingress.
3. Cleaning and Maintenance:
– Establish a cleaning and maintenance protocol specific to the cleanroom environment. This may include regular cleaning and sanitization procedures to maintain cleanliness standards.
– Use cleaning agents and procedures that are approved for cleanroom use and do not introduce contaminants.
– Regularly inspect the conveyor chain system for any signs of wear, damage, or contamination. Promptly address any issues to ensure the chain's reliability and cleanliness.
4. Compliance with Cleanroom Standards:
– Ensure that the conveyor chain system meets the cleanliness and particle generation requirements of the specific cleanroom standards or classifications in which it will be used.
– Comply with relevant industry guidelines and regulations, such as ISO standards, when selecting and using conveyor chains in cleanroom environments.
By considering these factors and implementing proper material selection, design considerations, cleaning protocols, and compliance with cleanroom standards, a conveyor chain can be effectively used in cleanroom environments while maintaining the required cleanliness levels.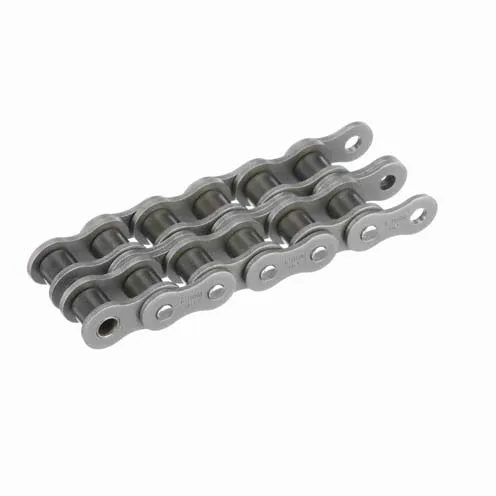 What are the benefits of using stainless steel conveyor chains?
Stainless steel conveyor chains offer several advantages over other types of chains. Here are some of the key benefits:
1. Corrosion Resistance: Stainless steel is highly resistant to corrosion, making it suitable for applications in harsh environments or industries where frequent washdowns or exposure to moisture is required. It does not rust or corrode like other metals, ensuring a longer lifespan and reliable performance.
2. Strength and Durability: Stainless steel chains are known for their high strength and durability. They can withstand heavy loads, high temperatures, and abrasive materials without deformation or breakage. This makes them ideal for heavy-duty applications where reliability and longevity are crucial.
3. Hygienic and Sanitary: Stainless steel is a non-porous material that is easy to clean and maintain. It is resistant to bacteria, mold, and other contaminants, making it suitable for industries with strict hygiene requirements such as food processing, pharmaceuticals, and medical devices. Stainless steel chains can be thoroughly cleaned and sanitized, reducing the risk of product contamination.
4. Temperature Resistance: Stainless steel chains can withstand a wide range of temperatures, both high and low. They exhibit excellent heat resistance, allowing them to maintain their strength and performance even in extreme temperature conditions.
5. Aesthetic Appeal: Stainless steel chains have a sleek and polished appearance, adding a professional and aesthetic touch to the conveyor system. They are commonly used in industries where visual appeal and brand representation are important, such as retail or luxury goods.
6. Chemical Resistance: Stainless steel is resistant to various chemicals, including acids, alkalis, and solvents. This makes it suitable for applications where contact with corrosive substances is likely.
7. Compatibility with High-Speed Applications: Stainless steel chains can withstand high-speed operations without compromising their structural integrity or performance. They maintain their stability and accuracy even at elevated speeds.
Overall, stainless steel conveyor chains offer corrosion resistance, strength, durability, hygienic properties, temperature resistance, aesthetic appeal, chemical resistance, and compatibility with high-speed applications. These benefits make them a preferred choice in industries such as food and beverage, pharmaceuticals, automotive, and manufacturing, where reliability, cleanliness, and performance are essential.
Can a conveyor chain be used in high-temperature environments?
Yes, conveyor chains can be designed and used in high-temperature environments, but it depends on the specific type of chain and the temperature range involved. Here are some key considerations:
Material Selection: Conveyor chains for high-temperature applications are typically made from heat-resistant materials such as stainless steel or alloy steels that can withstand elevated temperatures without significant degradation.
Lubrication: Proper lubrication is essential in high-temperature environments to minimize friction and wear. Special high-temperature lubricants are available that can withstand the operating temperatures and provide effective chain lubrication.
Chain Design: Chains used in high-temperature environments may have specific design features to accommodate thermal expansion and minimize the risk of binding or seizing. These can include increased clearances, special joint designs, or heat-resistant coatings.
Temperature Limitations: Each conveyor chain has a maximum temperature limit specified by the manufacturer. It is important to consider this limit and ensure that the operating temperature does not exceed it to maintain the integrity and performance of the chain.
Proper Maintenance: Regular inspection and maintenance are crucial in high-temperature applications. This includes monitoring chain wear, lubrication levels, and any signs of heat-induced damage or degradation.
However, it is important to note that the suitability of a conveyor chain for high-temperature environments ultimately depends on the specific operating conditions, including the temperature range, duration of exposure, and the application requirements. It is recommended to consult with the chain manufacturer or an experienced engineer to select the appropriate chain and ensure its safe and reliable operation in high-temperature environments.



editor by CX 2023-07-24