Product Description
About Factory 
With more than 18 years' histiory, we are a professinal manufacturer for drop forged products such as forged chain (X348 X458 X658 X678 X698 F100 F160), scraper chain (10160, 14218, 14226, 142N), conveyor trolley (X348, X458, X678, XT160), and drive chain (X348, X458, X678), and so forth standard moulds of chain. 
Besides, we can also produce as per your drawing or sample, special link chain, pusher, pin and plate, according to customers' unique requirements.
Product Description
1) Material: Alloy steel, 20Cr, 45# steel and so on.
2) Types: X348 X458 X678 XT160, and so on. (Or as per your drawing)
3) Process: Moulding→Forging→Polishing & Blasting→Fine machining→Heat treatment→Blasting→Inspecting & testing→Assemly→Packing
Product Show
 
Technical Data
 
Model
Forging Parameter (mm)
Weight (Kg)
Single-point Load (Kg)
Allowable Load (Kg)
Limit Load (Kg)
Type
P
H
A
B
C
D
E
F
G
K
X348-1
A
100
64
102
14
40
60
4°
47.8
6
84
1.5
100
1100
1800
X348-2
B
100
64
102
14
40
60
3°
47.8
6
82
X348-3
C
100
64
122
16
40
60
6°
47.8
6
94
X458-1
A
126
79
138
18
54
82
4°
54
9.5
113
1.8
200
1800
3600
X458-2
A
127
80
138
18
56
82
4°
54
9.5
113
X458-3
A
130
83
138
18
54
82
4°
54
9.5
113
X458-4
B
128.6
81
134.5
18
54
81
3°
54
9.5
101.5
Extended Trolley
A
150
103
138
18
54
82
4°
54
9.5
113
X678-1
/
136
89
146
18
86
82
4°
54
9.5
114
3.2
600
5000
7700
X678-2
/
134.5
87.5
142
18
86
82
4°
54
9.5
106
2.8
550
4500
7200
XT160-1
/
171
103
180
26
84
120
6°
70
15
140
9.7
750
4000
8000
XT160-2
/
170
102
174
26
86
120
4°
70
15
148
8.8
700
3500
7500
X348-1 Reverse
/
83
42
105
/
40
60
/
48
10
/
1.35
100
1100
1800
X348-2 Reverse
/
86
45
93
/
40
60
/
48
10
/
1.35
100
6
1800
X458 Reverse
/
95
44
120
/
54.5
60
/
54
10
/
2.5
200
1800
3600
Products & Testing Equipments
 
Products Application

Packing & Delivery
 
Why Choose Us?
1. We are engaged in chain industry over 15 years with rich market experience. We keep improving production techniques. All the products have longer working life and have passed the market test.
2. We can design the correct chains with high quality material, good abrasion resistance, good corrosion, high strengthen and etc as per your request or the chain application.
3. We are the chain manufacturer; you can directly purchase the product from us with low price and high quality.
4. We have a professional team for international trade, they have abundant experiences and are always ready to solve problems for customers. So you have nothing to worry about.
5. We have the long-term cooperative forwarder who can give us the lowest freight. And it can help you to save the freight. What's more, for the FCL, we will design the packages as per the container sizes with the largest capacity to save the shipping cost for both of us
| | |
| --- | --- |
| Material: | Alloy |
| Structure: | Combined Chain |
| Surface Treatment: | Polishing |
| Chain Size: | 1/2"*11/128" |
| Feature: | Fire Resistant, Oil Resistant, Heat Resistant |
| Certificate: | SGS and ISO Standard |
Samples:

US$ 5/Set

1 Set(Min.Order)

|
Request Sample
Customization:

Available

|

Customized Request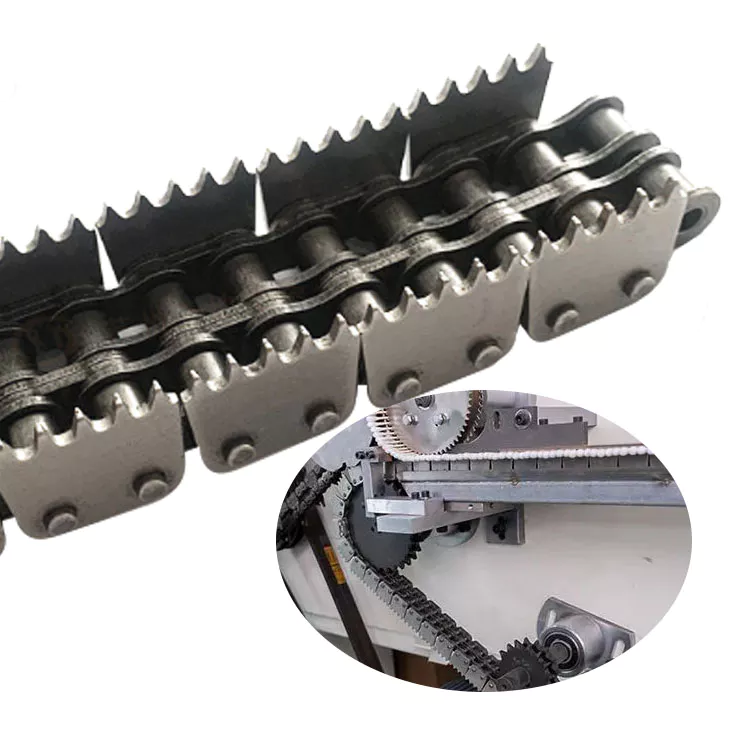 What are the benefits of using a silent conveyor chain?
A silent conveyor chain, also known as a noise-reducing conveyor chain, offers several advantages in conveyor system applications:
1. Noise Reduction:
– One of the primary benefits of using a silent conveyor chain is the significant reduction in noise levels. These chains are specifically designed to minimize the noise generated during operation, creating a quieter and more comfortable working environment.
2. Improved Work Environment:
– By reducing noise levels, a silent conveyor chain contributes to a better work environment, particularly in settings where noise reduction is important, such as manufacturing facilities, warehouses, and distribution centers. It helps reduce employee fatigue, enhances communication, and improves overall worker satisfaction.
3. Compliance with Noise Regulations:
– In some industries or regions, there are specific noise regulations that must be met. Using a silent conveyor chain helps ensure compliance with these regulations, avoiding potential penalties and legal issues.
4. Increased Productivity:
– A quieter working environment created by a silent conveyor chain can lead to increased productivity. With reduced noise distractions, employees can focus better on their tasks, resulting in improved efficiency and output.
5. Extended Chain and Equipment Life:
– Silent conveyor chains are often designed with advanced materials and technologies that offer enhanced wear resistance and durability. They can withstand heavy loads, reduce friction, and minimize wear and tear on both the chain and the associated equipment, resulting in longer service life and reduced maintenance costs.
6. Versatility:
– Silent conveyor chains are available in various configurations and designs, making them compatible with a wide range of conveyor systems and applications. They can be used in different industries, including automotive, food processing, packaging, and more.
When considering a silent conveyor chain, it is important to consult with a reputable chain manufacturer or supplier to ensure the chain meets the specific requirements of the application.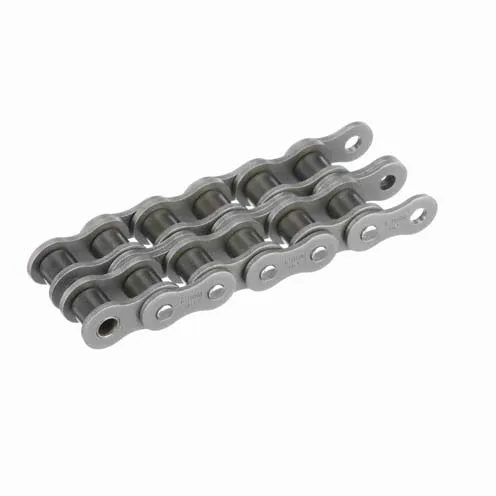 What are the benefits of using a modular conveyor chain system?
A modular conveyor chain system offers several benefits in terms of flexibility, efficiency, and ease of maintenance. Here are some key advantages:
1. Versatility: Modular conveyor chains are designed with interlocking modules that can be easily connected and disconnected. This allows for flexibility in configuring the conveyor system according to specific layout requirements, production needs, or space limitations. Modules can be added, removed, or repositioned to accommodate changing production processes or product variations.
2. Customizability: The modular design of the conveyor chain system enables customization to meet specific application requirements. Different types of modules are available, including straight sections, curves, inclines, declines, merges, and diverters. Accessories such as side guides, cleats, or product hold-downs can be easily integrated into the system.
3. Quick Installation and Modification: Modular conveyor chains are designed for easy installation and modification. With their snap-in or snap-on connections, modules can be rapidly assembled or disassembled, reducing downtime during system setup or reconfiguration. This feature also facilitates maintenance, repairs, or future expansions.
4. Enhanced Efficiency: The modularity of the conveyor chain system allows for efficient material handling and optimized workflow. The smooth transfer between modules minimizes product jams or misalignments, ensuring a continuous and consistent flow of materials. The ability to incorporate curves or inclines in the system enables efficient use of floor space and facilitates the movement of products through different elevations.
5. Easy Maintenance: Modular conveyor chain systems are designed for ease of maintenance. Individual modules can be easily accessed and replaced without disassembling the entire system. This reduces maintenance time and costs. Additionally, the open structure of the modules allows for easy cleaning, debris removal, and inspection.
6. Durability and Reliability: Modular conveyor chains are typically made from high-quality materials such as plastic or stainless steel, ensuring durability and long-lasting performance. They are resistant to wear, corrosion, and chemical damage, making them suitable for various industrial environments. The interlocking design provides stability and prevents chain slippage during operation.
7. Safety Features: Modular conveyor chain systems can incorporate safety features such as emergency stop buttons, safety guarding, or sensors for detecting blockages or excessive loads. These features help maintain a safe working environment for operators and protect the integrity of the products being transported.
Overall, a modular conveyor chain system offers versatility, customizability, efficiency, and ease of maintenance. It is a reliable solution for material handling in industries such as manufacturing, packaging, distribution, and logistics.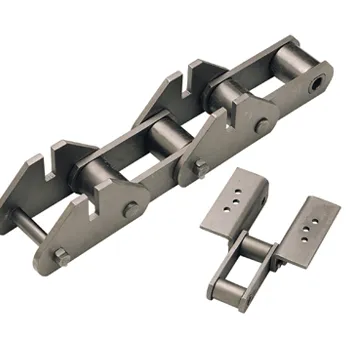 What are the maintenance requirements for a conveyor chain?
Maintaining a conveyor chain is essential to ensure its smooth operation and prolong its lifespan. Here are some key maintenance requirements for a conveyor chain:
Regular Cleaning: Clean the conveyor chain regularly to remove dirt, debris, and contaminants that can contribute to chain wear and reduce performance. Use appropriate cleaning agents and tools to avoid damaging the chain.
Lubrication: Apply the recommended lubricant to the conveyor chain according to the manufacturer's guidelines. Lubrication helps reduce friction, minimize wear, and prevent corrosion.
Tension Adjustment: Check the tension of the conveyor chain regularly and adjust it if necessary. Proper tension ensures smooth operation and prevents issues like chain slipping or excessive wear.
Inspection: Conduct regular inspections of the conveyor chain to identify any signs of wear, damage, or misalignment. Look for issues such as worn sprockets, elongation, bent or damaged links, and loose connections. Address any problems promptly to prevent further damage.
Replace Worn Components: If any components of the conveyor chain, such as links, pins, or sprockets, are excessively worn or damaged, they should be replaced. Using worn components can compromise the chain's performance and lead to failure.
Alignment: Ensure proper alignment of the conveyor chain by checking the alignment of sprockets, idlers, and other components. Misalignment can cause uneven wear and increase the risk of chain failure.
Training and Education: Provide proper training to personnel responsible for operating and maintaining the conveyor chain. They should understand the maintenance requirements, safety protocols, and best practices to ensure effective and safe operation.
Following these maintenance requirements will help keep the conveyor chain in optimal condition, minimize downtime, and ensure safe and efficient material handling.



editor by CX 2023-07-28