Product Description
Product Description
Double-row sprocket is a mechanical transmission device, its structure is similar to the single row sprocket, but due to the use of double row chain, it has greater transmission capacity and stability. The double-row sprocket drive system is suitable for high-load and high-speed transmission systems, such as motorcycles, electric vehicles, cranes, cranes, manufacturing machinery and other fields, and is widely used.
Product Parameters
| | |
| --- | --- |
| product | Wearable  Iron Material Double Row Wheel Chain Sprocket for Robotic arm |
| Bore | pilot bore ,taper bore , finished bore and special bore  |
| material | stainless steal / steel / iron / brass / bronze / aluminum /as requirement |
| surface treatment | Oxide black, Galvanized, Nickel plated, Chrome plated, Sandblasting, Painted and so on |
| heat treatment | High frequency quenching and so on |
| processing | CNC machining, punch,turning, milling, drilling, grinding, broaching, welding and assembly |
| certificate  | ISO 9001 ,  SGS |
| products available | gear , sprocket , timing pulley , v-belt pulley , coupling , shaft , expansion sleeve ,taper bushing |
| package  | brown paper ,oiled paper , carton box ,wooden box ,as requirement |
| advantage | Quality first Service superior , Advanced equipment,Experienced workers,Perfect testing equipment |
| lead time | within 15 days samples. 30-45days offcial order  |
workshop & equipment
Application Field
Our Advantages
1  . Prioritized Quality          
2  .Integrity-based Management
3  .Service Orientation
4  .150+  advanced equipment
5  .10000+  square meter  factory area
6  .200+ outstanding employees  
7  .90% employees have more than 10 year- working   experience in our factory
8  .36 technical staff
9  .certificate  ISO 9001 , SGS
10  . Customization support
11   .After-sales support
Production process
shipping
sample orders delivery time:
10-15 working days  as usual
15-20 working days  in busy season
large order leading time :
30-40 working days as usual
 
FAQ
1. why should you buy products from us not from other suppliers?
We are a 32 year-experience manufacturer on making the gear, specializing in manufacturing varieties of gears, such as helical gear ,bevel gear ,spur gear and grinding gear, gear shaft, timing pulley, rack, , timing pulley and other transmission parts .
2. what services can we provide?
Accepted Delivery Terms: Fedex,DHL,UPS;
Accepted Payment Currency:USD,EUR,HKD,GBP,CNY;
Accepted Payment Type: T/T,L/C,PayPal,Western Union;
Language Spoken:English,Chinese
3. how can we guarantee quality?
1 .Always a pre-production sample before mass production;
2 .Always final Inspection before shipment;   
3 .We have high-precision CNC gear grinding machine, high-speed CNC gear hobbing machine, CNC gear shaping machine, CNC lathe, CNC machining center, various grinding machines, universal gear measuring instrument, heat treatment and other advanced processing equipment. 
4 . We have a group of experienced technical workers, more than 90% of the workers have more than 10 years of work experience in this factory, can accurately control the manufacturing of products and customer needs. We regularly train our employees to ensure that we can produce high-precision and high-quality products that are more in line with our customers' needs.
| | |
| --- | --- |
| Standard Or Nonstandard: | Standard |
| Application: | Motor, Electric Cars, Motorcycle, Machinery, Marine, Toy, Agricultural Machinery, Car |
| Hardness: | Hardened Tooth Surface |
| Manufacturing Method: | Rolling Gear |
| Toothed Portion Shape: | Spur Gear |
| Material: | Stainless Steel |
Samples:

US$ 3/Piece

1 Piece(Min.Order)

|
Request Sample
Customization:

Available

|

Customized Request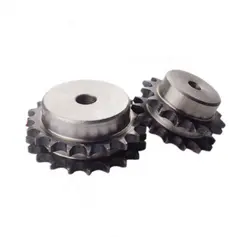 Best Lubrication Practices for wheel sprocket Systems
Proper lubrication is essential for maintaining the efficiency and longevity of wheel sprocket systems. The lubrication practices can vary depending on the specific application and the environment in which the system operates. Here are some best practices for lubricating wheel sprocket systems:
Cleanliness: Before applying any lubricant, ensure that the wheel sprocket surfaces are clean and free from dirt, debris, and old lubricant residue. Cleaning the components helps prevent contaminants from mixing with the lubricant and causing additional wear.
Choose the Right Lubricant: Select a lubricant specifically designed for the wheel sprocket system. Consider factors such as load, speed, temperature, and environmental conditions when choosing the appropriate lubricant. Some systems may require grease, while others may need oil-based lubricants.
Apply Adequate Amount: Apply the lubricant in the right quantity to ensure proper coverage of the contacting surfaces. Too little lubricant may not provide sufficient protection, while too much can lead to excess heat and waste.
Regular Lubrication Schedule: Establish a maintenance schedule for lubrication based on the operating conditions of the system. In high-demand applications, more frequent lubrication may be necessary to prevent premature wear.
Monitor and Reapply: Regularly monitor the condition of the wheel sprocket system and observe any signs of inadequate lubrication, such as increased friction or unusual noise. Reapply lubricant as needed to maintain optimal performance.
Re-lubrication After Cleaning: If the wheel sprocket system is cleaned, ensure that fresh lubricant is applied after cleaning to restore the protective layer.
Consider Lubrication Type: Depending on the application, consider using dry lubricants or solid lubricants for environments where dust and dirt accumulation may be a concern.
It's essential to follow the manufacturer's recommendations and guidelines for lubrication. Additionally, consult with lubrication experts or equipment suppliers for specific recommendations based on your wheel sprocket system's unique requirements.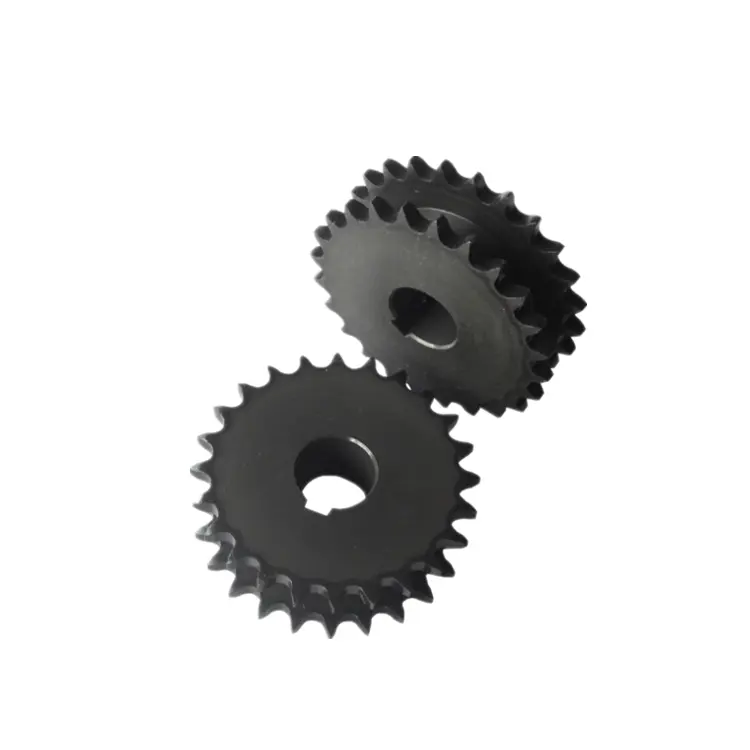 Vertical Power Transmission with wheel sprocket System
Yes, a wheel sprocket system can be used for vertical power transmission. In such cases, the system is designed to transmit power and motion between vertically aligned shafts. Vertical power transmission using a wheel sprocket assembly follows similar principles to horizontal transmission, but there are some factors to consider:
Load and Torque: When transmitting power vertically, the weight of the load can significantly impact the torque requirements. The torque must be sufficient to lift the load against gravity while accounting for friction and other resistive forces.
Sprocket Selection: Choosing the right sprocket is critical for vertical transmission. The sprocket teeth must be designed to engage the chain or belt effectively and prevent slipping, especially when lifting heavy loads.
Lubrication: Proper lubrication is essential to reduce friction and wear in the system. Vertical applications may require specific lubricants to ensure smooth operation and prevent premature failure.
Tensioning: Maintaining the correct tension in the chain or belt is crucial for vertical power transmission. Proper tension helps prevent sagging and ensures proper engagement between the wheel sprocket.
Overhung Load: In vertical setups, the weight of the sprocket and shaft assembly can impose an overhung load on the bearings. Adequate support and bearing selection are necessary to handle this load.
Vertical power transmission with a wheel sprocket system is commonly used in various applications, including conveyor systems, elevators, and some industrial machinery. Proper design, installation, and maintenance are essential to ensure safe and efficient operation in vertical configurations.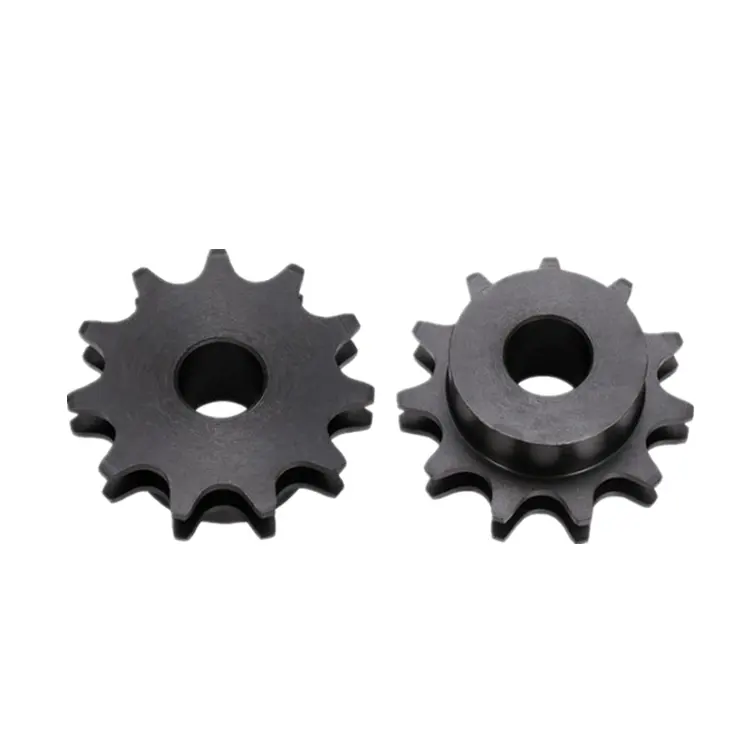 Common Applications of Wheels and Sprockets in Machinery
Wheels and sprockets are crucial components used in various machinery and mechanical systems for power transmission, motion control, and mechanical advantage. Some common applications include:
1. Vehicles:
Wheels and sprockets are extensively used in vehicles, including automobiles, motorcycles, bicycles, and even heavy-duty trucks and construction equipment. Sprockets and chains are commonly found in motorcycles and bicycles for power transmission from the engine or pedals to the wheels.
2. Industrial Machinery:
In industrial settings, wheels and sprockets play a vital role in conveyor systems, where they are used to move materials or products along a production line. Sprockets are also employed in various machinery to transfer rotational motion and power between components.
3. Agricultural Equipment:
Agricultural machinery often relies on wheels and sprockets for functions such as driving tractors, operating harvesting equipment, and propelling irrigation systems.
4. Robotics:
Wheels and sprockets are commonly used in robotic systems to provide mobility and movement capabilities. Sprockets and chains or belts are used in robotic arms and joints to facilitate precise and controlled motion.
5. Material Handling:
Conveyor systems in warehouses and distribution centers utilize wheels and sprockets to move packages, products, and materials efficiently. The sprockets engage with conveyor chains to create a continuous loop for material transport.
6. Mining and Construction:
In heavy industries like mining and construction, large machinery such as excavators, bulldozers, and cranes utilize wheels and sprockets for propulsion and movement. Tracks with sprockets are commonly used in these applications for enhanced traction and stability.
7. Factory Automation:
In automated manufacturing processes, wheels and sprockets are employed in robotic arms and assembly line systems to control movement and manipulate objects with precision.
8. Renewable Energy:
In wind turbines, wheels and sprockets are used to convert the rotational motion of the blades into electrical energy by driving the generator.
These are just a few examples of the diverse applications of wheels and sprockets in machinery and mechanical systems. Their versatility, efficiency, and ability to provide mechanical advantage make them essential components in various industries.



editor by CX 2023-08-18