Product Description
Product Description
1. Standard  :  ISO /DIN /ANSI 
2. Model       : 25-1; 35-1; 40-1; 50-1; 60-1; 80-1; 1/8822 0571 -57152031              Fax: 86~/8822 0571 -57152030
     
Http://kasinchain      
| | |
| --- | --- |
| Standard or Nonstandard: | Standard |
| Application: | Textile Machinery, Garment Machinery, Conveyer Equipment, Packaging Machinery, Electric Cars, Motorcycle, Food Machinery, Marine, Mining Equipment, Agricultural Machinery, Car |
| Surface Treatment: | Oil Blooming |
| Structure: | Roller Chain |
| Material: | Stainless Steel |
| Type: | Short Pitch Chain |
Samples:

US$ 8/Meter

1 Meter(Min.Order)

|
Request Sample
Customization:

Available

|

Customized Request
Can transmission chains be used in cleanroom or food processing environments?
Yes, transmission chains can be used in cleanroom or food processing environments, but certain considerations need to be taken into account to ensure compliance with hygiene and cleanliness standards. Here's a detailed answer to the question:
In cleanroom or food processing environments, maintaining strict hygiene and preventing contamination is crucial. Transmission chains used in such environments must meet specific requirements to ensure safe and sanitary operations. Here are some key considerations:
1. Material Selection: Transmission chains used in cleanroom or food processing environments should be made from materials that are resistant to corrosion, chemicals, and food residues. Stainless steel chains are commonly preferred due to their excellent corrosion resistance and hygienic properties.
2. Design: The design of the transmission chain should minimize crevices, dead spaces, and other areas where contaminants can accumulate. Smooth surfaces and rounded edges are preferred to facilitate easy cleaning and prevent the buildup of debris.
3. Lubrication: In cleanroom or food processing environments, it is essential to use food-grade lubricants or self-lubricating chains that do not contaminate the products or the surrounding environment. These lubricants should be suitable for incidental food contact and meet relevant food safety standards.
4. Cleaning and Maintenance: Regular cleaning and maintenance procedures should be established to keep the transmission chains clean and free from contaminants. This may involve using approved cleaning agents and following proper cleaning protocols to ensure effective removal of any residues or contaminants.
5. Compliance with Regulations: Cleanroom and food processing environments are subject to specific regulations and standards, such as FDA regulations, HACCP principles, or GMP guidelines. It is essential to ensure that the transmission chains used comply with these regulations and meet the necessary certifications or approvals.
By selecting transmission chains specifically designed for cleanroom or food processing applications and following proper cleaning and maintenance procedures, it is possible to use transmission chains in these environments without compromising hygiene and safety. Working closely with suppliers or manufacturers experienced in providing solutions for cleanroom or food processing applications can help ensure the right chain selection and adherence to the required standards.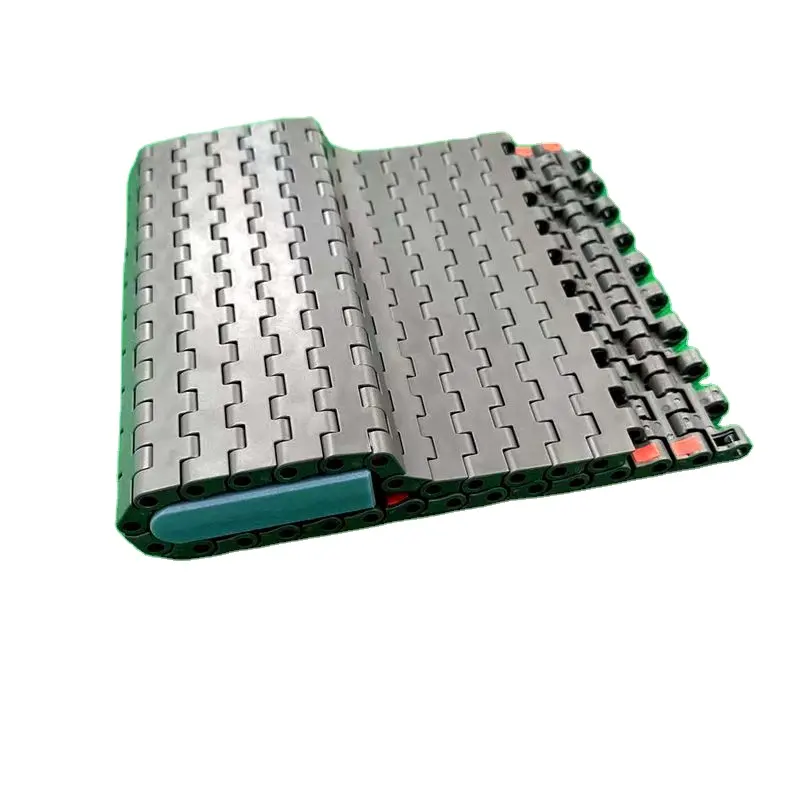 How does the choice of lubricant impact the performance of a transmission chain?
The choice of lubricant plays a critical role in ensuring the optimal performance and longevity of a transmission chain. Here's a detailed answer to the question:
1. Reduced Friction and Wear: Lubricants create a protective film between the moving parts of the transmission chain, reducing friction and wear. This helps to minimize metal-to-metal contact and prevent surface damage, extending the chain's lifespan.
2. Enhanced Efficiency: Proper lubrication reduces energy losses due to friction, improving the overall efficiency of the transmission system. By reducing frictional resistance, the lubricant allows for smoother power transmission, reducing power consumption and increasing system efficiency.
3. Heat Dissipation: Lubricants aid in heat dissipation by absorbing and dissipating heat generated during chain operation. This helps to prevent excessive chain temperature rise, which can lead to accelerated wear, lubricant breakdown, and potential chain failure.
4. Corrosion Protection: Lubricants provide a protective barrier against moisture, humidity, and other corrosive elements. This helps to prevent rust and corrosion, which can weaken the chain and reduce its performance. Choosing a lubricant with anti-corrosion properties is essential, especially in harsh or corrosive environments.
5. Contaminant Removal: Lubricants can help remove contaminants such as dirt, dust, and debris from the chain's contact surfaces. This prevents abrasive particles from causing premature wear and damage to the chain, ensuring smooth operation and reducing the risk of chain failure.
6. Temperature Stability: Different lubricants have varying temperature stability properties. It is crucial to select a lubricant that can maintain its viscosity and lubricating properties within the operating temperature range of the transmission chain. This ensures consistent lubrication and performance under various temperature conditions.
7. Compatibility: It is important to choose a lubricant that is compatible with the materials used in the transmission chain. Some lubricants may react with certain chain materials, leading to degradation or damage. Ensuring compatibility helps maintain the integrity of the chain and avoids any adverse effects.
8. Lubrication Interval: The choice of lubricant can also affect the lubrication interval, i.e., the frequency at which the chain needs to be relubricated. Some lubricants offer longer-lasting lubrication properties, reducing the maintenance requirements and downtime associated with frequent relubrication.
It is crucial to follow the manufacturer's recommendations and guidelines regarding lubrication for the specific transmission chain. Regular inspection, monitoring, and proper maintenance practices should be implemented to ensure the chain remains adequately lubricated for optimal performance and longevity.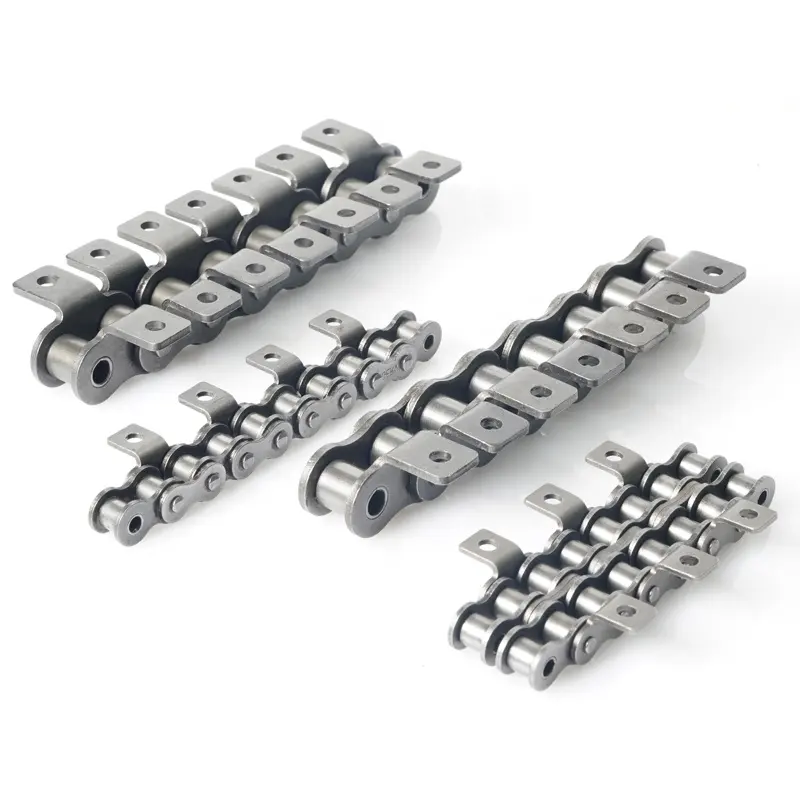 What are the main differences between standard and heavy-duty transmission chains?
Standard and heavy-duty transmission chains are designed to meet different load and performance requirements. Here are the main differences between these two types:
Load Capacity: Heavy-duty transmission chains are built to handle higher loads and provide greater strength compared to standard chains. They are designed to withstand heavier and more demanding applications.
Construction: Heavy-duty transmission chains are typically constructed with thicker plates, larger pins, and stronger components to enhance their durability and load-carrying capacity.
Size: Heavy-duty transmission chains are often larger in size compared to standard chains to accommodate the increased load requirements.
Weight: Due to their robust construction, heavy-duty transmission chains tend to be heavier than standard chains.
Durability: Heavy-duty chains are engineered to have greater wear resistance, fatigue resistance, and overall durability to withstand harsh operating conditions and prolonged usage.
Applications: Standard transmission chains are suitable for lighter-duty applications where moderate loads are involved, such as light machinery, conveyors, and small equipment. Heavy-duty transmission chains, on the other hand, are designed for heavy machinery, industrial equipment, mining applications, and other demanding environments.
It's important to consider the specific requirements of your application, including load capacity, operating conditions, and expected lifespan, to determine whether a standard or heavy-duty transmission chain is the right choice.



editor by CX 2023-11-07