Product Description
Item
Standard Transmission Roller Chains
Model
Series A, Series B, Heavy Duty
Row
Simplex/Duplex/Triplex
Application
Machinery Parts
Surface Teatment
Self-color/Sand-blasted/Shot-peening
Brand
OEM
Package
Poly bag, then box, finally poly-wooden case
Port
Any sea port or airport in China
A Series
03C,04C-1,06C-1,085-1,08A-1,10A-1,12A-1,16A-1,20A-1,24A-1,28A-1,32A-1,36A-1,40A-1,48A-1. 15,25-1,35-1,41-1,40-1,50-1,60-1,80-1,100-1,120-1,140-1,160-1,180-1,200-1,240-1.
04C-2,06C-2,085-2,08A-2,10A-2,12A-2,16A-2,20A-2,24A-2,28A-2,32A-2,36A-2,40A-2,48A-2. 15,25-2,35-2,41-2,40-2,50-2,60-2,80-2,100-2,120-2,140-2,160-2,180-2,200-2,240-2.
04C-3,06C-3,085-3,08A-3,10A-3,12A-3,16A-3,20A-3,24A-3,28A-3,32A-3,36A-3,40A-3,48A-3. 15,25-3,35-3,41-3,40-3,50-3,60-3,80-3,100-3,120-3,140-3,160-3,180-3,200-3,240-3.
B Series
05B-1,06B-1,08B-1,10B-1,12B-1,16B-1,20B-1,24B-1,28B-1,32B-1,40B-1,48B-1,56B-1,64B-1,72B-1.
05B-2,06B-2,08B-2,10B-2,12B-2,16B-2,20B-2,24B-2,28B-2,32B-2,40B-2,48B-2,56B-2,64B-2,72B-2.
05B-3,06B-3,08B-3,10B-3,12B-3,16B-3,20B-3,24B-3,28B-3,32B-3,40B-3,48B-3,56B-3,64B-3,72B-3.
Heavy Duty Type
35H-1,40H-1,50H-1,60H-1,80H-1,100H-1,120H-1,140H-1,160H-1,180H-1,200H-1,240H-1.
35H-2,40H-2,50H-2,60H-2,80H-2,100H-2,120H-2,140H-2,160H-2,180H-2,200H-2,240H-2.
35H-3,40H-3,50H-3,60H-3,80H-3,100H-3,120H-3,140H-3,160H-3,180H-3,200H-3,240H-3.
| | |
| --- | --- |
| Standard or Nonstandard: | Standard/Nonstandard |
| Application: | Textile Machinery, Garment Machinery, Conveyer Equipment, Packaging Machinery, Motorcycle, Food Machinery, Marine, Mining Equipment, Agricultural Machinery, Car |
| Surface Treatment: | Polishing |
| Structure: | Roller Chain |
| Material: | Carbon Steel/Stainless Steel |
| Type: | Short Pitch Chain |
Samples:

US$ 5/Several links of standard chain

1 Several links of standard chain(Min.Order)

|
Request Sample
Customization:

Available

|

Customized Request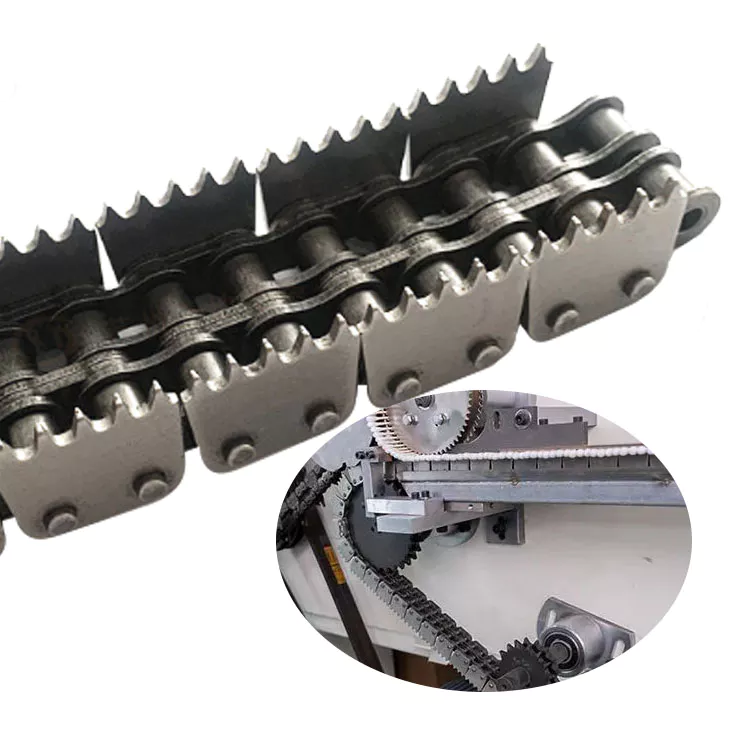 What are the benefits of using a silent conveyor chain?
A silent conveyor chain, also known as a noise-reducing conveyor chain, offers several advantages in conveyor system applications:
1. Noise Reduction:
– One of the primary benefits of using a silent conveyor chain is the significant reduction in noise levels. These chains are specifically designed to minimize the noise generated during operation, creating a quieter and more comfortable working environment.
2. Improved Work Environment:
– By reducing noise levels, a silent conveyor chain contributes to a better work environment, particularly in settings where noise reduction is important, such as manufacturing facilities, warehouses, and distribution centers. It helps reduce employee fatigue, enhances communication, and improves overall worker satisfaction.
3. Compliance with Noise Regulations:
– In some industries or regions, there are specific noise regulations that must be met. Using a silent conveyor chain helps ensure compliance with these regulations, avoiding potential penalties and legal issues.
4. Increased Productivity:
– A quieter working environment created by a silent conveyor chain can lead to increased productivity. With reduced noise distractions, employees can focus better on their tasks, resulting in improved efficiency and output.
5. Extended Chain and Equipment Life:
– Silent conveyor chains are often designed with advanced materials and technologies that offer enhanced wear resistance and durability. They can withstand heavy loads, reduce friction, and minimize wear and tear on both the chain and the associated equipment, resulting in longer service life and reduced maintenance costs.
6. Versatility:
– Silent conveyor chains are available in various configurations and designs, making them compatible with a wide range of conveyor systems and applications. They can be used in different industries, including automotive, food processing, packaging, and more.
When considering a silent conveyor chain, it is important to consult with a reputable chain manufacturer or supplier to ensure the chain meets the specific requirements of the application.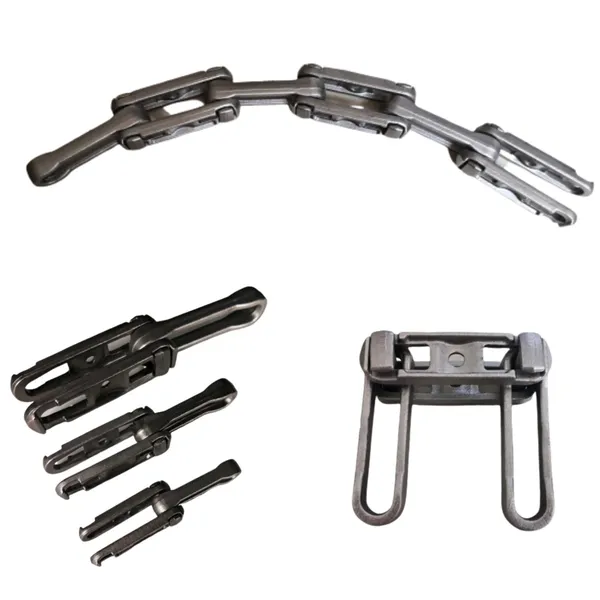 How does lubrication affect the performance of a conveyor chain?
Lubrication plays a crucial role in the performance and longevity of a conveyor chain. Proper lubrication helps to reduce friction, wear, and heat generation, ensuring smooth operation and minimizing the risk of premature failure. Here's how lubrication affects the performance of a conveyor chain:
1. Friction Reduction: Lubrication forms a thin film between the chain components, reducing friction between metal surfaces. This reduces the energy required for operation, minimizes heat generation, and prevents excessive wear and tear.
2. Wear Prevention: Lubrication forms a protective layer on the chain components, preventing direct metal-to-metal contact. This helps to reduce wear and extend the service life of the chain.
3. Corrosion Protection: Lubricants often contain anti-corrosion additives that protect the chain from rust and oxidation. This is particularly important in environments with high humidity or exposure to corrosive substances.
4. Noise Reduction: Proper lubrication reduces the noise generated during chain operation by minimizing friction and metal-to-metal contact. This can contribute to a quieter and more comfortable working environment.
5. Temperature Control: Lubrication helps to dissipate heat generated during chain operation, preventing excessive temperature rise. This is crucial in high-speed or heavy-duty applications where heat can lead to accelerated wear and reduced chain performance.
6. Maintenance and Service Life: Regular lubrication and proper lubricant selection are essential for maintaining the chain's performance and extending its service life. Adequate lubrication reduces the need for frequent maintenance, minimizes downtime, and lowers overall operating costs.
It's important to follow the manufacturer's recommendations for lubrication frequency and use the appropriate lubricant for the conveyor chain. Regular inspections and maintenance checks should also be conducted to ensure proper lubrication levels and address any issues promptly. Proper lubrication practices will enhance the performance, reliability, and durability of the conveyor chain system.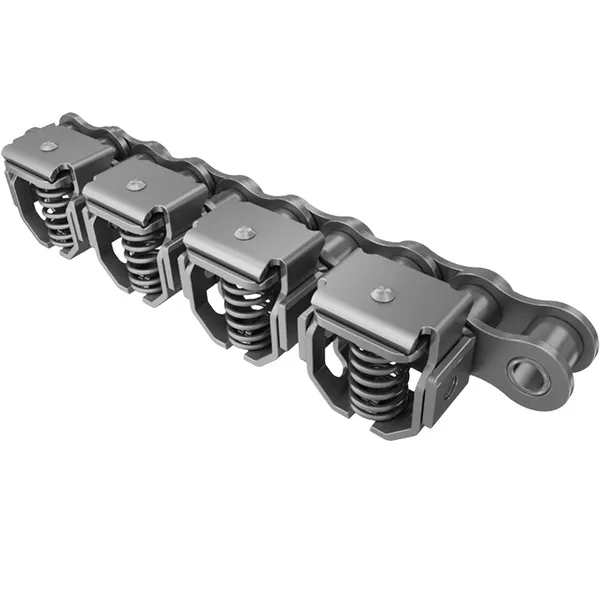 How do you calculate the required length of a conveyor chain?
Calculating the required length of a conveyor chain involves considering several factors related to the conveyor system and the specific application. Here's a step-by-step guide:
Determine the Conveyor Length: Measure the total length of the conveyor path, including any horizontal, inclined, or vertical sections.
Account for Sprocket Centers: Identify the locations of the sprockets or drive units along the conveyor path. Measure the distance between each pair of adjacent sprockets.
Calculate the Number of Links: Divide the total conveyor length by the pitch of the chain to determine the number of links required. The pitch is the distance between the center of two consecutive pins on the chain.
Consider Tension Adjustment: Take into account any tension adjustment requirements based on the specific application. This may include allowances for tensioning devices or tension variations due to load fluctuations.
Include End Connections: Consider the length of the end connections, such as master links or connecting pins, which are used to join the ends of the chain. Include their dimensions in the total chain length calculation.
Add Safety Factors: Incorporate appropriate safety factors to ensure adequate chain length for proper tensioning and to accommodate any potential stretching or wear over time.
It's important to note that the calculation of the required chain length is an estimation based on various factors and may require adjustments during the installation and tensioning process. Consulting the conveyor manufacturer's guidelines or working with an experienced engineer can provide more precise calculations based on the specific conveyor system and application requirements.



editor by CX 2023-08-29