Product Description
Product

Standard Double Pitch Roller chain

Material

40Mn steel,304 stainless steel, 316 stainless steel and 201 stainless steel.

Types

Standard chains and special chains, such as A or B series chains, roller chains, driving chains, conveyor chains, hoisting chains, agricultural chains, sprockets, gears, wheels and so on.

Series

 A series(12.7-50.8mm pitches),B series (9.525-50.8mm pitches)and the heavy series.

Short pitch precision roller chain

Simplex Roller Chains&Bushing Chains: 

04C-1,06C-1,085-1,08A-1,10A-1,12A-1,16A-1,20A-1,24A-1,28A-1,32A-1,36A-1,40A-1,48A-1
Duplex Roller Chains&Bushing Chains:

04C-2,06C-2,085-2,08A-2,10A-2,12A-2,16A-2,20A-2,24A-2,28A-2,32A-2,36A-2,40A-2,48A-2
Triplex Roller Chains&Bushing Chains:

04C-3,06C-2,085-3,08A-3,10A-3,12A-3,16A-3,20A-3,24A-3,28A-3,32A-3,36A-3,40A-3,48A-3

Chain link type

Standard links (without attachment) and non-standard links (with attachment).

 

A1: One-side,one hole cranked attachments.
A2: One-side,two holes cranked attachments.
K1: Both-side,one hole cranked attachments.
K2: Both-side,two hole cranked attachments.
D1: One-side,an extended pin on every outer link.
D3: One-side,two extended pin on every outer link.

Our Products Advantage

1. Every step from production order to the packing process has a strict quality inspection.
2. We have standard roller chain with 1.5 CHINAMFG (DIN. ANSI.); Non-standard roller chain (customized acording to customer drawings).
3. Export products with high quality and low price.
4.We have a good service before and after-sale.
1.Fast delivery: Standard products can be delivered in as fast as 20 days
2.Good service: timely reply, prompt quotation, responsible for the product
3.High cost performance: can maintain price stability for a certain period of time, bringing greater profits to customers
4.Good quality: production and testing have corresponding supervision to ensure product quality and get high praise from customers
5.OEM service: products can be customized according to drawings and requirements
We are responsible for the ordered products. We are very confident in the products we produce. Of course, if you have any problems after receiving the goods, you can contact us directly. We will confirm and negotiate in time to solve your difficulties.
| | |
| --- | --- |
| Standard or Nonstandard: | Standard |
| Application: | Textile Machinery, Garment Machinery, Conveyer Equipment, Packaging Machinery, Food Machinery, Mining Equipment, Agricultural Machinery |
| Surface Treatment: | Oil Blooming |
| Structure: | Roller Chain |
| Material: | Alloy |
| Type: | Double Pitch Chain |
Samples:

US$ 35/kg

1 kg(Min.Order)

|
Request Sample
Customization:

Available

|

Customized Request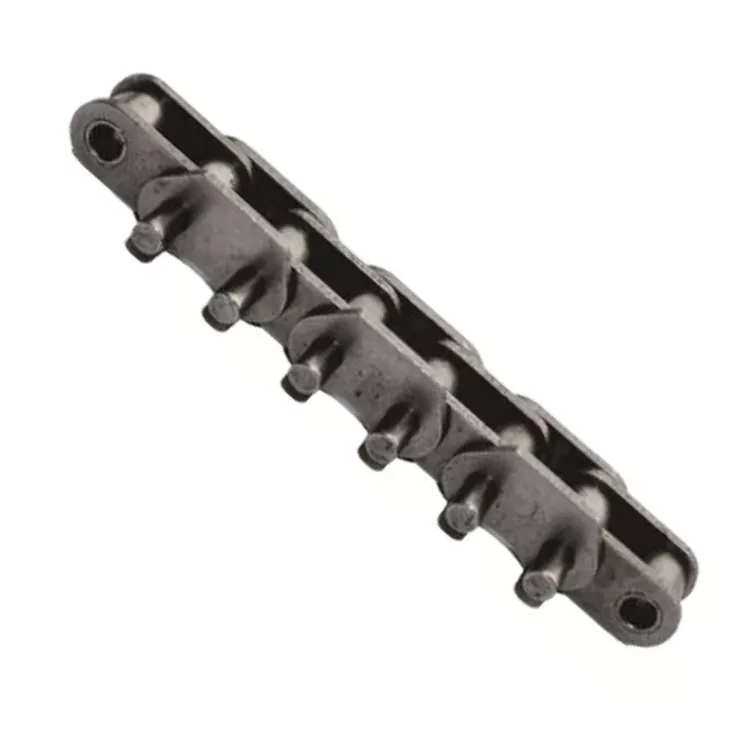 How does a conveyor chain impact energy efficiency in a system?
A conveyor chain plays a significant role in the energy efficiency of a conveyor system. Here are the ways in which it impacts energy efficiency:
1. Reduced Power Consumption:
– A well-designed conveyor chain with low friction characteristics can minimize power consumption. By reducing the frictional resistance between the chain and the conveyor components, less energy is required to move the chain and transport the materials along the conveyor system.
2. Efficient Power Transmission:
– The design and construction of a conveyor chain contribute to efficient power transmission. Chains with optimized pitch, roller diameter, and sprocket tooth profile ensure smooth and effective power transfer, minimizing energy losses during operation.
3. Proper Chain Tensioning:
– Maintaining proper chain tension is crucial for energy efficiency. An adequately tensioned chain ensures optimal contact between the chain and the sprockets, minimizing slippage and power loss. Regular inspections and adjustments of chain tension help maximize energy efficiency.
4. Alignment and Tracking:
– Proper alignment and tracking of the conveyor chain are essential for energy efficiency. Misaligned or poorly tracked chains can cause increased friction, leading to higher energy consumption. Regular monitoring and adjustment of the chain's alignment ensure smooth and efficient operation.
5. Regular Maintenance:
– Performing routine maintenance on the conveyor chain, including lubrication, cleaning, and inspection, helps maintain optimal performance and energy efficiency. Adequate lubrication reduces friction and wear, minimizing power losses and extending the chain's lifespan.
6. System Design Optimization:
– Considering energy efficiency during the design phase of a conveyor system can significantly impact its overall efficiency. Proper selection of conveyor chain components, such as low-friction materials and efficient drive systems, can help minimize energy consumption and improve the system's energy efficiency.
By employing these practices and utilizing energy-efficient conveyor chain technologies, businesses can reduce energy costs, minimize environmental impact, and enhance the overall sustainability of their operations.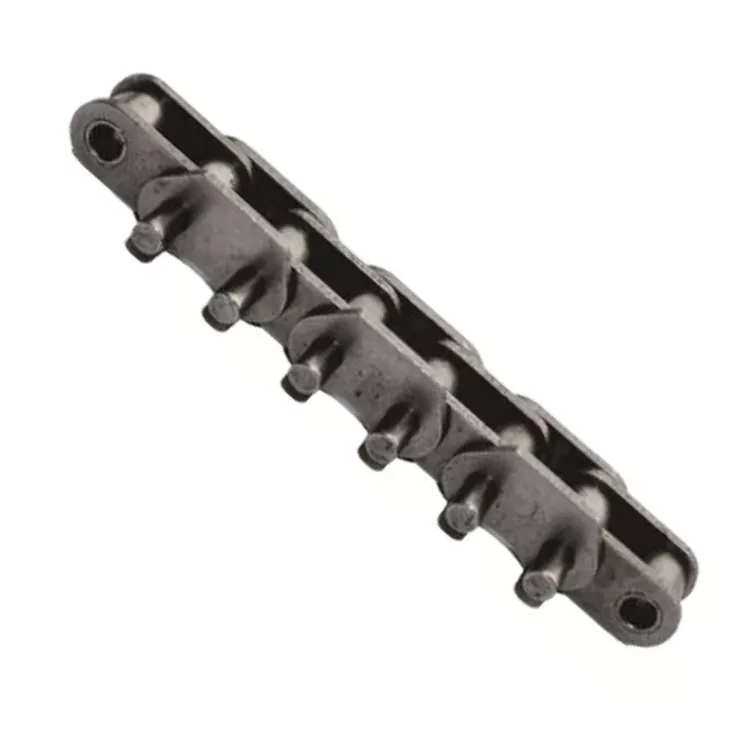 How do you prevent corrosion in conveyor chains?
Preventing corrosion in conveyor chains is essential for maintaining their performance and prolonging their lifespan. Here are some effective measures to prevent corrosion:
1. Material Selection: Choose conveyor chains made from corrosion-resistant materials such as stainless steel, plastic, or coatings specifically designed to resist corrosion. These materials offer better protection against rust and corrosion compared to standard steel chains.
2. Proper Lubrication: Apply a suitable lubricant to the conveyor chain regularly. Lubrication creates a protective barrier that helps prevent moisture and contaminants from reaching the metal surface, reducing the risk of corrosion. Select a lubricant that provides corrosion protection properties and is compatible with the chain material.
3. Environmental Controls: Control the operating environment to minimize exposure to corrosive elements. Implement measures such as humidity control, proper ventilation, and protection from direct contact with water or chemicals. Consider using covers or enclosures to shield the conveyor chain from environmental factors that can accelerate corrosion.
4. Surface Treatments: Apply corrosion-resistant coatings or treatments to the conveyor chain. These coatings can provide an additional protective layer that acts as a barrier against moisture and corrosive substances. Examples of surface treatments include zinc plating, galvanizing, or epoxy coatings.
5. Regular Inspections and Cleaning: Regularly inspect the conveyor chain for signs of corrosion or damage. Remove any accumulated dirt, debris, or corrosive substances promptly. Cleaning the chain helps prevent the buildup of contaminants that can accelerate corrosion.
6. Preventive Maintenance: Implement a preventive maintenance program that includes regular cleaning, lubrication, and inspection of the conveyor chain. This proactive approach helps identify and address any potential corrosion issues early on, preventing further damage.
7. Proper Storage: When not in use, store the conveyor chains in a dry and controlled environment. Protect them from exposure to moisture, humidity, and corrosive substances. Use appropriate storage methods, such as hanging the chains or storing them in sealed containers.
By following these preventive measures, you can significantly reduce the risk of corrosion in conveyor chains, ensuring their optimal performance and longevity.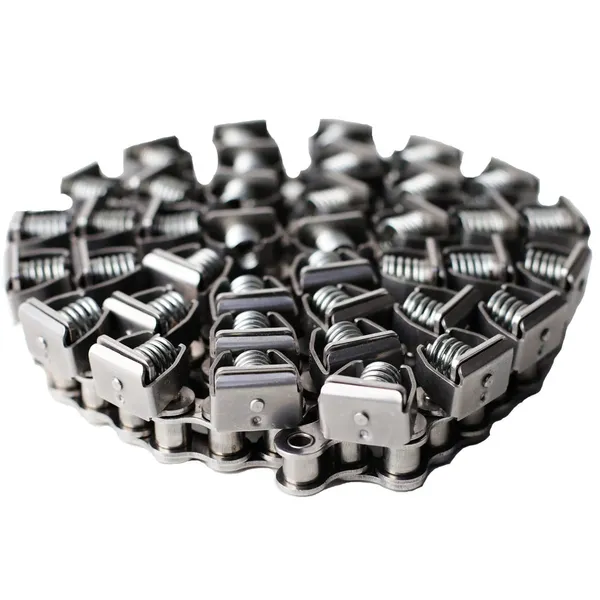 What is the load capacity of a conveyor chain?
The load capacity of a conveyor chain depends on various factors, including the chain design, material, size, and the operating conditions. It is crucial to consider the specific application requirements when determining the load capacity of a conveyor chain. Here are some key factors to consider:
Chain Design: Different types of conveyor chains have varying load capacities. The chain design includes factors such as the type of links, their configuration, and the presence of attachments or rollers.
Material: The material used to manufacture the conveyor chain significantly affects its load capacity. Common materials include steel, stainless steel, and plastic. Steel chains are generally more robust and have higher load-bearing capabilities.
Chain Size: The size of the conveyor chain, including the pitch and width, plays a role in determining its load capacity. Larger chains with wider links tend to have higher load capacities.
Operating Conditions: Factors such as the speed of the conveyor, the type and weight of the transported materials, and the environmental conditions (temperature, humidity, etc.) can impact the load capacity of the chain.
Manufacturer Specifications: It is essential to consult the manufacturer's specifications and guidelines for the specific conveyor chain being used. Manufacturers typically provide load capacity charts or tables based on their chain designs.
The load capacity of a conveyor chain is typically specified in terms of its maximum allowable working load or breaking strength. These values are determined through rigorous testing and engineering calculations. To ensure safe and efficient operation, it is important to select a conveyor chain that has a load capacity suitable for the intended application. Exceeding the recommended load capacity can lead to premature wear, chain failure, and potential safety hazards.



editor by CX 2023-11-06