Product Description
Products Collection
Product Description
QLZ Chains feature symmetrically toothed link plates on both sides, enabling equal performance and precision during bilateral use. This design makes it an ideal solution for applications with changes in the direction of rotation or for multi-shaft drives. Their flexibility ensures they can easily handle these situations, providing reliable and consistent performance.
When you need a specific design, we can provide customised solutions based on what you need. Whether you require specific features, plans, materials, or specifications, our team can work to ensure you get a chain that fully meets your needs.
Are you looking for other chains? 
Leave your message below, and feel free to contact us!
FAQ
Question 1: Are you a Manufacturer or a Trading Company?
Answer:
We are a 100% chain manufacturer with 23 years of experience
Question 2: What should I provide to get a quotation?
Answer:
1. Type of the chain (with photos if available)
2. Pitch of the chain
3. Width of the chain
4. Length and quantity of the chain
5. Other specific requirements
Question 3:
How long is your manufacturing and delivery time?
Answer: 
Products are usually finished in 2 weeks, depending on the type and quantity. Also, please get in touch with us to check the delivery time to your destination.
Question 4: How long is your guaranteed time?
Answer: 
We offer a three-year guarantee if you purchase chains and matched sprockets together.
If you need chains only, a one-year guarantee can also be confirmed.
Question 5: Trade terms and Payment terms?
Answer:
We accept EXW, FOB, DDU, Door to Door. Payment terms, such as T/T, L/C, and Western Union, are acceptable. We also provide the service of Online Trading in this B2B platform.
Company Profile
Shipping Cost:

Estimated freight per unit.





To be negotiated
| | |
| --- | --- |
| Standard or Nonstandard: | Standard |
| Application: | Textile Machinery, Garment Machinery, Conveyer Equipment, Packaging Machinery, Food Machinery, Marine, Mining Equipment, Agricultural Machinery, Car |
| Structure: | Tooth Chain |
Samples:

US$ 100/Meter

1 Meter(Min.Order)

|

Order Sample
Customization:

Available

|

Customized Request
How does the choice of chain attachment affect the functionality of a transmission chain?
The choice of chain attachment plays a critical role in the functionality and performance of a transmission chain. Here's a detailed answer to the question:
1. Load Capacity: Different chain attachments are designed to handle specific types and amounts of loads. The selection of the appropriate attachment is crucial to ensure that the transmission chain can safely and efficiently carry the intended load. The type of attachment, such as extended pins, cleats, or slats, can determine the chain's ability to handle heavy or irregular loads.
2. Application Compatibility: The choice of chain attachment should align with the specific application requirements. Different industries and applications may require specialized attachments that are designed to address particular challenges or provide specific functionalities. For example, attachments used in conveying systems may include rollers, flights, or grippers to facilitate smooth material transfer.
3. Alignment and Tracking: Certain chain attachments, such as guide rails or track systems, help to ensure proper alignment and tracking of the transmission chain. These attachments minimize the risk of chain derailment or misalignment, which can lead to operational issues and reduced efficiency.
4. Positioning and Orientation: Some applications require precise positioning or orientation of objects or components. Chain attachments, such as indexing pins or brackets, are designed to facilitate accurate positioning or rotation of objects along the chain's path. These attachments contribute to the reliable and precise operation of the transmission chain.
5. Material Handling: In material handling applications, chain attachments are often used to secure or hold items during transport. Attachments like hooks, clamps, or brackets enable the secure attachment of objects to the chain, preventing slippage or displacement during movement. This ensures safe and efficient material handling operations.
6. Specialized Functions: Chain attachments can provide additional functions based on specific application requirements. For example, attachments such as sensors, RFID tags, or lubrication reservoirs can be integrated into the chain design to enable monitoring, tracking, or lubrication functions. These specialized attachments enhance the overall functionality and performance of the transmission chain.
It's important to select the appropriate chain attachment based on the specific application needs, load requirements, and desired functionality. Consulting with industry experts or chain manufacturers can help in determining the most suitable attachment options for optimal transmission chain performance.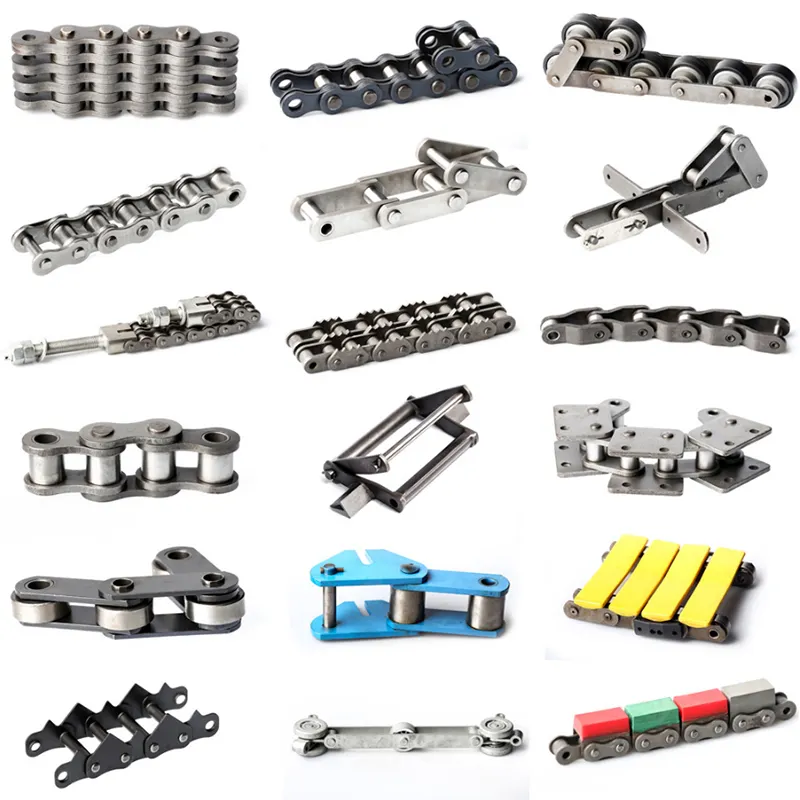 What are the advantages of using a self-cleaning transmission chain?
Using a self-cleaning transmission chain offers several benefits, which are outlined in detail below:
1. Improved Performance: Self-cleaning transmission chains are designed to effectively remove debris, dirt, and contaminants that can accumulate on the chain during operation. By keeping the chain clean, it helps maintain optimal performance and prevents the build-up of debris that can affect the chain's movement, engagement with sprockets, and overall efficiency.
2. Reduced Maintenance: With a self-cleaning transmission chain, the need for frequent manual cleaning and maintenance is significantly reduced. The chain's design includes features such as special-shaped plates, curved sidebars, or additional components that actively prevent debris from sticking to the chain or entering its critical areas. This reduces the time and effort required for cleaning and maintenance tasks, resulting in cost savings and improved productivity.
3. Extended Chain Life: The self-cleaning mechanism of these chains helps to prolong their lifespan. By effectively removing debris and preventing the build-up of contaminants, the chain experiences less wear and tear. This leads to reduced chain elongation, minimized internal friction, and decreased risk of premature failure. As a result, the chain's overall durability and longevity are improved.
4. Enhanced Reliability: Self-cleaning transmission chains contribute to enhanced reliability and consistent performance. The absence of debris build-up ensures smooth engagement with sprockets, preventing chain slippage, jamming, or sudden disruptions in power transmission. The reliable operation of the chain translates to improved uptime, reduced downtime, and increased overall system efficiency.
5. Suitable for Challenging Environments: Industries and applications that operate in environments with high levels of dust, dirt, or other particulate matter benefit greatly from self-cleaning transmission chains. They are commonly used in industries such as agriculture, construction, mining, and material handling, where exposure to challenging environments is prevalent. The self-cleaning feature helps to maintain chain performance and reliability even in these harsh conditions.
It's important to note that while self-cleaning transmission chains offer significant advantages, regular inspection and maintenance are still necessary to ensure their optimal performance. Monitoring the chain's condition, applying appropriate lubrication, and addressing any signs of wear or damage are essential for maximizing the benefits of self-cleaning transmission chains and ensuring their long-term reliability.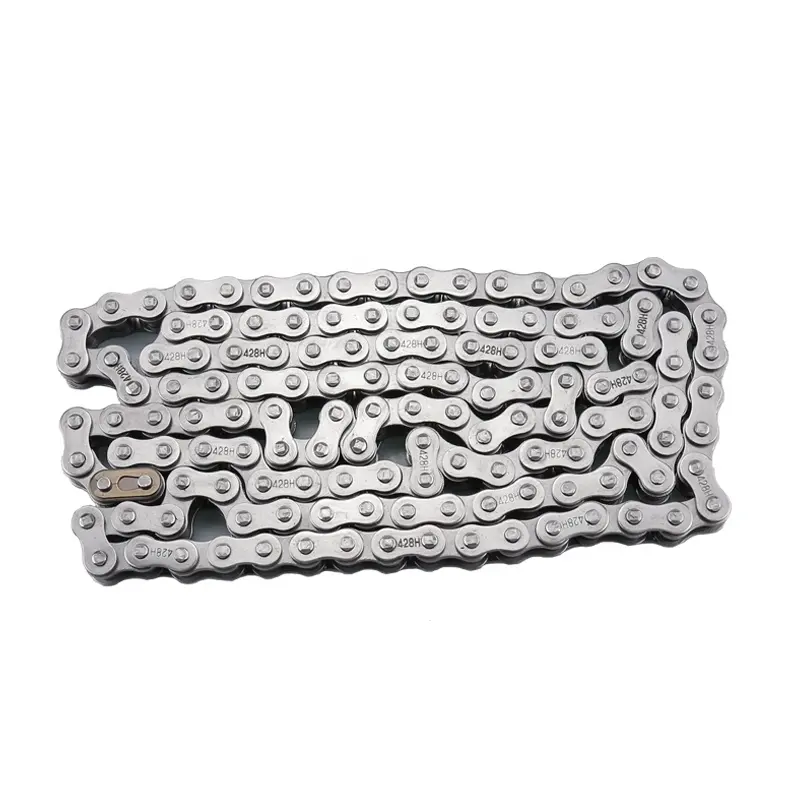 What are the common causes of failure in transmission chains?
Transmission chains are subject to various factors that can contribute to their failure over time. Here's a detailed explanation:
1. Insufficient Lubrication: Inadequate or improper lubrication is one of the leading causes of chain failure. Insufficient lubrication can lead to increased friction, heat generation, and accelerated wear between the chain's components, such as pins, bushings, and rollers.
2. Contamination: Contaminants like dirt, dust, debris, and moisture can enter the chain system, affecting its performance and causing accelerated wear. Contamination can hinder proper lubrication, increase friction, and cause corrosion, leading to chain failure.
3. Overloading: Applying excessive loads beyond the chain's rated capacity can lead to overloading, which causes stress and deformation of the chain's components. Overloading can result in chain elongation, accelerated wear, and ultimately, chain failure.
4. Misalignment: Improper alignment of the chain and sprockets can cause uneven distribution of forces, leading to localized wear and increased stress on certain areas of the chain. Misalignment can result from incorrect installation or wear and tear of sprockets, leading to premature chain failure.
5. Fatigue: Repeated cyclic loading and stress can cause fatigue in the chain, leading to cracks, fractures, and ultimately, chain failure. Fatigue failure is more likely to occur when the chain is subjected to high-speed or high-frequency applications.
6. Corrosion: Exposure to corrosive environments, such as high humidity, chemicals, or extreme temperatures, can cause corrosion on the chain's components. Corrosion weakens the chain's structural integrity, leading to premature failure.
7. Poor Maintenance: Inadequate maintenance practices, such as infrequent inspections, lack of lubrication, and neglecting to address potential issues, can contribute to chain failure. Regular maintenance, including lubrication, cleaning, and proper tensioning, is essential for the longevity and reliable performance of transmission chains.
It is important to address these factors to prevent chain failure. Proper lubrication, regular inspections, cleaning, and alignment checks are essential maintenance practices. Selecting the right chain for the application, following manufacturer guidelines, and adhering to industry standards can also help mitigate the risk of failure and ensure the optimal performance and longevity of transmission chains.



editor by CX 2023-08-10