Product Description
Product Description
| | | | |
| --- | --- | --- | --- |
| Item Name  | Agricultural Roller Chains | Model | Standard |
| Row | / | Application | Machinery Parts |
| Suiface Treament | netural/sand-blasted/shot-peening | Certification  | ISO, ANSI, DIN, BS |
| Packing | Packaged in boxes and wooden cases, or packaged in reels and then on pallets | Port | Any sea port or airport in china |
Agricultural chains, also known as farm machinery chains, are specifically designed for use in
agricultural equipment and machinery. These chains are used to transmit power from the tractor
to various attachments, such as plows, cultivators, and harvesters.
Agricultural chains are made from high-quality materials that are resistant to wear and corrosion.
They are designed to withstand the harsh conditions of the farm, including exposure to dirt, dust,
and debris. These chains are available in a variety of sizes and configurations to fit different
types of farm machinery.
In addition to their strength and durability, agricultural chains are also designed to provide smooth
and efficient power transmission. This helps to increase the productivity of the equipment and
reduce downtime for maintenance and repairs.
Overall, agricultural chains play a critical role in the operation of farm machinery, ensuring that
farmers can efficiently and effectively carry out their work.
Other Products
Company Profile
Packaging & Shipping
After Sales Service
Contact us
| | |
| --- | --- |
| Standard or Nonstandard: | Standard |
| Application: | Textile Machinery, Garment Machinery, Conveyer Equipment, Packaging Machinery, Electric Cars, Motorcycle |
| Surface Treatment: | Netural/Sand-Blasted/Shot-Peening |
| Structure: | Roller Chain |
| Material: | Carbon Steel |
| Type: | Short Pitch Chain |
Samples:

US$ 3.45/Meter

1 Meter(Min.Order)

|
Request Sample
Customization:

Available

|

Customized Request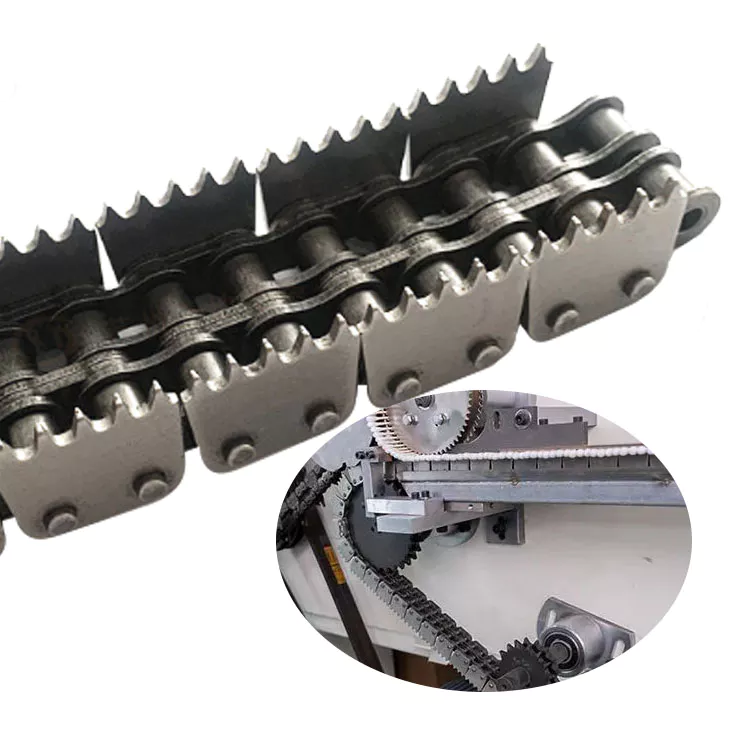 What are the benefits of using a silent conveyor chain?
A silent conveyor chain, also known as a noise-reducing conveyor chain, offers several advantages in conveyor system applications:
1. Noise Reduction:
– One of the primary benefits of using a silent conveyor chain is the significant reduction in noise levels. These chains are specifically designed to minimize the noise generated during operation, creating a quieter and more comfortable working environment.
2. Improved Work Environment:
– By reducing noise levels, a silent conveyor chain contributes to a better work environment, particularly in settings where noise reduction is important, such as manufacturing facilities, warehouses, and distribution centers. It helps reduce employee fatigue, enhances communication, and improves overall worker satisfaction.
3. Compliance with Noise Regulations:
– In some industries or regions, there are specific noise regulations that must be met. Using a silent conveyor chain helps ensure compliance with these regulations, avoiding potential penalties and legal issues.
4. Increased Productivity:
– A quieter working environment created by a silent conveyor chain can lead to increased productivity. With reduced noise distractions, employees can focus better on their tasks, resulting in improved efficiency and output.
5. Extended Chain and Equipment Life:
– Silent conveyor chains are often designed with advanced materials and technologies that offer enhanced wear resistance and durability. They can withstand heavy loads, reduce friction, and minimize wear and tear on both the chain and the associated equipment, resulting in longer service life and reduced maintenance costs.
6. Versatility:
– Silent conveyor chains are available in various configurations and designs, making them compatible with a wide range of conveyor systems and applications. They can be used in different industries, including automotive, food processing, packaging, and more.
When considering a silent conveyor chain, it is important to consult with a reputable chain manufacturer or supplier to ensure the chain meets the specific requirements of the application.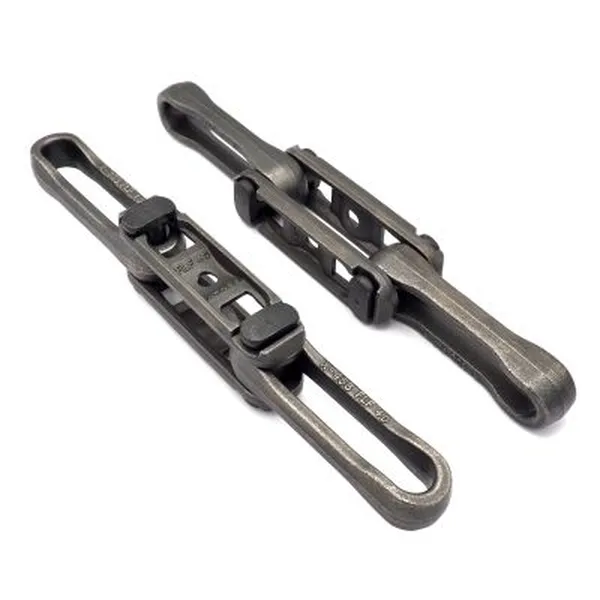 What are the safety measures for working with heavy-duty conveyor chains?
Working with heavy-duty conveyor chains requires strict adherence to safety measures to protect the workers and maintain a safe working environment. Here are some important safety measures to consider:
1. Proper Training: All personnel involved in working with conveyor chains should receive comprehensive training on the safe operation and maintenance of the equipment. This includes understanding the potential hazards, safety procedures, and proper use of personal protective equipment (PPE).
2. Equipment Inspection: Regular inspection of the conveyor chain and associated components is crucial to identify any signs of wear, damage, or malfunction. This includes checking for loose fasteners, worn sprockets, misalignment, and any other potential hazards. Any issues should be addressed promptly to prevent accidents.
3. Lockout/Tagout: Before performing any maintenance or repair tasks on the conveyor chain, proper lockout/tagout procedures must be followed. This ensures that the equipment is de-energized and isolated from any power source to prevent accidental startup or movement.
4. Personal Protective Equipment (PPE): Workers should wear appropriate PPE, including safety glasses, gloves, steel-toed boots, and hearing protection. The specific PPE requirements may vary depending on the nature of the work and the potential hazards involved.
5. Safe Work Practices: Workers should follow safe work practices, such as avoiding loose clothing or jewelry that can get caught in the chain, keeping hands and clothing clear of moving parts, and using proper lifting techniques when handling heavy loads.
6. Emergency Stop Systems: Conveyor systems should be equipped with emergency stop buttons or pull cords that allow workers to quickly stop the chain in case of an emergency or hazardous situation.
7. Regular Maintenance: Scheduled maintenance and lubrication of the conveyor chain should be performed according to the manufacturer's recommendations. This helps to ensure optimal performance and minimize the risk of unexpected failures.
8. Clear Warning Signs and Labels: Proper signage, warning labels, and safety instructions should be clearly displayed near the conveyor chain system to remind workers of potential hazards and safe operating procedures.
9. Regular Safety Training and Communication: Ongoing safety training and communication among the workforce are vital to reinforce safe practices and raise awareness of any changes or updates to safety protocols.
By implementing these safety measures and fostering a safety-conscious culture, the risks associated with working with heavy-duty conveyor chains can be minimized, ensuring the well-being of the workers and the efficient operation of the equipment.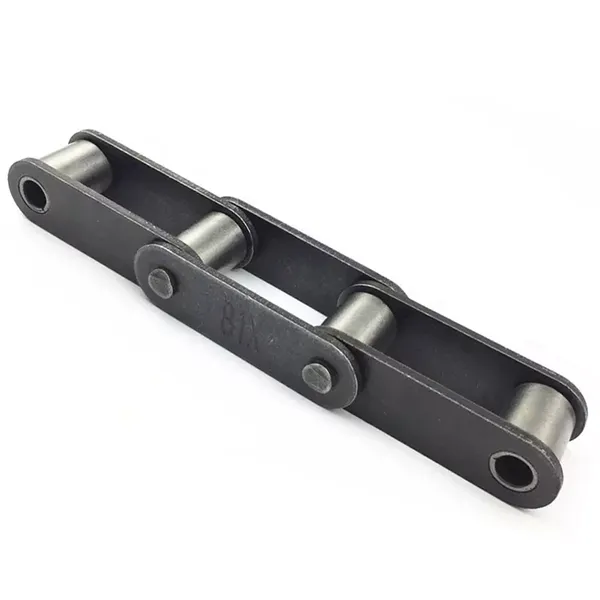 What industries commonly use conveyor chains?
Conveyor chains are widely used in various industries for efficient material handling and transportation. Here are some of the industries commonly using conveyor chains:
Manufacturing: Conveyor chains are extensively used in manufacturing industries such as automotive, electronics, appliances, and machinery. They facilitate the movement of components, parts, and finished products along assembly lines.
Food and Beverage: The food and beverage industry relies heavily on conveyor chains for conveying and processing food products, including packaging, sorting, and distribution. Conveyor chains in this industry often have specific requirements such as sanitary design and resistance to contaminants.
Logistics and Warehousing: Conveyor chains are integral to logistics and warehousing operations for efficient handling of goods, including sorting, loading, unloading, and distribution. They are commonly used in distribution centers, airports, and postal facilities.
Mining and Quarrying: Conveyor chains play a crucial role in mining and quarrying operations by transporting bulk materials such as coal, ore, gravel, and aggregates. They are designed to withstand heavy loads and harsh environments.
Agriculture: In the agricultural sector, conveyor chains are used for handling crops, grains, seeds, and livestock feed. They are employed in processing plants, grain elevators, and animal feed production facilities.
Automotive: The automotive industry extensively uses conveyor chains in assembly plants for transporting vehicle components, body frames, engines, and other parts throughout the production process.
Pharmaceutical and Healthcare: Conveyor chains are utilized in pharmaceutical and healthcare facilities for the automated movement of medical supplies, pharmaceutical products, and laboratory specimens.
Chemical and Petrochemical: Conveyor chains are employed in chemical and petrochemical industries for the handling of hazardous materials, bulk chemicals, and raw materials during production and storage.
Construction and Building Materials: Conveyor chains are used in construction sites and building material production facilities for conveying materials such as cement, bricks, aggregates, and roofing materials.
These are just a few examples, and conveyor chains are also utilized in many other industries where efficient material handling and transportation are essential for the production and distribution processes.



editor by CX 2023-08-07