Product Description
The main application is for conveying various food products and containers.
The 820 is a plastic version of the related. The plastic chains however have a reinforcing middle rib underneath. The link thickness is 4.0 mm (0.16 in.) for the 820-series. The links overlap, so there is no space between the links.
Plate mat.:POM/PP; Pin mat.:stainless steel
Max.speed: 80m/min lubrication; 50m/min dry
Max.length:12m; Color:white/brown; Packing unit:10ft(80links)
APPLICATIONS:
China CZPT Machinery Co.,Ltd is a special supplier of conveyor system components,including plastic and stainless steel flat top chains, Modular belts, other spare parts, such as UHMWPE wearstrips, side guards, chains guide, bipods, tripods, brackets, clampls.ect.
With our years of experence, quality products, excellent services we work with world wide clients from America, Europe, Africa, many counrties of Asia. We keep very good business relation with them, and get trusted from them.
Our products application:
Packaging and conveying industry
Beverage bottling and handling industry
Food and meat processing industry
Chemical industry
Pharmaceuticals industry
Automobile industry
Electrical and electronics industry
Textile industry
Light engineering industry
 
| | |
| --- | --- |
| Material: | Plastic |
| Structure: | Top Chain |
| Surface Treatment: | Low Friction |
| Chain Size: | Pitch 38.1mm |
| Pin: | SS304 |
| Condition: | 100% Brand New |
Samples:

US$ 6/Meter

1 Meter(Min.Order)

|
Request Sample
Customization:

Available

|

Customized Request
Can a conveyor chain be used in high-speed applications?
Yes, a conveyor chain can be used in high-speed applications depending on the design and specifications of the chain and the conveyor system. However, there are certain factors to consider when using a conveyor chain in high-speed applications:
1. Chain Design: The design of the conveyor chain should be capable of handling high speeds without compromising safety or performance. Specialized high-speed chains are available that are specifically engineered to withstand the demands of high-speed applications.
2. Material Selection: The material used in the construction of the conveyor chain should have high strength and durability to withstand the forces and stresses at high speeds. Common materials for high-speed conveyor chains include alloy steels, stainless steel, and special polymers.
3. Lubrication: Proper lubrication is crucial in high-speed applications to reduce friction, heat, and wear. Lubricants specifically designed for high-speed conveyor chains should be used to ensure smooth operation and extend the chain's lifespan.
4. Tensioning and Alignment: Accurate tensioning and alignment of the conveyor chain are critical for high-speed applications. Proper tensioning helps to maintain the chain's stability and prevent excessive vibrations or elongation, which can lead to chain failure or premature wear.
5. Safety Considerations: High-speed applications require additional safety measures to protect personnel and equipment. Proper guarding, emergency stop systems, and regular maintenance inspections are essential to ensure safe operation.
It's important to consult the conveyor chain manufacturer or an engineering professional to determine the suitability of a specific chain for high-speed applications. They can provide guidance on selecting the appropriate chain design, material, lubrication, and maintenance practices to ensure reliable and efficient operation at high speeds.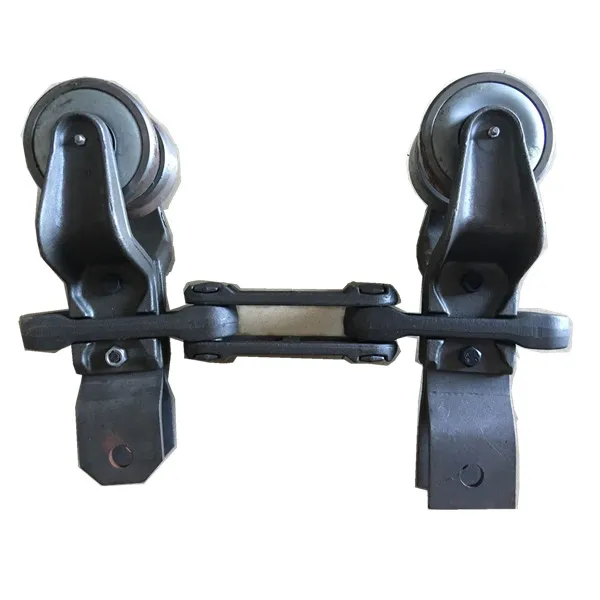 What are the design considerations for a long-span conveyor chain conveyor?
Designing a long-span conveyor chain conveyor requires careful consideration of various factors to ensure its efficiency, safety, and reliability. Here are some key design considerations:
1. Conveyor Chain Selection: Choose a conveyor chain that is suitable for long spans and can withstand the required load capacity. Consider factors such as chain material, pitch, strength, and durability to ensure it can handle the anticipated load and operating conditions.
2. Conveyor Structure: The conveyor structure should be designed to provide sufficient support and stability for the long span. Consider factors such as material strength, rigidity, and deflection to ensure the structure can handle the weight of the conveyor chain, the product being transported, and any additional loads.
3. Drive System: Select an appropriate drive system that can efficiently power the long-span conveyor chain. Consider factors such as motor power, speed, torque, and control mechanisms to ensure smooth and reliable operation.
4. Tensioning and Alignment: Proper tensioning and alignment of the conveyor chain are critical for its performance and longevity. Design the system with adequate provisions for tensioning devices and alignment mechanisms to maintain optimal chain tension and alignment throughout the conveyor's length.
5. Supports and Bearings: Install adequate supports and bearings along the length of the conveyor to reduce chain sagging, minimize friction, and ensure smooth movement. Consider factors such as bearing type, lubrication, and maintenance requirements.
6. Conveyor Controls and Safety: Implement appropriate controls and safety features to monitor and control the operation of the long-span conveyor chain. This may include emergency stop systems, speed monitoring, overload protection, and safety interlocks.
7. Environmental Factors: Consider the environmental conditions in which the conveyor will operate, such as temperature, humidity, dust, and corrosive substances. Select materials and components that can withstand these conditions and implement proper ventilation, dust collection, and corrosion protection measures.
8. Maintenance and Accessibility: Design the conveyor system with ease of maintenance and accessibility in mind. Provide sufficient access points, walkways, and platforms for inspection, cleaning, and maintenance tasks. Consider factors such as lubrication points, conveyor cleaning systems, and easy replacement of worn components.
9. Future Expansion and Flexibility: Anticipate future needs for expansion or modifications and design the long-span conveyor chain conveyor with flexibility in mind. This may include allowing for additional conveyor sections, transfer points, or integration with other equipment.
By considering these design considerations, a long-span conveyor chain conveyor can be efficiently designed and optimized for its intended application, ensuring reliable and cost-effective material handling operations.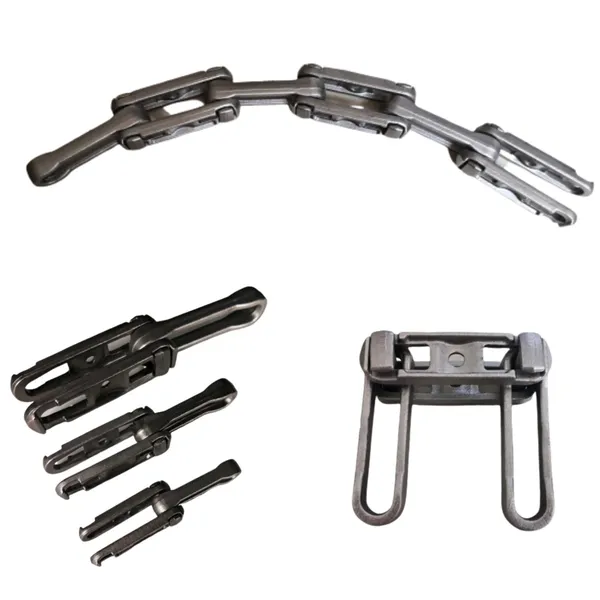 What are the noise levels associated with conveyor chains?
The noise levels associated with conveyor chains can vary depending on several factors:
1. Chain Type: Different types of conveyor chains produce varying noise levels. For example, roller chains tend to generate more noise compared to silent chains or plastic modular chains.
2. Speed: The speed at which the conveyor chain operates can influence the noise level. Higher speeds generally result in increased noise due to the impact and friction between the chain and other components.
3. Chain Condition: The condition of the conveyor chain plays a role in noise generation. Worn-out or improperly maintained chains can produce more noise due to increased friction and vibration.
4. Surrounding Environment: The noise levels can also be affected by the environment in which the conveyor system operates. Factors such as the presence of other machinery, acoustics of the facility, and noise insulation measures can impact the overall noise level.
5. Design and Components: The design of the conveyor system and the choice of components can influence noise levels. Factors such as the use of noise-reducing materials, proper alignment of components, and vibration dampening measures can help reduce noise.
It is important to note that excessive noise levels in the workplace can have adverse effects on the well-being of employees and may require noise control measures to comply with occupational health and safety regulations. Implementing noise reduction strategies like using noise-dampening materials, incorporating proper lubrication, maintaining chain tension, and applying vibration isolation techniques can help minimize the noise associated with conveyor chains.



editor by CX 2023-07-31