Product Description
Product

Standard Double Pitch Roller chain

Material

40Mn steel,304 stainless steel, 316 stainless steel and 201 stainless steel.

Types

Standard chains and special chains, such as A or B series chains, roller chains, driving chains, conveyor chains, hoisting chains, agricultural chains, sprockets, gears, wheels and so on.

Series

 A series(12.7-50.8mm pitches),B series (9.525-50.8mm pitches)and the heavy series.

Short pitch precision roller chain

Simplex Roller Chains&Bushing Chains: 

04C-1,06C-1,085-1,08A-1,10A-1,12A-1,16A-1,20A-1,24A-1,28A-1,32A-1,36A-1,40A-1,48A-1
Duplex Roller Chains&Bushing Chains:

04C-2,06C-2,085-2,08A-2,10A-2,12A-2,16A-2,20A-2,24A-2,28A-2,32A-2,36A-2,40A-2,48A-2
Triplex Roller Chains&Bushing Chains:

04C-3,06C-2,085-3,08A-3,10A-3,12A-3,16A-3,20A-3,24A-3,28A-3,32A-3,36A-3,40A-3,48A-3

Chain link type

Standard links (without attachment) and non-standard links (with attachment).

 

A1: One-side,one hole cranked attachments.
A2: One-side,two holes cranked attachments.
K1: Both-side,one hole cranked attachments.
K2: Both-side,two hole cranked attachments.
D1: One-side,an extended pin on every outer link.
D3: One-side,two extended pin on every outer link.

Our Products Advantage

1. Every step from production order to the packing process has a strict quality inspection.
2. We have standard roller chain with 1.5 CZPT (DIN. ANSI.); Non-standard roller chain (customized acording to customer drawings).
3. Export products with high quality and low price.
4.We have a good service before and after-sale.
1.Fast delivery: Standard products can be delivered in as fast as 20 days
2.Good service: timely reply, prompt quotation, responsible for the product
3.High cost performance: can maintain price stability for a certain period of time, bringing greater profits to customers
4.Good quality: production and testing have corresponding supervision to ensure product quality and get high praise from customers
5.OEM service: products can be customized according to drawings and requirements
We are responsible for the ordered products. We are very confident in the products we produce. Of course, if you have any problems after receiving the goods, you can contact us directly. We will confirm and negotiate in time to solve your difficulties.
| | |
| --- | --- |
| Standard or Nonstandard: | Standard |
| Application: | Textile Machinery, Garment Machinery, Conveyer Equipment, Packaging Machinery, Food Machinery, Mining Equipment, Agricultural Machinery |
| Surface Treatment: | Oil Blooming |
| Structure: | Roller Chain |
| Material: | Alloy |
| Type: | Double Pitch Chain |
Samples:

US$ 35/kg

1 kg(Min.Order)

|
Request Sample
Customization:

Available

|

Customized Request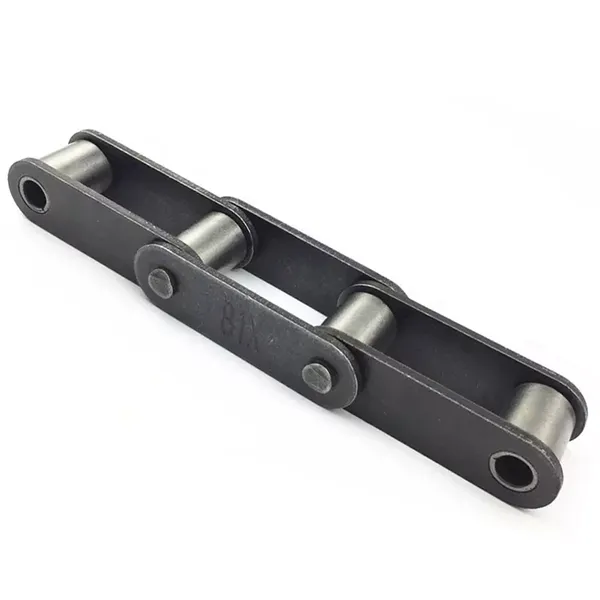 How does a conveyor chain handle accumulation and indexing applications?
In conveyor systems, accumulation and indexing refer to specific methods of controlling the movement and positioning of items along the conveyor line. A conveyor chain can effectively handle these applications through the use of specialized components and control mechanisms. Here's a detailed explanation:
Accumulation:
– Accumulation refers to the process of temporarily storing or buffering items on the conveyor to control the flow of materials. Conveyor chains designed for accumulation applications typically incorporate features such as low-friction chain guides, accumulating zones, and sensors.
– In an accumulation conveyor chain system, the chain is divided into discrete zones where items can accumulate. As products enter a zone, the chain slows down or stops, allowing items to accumulate without colliding with each other. Sensors or photoelectric cells detect the presence of items in each zone and provide signals to control the chain movement.
– The accumulation zones in the conveyor chain system can be controlled in different ways, such as through the use of motorized rollers, pneumatic devices, or electronic sensors. This ensures a controlled and synchronized flow of items along the conveyor line.
Indexing:
– Indexing refers to the precise positioning of items at specific intervals along the conveyor line. This is commonly used in applications where accurate positioning or sequencing is required, such as assembly or packaging processes.
– Conveyor chains designed for indexing applications incorporate specialized index pins, stops, or precision indexing drives. These components work together to accurately position items at predetermined locations along the conveyor.
– The indexing mechanism of a conveyor chain system can be driven by mechanical cams, servo motors, or programmable logic controllers (PLCs). The indexing motion can be synchronized with other processes or machines downstream to ensure precise assembly or packaging operations.
– By combining accumulation and indexing capabilities, a conveyor chain system can handle a wide range of applications, including sorting, buffering, sequencing, and automated assembly. It provides control over the flow and positioning of items, allowing for efficient material handling and optimized production processes.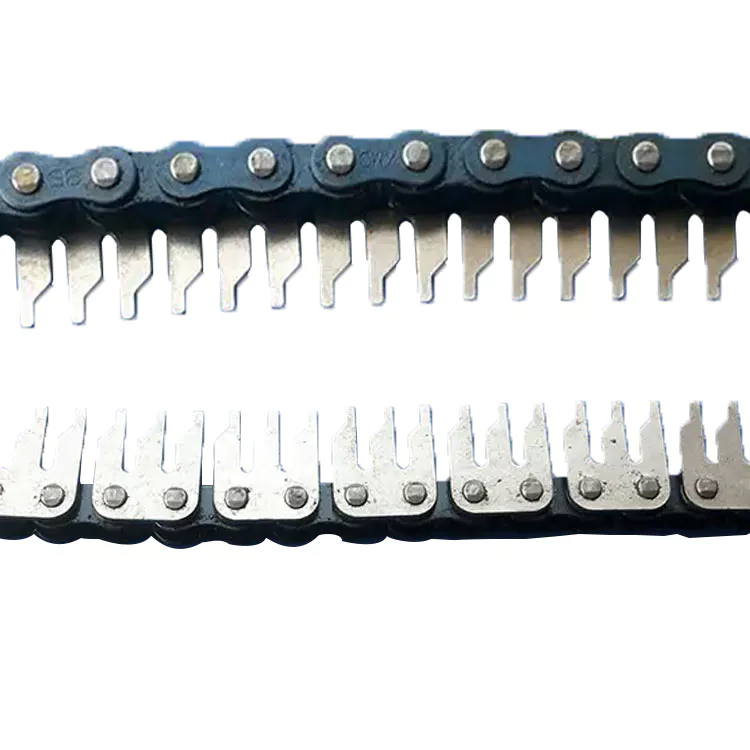 Can a conveyor chain be used in food processing applications?
Yes, a conveyor chain can be used in food processing applications. Conveyor chains play a crucial role in the efficient and hygienic handling of food products throughout the production process. Here are some key points to consider:
1. Food-Grade Materials: Conveyor chains used in food processing applications are typically made from food-grade materials such as stainless steel or plastic. These materials are corrosion-resistant, easy to clean, and comply with food safety regulations.
2. Hygiene Considerations: Food processing environments require high standards of hygiene. Conveyor chains designed for food applications incorporate features such as smooth surfaces, open link designs, and easy disassembly for thorough cleaning. They may also have specialized coatings or treatments to prevent bacterial growth.
3. Sanitary Design: Conveyor chains for food processing applications are designed with minimal crevices or joints to prevent food particles from getting trapped. They may have self-draining capabilities to remove excess fluids or debris.
4. Product Integrity: Conveyor chains in food processing applications ensure gentle handling of delicate food products to avoid damage or contamination. They can be equipped with accessories like cleats, side guards, or modular belt systems to securely hold and transport items of various shapes and sizes.
5. High Temperature and Washdown Capabilities: Some food processing applications require conveyor chains to withstand high temperatures during cooking, baking, or sterilization processes. Specialized chains with heat-resistant materials or coatings are available. Additionally, conveyor chains used in food processing should be capable of withstanding frequent washdowns and cleaning with water or cleaning agents.
6. Compliance with Standards: Conveyor chains used in food processing applications must comply with industry-specific standards such as FDA (Food and Drug Administration) regulations, HACCP (Hazard Analysis Critical Control Point) guidelines, and other food safety certifications.
When selecting a conveyor chain for food processing applications, it is important to consider the specific requirements of the production line, including the type of food being handled, the operating conditions, and the necessary sanitary standards. Proper maintenance and regular cleaning protocols should also be implemented to ensure food safety and product integrity.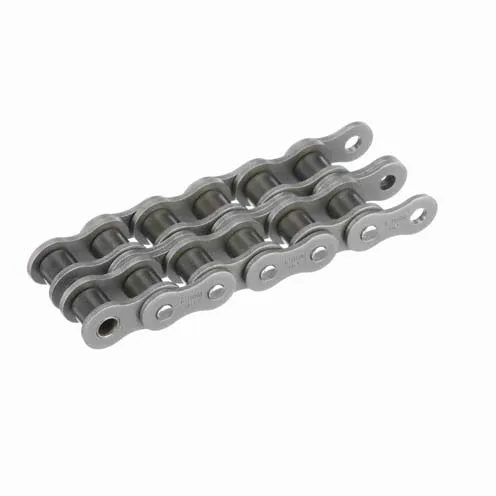 What safety precautions should be followed when working with conveyor chains?
Working with conveyor chains involves potential hazards, and it is essential to follow proper safety precautions to ensure the well-being of workers and prevent accidents. Here are some important safety measures to consider:
Proper Training: Ensure that workers operating or maintaining conveyor chains receive proper training on safe practices, including chain handling, maintenance procedures, and emergency protocols.
Personal Protective Equipment (PPE): Workers should wear appropriate PPE, such as safety glasses, gloves, and steel-toed shoes, to protect themselves from potential hazards, including flying debris, pinch points, or entanglement.
Lockout/Tagout: Before performing any maintenance or repair tasks on conveyor chains, follow lockout/tagout procedures to isolate and de-energize the equipment to prevent accidental startup or release of stored energy.
Guarding: Ensure that conveyor chains are adequately guarded to prevent access to moving parts, such as pinch points and rotating sprockets. Guards should be securely in place and not interfere with the chain's operation.
Housekeeping: Keep the work area clean and free of debris, tools, or other objects that could cause tripping hazards or interfere with the operation of the conveyor chain.
Regular Inspections: Regularly inspect the conveyor chains for any signs of wear, damage, or misalignment. Address any issues promptly to prevent potential safety hazards.
Safe Loading and Unloading: When loading or unloading materials onto the conveyor, follow safe lifting techniques and ensure the load is evenly distributed to prevent overloading or imbalance.
Emergency Stop Devices: Install and clearly mark emergency stop devices along the conveyor system to enable immediate shutdown in case of an emergency or hazardous situation.
Clear Communication: Establish clear communication protocols, including signals or signs, to ensure effective communication between workers operating different sections of the conveyor system.
These safety precautions are general guidelines, and it's important to consult and adhere to specific safety regulations and guidelines provided by the equipment manufacturer and relevant safety authorities. Regular safety training, awareness, and a proactive safety culture are crucial in maintaining a safe working environment when working with conveyor chains.



editor by CX 2023-08-03