Product Description
Drop Forged Chains "Y" Serial
FEATURES
• It consists of forged steel links, which can be equipped with various plastic or steel scrapers. The connection pin between these links is in a circlip version.
• Special heat treated alloy steel,drop forged and precision machined, with case hardened.
• High strength, strong load-carrying capability.
• Extremely hard exterior surface and superior wear
resistance.
TECHNICAL SPECIFICATIONS
Model
P
(mm)
H
(mm)
B
(mm)
D
(mm)
b
(mm)
T
(mm)
Breaking Load
(Min.)
Material
P100
100
30
33
14
15.5
13
140KN
40Cr
P125-B
125
35
34
17
17
8
150KN
40Cr
P142
142
50.8
43
25
19
12.2
180KN
20CrMnTi
300KN
40Cr
P142H
142
50
62
25
29
15
280KN
20CrMnTi
460KN
40Cr
P160
160
40
48
20
22.5
20
240KN
40Cr
P200
200
64
50
32
23
15
390KN
40Cr
P200-E
200
45
42
20
20
12.2
200KN
40Cr
Note: Customised sizes and material are available CZPT request
Roller Conveyor Chains
FEATURES
• It consists of a combination of inner and outer links. 
• The bush/pin connections between the links are available in a circlip, split pin, or a riveted version. 
• The steel scrapers can be either bent or welded. 
• UHMWPE lights are suggested to attach to the scrapers for more eficiency and high wear resistance.
GLF Type
TECHNICAL SPECIFICATIONS
Model
Pitch
(P)
Scraper
Distance
(P1)
Inner
Width
(b)
Plate
Width
(B)
T1
T2
Roller
Dia.
(D)
Bush
Dia.
(D2)
Pin Dia
(D1)
Chain
Width
(L)
E1
E2
Number
of Holes
(n)
d
Breaking
Load in
KN
(Min.)
GLF66.675
(6)D×182
66.675
266.7
26
30
6
6
22.23
 
12.7
182
90
150
4
9
130
GLF66.675
(6)D×215
66.675
266.7
26
30
6
6
22.23
 
12.7
215
95
195
4
9
130
GLF66.675
(6)D×295
66.675
266.7
26
30
6
6
22.23
 
12.7
295
95
195
4
9
130
GLF100
(6)D×170
100
200
38
40
6
6
36
21.6
16
170
115
 
2
9
220
GLF100
(6)D×225
100
200
38
40
6
6
36
21.6
16
225
104
194
4
9
220
GLF100
(6)D×294
100
200
38
40
6
6
36
21.6
16
294
115
245
4
9
220
GLF100
(5)×225
100
200
28
30
5
5
22.23
 
14.27
225
95
195
4
9
90
GLF125
(8)D×285
125
500
50
50
8
8
32
 
19.9
285
155
255
4
9
220
GLF125
(6)×235
125
250
32.5
40
6
6
28.58
20
14.27
235
95
195
4
9
170
GLF160
(6)×290
160
320
27
45
6
6
32
20
14.27
290
193
 
2
9
193
GLR Type
TECHNICAL SPECIFICATIONS
Model
Pitch
(P)
Scraper
Distance
(P1)
Inner
Width
(b)
Plate
Width
(B)
T1
T2
Roller
Dia.
(D)
Bush
Dia.
(D2)
Pin Dia
(D1)
Chain
Width
(L)
E1
E2
Number
of Holes
(n)
d
Breaking
Load in
KN
(Min.)
GLR66.675
66.675
266.7
27.5
30
6
6
24
 
13
130
102
32
4
9
90
GLR100
100
200
38
40
6
6
36
21.6
16
130
102
32
4
9
220
 
Other products of our conveyor parts:

 
Could you please send me inquiry for details?
| | |
| --- | --- |
| Material: | Steel |
| Structure: | Roller Chain |
| Surface Treatment: | Oxygenation |
| Transport Package: | Pallet |
| Specification: | GLF, GLR |
| Trademark: | Yutung |
Samples:

US$ 10/Piece

1 Piece(Min.Order)

|
Request Sample
Customization:

Available

|

Customized Request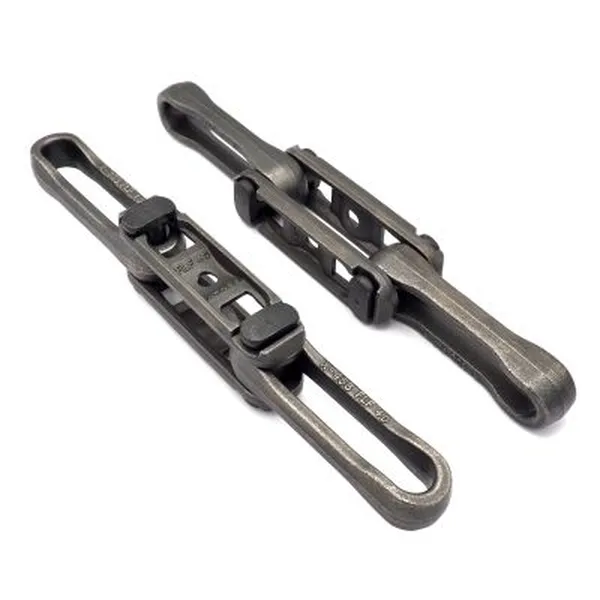 What are the advantages of using a slat conveyor chain?
A slat conveyor chain offers several advantages in material handling and conveying applications. Here are some key benefits:
1. Heavy-Duty Capacity:
– Slat conveyor chains are designed to handle heavy loads and can withstand rigorous industrial environments.
– They are commonly used in applications that require transporting large, bulky, or irregularly shaped items, such as automotive parts, pallets, or containers.
2. Flexibility:
– Slat chains can be customized and configured to suit specific conveying requirements. They are available in various widths, lengths, and chain configurations to accommodate different product sizes and shapes.
– The modular design of slat chains allows for easy modification or expansion of the conveyor system as production needs change.
3. Versatility:
– Slat chains can be used in both horizontal and inclined conveying applications. They are capable of moving products up or down slopes, making them suitable for production lines with varying elevations.
– These chains can be integrated with curves, turns, merges, and diverters to create complex conveying systems that optimize space utilization and product flow.
4. Durability and Longevity:
– Slat chains are typically made from robust materials such as steel or plastic, providing excellent durability and resistance to wear and tear.
– They can withstand demanding operating conditions, including high temperatures, corrosive environments, or exposure to chemicals.
5. Low Maintenance:
– Slat conveyor chains require minimal maintenance compared to other types of conveyor systems. They have fewer moving parts and typically operate with reduced friction.
– With proper lubrication and periodic inspection, slat chains can maintain their performance and reliability over an extended service life.
6. Easy Cleaning:
– The open design of slat chains allows for easy cleaning and debris removal. They are suitable for applications that require frequent sanitation or hygiene maintenance, such as in food processing or pharmaceutical industries.
Overall, using a slat conveyor chain offers the advantages of high load capacity, flexibility in design, versatility in conveying applications, durability, low maintenance requirements, and ease of cleaning. These features make slat chains an effective solution for various industries requiring efficient and reliable material handling.
How does a conveyor chain contribute to overall production efficiency?
A conveyor chain plays a crucial role in enhancing overall production efficiency in various industries. Here are the ways in which it contributes to efficiency:
1. Continuous Material Flow: A conveyor chain enables continuous and uninterrupted material flow from one point to another. It eliminates the need for manual handling or transportation of goods, reducing downtime and delays in production processes.
2. Increased Throughput: By automating material handling, a conveyor chain enables faster and more efficient movement of goods. It allows for higher throughput and production rates, maximizing the utilization of resources and reducing cycle times.
3. Improved Productivity: With a conveyor chain, employees can focus on value-added tasks rather than manual material handling. This leads to improved productivity as workers can concentrate on more skilled and critical operations.
4. Efficient Resource Allocation: A well-designed conveyor chain system optimizes the utilization of space, allowing for efficient layout and organization of production areas. It helps in streamlining workflow and minimizing wastage of resources such as floor space, manpower, and equipment.
5. Quality Control: Conveyor chains can be integrated with inspection stations or automated processes to ensure quality control at various stages of production. This helps in detecting and rectifying any defects or inconsistencies, reducing the chances of faulty products reaching the market.
6. Reduced Material Handling Costs: By eliminating or minimizing manual material handling, a conveyor chain reduces labor costs associated with transportation, lifting, and carrying of goods. It also minimizes the risk of injuries or accidents related to manual handling.
7. Flexibility and Adaptability: Conveyor chains can be customized to suit specific production requirements. They can be designed to accommodate different types of products, handle various load capacities, and adapt to changes in production demands. This flexibility allows for seamless integration with existing production systems and easy scalability.
8. Safety and Ergonomics: Conveyor chains incorporate safety features such as guards, emergency stop buttons, and interlocks to ensure worker safety. They also promote ergonomic practices by reducing physical strain on workers and minimizing the risk of musculoskeletal injuries.
Overall, a well-designed and properly maintained conveyor chain system enhances production efficiency by optimizing material flow, increasing throughput, improving productivity, reducing costs, ensuring quality control, and prioritizing worker safety.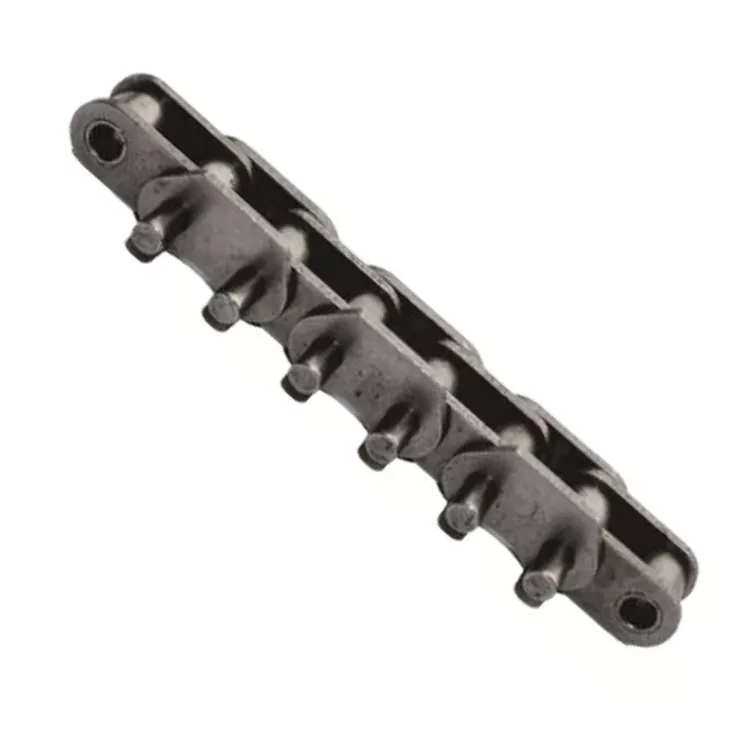 Can a conveyor chain be repaired or does it need to be replaced entirely?
In general, conveyor chains can be repaired in certain cases, but there are instances where replacement is necessary. Here are some considerations:
Minor Damage: If the conveyor chain has minor damage, such as a broken link or a damaged pin, it may be possible to repair it by replacing the damaged components.
Significant Wear: If the chain has significant wear, such as elongation or excessive corrosion, it may be more cost-effective to replace the entire chain rather than attempting repairs.
Critical Components: Some conveyor chains have critical components that cannot be repaired, such as welded attachments or specialized features. In such cases, replacement is usually the only option.
Manufacturer's Recommendations: It's important to consult the manufacturer's recommendations regarding chain repairability. They can provide specific guidelines on when repair is feasible and when replacement is necessary.
Before deciding whether to repair or replace a conveyor chain, it's recommended to assess the extent of damage, consider the overall condition of the chain, and evaluate the cost-effectiveness of each option. It's always advisable to consult with a qualified professional or the chain manufacturer to determine the best course of action.



editor by CX 2023-08-10