Product Description
PC200-7 Crane Sprocket 20y-27-11582 Excavator Drive Sprocket chain
| | |
| --- | --- |
| Material | 40SiMnTi |
| Finish | Smooth |
| Colors | Black or yellow |
| Technique | Forging casting |
| Surface Hardness | HRC52-58 |
| Warranty time | 2000 hour |
| Certification | ISO9001-9002 |
| FOB Price | FOB HangZhou USD 200-2000/Piece |
| MOQ | 2 piece |
| Delivery Time | Within 30 days after contract established |
For ktsu
 
 
 
 
 
 
 
PC20-7
PC30
PC30-3
PC30-5
PC30-6
PC40-7
PC45
PC45-2
PC55
PC120-6
PC130
PC130-7
PC200
PC200-1
PC200-3
PC200-5
PC200-6
PC200-7
PC200-8
PC210-6
PC220-1
PC220-3
PC220-6
PC220-7
PC220-8
PC270-7
PC202B
PC220LC-6
PC220LC-8
PC240
PC300
PC300-3
PC300-5
PC300-6
PC300-7
PC300-7K
PC300LC-7
PC350-6/7
PC400
PC400-3
PC400-5
PC400-6
PC400lc-7
PC450-6
PC450-7
PC600
PC650
PC750
PC800
PC1100
PC1250
PC2000
 
 
D20 
D31
D50
D60
D61
D61PX
D65A
D65P
D64P-12
D80
D85
D155
D275
D355
 
 
 
 
For HITACHI
 
 
 
 
 
 
 
EX40-1
EX40-2
EX55
EX60
EX60-2
EX60-3
EX60-5
EX70
EX75
EX100
EX110
EX120
EX120-1
EX120-2
EX120-3
EX120-5
EX130-1
EX200-1
EX200-2
EX200-3
EX200-5
EX220-3
EX220-5
EX270
EX300
EX300-1
EX300-2
EX300-3
EX300-5
EX300A
EX330
EX370
EX400-1
EX400-2
EX400-3
EX400-5
EX450
ZAX30
ZAX55
ZAX200
ZAX200-2
ZAX330
ZAX450-1
ZAX450-3
ZAX450-5
ZX110
ZX120
ZX200
ZX200
ZX200-1
ZX200-3
ZX200-5g
ZX200LC-3
ZX210
ZX210-3
ZX210-3
ZX210-5
ZX225
ZX240
ZX250
ZX270
ZX30
ZX330
ZX330
ZX350
ZX330C
ZX450
ZX50
 
 
 
 
For CATERPILLER
 
 
 
 
 
 
 
E200B
E200-5
E320D
E215
E320DL
E324D
E324DL
E329DL
E300L
E320S
E320
E320DL
E240
E120-1
E311
E312B
E320BL
E345
E324
E140
E300B
E330C
E120
E70
E322C
E322B
E325
E325L
E330
E450
CAT225
CAT312B
CAT315
CAT320
CAT320C
CAT320BL
CAT330
CAT322
CAT245
CAT325
CAT320L
CAT973 
 
 
 
D3
D3C
D4
D4D
D4H
D5M
D5H
D6
D6D
D6M
D6R
D6T
D7
D7H
D7R
D8
D8N
D8R
D9R
D9N
D9G
D10
 
 
 
 
 
For Sumitomo
 
 
 
 
 
 
 
SH120 
SH120-3
SH200
SH210-5
SH200
SH220-3
SH220-5/7
SH290-3
SH350-5/7
SH220
SH280
SH290-7
SH260
SH300
SH300-3
SH300-5
SH350
SH60
SH430
 
 
 
 
 
 
 
 
For KOBELCO
 
 
 
 
 
 
 
SK120-6
SK120-5
SK210-8
SK210LC-8
SK220
SK220-1
SK220-3
SK220-5/6
SK200 
SK200
SK200 
SK200-3
SK200-6
SK200-8
SK200-5/6
SK60
SK290
SK100
SK230
SK250
SK250-8
SK260LC-8
SK300
SK300-2
SK300-4
SK310
SK320
SK330-8
SK330
SK350LC-8
SK235SR
SK450
SK480
SK30-6
 
 
For DAEWOO
 
 
 
 
 
 
 
DH200
DH220-3
DH220
DH220S
DH280-2
DH280-3
DH55
DH258
DH130
DH370
DH80
DH500
DH450
/DH225
 
 
 
 
For HYUNDAI
 
 
 
 
 
 
 
R60-5
R60-7
R60-7
R80-7
R200
R200-3
R210
R210
R210-9 
R210LC
R210LC-7
R225
R225-3
R225-7
R250 
R250-7
R290
R290LC
R290LC-7
R320
R360
R954
 
 
 
 
 
For KATO
 
 
 
 
 
 
 
HD512
HD1430
HD 512III
HD 820III
HD820R
HD1430III
HD700VII
HD 1250VII
HD250SE
HD400SE
HD550SE
HD1880
 
 
 
 
 
 
For DOOSAN
 
 
 
 
 
 
 
DX225 
DX225LCA
DX258
DX300
DX300LCA
DX420
DX430
 
 
For VOLVO
 
 
 
 
 
 
 
EC160C
EC160D
EC180B
EC180C
EC180D
EC210
EC210
EC210B
EC240B
EC290
EC290B
EC240
EC55
EC360
EC360B
EC380D
EC460
EC460B
EC460C
EC700
EC140
EC140B
EC160B
 
 
 
Shipping Cost:

Estimated freight per unit.





To be negotiated
| | |
| --- | --- |
| After-sales Service: | Online Service |
| Warranty: | 12 Months |
| Type: | Undercarriage Parts |
Customization:

Available

|

Customized Request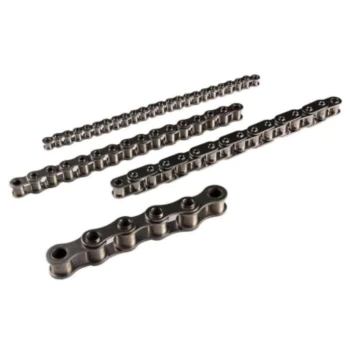 Can a drive chain be used in a renewable energy or solar power application?
Yes, a drive chain can be used in certain renewable energy or solar power applications where reliable and efficient power transmission is required. Here is a detailed explanation:
In renewable energy and solar power systems, various components need to be precisely controlled and aligned to harness and transmit energy efficiently. Drive chains offer several advantages in these applications:
Precision Power Transmission: Drive chains provide accurate and reliable power transmission, ensuring the precise movement and synchronization of components in renewable energy systems. They can be used to transmit power from the source, such as solar panels or wind turbines, to generators, converters, or other equipment involved in energy conversion and distribution.
Adaptability to Variable Loads: Renewable energy systems often experience variable loads and conditions. Drive chains can accommodate these changes and adjust to the varying power requirements, allowing for efficient power transmission and distribution. They offer flexibility in handling different load profiles and variations, ensuring optimal performance and energy conversion.
Robustness and Durability: Drive chains are known for their robustness and durability, making them suitable for renewable energy applications that may involve challenging operating conditions, such as outdoor environments or remote locations. They can withstand environmental factors, temperature variations, and exposure to dust, moisture, or corrosive elements, ensuring reliable operation and long service life.
Efficient Power Conversion: Drive chains contribute to efficient power conversion and transmission in renewable energy systems. They minimize energy losses through their high power transmission efficiency, enabling maximum utilization of the generated energy. This results in optimized energy conversion and enhanced overall system efficiency.
Versatility in System Design: Drive chains offer flexibility in system design and configuration, allowing for the precise alignment and interconnection of components in renewable energy systems. They can be integrated into various types of machinery and equipment, such as solar tracking systems, wind turbines, or hydroelectric generators, enabling customized solutions for different renewable energy applications.
Maintenance and Serviceability: Drive chains are relatively easy to maintain and service compared to some alternative power transmission systems. Regular inspection, lubrication, and tension adjustment can ensure optimal performance and extend the service life of the chain in renewable energy applications. This contributes to reduced downtime and enhanced system availability.
It is important to consider the specific requirements and constraints of the renewable energy or solar power application when selecting a drive chain. Factors such as load capacity, speed capabilities, environmental conditions, and maintenance considerations should be taken into account.
By utilizing drive chains in renewable energy and solar power applications, operators can benefit from precise power transmission, adaptability to variable loads, robustness, efficient power conversion, versatile system design, and ease of maintenance, contributing to reliable and efficient utilization of renewable energy sources.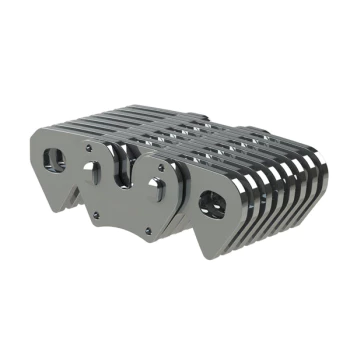 What are the benefits of using a corrosion-resistant drive chain?
Using a corrosion-resistant drive chain offers several benefits compared to standard chains when operating in corrosive environments. Here is a detailed explanation:
Corrosion-resistant drive chains are specifically designed and constructed to withstand the effects of corrosion, which can occur due to exposure to moisture, chemicals, saltwater, or other corrosive substances. The benefits of using such chains include:
Enhanced Durability: Corrosion-resistant drive chains are made from materials that have superior corrosion resistance, such as stainless steel or special coatings. These materials protect the chain from rust, oxidation, and other forms of corrosion, ensuring its durability and extending its service life.
Reliable Performance: In corrosive environments, standard chains can deteriorate quickly, leading to reduced performance, chain elongation, or even chain failure. Corrosion-resistant chains, on the other hand, maintain their structural integrity, allowing for reliable power transmission and consistent performance even in harsh conditions.
Reduced Downtime and Maintenance Costs: Using corrosion-resistant chains can reduce downtime and maintenance costs associated with chain replacement or repair. These chains are less prone to corrosion-related damage, reducing the frequency of maintenance tasks and the need for premature chain replacements.
Improved Safety: Corrosion-resistant chains provide increased safety in environments where standard chains might fail due to corrosion-related weaknesses. The risk of chain failure, sudden breakage, or accidents caused by chain-related issues is minimized, ensuring safer operation for both personnel and equipment.
Compatibility with Corrosive Environments: Corrosion-resistant chains are designed to withstand exposure to various corrosive substances and environments, including marine, chemical, or industrial settings. They are engineered to resist the damaging effects of moisture, chemicals, acids, or saltwater, making them suitable for applications where standard chains would be quickly compromised.
Application Versatility: Corrosion-resistant chains can be utilized in a wide range of industries and applications that require resistance to corrosion. These can include marine equipment, food processing machinery, chemical processing plants, wastewater treatment facilities, or outdoor equipment exposed to the elements.
It is important to note that while corrosion-resistant chains offer superior protection against corrosion, regular inspection and maintenance are still necessary to ensure optimal performance. Routine cleaning, lubrication, and monitoring for any signs of corrosion or damage are essential for maximizing the lifespan and performance of the chain.
By using corrosion-resistant drive chains, operators can benefit from increased durability, reliable performance, reduced maintenance costs, improved safety, and the ability to operate in corrosive environments without compromising the chain's integrity.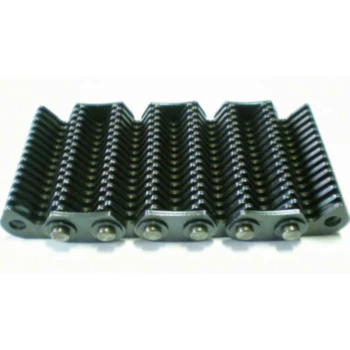 What are the signs of a worn-out drive chain?
A worn-out drive chain can significantly impact the performance and safety of a machine or system. It is important to recognize the signs of a worn-out drive chain to address the issue promptly. Here are some common signs to look out for:
1. Chain Elongation: Excessive chain elongation is a clear indication of wear. You can measure chain elongation by comparing the current chain length to its original length. If the chain has elongated beyond the manufacturer's recommended limit, it is a sign of wear and requires replacement.
2. Visible Signs of Wear: Inspect the drive chain for visible signs of wear, such as worn-out or distorted chain links, rollers, or plates. Look for signs of corrosion, pitting, or discoloration, indicating the chain's deterioration.
3. Chain Slack: Excessive chain slack, where the chain visibly sags or has too much play, is an indicator of wear. A properly tensioned chain should have a minimal amount of slack, and excessive slack suggests elongation and a need for replacement.
4. Noise and Vibration: A worn-out drive chain often produces increased noise and vibration during operation. If you notice unusual rattling, clanking, or grinding sounds, or if you feel excessive vibrations, it may be a sign of a worn chain.
5. Poor Power Transmission: A worn-out chain may struggle to efficiently transfer power, resulting in reduced performance and power loss. You may experience a decrease in acceleration, sluggishness, or difficulty maintaining consistent speed.
6. Poor Gear Shifting: In applications where the drive chain is connected to gears, a worn chain can cause difficulties in gear shifting, resulting in jerky or unreliable gear changes.
7. Increased Chain Tension: As a chain wears, it may require frequent tension adjustments to maintain proper alignment and operation. If you find yourself frequently adjusting the chain tension, it may be a sign of wear.
If you observe any of these signs, it is recommended to replace the worn-out drive chain promptly to avoid further damage and ensure the safe and efficient operation of the machinery.



editor by CX 2023-08-18