Product Description
Simplex stainless 304 Roller Chain (08B-1, 24B-1)
 
The most commonly used chain is roller chain or as it is also known transmission chain. These are the simplest chain drives, Used mainly for transmitting power. Can be supplied from 3mm pitch up to 4″ pitch in either mild steel or stainless steel.
We own the sophisticated equipment and the advanced technology, such as: 
1. CAD Designer
2. Wire Cutting Machine
3. Chain Running In Machine
4. Conveyor Furance
5. Ball Drift
6. Shot Peened Parts
7. Design Of Link Plate Waist
Pack Detail:
Company Detail:
TAI is 1 of a professional exporter with exporting POWER TRANSMISSION PARTS: Roller chains,conveyor chain,stainless steel chains, agricultural chains, steel detachable chains, special chains, sprockets, s. S. Sprockets, HRC couplings, pulleys, bushes etc. All these products have been supplied regularly to World Wide for over 15 years. 
Welcome contact for more detail.
Ava Gao(Sales)
Tran-Auto Industries Co.,Limited
716 Gold River Center,NO.88 Shishan Rd.,
New District,HangZhou,P.R.China.P.C.:215011
Tel: -512-6583
tran-auto
 
DIN/ISO
Chain No.
Pitch
Roller
Diameter
 
Width Between
Inner Plates
 
Pin Diameter
 
Pin Length
 
Inner Plate depth
 
Plate thick
ness
 
Ultimate
Tensile
Strength
 
Average
Tensile
Strength
Weight Per Meter
 
Mm
mm
mm
mm
mm
mm
mm
mm
kN/LB
kN
Kg/m
04B-1
6.000
4.00
2.80
1.85
6.80
7.80
5.00
0.60
3.0/682
3.2
0.11
05B-1
8.000
5.00
3.00
2.31
8.20
8.90
7.10
0.80
5.0/1136
5.9
0.20
*06B-1
9.525
6.35
5.72
3.28
13.15
14.10
8.20
1.30
9.0/2045
10.4
0.41
08B-1
12.700
8.51
7.75
4.45
16.70
18.20
11.80
1.60
18.0/4091
19.40
0.69
10B-1
15.875
10.16
9.65
5.09
19.50
20.90
14.70
1.70
22.4/5091
27.50
0.93
12B-1
19.050
12.07
11.68
5.72
22.50
24.2
16.00
1.85
29.0/6591
32.20
1.15
16B-1
25.400
15.88
17.02
8.28
36.10
37.4
21.00
4.15/3.1
60.0/13636
72.80
2.71
20B-1
31.750
19.05
19.56
10.19
41.30
45.0
26.40
4.5/3.5
95.0/21591
106.7
3.70
24B-1
38.100
25.40
25.40
14.63
53.40
57.80
33.20
6.0/4.8
160.0/36364
178.0
7.10
28B-1
44.450
27.94
30.99
15.90
65.10
69.50
36.70
7.5/6.0
200.0/45455
222.0
8.50
32B-1
50.800
29.21
30.99
17.81
66.00
71.0
42.00
7.0/6.0
250.0/56818
277.5
10.25
40B-1
63.50
39.37
38.10
22.89
82.20
89.2
52.96
8.5/8.0
355.0/80682
394.0
16.35
48B-1
76.20
48.26
45.72
29.24
99.10
107.0
63.80
12.0/10.0
560.0/127272
621.6
25.00
56B-1
88.90
53.98
53.34
34.32
114.60
123.0
77.80
13.5/12.0
850.0/193180
940.0
35.78
*Bushing chain: d1 in the table indicate the external diameter of bushing
 
| | |
| --- | --- |
| Usage: | Transmission Chain |
| Material: | Stainless steel |
| Surface Treatment: | Polishing |
| Feature: | Heat Resistant |
| Chain Size: | 1/2"*3/32" |
| Structure: | Roller Chain |
Customization:

Available

|

Customized Request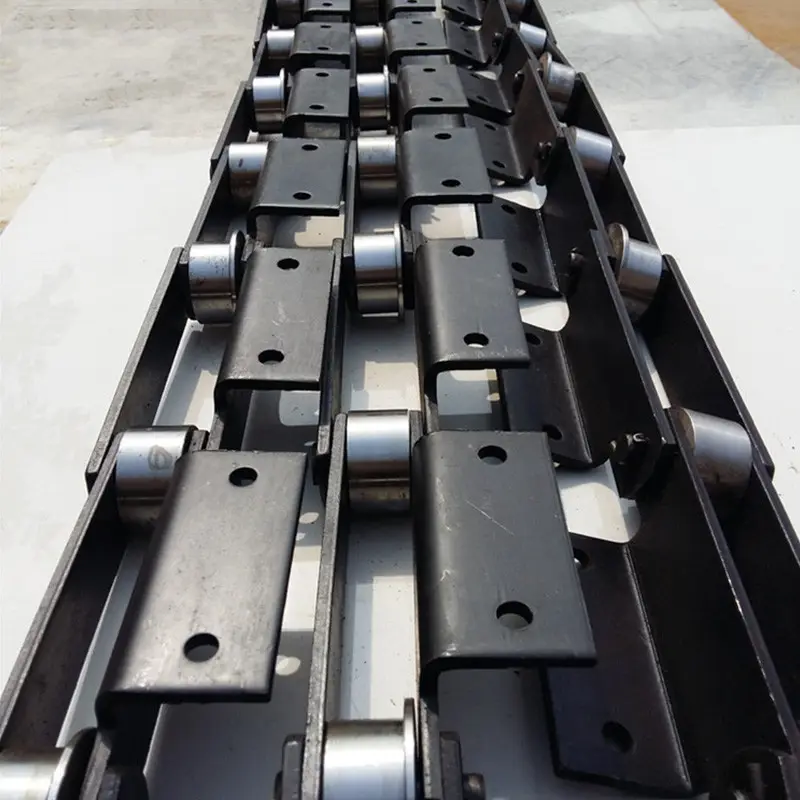 What are the advantages of using a silent transmission chain?
A silent transmission chain, also known as a silent chain or an inverted-tooth chain, offers several advantages in various applications. Here's a detailed explanation:
1. Noise Reduction: One of the primary advantages of a silent transmission chain is its ability to minimize noise during operation. The unique design of the chain features inverted teeth that engage with matching sprockets without making direct contact. This design significantly reduces the noise generated by the chain's movement, resulting in a quieter operation compared to traditional roller chains.
2. Smooth and Vibration-Free Operation: Silent transmission chains provide a smooth and vibration-free power transmission. The absence of metal-to-metal contact between the chain and sprockets reduces friction and vibration, resulting in smoother operation. This characteristic is particularly beneficial in applications where noise and vibrations need to be minimized, such as in precision machinery, office equipment, or medical devices.
3. High Efficiency: Silent transmission chains offer high power transmission efficiency. The precision-engineered tooth profile ensures optimal contact with the sprockets, resulting in efficient energy transfer. The reduced friction and vibration also contribute to improved efficiency by minimizing energy losses during power transmission.
4. Increased Service Life: Silent chains are designed for durability and longevity. The use of high-quality materials, precise manufacturing processes, and robust construction enhance their resistance to wear, elongation, and fatigue. Silent chains can withstand high loads and exhibit excellent resistance to corrosion and lubrication degradation, resulting in extended service life and reduced maintenance requirements.
5. Wide Range of Applications: Silent transmission chains find applications in various industries and systems. They are commonly used in industrial machinery, printing presses, packaging equipment, textile machines, automotive timing systems, and other applications that require low noise, precise power transmission, and long service life.
6. Design Flexibility: Silent chains offer design flexibility due to their ability to operate in a compact space. Their compact design allows for more flexibility in equipment layout and design, making them suitable for applications with space constraints.
7. Reliability and Safety: Silent transmission chains are engineered for reliability and safety. Their robust construction and ability to handle high loads ensure secure power transmission, minimizing the risk of chain failure or system breakdown. Additionally, their low-noise operation and reduced vibration contribute to a safer working environment.
When considering the use of a silent transmission chain, it is important to evaluate the specific requirements of the application, including load capacity, speed, space limitations, and noise considerations. Consulting with chain manufacturers or industry experts can provide valuable insights and assistance in selecting the appropriate silent chain for optimal performance and efficiency.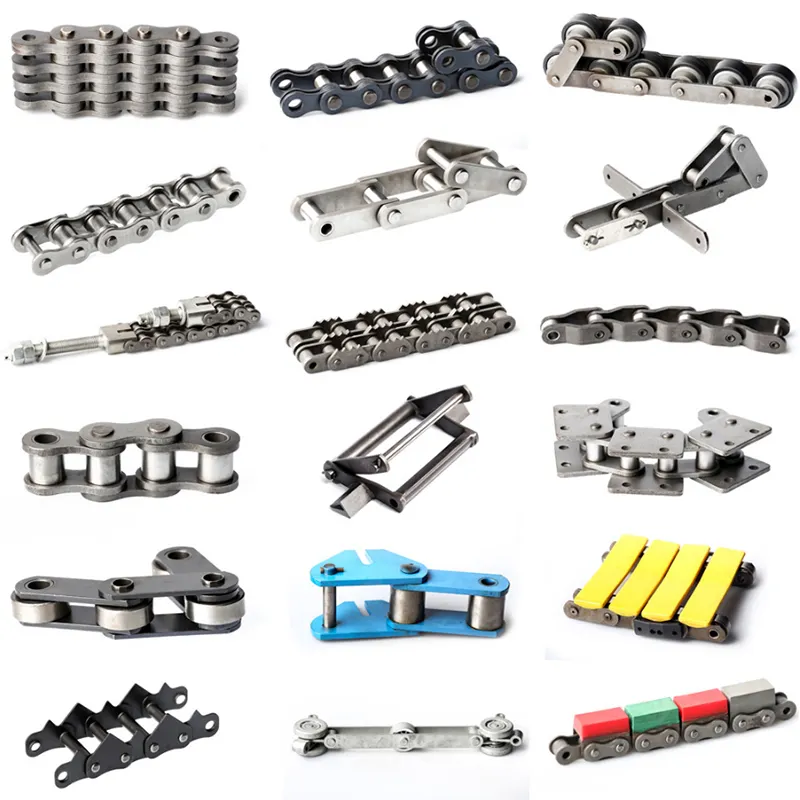 What are the advantages of using a self-cleaning transmission chain?
Using a self-cleaning transmission chain offers several benefits, which are outlined in detail below:
1. Improved Performance: Self-cleaning transmission chains are designed to effectively remove debris, dirt, and contaminants that can accumulate on the chain during operation. By keeping the chain clean, it helps maintain optimal performance and prevents the build-up of debris that can affect the chain's movement, engagement with sprockets, and overall efficiency.
2. Reduced Maintenance: With a self-cleaning transmission chain, the need for frequent manual cleaning and maintenance is significantly reduced. The chain's design includes features such as special-shaped plates, curved sidebars, or additional components that actively prevent debris from sticking to the chain or entering its critical areas. This reduces the time and effort required for cleaning and maintenance tasks, resulting in cost savings and improved productivity.
3. Extended Chain Life: The self-cleaning mechanism of these chains helps to prolong their lifespan. By effectively removing debris and preventing the build-up of contaminants, the chain experiences less wear and tear. This leads to reduced chain elongation, minimized internal friction, and decreased risk of premature failure. As a result, the chain's overall durability and longevity are improved.
4. Enhanced Reliability: Self-cleaning transmission chains contribute to enhanced reliability and consistent performance. The absence of debris build-up ensures smooth engagement with sprockets, preventing chain slippage, jamming, or sudden disruptions in power transmission. The reliable operation of the chain translates to improved uptime, reduced downtime, and increased overall system efficiency.
5. Suitable for Challenging Environments: Industries and applications that operate in environments with high levels of dust, dirt, or other particulate matter benefit greatly from self-cleaning transmission chains. They are commonly used in industries such as agriculture, construction, mining, and material handling, where exposure to challenging environments is prevalent. The self-cleaning feature helps to maintain chain performance and reliability even in these harsh conditions.
It's important to note that while self-cleaning transmission chains offer significant advantages, regular inspection and maintenance are still necessary to ensure their optimal performance. Monitoring the chain's condition, applying appropriate lubrication, and addressing any signs of wear or damage are essential for maximizing the benefits of self-cleaning transmission chains and ensuring their long-term reliability.
What are the common industries or applications that use transmission chains?
Transmission chains are widely used in various industries and applications where the efficient transfer of power and motion is required. Here are some common industries and applications that rely on transmission chains:
Automotive: Transmission chains are used in automobile engines and drivetrains to transfer power from the engine to the wheels.
Agriculture: Transmission chains are utilized in agricultural machinery such as tractors, combines, and harvesters for power transmission in various applications like conveyor systems and agricultural equipment.
Industrial Manufacturing: Transmission chains are found in a wide range of industrial machinery, including conveyors, material handling systems, packaging equipment, printing presses, and machine tools.
Mining and Construction: Transmission chains are used in heavy machinery, such as excavators, bulldozers, and mining equipment, to transmit power for digging, lifting, and other operations.
Food and Beverage: Transmission chains are employed in food processing equipment, bottling plants, and conveyor systems to move products along production lines.
Textile: Transmission chains are utilized in textile manufacturing machinery, such as looms and spinning machines, for power transmission during the weaving and spinning processes.
Energy and Utilities: Transmission chains are used in power generation plants, wind turbines, and other renewable energy systems for transmitting power from the source to the electrical grid.
Material Handling: Transmission chains are commonly used in material handling equipment, including forklifts, palletizers, and automated storage systems, to transport and handle goods in warehouses and distribution centers.
Marine: Transmission chains find applications in marine vessels, such as ship propulsion systems, anchor handling equipment, and winches for cargo handling.
These are just a few examples, and transmission chains are also utilized in various other industries and applications where reliable power transmission is essential. The specific design and characteristics of the transmission chains may vary based on the requirements of each industry and application.



editor by CX 2023-07-24