Product Description
Product Description
Escalator Double Row Drive Chain 16A-2/16b-2 Escalator Handrail Belt Drive Chain
| | | | |
| --- | --- | --- | --- |
| Product Name | Brand | Type | Applicable |
| Escalator drive chain | General | 16A-2/16B-2 | General |
Company Profile
Certifications
FAQ
1. How to order ?
Please contact our sales manager, you will get better price and delivery, with warranty and after-sales services. 
2. What about the quality of your products ?
Only quality and original parts supplied by FUJI, each piece spare parts and lift from us  have reliable warranty . 
3. How about the price of products ?
Based on our bulk stock of products, we quoted with factory and reasonable price in the market. 
4. When you deliver products ?
There are over 8000 series of products available in stock, and work with DHL, FEDEX, TNT, airline , sea delivery with discount freight, will ensure you receive the goods within shortest time. 
5. What about payment way ?
Payment we accept TT,  Pay pal,online-payment,L/C,DP, Western Union.
6. Does the product or package support customization?
Support product or package OEM.
7. What is the product warranty period? How to carry out after-sales service of the product?
All of our products are guaranteed for 1 year; we have an after-sales technical team of more than 10 people, serving you 24 hours a day.
| | |
| --- | --- |
| After-sales Service: | Online Technical Support |
| Warranty: | 1 Year |
| Suitable for: | Elevator |
| Product Name: | Escalator Belt Drive Chain |
| Brand: | General |
| MOQ: | 1 |
Customization:

Available

|

Customized Request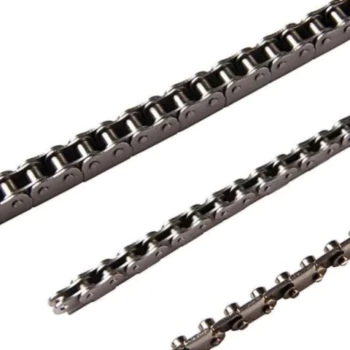 What are the advantages of using a lightweight drive chain?
Using a lightweight drive chain offers several advantages in certain applications where weight reduction is a critical factor. Here is a detailed explanation:
Lightweight drive chains are specifically designed to provide reliable power transmission while minimizing the overall weight of the system. The advantages of using such chains include:
Improved Energy Efficiency: Lightweight drive chains reduce the overall mass and inertia of the power transmission system. This results in improved energy efficiency, as less power is required to accelerate and decelerate the lighter components. Reduced energy consumption contributes to cost savings and promotes sustainability.
Enhanced System Performance: By reducing the weight of the drive chain, the overall system performance can be improved. The reduced mass allows for quicker response times, faster acceleration, and improved dynamic performance of the machinery or equipment. This can be particularly beneficial in applications that require rapid changes in speed or direction.
Increased Speed Capability: Lightweight drive chains enable higher speeds due to reduced inertia and decreased centrifugal forces. This allows for faster operation, quicker cycle times, and improved productivity in applications that demand high-speed power transmission.
Reduced Wear and Friction: The lighter weight of the drive chain can contribute to reduced wear and friction between the chain and the sprockets. With less weight bearing on the chain and sprocket teeth, there is reduced contact stress and improved lubrication distribution. This leads to lower frictional losses, decreased wear, and extended chain life.
Easier Installation and Maintenance: Lightweight drive chains are easier to handle and install compared to heavier chains, reducing the physical strain on operators during installation or maintenance tasks. The reduced weight simplifies handling and improves overall ergonomics, making it more convenient for operators to work with the chain.
Application Versatility: Lightweight drive chains can be used in a wide range of industries and applications where weight reduction is advantageous. They are commonly employed in sectors such as automotive, robotics, aerospace, and portable equipment, where lightweight components contribute to improved performance and fuel efficiency.
It is important to consider the specific requirements and constraints of the application when selecting a lightweight drive chain. Factors such as load capacity, speed capabilities, environmental conditions, and material selection should be taken into account.
While lightweight drive chains offer numerous benefits, it is crucial to ensure that their reduced weight does not compromise their load-carrying capacity or durability. Regular maintenance, including proper tensioning, lubrication, and periodic inspection, is essential to maintain the optimal performance and reliability of lightweight drive chains.
By utilizing lightweight drive chains in appropriate applications, operators can benefit from improved energy efficiency, enhanced system performance, increased speed capabilities, reduced wear and friction, easier installation and maintenance, and overall weight reduction, contributing to improved efficiency and performance of the power transmission system.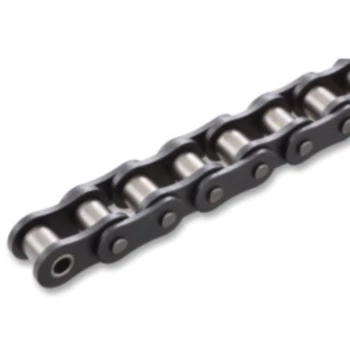 Can a drive chain be used in a marine or offshore environment?
Yes, drive chains can be used in marine or offshore environments with proper considerations and appropriate chain selection. Here is a detailed explanation:
In marine or offshore applications, where machinery and equipment operate in challenging conditions such as saltwater exposure, humidity, and corrosive environments, the use of drive chains requires specific measures:
Corrosion Resistance: When selecting a drive chain for marine or offshore environments, it is crucial to choose a chain made from corrosion-resistant materials such as stainless steel or coated chains. These materials can withstand the corrosive effects of saltwater and other harsh elements.
Sealing and Protection: Additional sealing and protection measures can be employed to safeguard the chain from water ingress and contamination. This may include the use of protective covers, seals, or enclosures to prevent direct exposure to seawater and other corrosive substances.
Lubrication: Regular and appropriate lubrication is vital to protect the chain against corrosion and ensure smooth operation. Lubricants specifically designed for marine or offshore applications should be used to withstand the demanding conditions and provide effective protection.
Maintenance: A comprehensive maintenance program is essential for maximizing the lifespan of a drive chain in marine or offshore environments. Regular inspection, cleaning, lubrication, and monitoring of the chain's condition are necessary to identify and address any signs of corrosion, wear, or damage.
Environmental Considerations: Factors such as saltwater spray, wave impact, vibration, and temperature variations should be taken into account when designing and operating the machinery and equipment. Adequate shielding, proper drainage, and suitable ventilation can help mitigate the potential detrimental effects on the drive chain.
By considering these factors and implementing appropriate measures, drive chains can be successfully utilized in marine or offshore environments, providing reliable power transmission in applications such as ship propulsion systems, offshore drilling rigs, marine winches, and more.



editor by CX 2023-11-07