Product Description
Product Description
Product Parameters
Standard
GB, ISO, ANSI, DIN
Type
Standard A and standard B precision roller chain, conveyor chain;
special chain with accessories, welding chain, leaf chain and sprocket
ANSI chain No.
40,50,60,80,100,120,140,160,180,200,240;
C40,C50,C60,C80,C100,C120,C140,C160;
DIN/ISO chain No.
08A,10A,12A,16A,20A,24A,28A,32A,36A,40A,48A;
C08A,C10A,C12A,C16A,C20A,C24A,C28A,C32A;
Application
Food processing, pharmaceutical and chemical industries, electronics, machinery;
household appliances, automotive manufacturing, metallurgy, sewage treatment
Series
A series,B series
More Products
Advantage
Certifications
DETAILS ABOUT CHINAMFG CHAIN 
Exhibition
Workshop
Application

Packaging Details
Shipping
FAQ
      
1. Are you manufacturer or trade Company?
We are a factory founded in 1997 with trade team for international service.
2. What terms of payment you usually use?
T/T 30% deposit and 70% against document, Western Union, L/C at sight
3. What is your lead time for your goods?
Normally 35 days after confirmed order. 30 days could be available in low season for some items (during May to July), and 45 days during new year and hot season ( Jan to March).
4. Samples
For customers who need sample confirmation before ordering, please bear in mind that the following policy will be adopted:
1) All samples are free of charge with the maximum value not exceeding USD 100.
2) The courier cost for the first-time sample sending will be charged for by the consignee. We will send the samples with freight to be collected. So please inform your account with FedEx, UPS, DHL or TNT so that we can proceed promptly.
3) The first-time courier cost will be totally deducted from the contract value of the trial cooperation.
| | |
| --- | --- |
| Usage: | Transmission Chain, Conveyor Chain |
| Material: | Stainless steel |
| Surface Treatment: | Polishing |
| Feature: | Heat Resistant |
| Chain Size: | 1/2"*3/32" |
| Structure: | Roller Chain |
Samples:

US$ 0/Piece

1 Piece(Min.Order)

|
Request Sample
Customization:

Available

|

Customized Request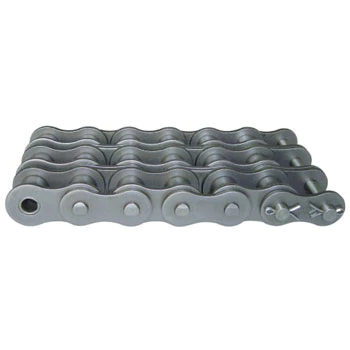 Can a drive chain be used in a chemical or petrochemical processing application?
Yes, a drive chain can be used in chemical or petrochemical processing applications where reliable power transmission is required. Here is a detailed explanation:
Chemical and petrochemical processing industries involve the handling, mixing, and processing of various substances, including corrosive chemicals, solvents, and hydrocarbons. Drive chains offer several advantages in these applications:
Corrosion Resistance: Drive chains can be selected or specially designed with materials that offer corrosion resistance. Stainless steel, high-performance alloys, or coatings can be applied to the chain components to withstand the corrosive effects of chemicals and maintain chain integrity and performance.
High Load Capacity: Chemical and petrochemical processing often involves heavy-duty operations and the movement of large loads. Drive chains are designed to handle high load capacities, providing reliable power transmission and withstanding the demanding conditions of these applications.
Precise Control: Drive chains provide precise control over the movement of equipment and processes in chemical and petrochemical plants. The interlocking design of the chain and sprockets allows for accurate positioning, speed control, and synchronization of various components and machinery.
Wide Operating Temperature Range: Drive chains can be engineered to operate in a wide temperature range, accommodating the temperature variations encountered in chemical and petrochemical processing. High-temperature materials or lubricants can be used to ensure optimal performance under extreme conditions.
Resistance to Harsh Environments: Chemical and petrochemical processing environments may involve exposure to extreme temperatures, humidity, dust, and other harsh conditions. Drive chains are designed to withstand these environments, with features such as seals, specialized coatings, or materials that offer protection against contaminants and maintain reliable operation.
Long Service Life: Drive chains, when properly selected, installed, and maintained, can provide long service life in chemical and petrochemical processing applications. Regular inspection, lubrication, and tension adjustment help optimize chain performance and minimize downtime due to chain failure.
When selecting a drive chain for chemical or petrochemical processing applications, factors such as corrosion resistance, load capacity, temperature range, speed requirements, and compatibility with industry regulations should be considered.
It is important to implement proper maintenance practices, including regular inspection, lubrication, and tension adjustment, to ensure the optimal performance and longevity of the drive chain in chemical and petrochemical processing applications.
By utilizing drive chains in chemical and petrochemical processing, operators can benefit from corrosion resistance, high load capacity, precise control, wide temperature range, resistance to harsh environments, long service life, and reliable power transmission, contributing to efficient and safe processing operations.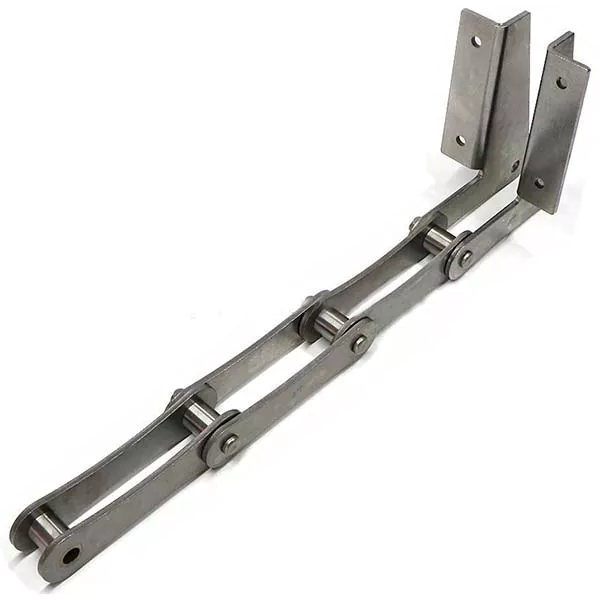 Can a drive chain be used in a food processing or packaging application?
Yes, a drive chain can be used in food processing and packaging applications, provided that certain considerations are taken into account. Here is a detailed explanation:
In food processing and packaging applications, where hygiene, cleanliness, and compliance with food safety regulations are crucial, drive chains offer several benefits:
Reliable Power Transmission: Drive chains provide efficient and reliable power transmission, making them suitable for various applications in food processing and packaging machinery, such as conveyors, mixers, filling machines, and labeling equipment.
Corrosion Resistance: To ensure compliance with hygiene standards, it is essential to select drive chains made from materials that are resistant to corrosion, such as stainless steel or food-grade plastic. These materials can withstand frequent cleaning, exposure to water, and the corrosive effects of certain food products or cleaning agents.
Easy Cleaning and Maintenance: Drive chains designed for food applications often feature smooth surfaces and easy-to-clean designs, minimizing the risk of food buildup or contamination. They can be cleaned using standard cleaning methods and equipment, allowing for efficient sanitation and reducing the chances of foodborne contamination.
Compliance with Food Safety Regulations: When using drive chains in food processing or packaging applications, it is essential to ensure compliance with food safety regulations, such as FDA (Food and Drug Administration) guidelines or other relevant standards specific to the industry or region. This includes selecting materials that are approved for food contact and implementing proper cleaning and maintenance procedures.
Product Handling: Drive chains can handle various types of food products, including dry goods, packaged items, or even delicate food items, depending on the specific chain design and application requirements. Specialized chains with attachments or gripper systems can be used to securely transport and manipulate food products during processing or packaging.
It is important to work with reputable chain manufacturers or suppliers who offer drive chains specifically designed for food processing and packaging applications. They can provide guidance on chain selection, material compatibility, compliance with food safety regulations, and maintenance practices.
By considering these factors and implementing proper chain selection, installation, cleaning, and maintenance procedures, drive chains can be safely and effectively utilized in food processing and packaging applications while ensuring product quality, hygiene, and compliance with food safety standards.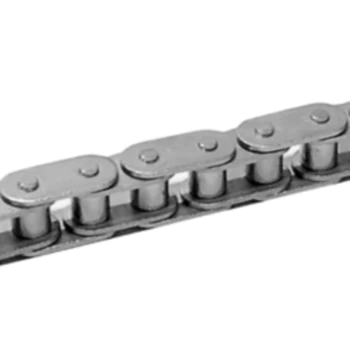 What are the common materials used in drive chains?
Drive chains are manufactured using different materials, chosen based on their specific properties and suitability for the intended application. Here are some common materials used in the production of drive chains:
Steel: Steel is the most widely used material for drive chains. It offers high strength, durability, and wear resistance. Different grades of steel, such as carbon steel, alloy steel, and stainless steel, are utilized based on the specific requirements of the application.
Plastic: In certain applications where corrosion resistance, low noise, or weight reduction are priorities, plastic chains are used. Plastic chains are lightweight, resistant to chemicals, and provide smooth operation.
Nickel-Plated: Nickel-plated chains offer enhanced corrosion resistance compared to standard steel chains. They are commonly used in applications exposed to moisture, humidity, or corrosive environments.
Coated: Coated chains are regular steel chains with an additional coating applied to the surface for improved protection against corrosion and wear. Common coatings include zinc plating, black oxide coating, or specialized coatings like Teflon®.
Heat-Treated: Heat-treated chains undergo a specialized heat treatment process to enhance their hardness, strength, and durability. Heat-treated chains are commonly used in heavy-duty applications that require high tensile strength and resistance to wear and fatigue.
Alloy: Alloy chains are made from steel that is alloyed with other elements like chromium, molybdenum, or nickel. These alloying elements enhance the chain's strength, toughness, and resistance to corrosion and wear.
The choice of material depends on factors such as the application requirements, operating conditions, load capacity, environmental factors, and budget constraints. It is essential to select a drive chain material that can withstand the specific demands of the application to ensure optimal performance and longevity.



editor by CX 2023-11-03