Product Description
Short Pitch Precision Roller Chains
A. Our Services:
1. Any of your kind inquiry about chain would be replied within 24 hours.
2. Well-trained and experienced sales staffs will reply all your concerns in fluent English.
3. OEM services are available with us, our professional designer would make your private idea into being.
4. Protection of your sales area, ideas of design and all your private information.
5. Delivery by air mail or ship for your orders.
6. With years of manufacture and promotion experience in global market, brings you profit and great success!
B.Product Description:
| | |
| --- | --- |
| Style: | Simplex Roller Chains, Duplex Roller Chains, Triplex Roller Chains, Multiple Roller Chains |
| Chain No.: (ANSI/ISO) | 03C, 04C, 06C, 08A, 10A, 12A-~ 48A |
| Chain No.: ( ANSI ) | 15, 25,35,41,40,50 ~ 240 |
| Pitch:  | 4.7625 mm ~ 76.200 mm |
C.Company show & Product Process
D. Packaging & Certificate
| | |
| --- | --- |
| Packaging Details: | Chain+Plastic Bag+Neutral Box+Wooden case+Big Carton+Steel Pallets |
| Delivery Detail: | five weeks |
E. FAQ:
1. Are you manufacturer or trade Company?
We are a factory founded in 1991 with trade team for international service.
2. What terms of payment you usually use?
T/T 30% deposit and 70% against document, Western Union, L/C at sight
3. what is your lead time for your goods?
Normally 45 days after confirmed order. 30 days could be available in low season for some items (during May to July), and 65 days during new year and hot season ( Jan to March).
4. Do you attend any Show?
We attend Hannover show in Germany, NMW in Austrilia, Canton fair, PTC, in China and many other special furniture shows.
5. Do you have any instant chat ?
| | |
| --- | --- |
| Usage: | Conveyor Chain |
| Material: | Alloy/Carbon Steel |
| Surface Treatment: | Electroplating |
| Feature: | Heat Resistant |
| Chain Size: | 1/2"*11/128" |
| Structure: | Roller Chain |
Customization:

Available

|

Customized Request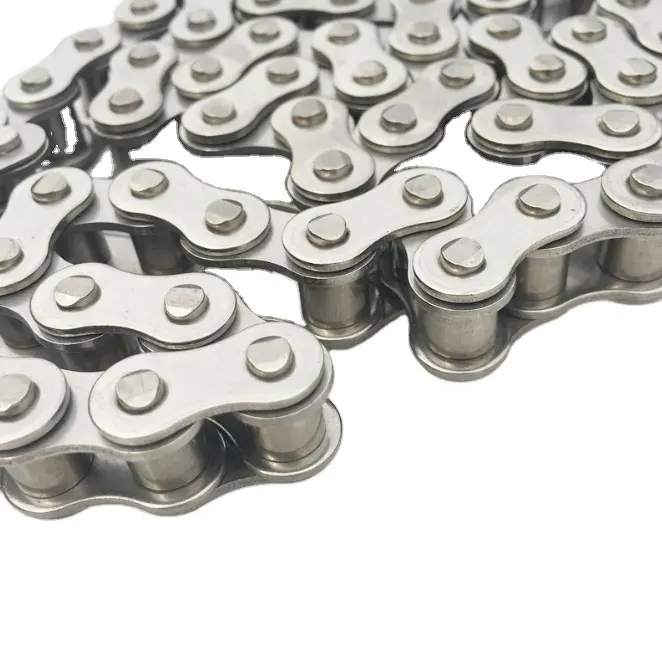 How does the choice of chain tensioner affect the performance of a transmission chain?
The choice of chain tensioner plays a critical role in ensuring the optimal performance of a transmission chain. Here's a detailed answer to the question:
1. Proper Chain Engagement: The chain tensioner helps maintain the correct tension in the transmission chain, ensuring proper engagement between the chain and the sprockets. This is essential for effective power transmission and smooth operation.
2. Chain Slack Control: A properly selected chain tensioner helps control chain slack, which is the amount of looseness in the chain. Excessive chain slack can lead to chain jumping, misalignment, and increased wear, while insufficient slack can cause excessive tension, leading to accelerated chain and sprocket wear.
3. Noise and Vibration Reduction: The use of an appropriate chain tensioner helps minimize noise and vibration in the transmission system. It helps dampen the impact forces and vibrations caused by the chain's motion, resulting in quieter operation and improved overall system performance.
4. Extended Chain Life: By maintaining the proper tension, the chain tensioner helps prevent premature wear and elongation of the transmission chain. This contributes to the chain's longevity, reducing the frequency of chain replacements and lowering maintenance costs.
5. Compensation for Wear and Stretch: As a transmission chain wears over time, it may experience elongation or stretch. The chain tensioner compensates for this elongation by adjusting the tension, ensuring the chain remains properly tensioned and engaged with the sprockets. This helps maintain consistent performance and prevents skipping or disengagement.
6. Adaptability to Variable Conditions: Some chain tensioners offer the ability to adjust the tension dynamically, accommodating variations in operating conditions such as temperature fluctuations or load changes. This flexibility ensures optimal chain performance and compensates for the effects of thermal expansion or contraction.
It's crucial to select a chain tensioner that is compatible with the specific transmission chain and application requirements. Consider factors such as chain size, tension adjustment range, environmental conditions, and load variations when choosing a chain tensioner. Regular inspection and maintenance of the tensioner are also essential to ensure its proper functioning and prolong the life of the transmission chain.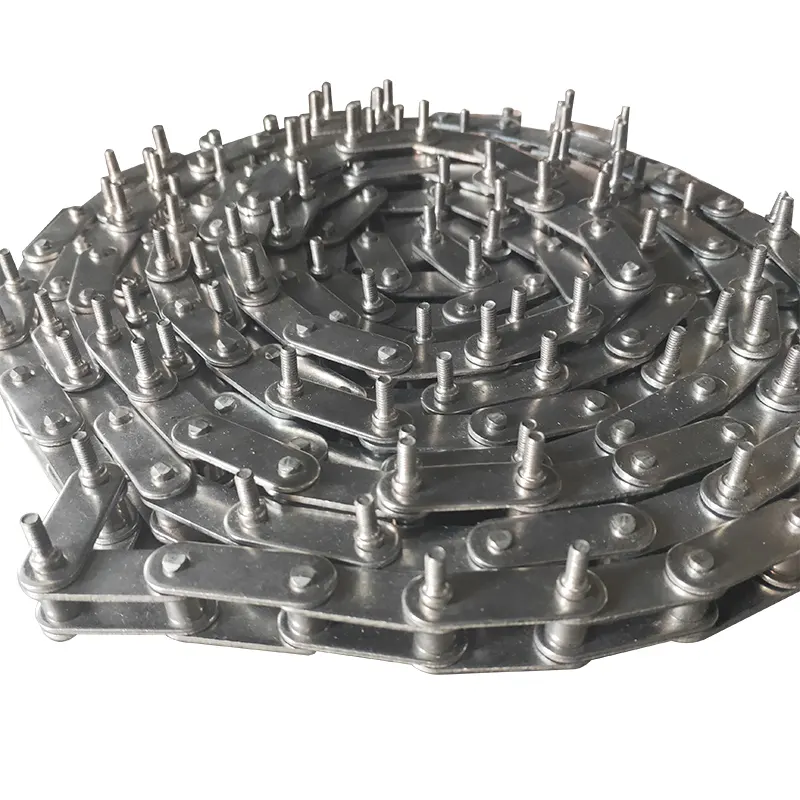 How does the choice of material impact the performance of a transmission chain?
The choice of material for a transmission chain plays a crucial role in its overall performance and durability. Here's a detailed answer to the question:
1. Strength and Load Capacity: Different materials have varying levels of strength and load-carrying capacities. High-strength materials like alloy steel or stainless steel offer superior strength and can withstand heavy loads. The choice of a material with adequate strength ensures that the transmission chain can handle the required load without premature wear or failure.
2. Wear Resistance: The material used in the construction of a transmission chain affects its wear resistance. Some materials, such as hardened steel or certain alloys, have excellent wear resistance properties, allowing the chain to withstand abrasive conditions and prolong its lifespan. Choosing a material with good wear resistance reduces the need for frequent chain replacements and maintenance.
3. Corrosion Resistance: In environments where corrosion is a concern, such as outdoor or corrosive industrial settings, selecting a material with high corrosion resistance is essential. Stainless steel or specially coated chains offer excellent resistance to rust and corrosion, ensuring reliable performance and longevity even in harsh conditions.
4. Fatigue Strength: The material's fatigue strength is crucial in applications where the transmission chain undergoes repeated cyclic loading. Fatigue failure can occur when a chain is subjected to continuous stress cycles, leading to cracks and eventual failure. Materials with high fatigue strength, such as specific alloys or heat-treated steels, are ideal for applications that require excellent fatigue resistance.
5. Temperature Resistance: The operating temperature of an application can impact the choice of material for a transmission chain. Some materials, such as heat-treated steels or specialized alloys, can withstand high-temperature environments without losing their mechanical properties. In contrast, certain plastics or polymers may be suitable for low-temperature applications. Choosing a material that can withstand the expected temperature range ensures optimal performance and prevents premature chain failure.
6. Cost Considerations: The choice of material also involves cost considerations. Some high-performance materials, such as stainless steel or specialized alloys, may have a higher initial cost compared to standard carbon steel chains. However, the increased performance, longevity, and reduced maintenance requirements provided by these materials may result in long-term cost savings.
It's important to carefully assess the specific requirements of the application, including load capacity, environmental conditions, and operating parameters, when choosing the material for a transmission chain. Consulting with industry experts or manufacturers can help determine the most suitable material for optimal chain performance and longevity.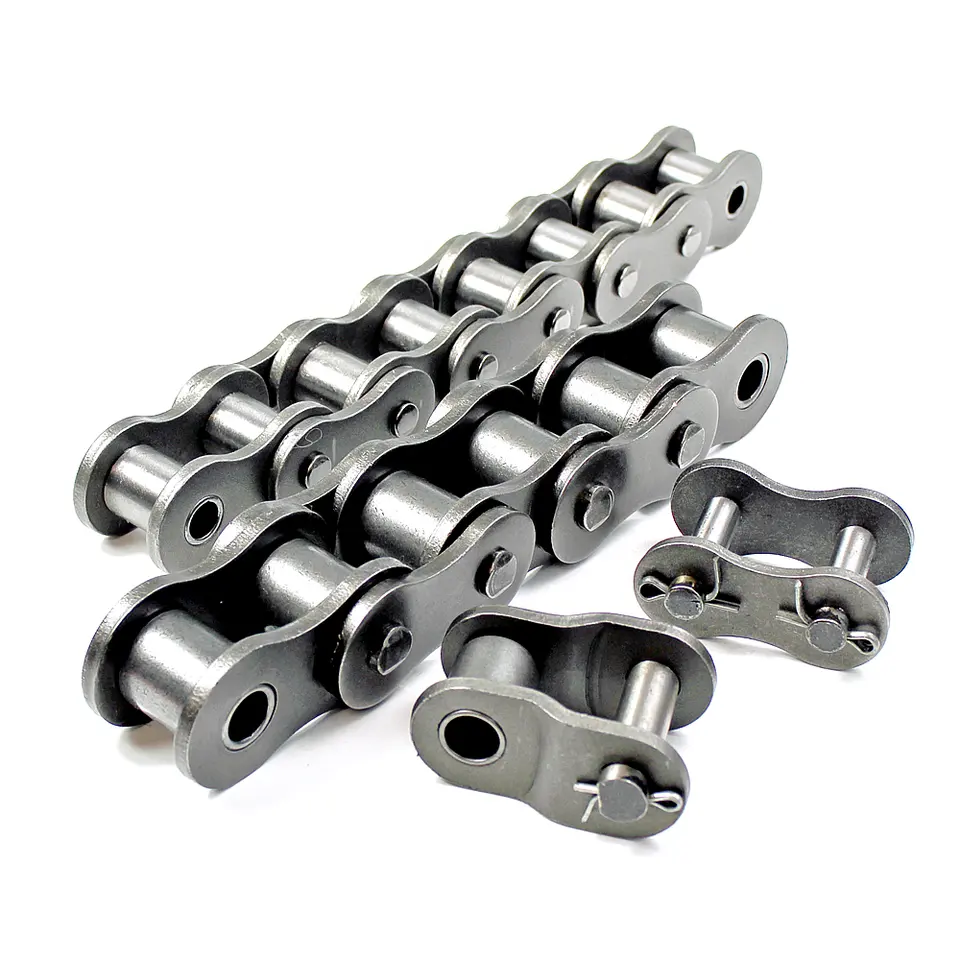 How does the load capacity of a transmission chain affect its performance?
The load capacity of a transmission chain plays a crucial role in determining its performance and reliability in various applications. Here's a detailed explanation:
The load capacity refers to the maximum amount of force or weight that a transmission chain can withstand without experiencing premature wear, deformation, or failure. It is typically specified by the manufacturer and depends on several factors, including the chain's design, material, construction, and operating conditions.
When the load on a transmission chain exceeds its capacity, several performance issues may arise:
Increased Wear: Excessive loads can cause accelerated wear on the chain's components, such as the pins, bushings, and rollers. This can lead to elongation, increased friction, and potential chain failure.
Reduced Efficiency: Overloading the chain can result in higher frictional losses, reducing the efficiency of power transmission. This can lead to energy wastage and decreased overall system performance.
Potential Chain Breakage: If the load exceeds the chain's capacity by a significant margin, it can cause the chain to break, resulting in machine downtime and potential safety hazards.
Increased Stress on Other Components: An overloaded transmission chain puts additional stress on other connected components, such as sprockets, bearings, and shafts. This can lead to premature wear and failure of these components as well.
Choosing a transmission chain with an appropriate load capacity is crucial for ensuring optimal performance and longevity. It is important to consider factors such as the expected load magnitude, variations in load during operation, and safety factors to select a chain that can safely and reliably handle the intended application.
Manufacturers provide load capacity charts and guidelines based on extensive testing and engineering analysis. It is advisable to consult these resources and work closely with the manufacturer or a qualified engineer to determine the most suitable transmission chain for your specific load requirements.



editor by CX 2023-08-08