Product Description
Grade 80 Alloy Steel Link Chain
* Alloy chain is designed and manufactured for superior performance and usage. 
* It can easy withstand more abuse, abrasion resistance, greater load lifting per size.
* It is lighter to handle for operations.
* Material alloy steel, heat treated and proof tested. 
* Safety factor 4: 1
* Tougher and more reliable for lifting application. 
* Minimize downtime operation and more durable surpassed safety record. 
* Finish: Available with self-coloured, black tempered, blue painted, and red painted. 
* Permanently embossed with desired marking for easy identification and traceability.  
* Standard: EN818-2.
Product
Alloy Steel Chain
Standard
EN818-2, GB/T20652, GB/T12718, GB/T20946, DIN5685. 
Size
3mm-72mm
Material
Alloy steel / carbon steel / stainless steel
Strength Grade
G43, G63, G70, G80, G80
Elongation of Chain Breaking
≥ 16%
Feature
It can withstand more abuse, abrasion resistance
Tougher and more reliable for lifting application
Do 2.4 times of WLL manufacturing validation strength tensile test. 
Safety factor: Min. 4: 1
Long service life
Finish
Self-colored, black tempered, electro galvanized, hot-dipped galvanized, painted.  
Application
Overhead lifting, dragging, chain slings, etc
Packing List
Plywood reel / plastic reel / plastic drum / gunny bag / iron drum+plywood pallet / iron pallet
Delivery Time
20~40 days
Chain Details
Drawing and Data
Chain dia. 
B (mm)
Inside length
T (mm)
Inside width
B1. (mm)
Outside width
B2. (mm)
Working load 
(t)
Breaking load 
(t)
Weight
(kg/m)
3
9
3.8
10.7
0.36
14.1
0.21
4
12
5
14.3
0.63
25.1
0.35
5
15
6.3
16.5
1
3.16
0.5
6
18
7.5
20
1.44
4.56
0.8
6.3
19.8
8.2
20.8
1.6
5
0.84
7
21
9
24.5
1.92
6
1.1
7.1
21.3
9
24.5
2
6.32
1.15
8
24
10
28
2.5
8
1.4
9
27
11
31.5
3.15
10.2
1.82
10
30
12.5
35
4
12.8
2.2
11
33
12.6
36.5
4.2
15.2
2.33
12
36
15
42
4.6
18.4
3.1
13
39
16.3
46
5.3
21.2
3.7
14
42
18
49
6.3
25.2
4.13
15
46
20
52
7
28
5.17
16
48
20
56
8
32
5.63
18
54
23
63
10
40
6.85
19
57
23.7
63.2
11.3
45.2
7.8
20
60
25
70
12.5
50
8.6
22
66
28
77
15.3
61.2
11
24
72
32
82
18
72
12.8
26
78
35
91
21.3
85.2
14.9
32
90
38
105
28.3
113.2
19.6
34
102
46.5
121.2
36.3
145.2
25.5
36
108
49.5
128.5
40.7
162.8
31
38
114
52
136
45.3
181.2
32
42
126
55.5
144.5
55.4
221.6
38.6
48
144
62.4
177.6
72.3
289.2
52
50
150
65
185
80
320
56
52
156
67.6
192.4
85
340
59
56
168
72.8
207.2
100
400
72.5
63
190
81.9
233.1
125
500
89
72
210
91
259
160
640
110
Application
Factory
Package
Related Products
Contact
| | |
| --- | --- |
| Usage: | Heavy Duty Lifting |
| Material: | Alloy |
| Surface Treatment: | Baking Paint |
| Feature: | Heat Resistant |
| Chain Size: | 3mm-72mm |
| Structure: | Welded Chain |
Samples:

US$ 2/Meter

1 Meter(Min.Order)

|
Request Sample
Customization:

Available

|

Customized Request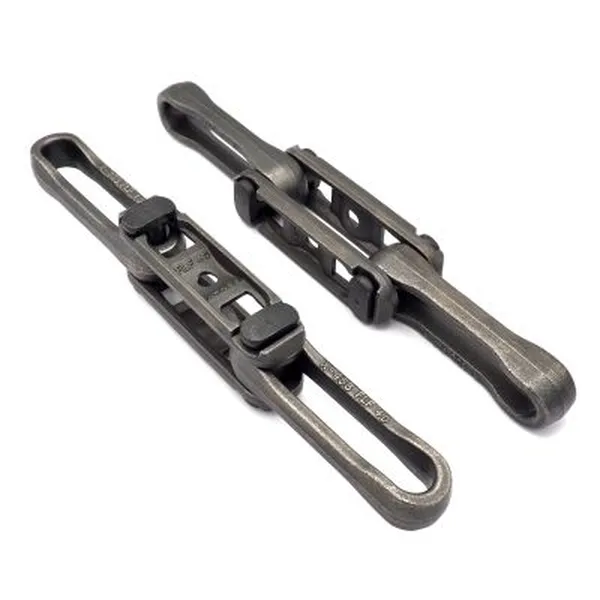 What are the advantages of using a slat conveyor chain?
A slat conveyor chain offers several advantages in material handling and conveying applications. Here are some key benefits:
1. Heavy-Duty Capacity:
– Slat conveyor chains are designed to handle heavy loads and can withstand rigorous industrial environments.
– They are commonly used in applications that require transporting large, bulky, or irregularly shaped items, such as automotive parts, pallets, or containers.
2. Flexibility:
– Slat chains can be customized and configured to suit specific conveying requirements. They are available in various widths, lengths, and chain configurations to accommodate different product sizes and shapes.
– The modular design of slat chains allows for easy modification or expansion of the conveyor system as production needs change.
3. Versatility:
– Slat chains can be used in both horizontal and inclined conveying applications. They are capable of moving products up or down slopes, making them suitable for production lines with varying elevations.
– These chains can be integrated with curves, turns, merges, and diverters to create complex conveying systems that optimize space utilization and product flow.
4. Durability and Longevity:
– Slat chains are typically made from robust materials such as steel or plastic, providing excellent durability and resistance to wear and tear.
– They can withstand demanding operating conditions, including high temperatures, corrosive environments, or exposure to chemicals.
5. Low Maintenance:
– Slat conveyor chains require minimal maintenance compared to other types of conveyor systems. They have fewer moving parts and typically operate with reduced friction.
– With proper lubrication and periodic inspection, slat chains can maintain their performance and reliability over an extended service life.
6. Easy Cleaning:
– The open design of slat chains allows for easy cleaning and debris removal. They are suitable for applications that require frequent sanitation or hygiene maintenance, such as in food processing or pharmaceutical industries.
Overall, using a slat conveyor chain offers the advantages of high load capacity, flexibility in design, versatility in conveying applications, durability, low maintenance requirements, and ease of cleaning. These features make slat chains an effective solution for various industries requiring efficient and reliable material handling.
Can a conveyor chain be used for heavy-duty applications?
Yes, a conveyor chain can be used for heavy-duty applications. Conveyor chains are specifically designed to handle heavy loads and provide reliable transportation in industrial environments.
Here are some factors that make conveyor chains suitable for heavy-duty applications:
1. Robust construction: Conveyor chains are typically made from high-strength materials such as alloy steel, stainless steel, or hardened carbon steel. These materials offer excellent durability and can withstand the heavy loads and harsh operating conditions commonly found in heavy-duty applications.
2. High load-carrying capacity: Conveyor chains are designed to handle significant loads, including heavy products, bulk materials, or large components. The chains are engineered with appropriate pitch, link dimensions, and strength to ensure reliable transport of heavy items.
3. Fatigue resistance: Conveyor chains are built to withstand repetitive stress and fatigue caused by continuous operation under heavy loads. They undergo specific heat treatments and surface hardening processes to enhance their resistance to wear, fatigue, and deformation.
4. Customization options: Conveyor chains can be customized to meet the specific requirements of heavy-duty applications. This includes selecting the appropriate chain type, pitch, attachment design, and surface coating for improved performance and longevity.
5. Compatibility with heavy-duty equipment: Conveyor chains are designed to integrate seamlessly with heavy-duty conveyor systems, including large motors, drives, and supporting structures. This ensures proper power transmission and smooth operation even in demanding environments.
6. Safety features: Conveyor chains for heavy-duty applications often incorporate safety features such as overload protection, emergency stops, and monitoring systems to ensure the safety of operators and prevent damage to the equipment.
It's important to consult with a qualified engineer or conveyor manufacturer to select the appropriate conveyor chain and system components for the specific heavy-duty application. They can provide guidance on chain selection, system design, and maintenance practices to ensure optimal performance and reliability.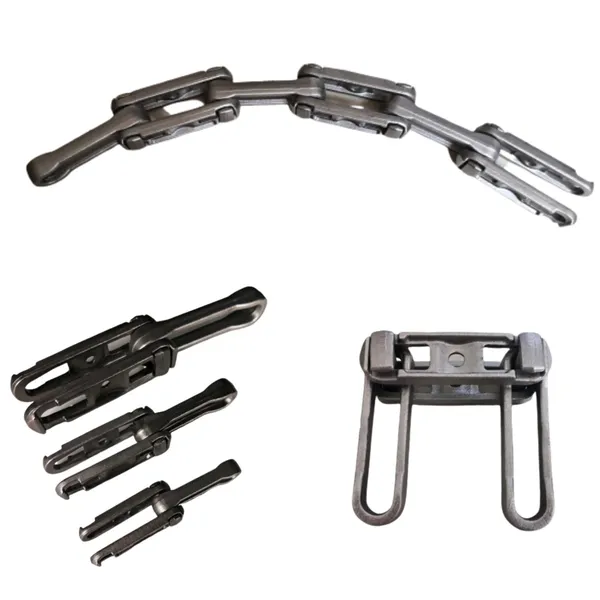 What are the signs of wear and tear in a conveyor chain?
Over time, a conveyor chain may experience wear and tear due to the demanding nature of material handling operations. Several signs indicate the need for maintenance or replacement of a conveyor chain. These signs of wear and tear include:
Chain Elongation: One of the common signs of wear in a conveyor chain is elongation. As the chain wears, the pitch between the chain links gradually increases, resulting in a longer chain length. Excessive elongation can cause improper engagement with sprockets, leading to slippage or chain derailment.
Chain Link Plate Wear: The link plates of a conveyor chain can experience wear on their surfaces. This wear is typically caused by friction against sprockets, guide rails, or other components. Signs of plate wear include thinning or deformation of the link plates, which can affect the overall strength and integrity of the chain.
Sprocket Tooth Wear: The teeth of the sprockets that engage with the conveyor chain can also exhibit signs of wear. Over time, the teeth may become worn down, rounded, or have irregular shapes. This wear can cause improper chain engagement, resulting in reduced efficiency and potential chain slipping or skipping.
Excessive Noise: Increased noise during the operation of the conveyor system can indicate wear and tear in the chain. Excessive wear can lead to metal-to-metal contact, resulting in noisy operation. Unusual squeaking, grinding, or rattling sounds are indicators that the chain may require inspection or maintenance.
Visible Damage: Any visible damage to the chain, such as cracked or broken link plates, bent pins, or missing attachments, is a clear sign of wear and tear. These damages compromise the chain's structural integrity and should be addressed promptly to prevent further issues or chain failure.
Inconsistent Movement: If the conveyor chain starts to exhibit jerky or uneven movement, it may be a sign of wear or misalignment. Misalignment can occur due to worn chain links, damaged sprockets, or improper tensioning. Inconsistent movement can lead to reduced efficiency, increased wear, and potential chain failure.
Regular inspection and maintenance of the conveyor chain system are essential to identify these signs of wear and tear. Timely replacement of worn components and proper lubrication can help prolong the life of the chain and maintain efficient operation.



editor by CX 2023-09-05